Abstract
Decades of work have aimed to genetically reprogram T cells for therapeutic purposes1,2 using recombinant viral vectors, which do not target transgenes to specific genomic sites3,4. The need for viral vectors has slowed down research and clinical use as their manufacturing and testing is lengthy and expensive. Genome editing brought the promise of specific and efficient insertion of large transgenes into target cells using homology-directed repair5,6. Here we developed a CRISPR–Cas9 genome-targeting system that does not require viral vectors, allowing rapid and efficient insertion of large DNA sequences (greater than one kilobase) at specific sites in the genomes of primary human T cells, while preserving cell viability and function. This permits individual or multiplexed modification of endogenous genes. First, we applied this strategy to correct a pathogenic IL2RA mutation in cells from patients with monogenic autoimmune disease, and demonstrate improved signalling function. Second, we replaced the endogenous T cell receptor (TCR) locus with a new TCR that redirected T cells to a cancer antigen. The resulting TCR-engineered T cells specifically recognized tumour antigens and mounted productive anti-tumour cell responses in vitro and in vivo. Together, these studies provide preclinical evidence that non-viral genome targeting can enable rapid and flexible experimental manipulation and therapeutic engineering of primary human immune cells.
Relevant articles
Open Access articles citing this article.
Katarina Pance

,

Josef A. Gramespacher

…

James A. Wells

Nature Biotechnology Open Access 22 September 2022

Jiqin Zhang

,

Yongxian Hu

…

He Huang

Nature Open Access 31 August 2022

Sumin Jo

,

Shipra Das

…

Julien Valton

Nature Communications Open Access 30 June 2022
Access options
Subscribe to Nature+
Get immediate online access to the entire Nature family of 50+ journals
Subscribe to Journal
Get full journal access for 1 year
$199.00
only $3.90 per issue
All prices are NET prices.
VAT will be added later in the checkout.
Tax calculation will be finalised during checkout.
Buy article
Get time limited or full article access on ReadCube.
$32.00
All prices are NET prices.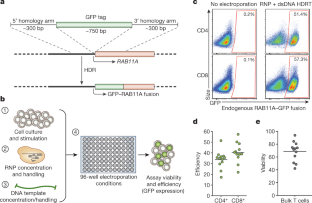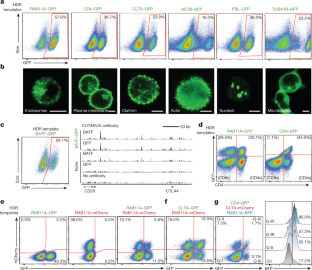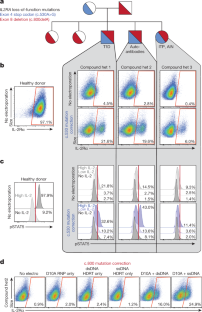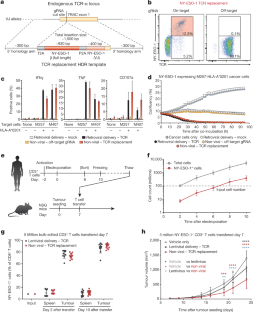 References
Sadelain, M., Rivière, I. & Riddell, S. Therapeutic T cell engineering. Nature 545, 423–431 (2017).

Lim, W. A. & June, C. H. The principles of engineering immune cells to treat cancer. Cell. 168, 724–740 (2017).

Rosenberg, S. A. & Restifo, N. P. Adoptive cell transfer as personalized immunotherapy for human cancer. Science 348, 62–68 (2015).

Verhoeyen, E., Costa, C. & Cosset, F.-L. Lentiviral vector gene transfer into human T cells. Methods Mol. Biol. 506, 97–114 (2009).

Eyquem, J. et al. Targeting a CAR to the TRAC locus with CRISPR/Cas9 enhances tumour rejection. Nature 543, 113–117 (2017).

Hale, M. et al. Homology-directed recombination for enhanced engineering of chimeric antigen receptor T cells. Mol. Ther. Methods Clin. Dev. 4, 192–203 (2017).

Cornu, T. I., Mussolino, C. & Cathomen, T. Refining strategies to translate genome editing to the clinic. Nat. Med. 23, 415–423 (2017).

Zhao, Y. et al. High-efficiency transfection of primary human and mouse T lymphocytes using RNA electroporation. Mol. Ther. 13, 151–159 (2006).

Hornung, V. & Latz, E. Intracellular DNA recognition. Nat. Rev. Immunol. 10, 123–130 (2010).

Kim, S., Kim, D., Cho, S. W., Kim, J. & Kim, J. S. Highly efficient RNA-guided genome editing in human cells via delivery of purified Cas9 ribonucleoproteins. Genome Res. 24, 1012–1019 (2014).

Schumann, K. et al. Generation of knock-in primary human T cells using Cas9 ribonucleoproteins. Proc. Natl Acad. Sci. USA 112, 10437–10442 (2015).

Leonetti, M. D., Sekine, S., Kamiyama, D., Weissman, J. S. & Huang, B. A scalable strategy for high-throughput GFP tagging of endogenous human proteins. Proc. Natl Acad. Sci. USA 113, E3501–E3508 (2016).

Skene, P. J. & Henikoff, S. An efficient targeted nuclease strategy for high-resolution mapping of DNA binding sites. eLife 6, e21856 (2017).

Bak, R. O. et al. Multiplexed genetic engineering of human hematopoietic stem and progenitor cells using CRISPR/Cas9 and AAV6. eLife 6, e27873 (2017).

Agudelo, D. et al. Marker-free coselection for CRISPR-driven genome editing in human cells. Nat. Methods 14, 615–620 (2017).

Lux, C. T. & Scharenberg, A. M. Therapeutic gene editing safety and specificity. Hematol. Oncol. Clin. North Am. 31, 787–795 (2017).

Cain-Hom, C. et al. Efficient mapping of transgene integration sites and local structural changes in Cre transgenic mice using targeted locus amplification. Nucleic Acids Res. 45, e62 (2017).

Dever, D. P. et al. CRISPR/Cas9 β-globin gene targeting in human haematopoietic stem cells. Nature 539, 384–389 (2016).

Murnane, J. P., Yezzi, M. J. & Young, B. R. Recombination events during integration of transfected DNA into normal human cells. Nucleic Acids Res. 18, 2733–2738 (1990).

Suzuki, K. et al. In vivo genome editing via CRISPR/Cas9 mediated homology-independent targeted integration. Nature 540, 144–149 (2016).

Quadros, R. M. et al. Easi-CRISPR: a robust method for one-step generation of mice carrying conditional and insertion alleles using long ssDNA donors and CRISPR ribonucleoproteins. Genome Biol. 18, 92 (2017).

Li, H. et al. Design and specificity of long ssDNA donors for CRISPR-based knock-in. Preprint at https://doi.org/10.1101/178905 (2017).

Mali, P., Esvelt, K. M. & Church, G. M. Cas9 as a versatile tool for engineering biology. Nat. Methods 10, 957–963 (2013).

Ran, F. A. et al. Double nicking by RNA-guided CRISPR Cas9 for enhanced genome editing specificity. Cell 154, 1380–1389 (2013).

Sharfe, N., Dadi, H. K., Shahar, M. & Roifman, C. M. Human immune disorder arising from mutation of the alpha chain of the interleukin-2 receptor. Proc. Natl Acad. Sci. USA 94, 3168–3171 (1997).

Sakaguchi, S., Sakaguchi, N., Asano, M., Itoh, M. & Toda, M. Immunologic self-tolerance maintained by activated T cells expressing IL-2 receptor alpha-chains (CD25). Breakdown of a single mechanism of self-tolerance causes various autoimmune diseases. J. Immunol. 155, 1151–1164 (1995).

Farh, K. K.-H. et al. Genetic and epigenetic fine mapping of causal autoimmune disease variants. Nature 518, 337–343 (2015).

Simeonov, D. R. et al. Discovery of stimulation-responsive immune enhancers with CRISPR activation. Nature 549, 111–115 (2017).

Robbins, P. F. et al. Single and dual amino acid substitutions in TCR CDRs can enhance antigen-specific T cell functions. J. Immunol. 180, 6116–6131 (2008).
Acknowledgements
We thank members of the Marson laboratory, C. Jeans, K. Marchuk, J. Bluestone, Q. Tang, R. Wagner, the UCSF Biological Imaging Development Center, the UCSF Parnassus Center for Advanced Technology, the UCSF Parnassus Flow Cytometry Core (NIH P30 DK063720 and 1S10OD021822-01), Lonza, J. Corn and S. Pyle for suggestions and assistance. This research was supported by NIH grants DP3DK111914-01 (A.M.), P50GM082250 (A.M.), R35 CA197633 (A.R.), K23 DK094866 (S.W.G.), T32GM007618 (T.L.R., J.H.), T32 DK007418 (T.L.R.), and P30 DK020595 (S.W.G.), the NIH NCI Intramural Program (A.L.F., S.H.H.), grants from the Keck Foundation (A.M.), National Multiple Sclerosis Society (A.M.; CA 1074-A-21), gifts from J. Aronov, G. Hoskin, the Jeffrey Modell Foundation (A.M), and awards from the Burroughs Wellcome Fund (A.M.) and the Ressler Family Fund (C.P.S., J.S., A.R.). A.M. is a Chan Zuckerberg Biohub investigator. A.R. is a Parker Institute for Cancer Immunotherapy member.
Reviewer information
Nature thanks M. Maus, J. Wherry and the other anonymous reviewer(s) for their contribution to the peer review of this work.
Ethics declarations
Competing interests
A.M. is a co-founder of Spotlight Therapeutics. A.M. serves as an advisor to Juno Therapeutics and is a member of the scientific advisory board of PACT Pharma. The Marson laboratory has received sponsored research support (Juno Therapeutics, Epinomics, Sanofi) and a gift from Gilead. A.R. is co-founder and a member of the scientific advisory board of PACT Pharma. T.L.R., C.P.S., E.S., A.R. and A.M. are inventors on new patent applications related to this manuscript (US patent application no. 62/520,117, T.L.R. and A.M.; US patent application no. 62/578,153, T.L.R., C.P.S., E.S., A.R. and A.M.).
Additional information
Publisher's note: Springer Nature remains neutral with regard to jurisdictional claims in published maps and institutional affiliations.
Extended data figures and tables
Supplementary information
About this article
Cite this article
Roth, T.L., Puig-Saus, C., Yu, R. et al. Reprogramming human T cell function and specificity with non-viral genome targeting. Nature 559, 405–409 (2018). https://doi.org/10.1038/s41586-018-0326-5
Received:

Accepted:

Published:

Issue Date:

DOI: https://doi.org/10.1038/s41586-018-0326-5
Comments
By submitting a comment you agree to abide by our Terms and Community Guidelines. If you find something abusive or that does not comply with our terms or guidelines please flag it as inappropriate.