Abstract
Aberrant activation of innate immune pathways is associated with a variety of diseases. Progress in understanding the molecular mechanisms of innate immune pathways has led to the promise of targeted therapeutic approaches, but the development of drugs that act specifically on molecules of interest remains challenging. Here we report the discovery and characterization of highly potent and selective small-molecule antagonists of the stimulator of interferon genes (STING) protein, which is a central signalling component of the intracellular DNA sensing pathway1,2. Mechanistically, the identified compounds covalently target the predicted transmembrane cysteine residue 91 and thereby block the activation-induced palmitoylation of STING. Using these inhibitors, we show that the palmitoylation of STING is essential for its assembly into multimeric complexes at the Golgi apparatus and, in turn, for the recruitment of downstream signalling factors. The identified compounds and their derivatives reduce STING-mediated inflammatory cytokine production in both human and mouse cells. Furthermore, we show that these small-molecule antagonists attenuate pathological features of autoinflammatory disease in mice. In summary, our work uncovers a mechanism by which STING can be inhibited pharmacologically and demonstrates the potential of therapies that target STING for the treatment of autoinflammatory disease.
Access options
Subscribe to Journal
Get full journal access for 1 year
$199.00
only $3.90 per issue
All prices are NET prices.
VAT will be added later in the checkout.
Tax calculation will be finalised during checkout.
Rent or Buy article
Get time limited or full article access on ReadCube.
from$8.99
All prices are NET prices.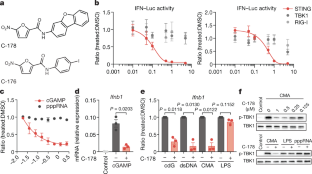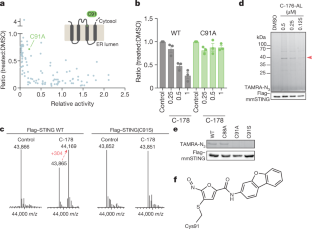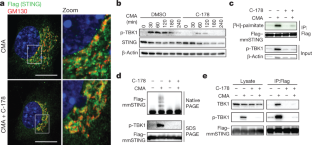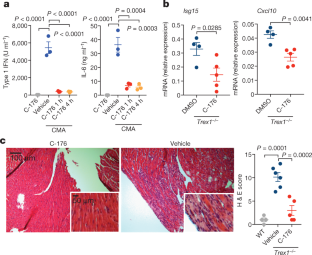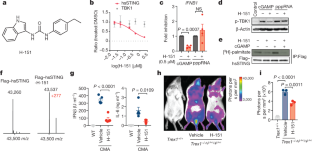 References
1.

Ishikawa, H., Ma, Z. & Barber, G. N. STING regulates intracellular DNA-mediated, type I interferon-dependent innate immunity. Nature 461, 788–792 (2009).

2.

Sun, L., Wu, J., Du, F., Chen, X. & Chen, Z. J. Cyclic GMP–AMP synthase is a cytosolic DNA sensor that activates the type I interferon pathway. Science 339, 786–791 (2013).

3.

Burdette, D. L. et al. STING is a direct innate immune sensor of cyclic di-GMP. Nature 478, 515–518 (2011).

4.

Ablasser, A. et al. cGAS produces a 2′-5′-linked cyclic dinucleotide second messenger that activates STING. Nature 498, 380–384 (2013).

5.

Diner, E. J. et al. The innate immune DNA sensor cGAS produces a noncanonical cyclic dinucleotide that activates human STING. Cell Reports 3, 1355–1361 (2013).

6.

Gao, P. et al. Cyclic [G(2′,5′)pA(3′,5′)p] is the metazoan second messenger produced by DNA-activated cyclic GMP–AMP synthase. Cell 153, 1094–1107 (2013).

7.

Wu, J. et al. Cyclic GMP–AMP is an endogenous second messenger in innate immune signaling by cytosolic DNA. Science 339, 826–830 (2013).

8.

Zhang, X. et al. Cyclic GMP–AMP containing mixed phosphodiester linkages is an endogenous high-affinity ligand for STING. Mol. Cell 51, 226–235 (2013).

9.

Abe, T. & Barber, G. N. Cytosolic-DNA-mediated, STING-dependent proinflammatory gene induction necessitates canonical NF-κB activation through TBK1. J. Virol. 88, 5328–5341 (2014).

10.

Barber, G. N. STING: infection, inflammation and cancer. Nat. Rev. Immunol. 15, 760–770 (2015).

11.

Gall, A. et al. Autoimmunity initiates in nonhematopoietic cells and progresses via lymphocytes in an interferon-dependent autoimmune disease. Immunity 36, 120–131 (2012).

12.

Jeremiah, N. et al. Inherited STING-activating mutation underlies a familial inflammatory syndrome with lupus-like manifestations. J. Clin. Invest. 124, 5516–5520 (2014).

13.

Liu, Y. et al. Activated STING in a vascular and pulmonary syndrome. N. Engl. J. Med. 371, 507–518 (2014).

14.

Crow, Y. J. & Manel, N. Aicardi–Goutières syndrome and the type I interferonopathies. Nat. Rev. Immunol. 15, 429–440 (2015).

15.

Ahn, J., Gutman, D., Saijo, S. & Barber, G. N. STING manifests self DNA-dependent inflammatory disease. Proc. Natl Acad. Sci. USA 109, 19386–19391 (2012).

16.

Ahn, J. et al. Inflammation-driven carcinogenesis is mediated through STING. Nat. Commun. 5, 5166 (2014).

17.

An, J. et al. Expression of cyclic GMP–AMP synthase in patients with systemic lupus erythematosus. Arthritis Rheumatol. 69, 800–807 (2017).

18.

King, K. R. et al. IRF3 and type I interferons fuel a fatal response to myocardial infarction. Nat. Med. 23, 1481–1487 (2017).

19.

Zeng, L. et al. ALK is a therapeutic target for lethal sepsis. Sci. Transl. Med. 9, eaan5689 (2017).

20.

Kerur, N. et al. cGAS drives noncanonical-inflammasome activation in age-related macular degeneration. Nat. Med. 24, 50–61 (2018).

21.

Cavlar, T., Deimling, T., Ablasser, A., Hopfner, K. P. & Hornung, V. Species-specific detection of the antiviral small-molecule compound CMA by STING. EMBO J. 32, 1440–1450 (2013).

22.

Conlon, J. et al. Mouse, but not human STING, binds and signals in response to the vascular disrupting agent 5,6-dimethylxanthenone-4-acetic acid. J. Immunol. 190, 5216–5225 (2013).

23.

Dennehy, M. K., Richards, K. A., Wernke, G. R., Shyr, Y. & Liebler, D. C. Cytosolic and nuclear protein targets of thiol-reactive electrophiles. Chem. Res. Toxicol. 19, 20–29 (2006).

24.

Weerapana, E. et al. Quantitative reactivity profiling predicts functional cysteines in proteomes. Nature 468, 790–795 (2010).

25.

Saitoh, T. et al. Atg9a controls dsDNA-driven dynamic translocation of STING and the innate immune response. Proc. Natl Acad. Sci. USA 106, 20842–20846 (2009).

26.

Mukai, K. et al. Activation of STING requires palmitoylation at the Golgi. Nat. Commun. 7, 11932 (2016).

27.

Stetson, D. B., Ko, J. S., Heidmann, T. & Medzhitov, R. Trex1 prevents cell-intrinsic initiation of autoimmunity. Cell 134, 587–598 (2008).

28.

Gao, D. et al. Activation of cyclic GMP–AMP synthase by self-DNA causes autoimmune diseases. Proc. Natl Acad. Sci. USA 112, E5699–E5705 (2015).

29.

Gray, E. E., Treuting, P. M., Woodward, J. J. & Stetson, D. B. Cutting edge: cGAS is required for lethal autoimmune disease in the Trex1-deficient mouse model of Aicardi–Goutières Syndrome. J. Immunol. 195, 1939–1943 (2015).

30.

Ablasser, A. et al. Cell intrinsic immunity spreads to bystander cells via the intercellular transfer of cGAMP. Nature 503, 530–534 (2013).

31.

Morita, M. et al. Gene-targeted mice lacking the Trex1 (DNase III) 3′→5′ DNA exonuclease develop inflammatory myocarditis. Mol. Cell. Biol. 24, 6719–6727 (2004).

32.

Peschke, K. et al. Loss of Trex1 in dendritic cells is sufficient to trigger systemic autoimmunity. J. Immunol. 197, 2157–2166 (2016).

33.

Gardeux, V., David, F. P. A., Shajkofci, A., Schwalie, P. C. & Deplancke, B. ASAP: a web-based platform for the analysis and interactive visualization of single-cell RNA-seq data. Bioinformatics 33, 3123–3125 (2017).
Acknowledgements
We thank N. Jordan, E. Simeoni and L. Muhandes for technical assistance and advice. We acknowledge the staff of the BSF-ACCESS screening platform at the EPFL for support, especially M. Chambon and J. Bortoli, and the staff of the ISIC Mass Spectrometry platform at the EPFL, especially N. Gasilova. We thank the following core facilities for their support: BIOp, CPG and HCF. A.A. received grants from the SNF (BSSGI0-155984, 31003A_159836), the Gebert Rüf Foundation (GRS-059_14) and the Else Kröner-Fresenius Stiftung (2014_A250). R.B. received funding from an AGS Research Award and the German Research council (DFG - BE 5877/2-1).
Reviewer information
Nature thanks Z. Chen, T. Taguchi, H. Wu and the other anonymous reviewer(s) for their contribution to the peer review of this work.
Ethics declarations
Competing interests
A.A. is a consultant to IFM Therapeutics, LLC. A.A., S.M.H., L.R. and the EPFL have filed provisional patent applications related to STING inhibitors. All other authors declare no competing interests.
Additional information
Publisher's note: Springer Nature remains neutral with regard to jurisdictional claims in published maps and institutional affiliations.
Extended data figures and tables
Supplementary information
About this article
Cite this article
Haag, S.M., Gulen, M.F., Reymond, L. et al. Targeting STING with covalent small-molecule inhibitors. Nature 559, 269–273 (2018). https://doi.org/10.1038/s41586-018-0287-8
Received:

Accepted:

Published:

Issue Date:
Comments
By submitting a comment you agree to abide by our Terms and Community Guidelines. If you find something abusive or that does not comply with our terms or guidelines please flag it as inappropriate.