Abstract
Histone post-translational modifications (PTMs) are associated with epigenetic states that form the basis for cell-type-specific gene expression1,2. Once established, histone PTMs can be maintained by positive feedback involving enzymes that recognize a pre-existing histone modification and catalyse the same modification on newly deposited histones. Recent studies suggest that in wild-type cells, histone PTM-based positive feedback is too weak to mediate epigenetic inheritance in the absence of other inputs3,4,5,6,7. RNA interference (RNAi)-mediated histone H3 lysine 9 methylation (H3K9me) and heterochromatin formation define a potential epigenetic inheritance mechanism in which positive feedback involving short interfering RNA (siRNA) amplification can be directly coupled to histone PTM positive feedback8,9,10,11,12,13,14. However, it is not known whether the coupling of these two feedback loops can maintain epigenetic silencing independently of DNA sequence and in the absence of enabling mutations that disrupt genome-wide chromatin structure or transcription15,16,17. Here, using the fission yeast Schizosaccharomyces pombe, we show that siRNA-induced H3K9me and silencing of a euchromatic gene can be epigenetically inherited in cis during multiple mitotic and meiotic cell divisions in wild-type cells. This inheritance involves the spreading of secondary siRNAs and H3K9me3 to the targeted gene and surrounding areas, and requires both RNAi and H3K9me, suggesting that the siRNA and H3K9me positive-feedback loops act synergistically to maintain silencing. By contrast, when maintained solely by histone PTM positive feedback, silencing is erased by H3K9 demethylation promoted by Epe1, or by interallelic interactions that occur after mating to cells containing an expressed allele even in the absence of Epe1. These findings demonstrate that the RNAi machinery can mediate transgenerational epigenetic inheritance independently of DNA sequence or enabling mutations, and reveal a role for the coupling of the siRNA and H3K9me positive-feedback loops in the protection of epigenetic alleles from erasure.
Relevant articles
Open Access articles citing this article.
Caojie Liu

,

Qiuchan Xiong

…

Ning Kang

Nature Communications Open Access 13 April 2022

Fernando Rodriguez

,

Irina A. Yushenova

…

Irina R. Arkhipova

Nature Communications Open Access 28 February 2022

Sindhuja Devanapally

,

Pravrutha Raman

…

Antony M. Jose

Nature Communications Open Access 09 July 2021
Access options
Subscribe to Nature+
Get immediate online access to the entire Nature family of 50+ journals
Subscribe to Journal
Get full journal access for 1 year
$199.00
only $3.90 per issue
All prices are NET prices.
VAT will be added later in the checkout.
Tax calculation will be finalised during checkout.
Buy article
Get time limited or full article access on ReadCube.
$32.00
All prices are NET prices.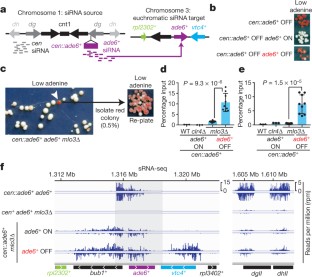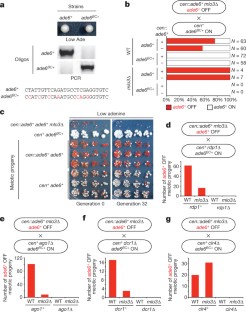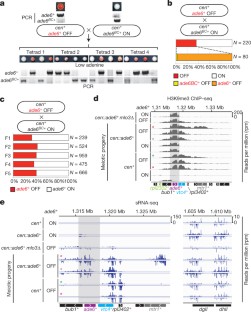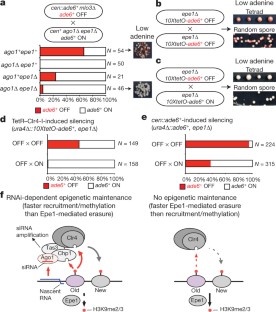 References
Margueron, R. & Reinberg, D. Chromatin structure and the inheritance of epigenetic information. Nat. Rev. Genet. 11, 285–296 (2010).

Moazed, D. Mechanisms for the inheritance of chromatin states. Cell 146, 510–518 (2011).

Ragunathan, K., Jih, G. & Moazed, D. Epigenetic inheritance uncoupled from sequence-specific recruitment. Science 348, 1258699 (2015).

Audergon, P. N. et al. Restricted epigenetic inheritance of H3K9 methylation. Science 348, 132–135 (2015).

Wang, X. & Moazed, D. DNA sequence-dependent epigenetic inheritance of gene silencing and histone H3K9 methylation. Science 356, 88–91 (2017).

Laprell, F., Finkl, K. & Müller, J. Propagation of Polycomb-repressed chromatin requires sequence-specific recruitment to DNA. Science 356, 85–88 (2017).

Coleman, R. T. & Struhl, G. Causal role for inheritance of H3K27me3 in maintaining the OFF state of a Drosophila HOX gene. Science 356, eaai8236 (2017).

Verdel, A. et al. RNAi-mediated targeting of heterochromatin by the RITS complex. Science 303, 672–676 (2004).

Motamedi, M. R. et al. Two RNAi complexes, RITS and RDRC, physically interact and localize to noncoding centromeric RNAs. Cell 119, 789–802 (2004).

Volpe, T. A. et al. Regulation of heterochromatic silencing and histone H3 lysine-9 methylation by RNAi. Science 297, 1833–1837 (2002).

Sienski, G. et al. Silencio/CG9754 connects the Piwi–piRNA complex to the cellular heterochromatin machinery. Genes Dev. 29, 2258–2271 (2015).

Yu, Y. et al. Panoramix enforces piRNA-dependent cotranscriptional silencing. Science 350, 339–342 (2015).

Law, J. A. & Jacobsen, S. E. Establishing, maintaining and modifying DNA methylation patterns in plants and animals. Nat. Rev. Genet. 11, 204–220 (2010).

Luteijn, M. J. & Ketting, R. F. PIWI-interacting RNAs: from generation to transgenerational epigenetics. Nat. Rev. Genet. 14, 523–534 (2013).

Iida, T., Nakayama, J. & Moazed, D. siRNA-mediated heterochromatin establishment requires HP1 and is associated with antisense transcription. Mol. Cell 31, 178–189 (2008).

Yu, R., Jih, G., Iglesias, N. & Moazed, D. Determinants of heterochromatic siRNA biogenesis and function. Mol. Cell 53, 262–276 (2014).

Kowalik, K. M. et al. The Paf1 complex represses small-RNA-mediated epigenetic gene silencing. Nature 520, 248–252 (2015).

Allshire, R. C., Javerzat, J. P., Redhead, N. J. & Cranston, G. Position effect variegation at fission yeast centromeres. Cell 76, 157–169 (1994).

Thakurta, A. G., Gopal, G., Yoon, J. H., Kozak, L. & Dhar, R. Homolog of BRCA2-interacting Dss1p and Uap56p link Mlo3p and Rae1p for mRNA export in fission yeast. EMBO J. 24, 2512–2523 (2005).

Jih, G. et al. Unique roles for histone H3K9me states in RNAi and heritable silencing of transcription. Nature 547, 463–467 (2017).

Grewal, S. I. & Klar, A. J. Chromosomal inheritance of epigenetic states in fission yeast during mitosis and meiosis. Cell 86, 95–101 (1996).

Gaydos, L. J., Wang, W. & Strome, S. H3K27me and PRC2 transmit a memory of repression across generations and during development. Science 345, 1515–1518 (2014).

Trewick, S. C., Minc, E., Antonelli, R., Urano, T. & Allshire, R. C. The JmjC domain protein Epe1 prevents unregulated assembly and disassembly of heterochromatin. EMBO J. 26, 4670–4682 (2007).

Ronshaugen, M. & Levine, M. Visualization of trans-homolog enhancer–promoter interactions at the Abd-B Hox locus in the Drosophila embryo. Dev. Cell 7, 925–932 (2004).

Chen, J. L. et al. Enhancer action in trans is permitted throughout the Drosophila genome. Proc. Natl Acad. Sci. USA 99, 3723–3728 (2002).

Wong, K. H. & Struhl, K. The Cyc8–Tup1 complex inhibits transcription primarily by masking the activation domain of the recruiting protein. Genes Dev. 25, 2525–2539 (2011).

Moreno, S., Klar, A. & Nurse, P. Molecular genetic analysis of fission yeast Schizosaccharomyces pombe. Methods Enzymol. 194, 795–823 (1991).

Halic, M. & Moazed, D. Dicer-independent primal RNAs trigger RNAi and heterochromatin formation. Cell 140, 504-516 (2010).
Acknowledgements
We thank members of the Moazed laboratory for discussions and K. Connolly, N. Iglesias, G. Jih and G. Shipkovenska for comments on the manuscript. R.Y. was partially supported by a National Institutes of Health (NIH) training grant (T32, GM96911). This work was supported by a grant from the NIH to D.M. (GM072805). D.M. is an investigator of the Howard Hughes Medical Institute.
Reviewer information
Nature thanks S. Jia and M. Zaratiegui for their contribution to the peer review of this work.
Ethics declarations
Competing interests
The authors declare no competing interests.
Additional information
Publisher's note: Springer Nature remains neutral with regard to jurisdictional claims in published maps and institutional affiliations.
Extended data figures and tables
Supplementary Information
About this article
Cite this article
Yu, R., Wang, X. & Moazed, D. Epigenetic inheritance mediated by coupling of RNAi and histone H3K9 methylation. Nature 558, 615–619 (2018). https://doi.org/10.1038/s41586-018-0239-3
Received:

Accepted:

Published:

Issue Date:

DOI: https://doi.org/10.1038/s41586-018-0239-3
Comments
By submitting a comment you agree to abide by our Terms and Community Guidelines. If you find something abusive or that does not comply with our terms or guidelines please flag it as inappropriate.