Abstract
Mammalian cells integrate mitogen and stress signalling before the end of G1 phase to determine whether or not they enter the cell cycle1,2,3,4. Before cells can replicate their DNA in S phase, they have to activate cyclin-dependent kinases (CDKs), induce an E2F transcription program and inactivate the anaphase-promoting complex (APC/CCDH1, also known as the cyclosome), which is an E3 ubiquitin ligase that contains the co-activator CDH1 (also known as FZR, encoded by FZR1). It was recently shown that stress can return cells to quiescence after CDK2 activation and E2F induction but not after inactivation of APC/CCDH1, which suggests that APC/CCDH1 inactivation is the point of no return for cell-cycle entry3. Rapid inactivation of APC/CCDH1 requires early mitotic inhibitor 1 (EMI1)3,5, but the molecular mechanism that controls this cell-cycle commitment step is unknown. Here we show using human cell models that cell-cycle commitment is mediated by an EMI1–APC/CCDH1 dual-negative feedback switch, in which EMI1 is both a substrate and an inhibitor of APC/CCDH1. The inactivation switch triggers a transition between a state with low EMI1 levels and high APC/CCDH1 activity during G1 and a state with high EMI1 levels and low APC/CCDH1 activity during S and G2. Cell-based analysis, in vitro reconstitution and modelling data show that the underlying dual-negative feedback is bistable and represents a robust irreversible switch. Our study suggests that mammalian cells commit to the cell cycle by increasing CDK2 activity and EMI1 mRNA expression to trigger a one-way APC/CCDH1 inactivation switch that is mediated by EMI1 transitioning from acting as a substrate of APC/CCDH1 to being an inhibitor of APC/CCDH1.
Relevant articles
Open Access articles citing this article.
Debasish Paul

,

Stephen C. Kales

…

Steven D. Cappell

Nature Communications Open Access 26 October 2022

Sungsoo Kim

,

Alessandra Leong

…

Hee Won Yang

Scientific Reports Open Access 07 October 2022

Sang Bae Lee

,

Luciano Garofano

…

Anna Lasorella

Nature Communications Open Access 19 April 2022
Access options
Subscribe to Nature+
Get immediate online access to Nature and 55 other Nature journal
Subscribe to Journal
Get full journal access for 1 year
$199.00
only $3.90 per issue
All prices are NET prices.
VAT will be added later in the checkout.
Tax calculation will be finalised during checkout.
Buy article
Get time limited or full article access on ReadCube.
$32.00
All prices are NET prices.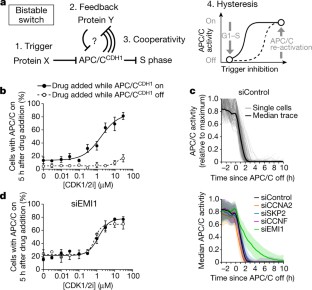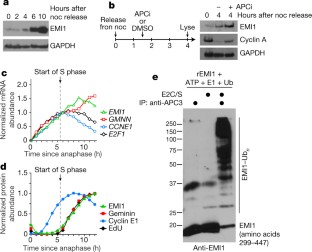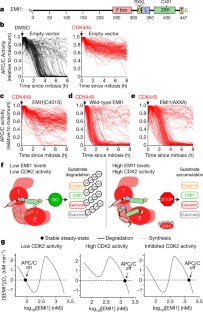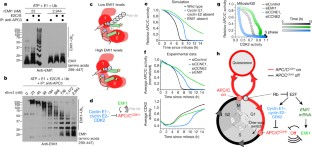 References
Arora, M., Moser, J., Phadke, H., Basha, A. A. & Spencer, S. L. Endogenous replication stress in mother cells leads to quiescence of daughter cells. Cell Reports 19, 1351–1364 (2017).

Barr, A. R. et al. DNA damage during S-phase mediates the proliferation-quiescence decision in the subsequent G1 via p21 expression. Nat. Commun. 8, 14728 (2017).

Cappell, S. D., Chung, M., Jaimovich, A., Spencer, S. L. & Meyer, T. Irreversible APCCdh1 inactivation underlies the point of no return for cell-cycle entry. Cell 166, 167–180 (2016).

Yang, H. W., Chung, M., Kudo, T. & Meyer, T. Competing memories of mitogen and p53 signalling control cell-cycle entry. Nature 549, 404–408 (2017).

Hsu, J. Y., Reimann, J. D., Sørensen, C. S., Lukas, J. & Jackson, P. K. E2F-dependent accumulation of hEmi1 regulates S phase entry by inhibiting APCCdh1. Nat. Cell Biol. 4, 358–366 (2002).

Ferrell, J. E. Jr. Bistability, bifurcations, and Waddington's epigenetic landscape. Curr. Biol. 22, R458–R466 (2012).

Choudhury, R. et al. APC/C and SCFcyclin F constitute a reciprocal feedback circuit controlling S-phase entry. Cell Reports 16, 3359–3372 (2016).

Fukushima, H. et al. SCF-mediated Cdh1 degradation defines a negative feedback system that coordinates cell-cycle progression. Cell Reports 4, 803–816 (2013).

Lukas, C. et al. Accumulation of cyclin B1 requires E2F and cyclin-A-dependent rearrangement of the anaphase-promoting complex. Nature 401, 815–818 (1999).

Huang, X. et al. Deubiquitinase USP37 is activated by CDK2 to antagonize APCCDH1 and promote S phase entry. Mol. Cell 42, 511–523 (2011).

Miller, J. J. et al. Emi1 stably binds and inhibits the anaphase-promoting complex/cyclosome as a pseudosubstrate inhibitor. Genes Dev. 20, 2410–2420 (2006).

Margottin-Goguet, F. et al. Prophase destruction of Emi1 by the SCFβTrCP/Slimb ubiquitin ligase activates the anaphase promoting complex to allow progression beyond prometaphase. Dev. Cell 4, 813–826 (2003).

Lindon, C. & Pines, J. Ordered proteolysis in anaphase inactivates Plk1 to contribute to proper mitotic exit in human cells. J. Cell Biol. 164, 233–241 (2004).

Zeng, X. et al. Pharmacologic inhibition of the anaphase-promoting complex induces a spindle checkpoint-dependent mitotic arrest in the absence of spindle damage. Cancer Cell 18, 382–395 (2010).

Rape, M., Reddy, S. K. & Kirschner, M. W. The processivity of multiubiquitination by the APC determines the order of substrate degradation. Cell 124, 89–103 (2006).

Meyer, H. J. & Rape, M. Enhanced protein degradation by branched ubiquitin chains. Cell 157, 910–921 (2014).

Moshe, Y., Bar-On, O., Ganoth, D. & Hershko, A. Regulation of the action of early mitotic inhibitor 1 on the anaphase-promoting complex/cyclosome by cyclin-dependent kinases. J. Biol. Chem. 286, 16647–16657 (2011).

Frye, J. J. et al. Electron microscopy structure of human APC/CCDH1–EMI1 reveals multimodal mechanism of E3 ligase shutdown. Nat. Struct. Mol. Biol. 20, 827–835 (2013).

Chang, L. F., Zhang, Z., Yang, J., McLaughlin, S. H. & Barford, D. Molecular architecture and mechanism of the anaphase-promoting complex. Nature 513, 388–393 (2014).

Wang, W. & Kirschner, M. W. Emi1 preferentially inhibits ubiquitin chain elongation by the anaphase-promoting complex. Nat. Cell Biol. 15, 797–806 (2013).

Dimova, N. V. et al. APC/C-mediated multiple monoubiquitylation provides an alternative degradation signal for cyclin B1. Nat. Cell Biol. 14, 168–176 (2012).

Thrower, J. S., Hoffman, L., Rechsteiner, M. & Pickart, C. M. Recognition of the polyubiquitin proteolytic signal. EMBO J. 19, 94–102 (2000).

Spencer, S. L. et al. The proliferation-quiescence decision is controlled by a bifurcation in CDK2 activity at mitotic exit. Cell 155, 369–383 (2013).

Sherr, C. J. Cancer cell cycles. Science 274, 1672–1677 (1996).

Song, L. & Rape, M. Regulated degradation of spindle assembly factors by the anaphase-promoting complex. Mol. Cell 38, 369–382 (2010).

Pierce, N. W., Kleiger, G., Shan, S. O. & Deshaies, R. J. Detection of sequential polyubiquitylation on a millisecond timescale. Nature 462, 615–619 (2009).
Acknowledgements
We thank M. Chung, C. Liu, A. Hayer, H. W. Yang, L. Daigh, Y. Fan, A. Jaimovich, M. Köberlin, S. Spencer, S. Collins, N. Ratnayeke, J. Kamenz, and J. Ferrell for helpful discussions, and the Stanford Shared FACS Facility for cell sorting. S.D.C. was supported by the Damon Runyon Cancer Research Foundation (DRG-2141) and by the Intramural Research Program of the National Institutes of Health, Center for Cancer Research, National Cancer Institute. K.G.M., D.G. and L.R.P. were supported by NIH F32 Ruth L. Kirschstein fellowships (GM120956, GM116328 and GM125246, respectively). M.R. is supported by NIGMS R01 grants (GM083064) and is an Investigator of the Howard Hughes Medical Institute. T.M. is supported by NIGMS R01 grants (R35GM127026, GM118377 and GM063702).
Reviewer information
Nature thanks C. Tang and the other anonymous reviewer(s) for their contribution to the peer review of this work.
Competing interests:
M.R. is a co-founder and consultant to Nurix, a biotech company in the ubiquitin space.
Additional information
Publisher's note: Springer Nature remains neutral with regard to jurisdictional claims in published maps and institutional affiliations.
Extended data figures and tables
Supplementary information
About this article
Cite this article
Cappell, S.D., Mark, K.G., Garbett, D. et al. EMI1 switches from being a substrate to an inhibitor of APC/CCDH1 to start the cell cycle. Nature 558, 313–317 (2018). https://doi.org/10.1038/s41586-018-0199-7
Received:

Accepted:

Published:

Issue Date:

DOI: https://doi.org/10.1038/s41586-018-0199-7
Comments
By submitting a comment you agree to abide by our Terms and Community Guidelines. If you find something abusive or that does not comply with our terms or guidelines please flag it as inappropriate.