Abstract
Wnt–β-catenin signalling plays a pivotal role in the homeostasis of the intestinal epithelium by promoting stem cell renewal1,2. In the small intestine, epithelial Paneth cells secrete Wnt ligands and thus adopt the function of the stem cell niche to maintain epithelial homeostasis3,4. It is unclear which cells comprise the stem cell niche in the colon. Here we show that subepithelial mesenchymal GLI1-expressing cells form this essential niche. Blocking Wnt secretion from GLI1-expressing cells prevents colonic stem cell renewal in mice: the stem cells are lost and, as a consequence, the integrity of the colonic epithelium is corrupted, leading to death. GLI1-expressing cells also play an important role in the maintenance of the small intestine, where they serve as a reserve Wnt source that becomes critical when Wnt secretion from epithelial cells is prevented. Our data suggest a mechanism by which the stem cell niche is adjusted to meet the needs of the intestine via adaptive changes in the number of mesenchymal GLI1-expressing cells.
Relevant articles
Open Access articles citing this article.
Elham Ghasempour

,

Shilan Hesami

…

Mohammad Doroudian

Stem Cell Research & Therapy Open Access 20 December 2022

Jiayin Peng

,

Fei Li

…

Yun Zhao

Cell Discovery Open Access 01 November 2022

Gabriele Colozza

,

So-Yeon Park

&

Bon-Kyoung Koo

Experimental & Molecular Medicine Open Access 18 September 2022
Access options
Subscribe to Nature+
Get immediate online access to Nature and 55 other Nature journal
Subscribe to Journal
Get full journal access for 1 year
$199.00
only $3.90 per issue
All prices are NET prices.
VAT will be added later in the checkout.
Tax calculation will be finalised during checkout.
Buy article
Get time limited or full article access on ReadCube.
$32.00
All prices are NET prices.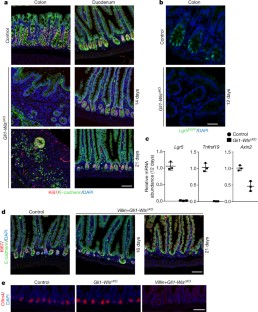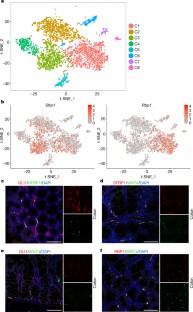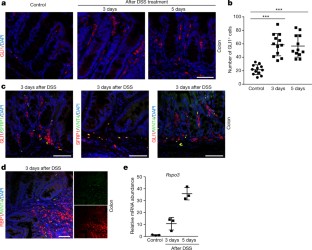 References
Valenta, T. et al. Wnt ligands secreted by subepithelial mesenchymal cells are essential for the survival of intestinal stem cells and gut homeostasis. Cell Rep. 15, 911–918 (2016).

Fevr, T., Robine, S., Louvard, D. & Huelsken, J. Wnt/β-catenin is essential for intestinal homeostasis and maintenance of intestinal stem cells. Mol. Cell. Biol. 27, 7551–7559 (2007).

Sato, T. et al. Paneth cells constitute the niche for Lgr5 stem cells in intestinal crypts. Nature 469, 415–418 (2011).

Snippert, H. J. et al. Intestinal crypt homeostasis results from neutral competition between symmetrically dividing Lgr5 stem cells. Cell 143, 134–144 (2010).

Barker, N. et al. Identification of stem cells in small intestine and colon by marker gene Lgr5. Nature 449, 1003–1007 (2007).

Scadden, D. T. The stem-cell niche as an entity of action. Nature 441, 1075–1079 (2006).

Barker, N. Adult intestinal stem cells: critical drivers of epithelial homeostasis and regeneration. Nat. Rev. Mol. Cell Biol. 15, 19–33 (2014).

Farin, H. F., Van Es, J. H. & Clevers, H. Redundant sources of Wnt regulate intestinal stem cells and promote formation of Paneth cells. Gastroenterology 143, 1518–1529.e7 (2012).

Durand, A. et al. Functional intestinal stem cells after Paneth cell ablation induced by the loss of transcription factor Math1 (Atoh1). Proc. Natl Acad. Sci. USA 109, 8965–8970 (2012).

Kim, T. H., Escudero, S. & Shivdasani, R. A. Intact function of Lgr5 receptor-expressing intestinal stem cells in the absence of Paneth cells. Proc. Natl Acad. Sci. USA 109, 3932–3937 (2012).

Kabiri, Z. et al. Stroma provides an intestinal stem cell niche in the absence of epithelial Wnts. Development 141, 2206–2215 (2014).

Sasaki, N. et al. Reg4+ deep crypt secretory cells function as epithelial niche for Lgr5+ stem cells in colon. Proc. Natl Acad. Sci. USA 113, E5399–E5407 (2016).

Farin, H. F. et al. Visualization of a short-range Wnt gradient in the intestinal stem-cell niche. Nature 530, 340–343 (2016).

Morikawa, S. et al. Prospective identification, isolation, and systemic transplantation of multipotent mesenchymal stem cells in murine bone marrow. J. Exp. Med. 206, 2483–2496 (2009).

Kramann, R. et al. Perivascular Gli1+ progenitors are key contributors to injury-induced organ fibrosis. Cell Stem Cell 16, 51–66 (2015).

Kramann, R. et al. Adventitial MSC-like cells are progenitors of vascular smooth muscle cells and drive vascular calcification in chronic kidney disease. Cell Stem Cell 19, 628–642 (2016).

Bänziger, C. et al. Wntless, a conserved membrane protein dedicated to the secretion of Wnt proteins from signaling cells. Cell 125, 509–522 (2006).

Degirmenci, B., Hausmann, G., Valenta, T. & Basler, K. Wnt ligands as a part of the stem cell niche in the intestine and the liver. Prog. Mol. Biol. Transl. Sci. 153, 1–19 (2018).

Fafilek, B. et al. Troy, a tumor necrosis factor receptor family member, interacts with Lgr5 to inhibit Wnt signaling in intestinal stem cells. Gastroenterology 144, 381–391 (2013).

van der Flier, L. G., Haegebarth, A., Stange, D. E., van de Wetering, M. & Clevers, H. OLFM4 is a robust marker for stem cells in human intestine and marks a subset of colorectal cancer cells. Gastroenterology 137, 15–17 (2009).

Sato, T. et al. Single Lgr5 stem cells build crypt-villus structures in vitro without a mesenchymal niche. Nature 459, 262–265 (2009).

Sato, T. et al. Long-term expansion of epithelial organoids from human colon, adenoma, adenocarcinoma, and Barrett's epithelium. Gastroenterology 141, 1762–1772 (2011).

Stzepourginski, I. et al. CD34+ mesenchymal cells are a major component of the intestinal stem cells niche at homeostasis and after injury. Proc. Natl Acad. Sci. USA 114, E506–E513 (2017).

Aoki, R. et al. Foxl1-expressing mesenchymal cells constitute the intestinal stem cell niche. Cell. Mol. Gastroenterol. Hepatol. 2, 175–188 (2016).

Ahn, S. & Joyner, A. L. Dynamic changes in the response of cells to positive hedgehog signaling during mouse limb patterning. Cell 118, 505–516 (2004).

el Marjou, F. et al. Tissue-specific and inducible Cre-mediated recombination in the gut epithelium. Genesis 39, 186–193 (2004).

Madisen, L. et al. A robust and high-throughput Cre reporting and characterization system for the whole mouse brain. Nat. Neurosci. 13, 133–140 (2010).

Hamilton, T. G., Klinghoffer, R. A., Corrin, P. D. & Soriano, P. Evolutionary divergence of platelet-derived growth factor alpha receptor signaling mechanisms. Mol. Cell. Biol. 23, 4013–4025 (2003).

Sato, T. & Clevers, H. Primary mouse small intestinal epithelial cell cultures. Methods Mol. Biol. 945, 319–328 (2013).

Koliaraki, V. & Kollias, G. Isolation of intestinal mesenchymal cells from adult mice. Bio Protoc. 6, e1940 (2016).
Acknowledgements
We thank O. Sansom for providing us with the Gli1-CreERT2 and PdgfraEGFP strains and for suggestions; S. Robine for the Villin-CreERT2 strain; F. Greten, L. Sommer, M. Aguet and G. Christofori for comments; members of the Basler laboratory, in particular C. Cantù, V. S. Salazar and D. Zimmerli, for discussions; E. Escher, E. Tuncer, L. Zurkirchen and V. Parfejevs for technical help; J. Duarte, C. Ewald and A. Henning for help with cell sorting; and C. Aquino and the Functional Genomics Center Zurich for performing scRNA-seq. This work was supported by the Swiss National Science Foundation, the Swiss Cancer League, the University of Zurich Research Priority Program (URPP) 'Translational Cancer Research' and the Kanton of Zürich. T.V. is supported by Czech Science Foundation grant 18-21466S and is a fellow of the URPP Translational Cancer Research.
Reviewer information
Nature thanks C. Kuo, L. Samuelson and the other anonymous reviewer(s) for their contribution to the peer review of this work.
Ethics declarations
Competing interests
The authors declare no competing interests.
Additional information
Publisher's note: Springer Nature remains neutral with regard to jurisdictional claims in published maps and institutional affiliations.
Extended data figures and tables
Supplementary information
About this article
Cite this article
Degirmenci, B., Valenta, T., Dimitrieva, S. et al. GLI1-expressing mesenchymal cells form the essential Wnt-secreting niche for colon stem cells. Nature 558, 449–453 (2018). https://doi.org/10.1038/s41586-018-0190-3
Received:

Accepted:

Published:

Issue Date:

DOI: https://doi.org/10.1038/s41586-018-0190-3
Comments
By submitting a comment you agree to abide by our Terms and Community Guidelines. If you find something abusive or that does not comply with our terms or guidelines please flag it as inappropriate.