Abstract
Dendritic cells orchestrate the crosstalk between innate and adaptive immunity. CD8α+ dendritic cells present antigens to CD8+ T cells and elicit cytotoxic T cell responses to viruses, bacteria and tumours1. Although lineage-specific transcriptional regulators of CD8α+ dendritic cell development have been identified2, the molecular pathways that selectively orchestrate CD8α+ dendritic cell function remain elusive. Moreover, metabolic reprogramming is important for dendritic cell development and activation3,4, but metabolic dependence and regulation of dendritic cell subsets are largely uncharacterized. Here we use a data-driven systems biology algorithm (NetBID) to identify a role of the Hippo pathway kinases Mst1 and Mst2 (Mst1/2) in selectively programming CD8α+ dendritic cell function and metabolism. Our NetBID analysis reveals a marked enrichment of the activities of Hippo pathway kinases in CD8α+ dendritic cells relative to CD8α− dendritic cells. Dendritic cell-specific deletion of Mst1/2—but not Lats1 and Lats2 (Lats1/2) or Yap and Taz (Yap/Taz), which mediate canonical Hippo signalling—disrupts homeostasis and function of CD8+ T cells and anti-tumour immunity. Mst1/2-deficient CD8α+ dendritic cells are impaired in presentation of extracellular proteins and cognate peptides to prime CD8+ T cells, while CD8α− dendritic cells that lack Mst1/2 have largely normal function. Mechanistically, compared to CD8α− dendritic cells, CD8α+ dendritic cells exhibit much stronger oxidative metabolism and critically depend on Mst1/2 signalling to maintain bioenergetic activities and mitochondrial dynamics for their functional capacities. Further, selective expression of IL-12 by CD8α+ dendritic cells depends on Mst1/2 and the crosstalk with non-canonical NF-κB signalling. Our findings identify Mst1/2 as selective drivers of CD8α+ dendritic cell function by integrating metabolic activity and cytokine signalling, and highlight that the interplay between immune signalling and metabolic reprogramming underlies the unique functions of dendritic cell subsets.
Relevant articles
Open Access articles citing this article.
Juraj Adamik

,

Paul V. Munson

…

Lisa H. Butterfield

Nature Communications Open Access 02 September 2022

Miaomiao Han

,

Jingyu Ma

…

Gonghua Huang

Cellular & Molecular Immunology Open Access 12 May 2022

Xin Lian

,

Kailin Yang

…

Shengtao Zhou

Molecular Cancer Open Access 21 January 2022
Access options
Subscribe to Nature+
Get immediate online access to the entire Nature family of 50+ journals
Subscribe to Journal
Get full journal access for 1 year
$199.00
only $3.90 per issue
All prices are NET prices.
VAT will be added later in the checkout.
Tax calculation will be finalised during checkout.
Buy article
Get time limited or full article access on ReadCube.
$32.00
All prices are NET prices.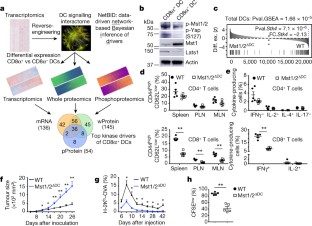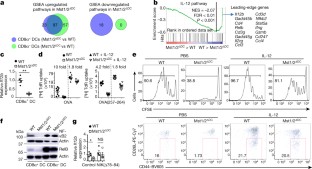 References
Merad, M., Sathe, P., Helft, J., Miller, J. & Mortha, A. The dendritic cell lineage: ontogeny and function of dendritic cells and their subsets in the steady state and the inflamed setting. Annu. Rev. Immunol. 31, 563–604 (2013).

Murphy, K. M. Transcriptional control of dendritic cell development. Annu. Rev. Immunol. 34, 93–119 (2016).

Pearce, E. J. & Everts, B. Dendritic cell metabolism. Nat. Rev. Immunol. 15, 18–29 (2015).

O'Neill, L. A. J. & Pearce, E. J. Immunometabolism governs dendritic cell and macrophage function. J. Exp. Med. 213, 15–23 (2016).

Dudziak, D. et al. Differential antigen processing by dendritic cell subsets in vivo. Science 315, 107–111 (2007).

Piovan, E. et al. direct reversal of glucocorticoid resistance by AKT inhibition in acute lymphoblastic leukemia. Cancer Cell 24, 766–776 (2013).

Rodriguez-Barrueco, R. et al. Inhibition of the autocrine IL-6–JAK2–STAT3–calprotectin axis as targeted therapy for HR−/HER2+ breast cancers. Genes Dev. 29, 1631–1648 (2015).

Huang, G. et al. Signaling via the kinase p38α programs dendritic cells to drive TH17 differentiation and autoimmune inflammation. Nat. Immunol. 13, 152–161 (2012).

Meng, Z., Moroishi, T. & Guan, K.-L. Mechanisms of Hippo pathway regulation. Genes Dev. 30, 1–17 (2016).

Hildner, K. et al. Batf3 deficiency reveals a critical role for CD8α+ dendritic cells in cytotoxic T cell immunity. Science 322, 1097–1100 (2008).

Mashayekhi, M. et al. CD8α+ dendritic cells are the critical source of interleukin-12 that controls acute infection by Toxoplasma gondii tachyzoites. Immunity 35, 249–259 (2011).

Naik, S. H. et al. Cutting edge: generation of splenic CD8+ and CD8− dendritic cell equivalents in fms-like tyrosine kinase 3 ligand bone marrow cultures. J. Immunol. 174, 6592–6597 (2005).

Cogliati, S. et al. Mitochondrial cristae shape determines respiratory chain supercomplexes assembly and respiratory efficiency. Cell 155, 160–171 (2013).

Buck, M. D. D. et al. Mitochondrial dynamics controls T cell fate through metabolic programming. Cell 166, 63–76 (2016).

Mishra, P. & Chan, D. C. Metabolic regulation of mitochondrial dynamics. J. Cell Biol. 212, 379–387 (2016).

Valenzuela, J., Schmidt, C. & Mescher, M. The roles of IL-12 in providing a third signal for clonal expansion of naive CD8 T cells. J. Immunol. 169, 6842–6849 (2002).

Sun, S. C. The non-canonical NF-κB pathway in immunity and inflammation. Nat. Rev. Immunol. 17, 545–558 (2017).

Katakam, A. K. et al. Dendritic cells require NIK for CD40-dependent cross-priming of CD8+ T cells. Proc. Natl Acad. Sci. USA 112, 14664–14669 (2015).

Sasaki, Y. et al. NIK overexpression amplifies, whereas ablation of its TRAF3-binding domain replaces BAFF:BAFF-R-mediated survival signals in B cells. Proc. Natl Acad. Sci. USA 105, 10883–10888 (2008).

Bachem, A. et al. Superior antigen cross-presentation and XCR1 expression define human CD11c+ CD141+ cells as homologues of mouse CD8+ dendritic cells. J. Exp. Med. 207, 1273–1281 (2010).

Lu, L. et al. Hippo signaling is a potent in vivo growth and tumor suppressor pathway in the mammalian liver. Proc. Natl Acad. Sci. USA 107, 1437–1442 (2010).

Xin, M. et al. Hippo pathway effector Yap promotes cardiac regeneration. Proc. Natl Acad. Sci. USA 110, 13839–13844 (2013).

Wang, Y. et al. Transforming growth factor beta-activated kinase 1 (TAK1)-dependent checkpoint in the survival of dendritic cells promotes immune homeostasis and function. Proc. Natl Acad. Sci. USA 109, E343–E352 (2012).

Jongbloed, S. L. et al. Human CD141+ (BDCA-3)+ dendritic cells (DCs) represent a unique myeloid DC subset that cross-presents necrotic cell antigens. J. Exp. Med. 207, 1247–1260 (2010).

Fan, F. et al. Pharmacological targeting of kinases MST1 and MST2 augments tissue repair and regeneration. Sci. Transl. Med. 8, 352ra108 (2016).

Wang, D. et al. A small molecule promotes mitochondrial fusion in mammalian cells. Angew. Chem. Int. Ed. 51, 9302–9305 (2012).

Cassidy-Stone, A. et al. Chemical inhibition of the mitochondrial division dynamin reveals its role in Bax/Bak-dependent mitochondrial outer membrane permeabilization. Dev. Cell 14, 193–204 (2008).

Maraskovsky, E. et al. Dramatic increase in the numbers of functionally mature dendritic cells in Flt3 ligand-treated mice: multiple dendritic cell subpopulations identified. J. Exp. Med. 184, 1953–1962 (1996).

den Haan, J. M., Lehar, S. M. & Bevan, M. J. CD8+ but not CD8− dendritic cells cross-prime cytotoxic T cells in vivo. J. Exp. Med. 192, 1685–1696 (2000).

Kretzer, N. M. et al. RAB43 facilitates cross-presentation of cell-associated antigens by CD8α+ dendritic cells. J. Exp. Med. 213, 2871–2883 (2016).

Wang, Y. et al. Tuberous sclerosis 1 (Tsc1)-dependent metabolic checkpoint controls development of dendritic cells. Proc. Natl Acad. Sci. USA 110, E4894–E4903 (2013).

Liedmann, S. et al. Viral suppressors of the RIG-I-mediated interferon response are pre-packaged in influenza virions. Nat. Commun. 5, 5645 (2014).

Huang, B., Wang, W., Bates, M. & Zhuang, X. Three-dimensional super-resolution imaging by stochastic optical reconstruction microscopy. Science 319, 810–813 (2008).

Tan, H. et al. Integrative proteomics and phosphoproteomics profiling reveals dynamic signaling networks and bioenergetics pathways underlying T cell activation. Immunity 46, 488–503 (2017).

Wang, H. et al. Systematic optimization of long gradient chromatography mass spectrometry for deep analysis of brain proteome. J. Proteome Res. 14, 829–838 (2015).

Zeng, H. et al. mTORC1 couples immune signals and metabolic programming to establish Treg-cell function. Nature 499, 485–490 (2013).

Ritchie, M. E. et al. limma powers differential expression analyses for RNA-sequencing and microarray studies. Nucleic Acids Res. 43, e47 (2015).

Putcha, P. et al. HDAC6 activity is a non-oncogene addiction hub for inflammatory breast cancers. Breast Cancer Res. 17, 149 (2015).

Wang, K. et al. Genome-wide identification of post-translational modulators of transcription factor activity in human B cells. Nat. Biotechnol. 27, 829–837 (2009).

Alvarez, M. J. et al. Functional characterization of somatic mutations in cancer using network-based inference of protein activity. Nat. Genet. 48, 838–847 (2016).

Lefebvre, C. et al. A human B-cell interactome identifies MYB and FOXM1 as master regulators of proliferation in germinal centers. Mol. Syst. Biol. 6, 377 (2010).

Margolin, A. A. et al. ARACNE: An algorithm for the reconstruction of gene regulatory networks in a mammalian cellular context. BMC Bioinformatics 7, S7 (2006).

Efron, B. & Tibshirani, R. On testing the significance of sets of genes. Ann. Appl. Stat. 1, 107–129 (2007).

Irizarry, R. A., Wang, C., Zhou, Y. & Speed, T. P. Gene set enrichment analysis made simple. Stat. Methods Med. Res. 18, 565–575 (2009).

Gelman, A. et al. Bayesian Data Analysis 3rd edn. (CRC Press, Boca Raton, 2013).

Riley, J. W. et al. The American soldier: adjustment during army life. Am. Sociol. Rev. 14, 557–559 (1949).

Subramanian, A. et al. Gene set enrichment analysis: a knowledge-based approach for interpreting genome-wide expression profiles. Proc. Natl Acad. Sci. USA 102, 15545–15550 (2005).
Acknowledgements
The authors acknowledge N. Chapman for critical reading of the manuscript, R. Johnson for Stk4 and Stk3 floxed mice, E. Olson for Yap1 and Taz floxed mice, S.C. Sun for the NIK(Δ78–84) construct, M. Hendren and A. KC for animal work, SJCRH Electron Microscopy core resource for electron microscopy, and Immunology FACS core facility for cell sorting. This work was supported by NIH AI105887, AI101407, CA176624, CA221290, NS064599 (to H.C.), and AG047928 (to J.P.).
Reviewer information
Nature thanks L. O'Neill and the other anonymous reviewer(s) for their contribution to the peer review of this work.
Ethics declarations
Competing interests
The authors declare no competing interests.
Additional information
Publisher's note: Springer Nature remains neutral with regard to jurisdictional claims in published maps and institutional affiliations.
Extended data figures and tables
Supplementary information
The uncropped western blot images with size marker indications.
About this article
Cite this article
Du, X., Wen, J., Wang, Y. et al. Hippo/Mst signalling couples metabolic state and immune function of CD8α+ dendritic cells. Nature 558, 141–145 (2018). https://doi.org/10.1038/s41586-018-0177-0
Received:

Accepted:

Published:

Issue Date:

DOI: https://doi.org/10.1038/s41586-018-0177-0
Comments
By submitting a comment you agree to abide by our Terms and Community Guidelines. If you find something abusive or that does not comply with our terms or guidelines please flag it as inappropriate.