Abstract
Hyperphosphorylation of the C-terminal domain (CTD) of the RPB1 subunit of human RNA polymerase (Pol) II is essential for transcriptional elongation and mRNA processing1,2,3. The CTD contains 52 heptapeptide repeats of the consensus sequence YSPTSPS. The highly repetitive nature and abundant possible phosphorylation sites of the CTD exert special constraints on the kinases that catalyse its hyperphosphorylation. Positive transcription elongation factor b (P-TEFb)—which consists of CDK9 and cyclin T1—is known to hyperphosphorylate the CTD and negative elongation factors to stimulate Pol II elongation1,4,5. The sequence determinant on P-TEFb that facilitates this action is currently unknown. Here we identify a histidine-rich domain in cyclin T1 that promotes the hyperphosphorylation of the CTD and stimulation of transcription by CDK9. The histidine-rich domain markedly enhances the binding of P-TEFb to the CTD and functional engagement with target genes in cells. In addition to cyclin T1, at least one other kinase—DYRK1A6—also uses a histidine-rich domain to target and hyperphosphorylate the CTD. As a low-complexity domain, the histidine-rich domain also promotes the formation of phase-separated liquid droplets in vitro, and the localization of P-TEFb to nuclear speckles that display dynamic liquid properties and are sensitive to the disruption of weak hydrophobic interactions. The CTD—which in isolation does not phase separate, despite being a low-complexity domain—is trapped within the cyclin T1 droplets, and this process is enhanced upon pre-phosphorylation by CDK7 of transcription initiation factor TFIIH1,2,3. By using multivalent interactions to create a phase-separated functional compartment, the histidine-rich domain in kinases targets the CTD into this environment to ensure hyperphosphorylation and efficient elongation of Pol II.
Access options
Subscribe to Journal
Get full journal access for 1 year
$199.00
only $3.90 per issue
All prices are NET prices.
VAT will be added later in the checkout.
Rent or Buy article
Get time limited or full article access on ReadCube.
from$8.99
All prices are NET prices.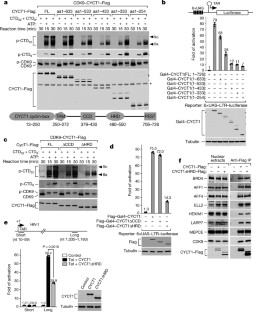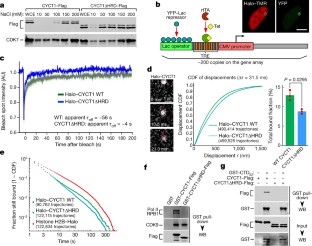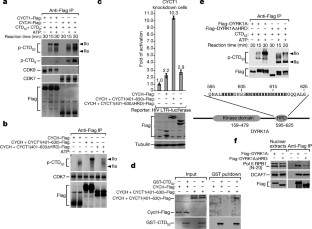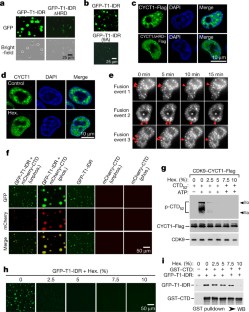 References
1.

Harlen, K. M. & Churchman, L. S. The code and beyond: transcription regulation by the RNA polymerase II carboxy-terminal domain. Nat. Rev. Mol. Cell Biol. 18, 263–273 (2017).

2.

Eick, D. & Geyer, M. The RNA polymerase II carboxy-terminal domain (CTD) code. Chem. Rev. 113, 8456–8490 (2013).

3.

Zaborowska, J., Egloff, S. & Murphy, S. The pol II CTD: new twists in the tail. Nat. Struct. Mol. Biol. 23, 771–777 (2016).

4.

Zhou, Q., Li, T. & Price, D. H. RNA polymerase II elongation control. Annu. Rev. Biochem. 81, 119–143 (2012).

5.

Kwak, H. & Lis, J. T. Control of transcriptional elongation. Annu. Rev. Genet. 47, 483–508 (2013).

6.

Di Vona, C. et al. Chromatin-wide profiling of DYRK1A reveals a role as a gene-specific RNA polymerase II CTD kinase. Mol. Cell 57, 506–520 (2015).

7.

Taube, R., Lin, X., Irwin, D., Fujinaga, K. & Peterlin, B. M. Interaction between P-TEFb and the C-terminal domain of RNA polymerase II activates transcriptional elongation from sites upstream or downstream of target genes. Mol. Cell. Biol. 22, 321–331 (2002).

8.

Darzacq, X. et al. In vivo dynamics of RNA polymerase II transcription. Nat. Struct. Mol. Biol. 14, 796–806 (2007).

9.

Hansen, A. S., Pustova, I., Cattoglio, C., Tjian, R. & Darzacq, X. CTCF and cohesin regulate chromatin loop stability with distinct dynamics. eLife 6, e25776 (2017).

10.

Hansen, A. S. et al. Robust model-based analysis of single-particle tracking experiments with Spot-On. eLife 7, e33125 (2018).

11.

Xiang, J. et al. DYRK1A regulates Hap1–Dcaf7/WDR68 binding with implication for delayed growth in Down syndrome. Proc. Natl Acad. Sci. USA 114, E1224–E1233 (2017).

12.

Dosztányi, Z., Csizmok, V., Tompa, P. & Simon, I. IUPred: web server for the prediction of intrinsically unstructured regions of proteins based on estimated energy content. Bioinformatics 21, 3433–3434 (2005).

13.

Mitrea, D. M. & Kriwacki, R. W. Phase separation in biology; functional organization of a higher order. Cell Commun. Signal. 14, 1 (2016).

14.

Courchaine, E. M., Lu, A. & Neugebauer, K. M. Droplet organelles? EMBO J. 35, 1603–1612 (2016).

15.

Banani, S. F., Lee, H. O., Hyman, A. A. & Rosen, M. K. Biomolecular condensates: organizers of cellular biochemistry. Nat. Rev. Mol. Cell Biol. 18, 285–298 (2017).

16.

Lin, Y., Protter, D. S., Rosen, M. K. & Parker, R. Formation and maturation of phase-separated liquid droplets by RNA-binding proteins. Mol. Cell 60, 208–219 (2015).

17.

Ying, Y. et al. Splicing activation by Rbfox requires self-aggregation through its tyrosine-rich domain. Cell 170, 312–323.e310 (2017).

18.

Strom, A. R. et al. Phase separation drives heterochromatin domain formation. Nature 547, 241–245 (2017).

19.

Molliex, A. et al. Phase separation by low complexity domains promotes stress granule assembly and drives pathological fibrillization. Cell 163, 123–133 (2015).

20.

Herrmann, C. H. & Mancini, M. A. The Cdk9 and cyclin T subunits of TAK/P-TEFb localize to splicing factor-rich nuclear speckle regions. J. Cell Sci. 114, 1491–1503 (2001).

21.

Marcello, A. et al. Recruitment of human cyclin T1 to nuclear bodies through direct interaction with the PML protein. EMBO J. 22, 2156–2166 (2003).

22.

Salichs, E., Ledda, A., Mularoni, L., Albà, M. M. & de la Luna, S. Genome-wide analysis of histidine repeats reveals their role in the localization of human proteins to the nuclear speckles compartment. PLoS Genet. 5, e1000397 (2009).

23.

Kato, M. et al. Cell-free formation of RNA granules: low complexity sequence domains form dynamic fibers within hydrogels. Cell 149, 753–767 (2012).

24.

Kwon, I. et al. Phosphorylation-regulated binding of RNA polymerase II to fibrous polymers of low-complexity domains. Cell 155, 1049–1060 (2013).

25.

Mortillaro, M. J. et al. A hyperphosphorylated form of the large subunit of RNA polymerase II is associated with splicing complexes and the nuclear matrix. Proc. Natl Acad. Sci. USA 93, 8253–8257 (1996).

26.

Hnisz, D., Shrinivas, K., Young, R. A., Chakraborty, A. K. & Sharp, P. A. A phase separation model for transcriptional control. Cell 169, 13–23 (2017).
Acknowledgements
We thank S. McKnight, M. Geyer, J. Hurley and their colleagues for providing the various expression plasmids, and U. Schulze-Gahmen for technical help. This work was supported by the National Institutes of Health grant R01AI041757 to Q.Z. and the California Institute of Regenerative Medicine grant LA1-08013 to X.D.
Reviewer information
Nature thanks J. Lis, D. Taatjes and the other anonymous reviewer(s) for their contribution to the peer review of this work.
Ethics declarations
Competing interests
The authors declare no competing interests.
Additional information
Publisher's note: Springer Nature remains neutral with regard to jurisdictional claims in published maps and institutional affiliations.
Extended data figures and tables
Supplementary information
About this article
Cite this article
Lu, H., Yu, D., Hansen, A.S. et al. Phase-separation mechanism for C-terminal hyperphosphorylation of RNA polymerase II. Nature 558, 318–323 (2018). https://doi.org/10.1038/s41586-018-0174-3
Received:

Accepted:

Published:

Issue Date:
Comments
By submitting a comment you agree to abide by our Terms and Community Guidelines. If you find something abusive or that does not comply with our terms or guidelines please flag it as inappropriate.