Abstract
De novo mutations in ADNP, which encodes activity-dependent neuroprotective protein (ADNP), have recently been found to underlie Helsmoortel–Van der Aa syndrome, a complex neurological developmental disorder that also affects several other organ functions1. ADNP is a putative transcription factor that is essential for embryonic development2. However, its precise roles in transcriptional regulation and development are not understood. Here we show that ADNP interacts with the chromatin remodeller CHD4 and the chromatin architectural protein HP1 to form a stable complex, which we refer to as ChAHP. Besides mediating complex assembly, ADNP recognizes DNA motifs that specify binding of ChAHP to euchromatin. Genetic ablation of ChAHP components in mouse embryonic stem cells results in spontaneous differentiation concomitant with premature activation of lineage-specific genes and in a failure to differentiate towards the neuronal lineage. Molecularly, ChAHP-mediated repression is fundamentally different from canonical HP1-mediated silencing: HP1 proteins, in conjunction with histone H3 lysine 9 trimethylation (H3K9me3), are thought to assemble broad heterochromatin domains that are refractory to transcription. ChAHP-mediated repression, however, acts in a locally restricted manner by establishing inaccessible chromatin around its DNA-binding sites and does not depend on H3K9me3-modified nucleosomes. Together, our results reveal that ADNP, via the recruitment of HP1 and CHD4, regulates the expression of genes that are crucial for maintaining distinct cellular states and assures accurate cell fate decisions upon external cues. Such a general role of ChAHP in governing cell fate plasticity may explain why ADNP mutations affect several organs and body functions and contribute to cancer progression1,3,4. Notably, we found that the integrity of the ChAHP complex is disrupted by nonsense mutations identified in patients with Helsmoortel–Van der Aa syndrome, and this could be rescued by aminoglycosides that suppress translation termination5. Therefore, patients might benefit from therapeutic agents that are being developed to promote ribosomal read-through of premature stop codons6,7.
Access options
Subscribe to Journal
Get full journal access for 1 year
$199.00
only $3.90 per issue
All prices are NET prices.
VAT will be added later in the checkout.
Rent or Buy article
Get time limited or full article access on ReadCube.
from$8.99
All prices are NET prices.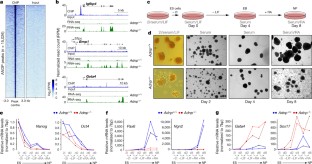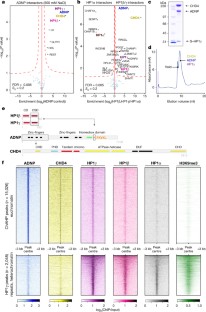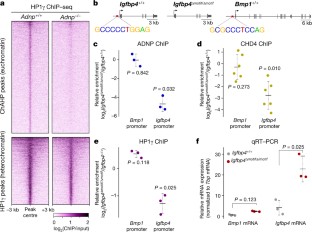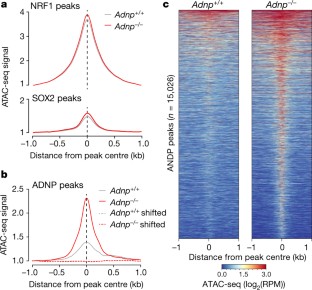 References
1.

Helsmoortel, C. et al. A SWI/SNF-related autism syndrome caused by de novo mutations in ADNP. Nat. Genet. 46, 380–384 (2014).

2.

Pinhasov, A. et al. Activity-dependent neuroprotective protein: a novel gene essential for brain formation. Brain Res. Dev. Brain Res. 144, 83–90 (2003).

3.

Gozes, I., Yeheskel, A. & Pasmanik-Chor, M. Activity-dependent neuroprotective protein (ADNP): a case study for highly conserved chordata-specific genes shaping the brain and mutated in cancer. J. Alzheimers Dis. 45, 57–73 (2015).

4.

Gozes, I. et al. The compassionate side of neuroscience: Tony Sermone's undiagnosed genetic journey–ADNP mutation. J. Mol. Neurosci. 56, 751–757 (2015).

5.

Hermann, T. Aminoglycoside antibiotics: old drugs and new therapeutic approaches. Cell. Mol. Life Sci. 64, 1841–1852 (2007).

6.

Peltz, S. W., Morsy, M., Welch, E. M. & Jacobson, A. Ataluren as an agent for therapeutic nonsense suppression. Annu. Rev. Med. 64, 407–425 (2013).

7.

Welch, E. M. et al. PTC124 targets genetic disorders caused by nonsense mutations. Nature 447, 87–91 (2007).

8.

Zamostiano, R. et al. Cloning and characterization of the human activity-dependent neuroprotective protein. J. Biol. Chem. 276, 708–714 (2001).

9.

Bassan, M. et al. Complete sequence of a novel protein containing a femtomolar-activity-dependent neuroprotective peptide. J. Neurochem. 72, 1283–1293 (1999).

10.

Mandel, S., Rechavi, G. & Gozes, I. Activity-dependent neuroprotective protein (ADNP) differentially interacts with chromatin to regulate genes essential for embryogenesis. Dev. Biol. 303, 814–824 (2007).

11.

Niwa, H. Mouse ES cell culture system as a model of development. Dev. Growth Differ. 52, 275–283 (2010).

12.

Flemr, M. & Bühler, M. Single-step generation of conditional knockout mouse embryonic stem cells. Cell Reports 12, 709–716 (2015).

13.

Molkentin, J. D. The zinc finger-containing transcription factors GATA-4, -5, and -6. Ubiquitously expressed regulators of tissue-specific gene expression. J. Biol. Chem. 275, 38949–38952 (2000).

14.

Fujikura, J. et al. Differentiation of embryonic stem cells is induced by GATA factors. Genes Dev. 16, 784–789 (2002).

15.

Cho, L. T. Y. et al. Conversion from mouse embryonic to extra-embryonic endoderm stem cells reveals distinct differentiation capacities of pluripotent stem cell states. Development 139, 2866–2877 (2012).

16.

Bibel, M. et al. Differentiation of mouse embryonic stem cells into a defined neuronal lineage. Nat. Neurosci. 7, 1003–1009 (2004).

17.

Mosch, K., Franz, H., Soeroes, S., Singh, P. B. & Fischle, W. HP1 recruits activity-dependent neuroprotective protein to H3K9me3 marked pericentromeric heterochromatin for silencing of major satellite repeats. PLoS ONE 6, e15894 (2011).

18.

Mandel, S. & Gozes, I. Activity-dependent neuroprotective protein constitutes a novel element in the SWI/SNF chromatin remodeling complex. J. Biol. Chem. 282, 34448–34456 (2007).

19.

Vermeulen, M. & et al. Quantitative interaction proteomics and genome-wide profiling of epigenetic histone marks and their readers. Cell 142, 967–980 (2010).

20.

de Dieuleveult, M. et al. Genome-wide nucleosome specificity and function of chromatin remodellers in ES cells. Nature 530, 113–116 (2016).

21.

Bannister, A. J. et al. Selective recognition of methylated lysine 9 on histone H3 by the HP1 chromo domain. Nature 410, 120–124 (2001).

22.

Lachner, M., O'Carroll, D., Rea, S., Mechtler, K. & Jenuwein, T. Methylation of histone H3 lysine 9 creates a binding site for HP1 proteins. Nature 410, 116–120 (2001).

23.

Buenrostro, J. D., Giresi, P. G., Zaba, L. C., Chang, H. Y. & Greenleaf, W. J. Transposition of native chromatin for fast and sensitive epigenomic profiling of open chromatin, DNA-binding proteins and nucleosome position. Nat. Methods 10, 1213–1218 (2013).

24.

Domcke, S. et al. Competition between DNA methylation and transcription factors determines binding of NRF1. Nature 528, 575–579 (2015).

25.

Mohn, F. et al. Lineage-specific polycomb targets and de novo DNA methylation define restriction and potential of neuronal progenitors. Mol. Cell 30, 755–766 (2008).

26.

Knuckles, P. et al. RNA fate determination through cotranscriptional adenosine methylation and microprocessor binding. Nat. Struct. Mol. Biol. 24, 561–569 (2017).

27.

Jacobs, S. A. & Khorasanizadeh, S. Structure of HP1 chromodomain bound to a lysine 9-methylated histone H3 tail. Science 295, 2080–2083 (2002).

28.

Bibel, M., Richter, J., Lacroix, E. & Barde, Y.-A. Generation of a defined and uniform population of CNS progenitors and neurons from mouse embryonic stem cells. Nat. Protocols 2, 1034–1043 (2007).

29.

Cox, J. et al. Andromeda: a peptide search engine integrated into the MaxQuant environment. J. Proteome Res. 10, 1794–1805 (2011).

30.

Cox, J. et al. Accurate proteome-wide label-free quantification by delayed normalization and maximal peptide ratio extraction, termed MaxLFQ. Mol. Cell. Proteomics 13, 2513–2526 (2014).

31.

Hubner, N. C. et al. Quantitative proteomics combined with BAC TransgeneOmics reveals in vivo protein interactions. J. Cell Biol. 189, 739–754 (2010).

32.

Tyanova, S. et al. The Perseus computational platform for comprehensive analysis of (prote)omics data. Nat. Methods 13, 731–740 (2016).

33.

Tusher, V. G., Tibshirani, R. & Chu, G. Significance analysis of microarrays applied to the ionizing radiation response. Proc. Natl Acad. Sci. USA 98, 5116–5121 (2001).

34.

Schwanhäusser, B. et al. Global quantification of mammalian gene expression control. Nature 473, 337–342 (2011).

35.

MacLean, B. et al. Skyline: an open source document editor for creating and analyzing targeted proteomics experiments. Bioinformatics 26, 966–968 (2010).

36.

Abdulrahman, W. et al. A set of baculovirus transfer vectors for screening of affinity tags and parallel expression strategies. Anal. Biochem. 385, 383–385 (2009).

37.

Rosenbloom, K. R. et al. The UCSC Genome Browser database: 2015 update. Nucleic Acids Res. 43, D670–D681 (2015).

38.

Langmead, B., Trapnell, C., Pop, M. & Salzberg, S. L. Ultrafast and memory-efficient alignment of short DNA sequences to the human genome. Genome Biol. 10, R25 (2009).

39.

Gaidatzis, D., Lerch, A., Hahne, F. & Stadler, M. B. QuasR: quantification and annotation of short reads in R. Bioinformatics 31, 1130–1132 (2015).

40.

Robinson, M. D., McCarthy, D. J. & Smyth, G. K. edgeR: a Bioconductor package for differential expression analysis of digital gene expression data. Bioinformatics 26, 139–140 (2010).

41.

Young, M. D., Wakefield, M. J., Smyth, G. K. & Oshlack, A. Gene ontology analysis for RNA-seq: accounting for selection bias. Genome Biol. 11, R14 (2010).

42.

Zhang, Y. et al. Model-based analysis of ChIP-Seq (MACS). Genome Biol. 9, R137 (2008).

43.

Heinz, S. et al. Simple combinations of lineage-determining transcription factors prime cis-regulatory elements required for macrophage and B cell identities. Mol. Cell 38, 576–589 (2010).

44.

Ramírez, F. et al. deepTools2: a next generation web server for deep-sequencing data analysis. Nucleic Acids Res. 44 (W1), W160–W165 (2016).

45.

Whyte, W. A. et al. Enhancer decommissioning by LSD1 during embryonic stem cell differentiation. Nature 482, 221–225 (2012).

46.

Tiwari, V. K. et al. A chromatin-modifying function of JNK during stem cell differentiation. Nat. Genet. 44, 94–100 (2011).

47.

Karmodiya, K., Krebs, A. R., Oulad-Abdelghani, M., Kimura, H. & Tora, L. H3K9 and H3K14 acetylation co-occur at many gene regulatory elements, while H3K14ac marks a subset of inactive inducible promoters in mouse embryonic stem cells. BMC Genomics 13, 424 (2012).

48.

Liu, N. et al. Recognition of H3K9 methylation by GLP is required for efficient establishment of H3K9 methylation, rapid target gene repression, and mouse viability. Genes Dev. 29, 379–393 (2015).

49.

Mikkelsen, T. S. et al. Genome-wide maps of chromatin state in pluripotent and lineage-committed cells. Nature 448, 553–560 (2007).

50.

Vizcaíno, J. A. et al. 2016 update of the PRIDE database and its related tools. Nucleic Acids Res. 44 (D1), D447–D456 (2016).

51.

Kwon, S. H. & Workman, J. L. The heterochromatin protein 1 (HP1) family: put away a bias toward HP1. Mol. Cells 26, 217–227 (2008).

52.

Murzina, N., Verreault, A., Laue, E. & Stillman, B. Heterochromatin dynamics in mouse cells: interaction between chromatin assembly factor 1 and HP1 proteins. Mol. Cell 4, 529–540 (1999).

53.

Maison, C. et al. The SUMO protease SENP7 is a critical component to ensure HP1 enrichment at pericentric heterochromatin. Nat. Struct. Mol. Biol. 19, 458–460 (2012).

54.

Smothers, J. F. & Henikoff, S. The HP1 chromo shadow domain binds a consensus peptide pentamer. Curr. Biol. 10, 27–30 (2000).
Acknowledgements
We thank A. Peters and D. Schübeler for discussion and feedback on the manuscript, and H. Pickersgill for editing assistance. We thank Y. Shimada and N. Laschet for technical support. We would like to thank the FMI Functional Genomics facility for assistance in library construction and next generation sequencing, and J. Seebacher for discussions. This work was supported by funds from the Swiss National Science Foundation (SNF).
Reviewer information
Nature thanks P. Wade and the other anonymous reviewer(s) for their contribution to the peer review of this work.
Ethics declarations
Competing interests
The authors declare competing financial interests: a patent application has been filed (EP17191642.2). The Friedrich Miescher Institute for Biomedical Research (FMI) receives significant financial contributions from the Novartis Research Foundation. Published research reagents from the FMI are shared with the academic community under a Material Transfer Agreement (MTA) having terms and conditions corresponding to those of the UBMTA (Uniform Biological Material Transfer Agreement).
Additional information
Publisher's note: Springer Nature remains neutral with regard to jurisdictional claims in published maps and institutional affiliations.
Extended data figures and tables
Supplementary information
About this article
Cite this article
Ostapcuk, V., Mohn, F., Carl, S.H. et al. Activity-dependent neuroprotective protein recruits HP1 and CHD4 to control lineage-specifying genes. Nature 557, 739–743 (2018). https://doi.org/10.1038/s41586-018-0153-8
Received:

Accepted:

Published:

Issue Date:
Comments
By submitting a comment you agree to abide by our Terms and Community Guidelines. If you find something abusive or that does not comply with our terms or guidelines please flag it as inappropriate.