Abstract
Editing domains of aminoacyl tRNA synthetases correct tRNA charging errors to maintain translational fidelity. A mutation in the editing domain of alanyl tRNA synthetase (AlaRS) in Aarssti mutant mice results in an increase in the production of serine-mischarged tRNAAla and the degeneration of cerebellar Purkinje cells. Here, using positional cloning, we identified Ankrd16, a gene that acts epistatically with the Aarssti mutation to attenuate neurodegeneration. ANKRD16, a vertebrate-specific protein that contains ankyrin repeats, binds directly to the catalytic domain of AlaRS. Serine that is misactivated by AlaRS is captured by the lysine side chains of ANKRD16, which prevents the charging of serine adenylates to tRNAAla and precludes serine misincorporation in nascent peptides. The deletion of Ankrd16 in the brains of Aarssti/sti mice causes widespread protein aggregation and neuron loss. These results identify an amino-acid-accepting co-regulator of tRNA synthetase editing as a new layer of the machinery that is essential to the prevention of severe pathologies that arise from defects in editing.
This is a preview of subscription content
Access options
Subscribe to Journal
Get full journal access for 1 year
$199.00
only $3.90 per issue
All prices are NET prices.
VAT will be added later in the checkout.
Tax calculation will be finalised during checkout.
Rent or Buy article
Get time limited or full article access on ReadCube.
from$8.99
All prices are NET prices.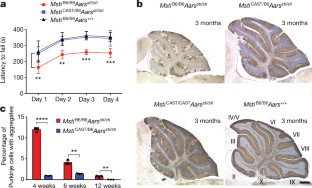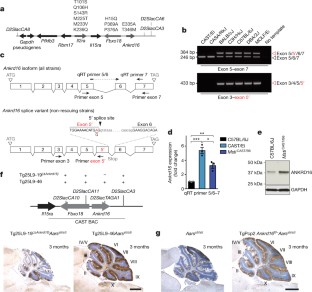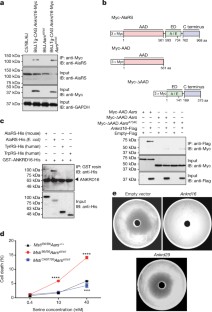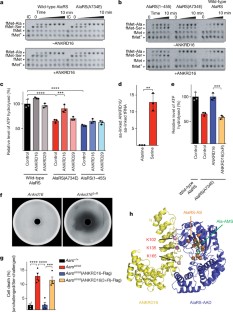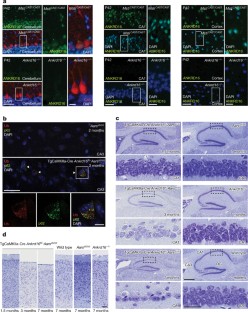 References
1.

Guo, M. et al. Paradox of mistranslation of serine for alanine caused by AlaRS recognition dilemma. Nature 462, 808–812 (2009).

2.

Schimmel, P. Mistranslation and its control by tRNA synthetases. Philos. Trans. R. Soc. Lond. B 366, 2965–2971 (2011).

3.

Ling, J., Reynolds, N. & Ibba, M. Aminoacyl-tRNA synthesis and translational quality control. Annu. Rev. Microbiol. 63, 61–78 (2009).

4.

Martinis, S. A. & Boniecki, M. T. The balance between pre- and post-transfer editing in tRNA synthetases. FEBS Lett. 584, 455–459 (2010).

5.

Dulic, M., Cvetesic, N., Perona, J. J. & Gruic-Sovulj, I. Partitioning of tRNA-dependent editing between pre- and post-transfer pathways in class I aminoacyl-tRNA synthetases. J. Biol. Chem. 285, 23799–23809 (2010).

6.

Schimmel, P. Development of tRNA synthetases and connection to genetic code and disease. Protein Sci. 17, 1643–1652 (2008).

7.

Beebe, K., Pouplana, L. R. De & Schimmel, P. Elucidation of tRNA-dependent editing by a class II tRNA synthetase and significance for cell viability. EMBO J. 22, 668–675 (2003).

8.

Nangle, L. A., Motta, C. M. & Schimmel, P. Global effects of mistranslation from an editing defect in mammalian cells. Chem. Biol. 13, 1091–1100 (2006).

9.

Lee, J. W. et al. Editing-defective tRNA synthetase causes protein misfolding and neurodegeneration. Nature 443, 50–55 (2006).

10.

Lu, J., Bergert, M., Walther, A. & Suter, B. Double-sieving-defective aminoacyl-tRNA synthetase causes protein mistranslation and affects cellular physiology and development. Nat. Commun. 5, 5650 (2014).

11.

Liu, Y. et al. Deficiencies in tRNA synthetase editing activity cause cardioproteinopathy. Proc. Natl Acad. Sci. USA 111, 17570–17575 (2014).

12.

Calendar, R. & Berg, P. d-Tyrosyl RNA: formation, hydrolysis and utilization for protein synthesis. J. Mol. Biol. 26, 39–54 (1967).

13.

Pawar, K. I. et al. Role of d-aminoacyl-tRNA deacylase beyond chiral proofreading as a cellular defense against glycine mischarging by AlaRS. eLife 6, e24001 (2017).

14.

Calendar, R. d-tyrosyl-tRNA deacylase: a new function. Trends Biochem. Sci. 42, 684–686 (2017).

15.

Niwa, H., Yamamura, K. & Miyazaki, J. Efficient selection for high-expression transfectants with a novel eukaryotic vector. Gene 108, 193–199 (1991).

16.

Okabe, M., Ikawa, M., Kominami, K., Nakanishi, T. & Nishimune, Y. 'Green mice' as a source of ubiquitous green cells. FEBS Lett. 407, 313–319 (1997).

17.

Tsui, W. C. & Fersht, A. R. Probing the principles of amino acid selection using the alanyl-tRNA synthetase from Escherichia coli. Nucleic Acids Res. 9, 4627–4637 (1981).

18.

Yanagisawa, T., Sumida, T., Ishii, R., Takemoto, C. & Yokoyama, S. A paralog of lysyl-tRNA synthetase aminoacylates a conserved lysine residue in translation elongation factor P. Nat. Struct. Mol. Biol. 17, 1136–1143 (2010).

19.

He, X. D. et al. Sensing and transmitting intracellular amino acid signals through reversible lysine aminoacylations. Cell Metab. 27, 151–166.e6 (2018).

20.

Jakubowski, H. Protein homocysteinylation: possible mechanism underlying pathological consequences of elevated homocysteine levels. FASEB J. 13, 2277–2283 (1999).

21.

Jakubowski, H. Quality control in tRNA charging—editing of homocysteine. Acta Biochim. Pol. 58, 149–163 (2011).

23.

Beebe, K., Mock, M., Merriman, E. & Schimmel, P. Distinct domains of tRNA synthetase recognize the same base pair. Nature 451, 90–93 (2008).

24.

Chong, Y. E., Yang, X. L. & Schimmel, P. Natural homolog of tRNA synthetase editing domain rescues conditional lethality caused by mistranslation. J. Biol. Chem. 283, 30073–30078 (2008).

25.

Fersht, A. R. Editing mechanisms in protein synthesis. Rejection of valine by the isoleucyl-tRNA synthetase. Biochemistry 16, 1025–1030 (1977).

26.

Jakubowski, H. & Goldman, E. Editing of errors in selection of amino acids for protein synthesis. Microbiol. Rev. 56, 412–429 (1992).

27.

Ibba, M. & Söll, D. Quality control mechanisms during translation. Science 286, 1893–1897 (1999).

28.

van Ham, T. J., Breitling, R., Swertz, M. A. & Nollen, E. A. A. Neurodegenerative diseases: Lessons from genome-wide screens in small model organisms. EMBO Mol. Med. 1, 360–370 (2009).

29.

Chen, X. & Burgoyne, R. D. Identification of common genetic modifiers of neurodegenerative diseases from an integrative analysis of diverse genetic screens in model organisms. BMC Genomics 13, 71 (2012).

30.

Lenz, S., Karsten, P., Schulz, J. B. & Voigt, A. Drosophila as a screening tool to study human neurodegenerative diseases. J. Neurochem. 127, 453–460 (2013).

22.

Kimmel, R. A. et al. Two lineage boundaries coordinate vertebrate apical ectodermal ridge formation. Genes Dev. 14, 1377–1389 (2000).

31.

Oberdick, J., Smeyne, R. J., Mann, J. R., Zackson, S. & Morgan, J. I. A promoter that drives transgene expression in cerebellar Purkinje and retinal bipolar neurons. Science 248, 223–226 (1990).

32.

Nagy, A., Gertsenstein, M., Vintersten, K. & Behringer, R. Manipulating the Mouse Embryo: A Laboratory Manual. (Cold Spring Harbor Lab., New York, 1986).

33.

Song, Y. et al. Sample preparation project for the subcellular proteome of mouse liver. Proteomics 6, 5269–5277 (2006).

34.

Peng, F. et al. Proteomic and bioinformatics analyses of mouse liver microsomes. Int. J. Proteomics 2012, 832569 (2012).

35.

Livak, K. J. & Schmittgen, T. D. Analysis of relative gene expression data using real-time quantitative PCR and the 2−ΔΔCT method. Methods 25, 402–408 (2001).

36.

Wolters, D. A., Washburn, M. P. & Yates, J. R. III An automated multidimensional protein identification technology for shotgun proteomics. Anal. Chem. 73, 5683–5690 (2001).

37.

McDonald, W. H. et al. MS1, MS2, and SQT-three unified, compact, and easily parsed file formats for the storage of shotgun proteomic spectra and identifications. Rapid Commun. Mass Spectrom. 18, 2162–2168 (2004).

38.

Peng, J., Elias, J. E., Thoreen, C. C., Licklider, L. J. & Gygi, S. P. Evaluation of multidimensional chromatography coupled with tandem mass spectrometry (LC/LC-MS/MS) for large-scale protein analysis: the yeast proteome. J. Proteome Res. 2, 43–50 (2003).

39.

Boon, K. et al. Isolation and functional analysis of histidine-tagged elongation factor Tu. Eur. J. Biochem. 210, 177–183 (1992).

40.

Qin, D., Abdi, N. M. & Fredrick, K. Characterization of 16S rRNA mutations that decrease the fidelity of translation initiation. RNA 13, 2348–2355 (2007).

41.

Shoji, S., Walker, S. E. & Fredrick, K. Reverse translocation of tRNA in the ribosome. Mol. Cell 24, 931–942 (2006).

42.

Walker, S. E. & Fredrick, K. Preparation and evaluation of acylated tRNAs. Methods 44, 81–86 (2008).

43.

Merryman, C. & Green, R. Transformation of aminoacyl tRNAs for the in vitro selection of "drug-like" molecules. Chem. Biol. 11, 575–582 (2004).

44.

Langer, A. et al. Polymerase/DNA interactions and enzymatic activity: multi-parameter analysis with electro-switchable biosurfaces. Sci. Rep. 5, 12066 (2015).

45.

Splan, K. E., Musier-Forsyth, K., Boniecki, M. T. & Martinis, S. A. In vitro assays for the determination of aminoacyl-tRNA synthetase editing activity. Methods 44, 119–128 (2008).

46.

Beebe, K., Waas, W., Druzina, Z., Guo, M. & Schimmel, P. A universal plate format for increased throughput of assays that monitor multiple aminoacyl transfer RNA synthetase activities. Anal. Biochem. 368, 111–121 (2007).

47.

Moon, H. M. & Weissbach, H. Interaction of brain transferase I with guanosine nucleotides and aminoacyl-tRNA. Biochem. Biophys. Res. Commun. 46, 254–262 (1972).

48.

Sun, L. et al. Evolutionary gain of alanine mischarging to noncognate tRNAs with a G4:U69 base pair. J. Am. Chem. Soc. 138, 12948–12955 (2016).

49.

Naganuma, M. et al. The selective tRNA aminoacylation mechanism based on a single G⋅U pair. Nature 510, 507–511 (2014).

50.

He, L., Diedrich, J., Chu, Y. Y. & Yates, J. R. III Extracting accurate precursor information for tandem mass spectra by RawConverter. Anal. Chem. 87, 11361–11367 (2015).

51.

Xu, T. et al. ProLuCID: An improved SEQUEST-like algorithm with enhanced sensitivity and specificity. J. Proteomics 129, 16–24 (2015).
Acknowledgements
We thank K. Brown, J. Cook, T. Jucius and A. Kano for technical assistance, and the microinjection core at The Jackson Laboratory for transgenic mouse production. This work was supported by National Institutes of Health grants R01NS42613 to S.L.A., R01GM072528 to K.F., R01CA92577 to P.S., and a Fellowship from the National Foundation for Cancer Research to P.S. S.L.A. is an investigator of the Howard Hughes Medical Institute.
Reviewer information
Nature thanks C. Francklyn and M. Justice for their contribution to the peer review of this work.
Ethics declarations
Competing interests
The authors declare no competing interests.
Additional information
Publisher's note: Springer Nature remains neutral with regard to jurisdictional claims in published maps and institutional affiliations.
Extended data figures and tables
Supplementary information
This file contains the western blots that are labelled with the corresponding figure number and panel letter, antibody staining and the region of the blot that has been cropped. Western blots are provided for the following figures: Fig.2e, Fig. 3a, b and c, Extended Data Fig. 1g and h, Extended Data Fig.2b, c, d, and e, Extended Data Fig. 5g and Extended Data Fig. 7a, b and d.
About this article
Cite this article
Vo, MN., Terrey, M., Lee, J.W. et al. ANKRD16 prevents neuron loss caused by an editing-defective tRNA synthetase. Nature 557, 510–515 (2018). https://doi.org/10.1038/s41586-018-0137-8
Received:

Accepted:

Published:

Issue Date:
Further reading
Maria-Magdalena Georgescu
Mohammad Zahidul Islam
Anil Nanda

Acta Neuropathologica Communications (2021)

Michelle N. Perry
Susan M. Bello
Cynthia L. Smith

Lab Animal (2020)

Nam Hoon Kwon
Paul L. Fox
Sunghoon Kim

Nature Reviews Drug Discovery (2019)
Comments
By submitting a comment you agree to abide by our Terms and Community Guidelines. If you find something abusive or that does not comply with our terms or guidelines please flag it as inappropriate.