Abstract
Liquid crystals (LCs) are anisotropic fluids that combine the long-range order of crystals with the mobility of liquids1,2. This combination of properties has been widely used to create reconfigurable materials that optically report information about their environment, such as changes in electric fields (smart-phone displays)3, temperature (thermometers)4 or mechanical shear5, and the arrival of chemical and biological stimuli (sensors)6,7. An unmet need exists, however, for responsive materials that not only report their environment but also transform it through self-regulated chemical interactions. Here we show that a range of stimuli can trigger pulsatile (transient) or continuous release of microcargo (aqueous microdroplets or solid microparticles and their chemical contents) that is trapped initially within LCs. The resulting LC materials self-report and self-regulate their chemical response to targeted physical, chemical and biological events in ways that can be preprogrammed through an interplay of elastic, electrical double-layer, buoyant and shear forces in diverse geometries (such as wells, films and emulsion droplets). These LC materials can carry out complex functions that go beyond the capabilities of conventional materials used for controlled microcargo release, such as optically reporting a stimulus (for example, mechanical shear stresses generated by motile bacteria) and then responding in a self-regulated manner via a feedback loop (for example, to release the minimum amount of biocidal agent required to cause bacterial cell death).
Relevant articles
Open Access articles citing this article.
Min Cao

,

Senping Liu

…

Chao Gao

Nano-Micro Letters Open Access 19 September 2022

Sayyed Ahmad Khadem

,

Massimo Bagnani

…

Alejandro D. Rey

Nature Communications Open Access 15 September 2020

T. Dadalyan

&

T. Galstian

Scientific Reports Open Access 26 August 2019
Access options
Access Nature and 54 other Nature Portfolio journals
Get Nature+, our best-value online-access subscription
$29.99 / 30 days
cancel any time
Subscribe to this journal
Receive 51 print issues and online access
$199.00 per year
only $3.90 per issue
Rent or buy this article
Get just this article for as long as you need it
$39.95
Prices may be subject to local taxes which are calculated during checkout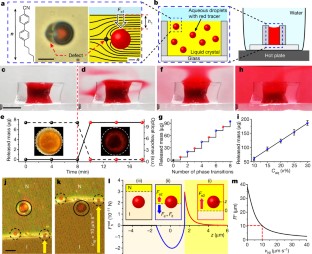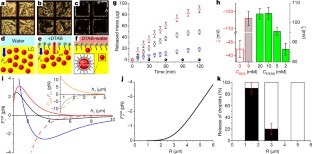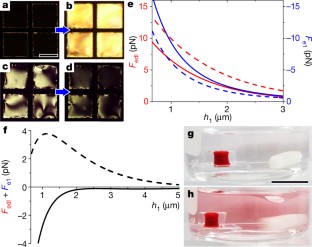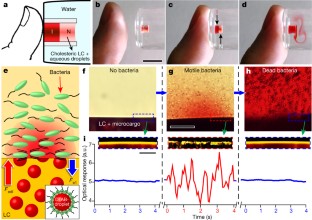 References
de Gennes, P. G. & Prost, J. The Physics of Liquid Crystals (Clarendon Press, Oxford, 1993).

Kleman, M. & Lavrentovich, O. D. Soft Matter Physics: An Introduction (Springer, New York, 2003).

Yang, D.-K. & Wu, S.-T. Fundamentals of Liquid Crystal Devices (John Wiley & Sons, Chichester, 2006).

Demus, D., Goodby, J., Gray, G. W., Spiess, H.-W. & Vill, V. Handbook of Liquid Crystals Vol. 2 (Wiley-VCH, New York, 1998).

Cuennet, J. G., Vasdekis, A. E., De Sio, L. & Psaltis, D. Optofluidic modulator based on peristaltic nematogen microflows. Nat. Photon. 5, 234–238 (2011).

Bukusoglu, E., Pantoja, M. B., Mushenheim, P. C., Wang, X. & Abbott, N. L. Design of responsive and active (soft) materials using liquid crystals. Annu. Rev. Chem. Biomol. 7, 163–196 (2016).

Lin, I. H. et al. Endotoxin-induced structural transformations in liquid crystalline droplets. Science 332, 1297–1300 (2011).

Kim, Y.-K., Shiyanovskii, S. V. & Lavrentovich, O. D. Morphogenesis of defects and tactoids during isotropic nematic phase transition in self assembled lyotropic chromonic liquid crystals. J. Phys. Condens. Matter 25, 404202 (2013).

Wood, T. A., Lintuvuori, J. S., Schofield, A. B., Marenduzzo, D. & Poon, W. C. K. A self-quenched defect glass in a colloid-nematic liquid crystal composite. Science 334, 79–83 (2011).

Chernyshuk, S. B. & Lev, B. I. Theory of elastic interaction of colloidal particles in nematic liquid crystals near one wall and in the nematic cell. Phys. Rev. E 84, 011707 (2011).

Pishnyak, O. P., Tang, S., Kelly, J. R., Shiyanovskii, S. V. & Lavrentovich, O. D. Levitation, lift, and bidirectional motion of colloidal particles in an electrically driven nematic liquid crystal. Phys. Rev. Lett. 99, 127802 (2007).

Poulin, P., Stark, H., Lubensky, T. C. & Weitz, D. A. Novel colloidal interactions in anisotropic fluids. Science 275, 1770–1773 (1997).

Loudet, J.-C., Barois, P. & Poulin, P. Colloidal ordering from phase separation in a liquid-crystalline continuous phase. Nature 407, 611–613 (2000).

Musevic, I., Skarabot, M., Tkalec, U., Ravnik, M. & Zumer, S. Two-dimensional nematic colloidal crystals self-assembled by topological defects. Science 313, 954–958 (2006).

Kim, Y.-K., Senyuk, B. & Lavrentovich, O. D. Molecular reorientation of a nematic liquid crystal by thermal expansion. Nat. Commun. 3, 1133 (2012).

Mukherjee, P. K. The T NI–T* puzzle of the nematic-isotropic phase transition. J. Phys. Condens. Matter 10, 9191–9205 (1998).

West, J. L. et al. Drag on particles in a nematic suspension by a moving nematic-isotropic interface. Phys. Rev. E 66, 012702 (2002).

Loudet, J. C., Hanusse, P. & Poulin, P. Stokes drag on a sphere in a nematic liquid crystal. Science 306, 1525 (2004).

White, T. J. & Broer, D. J. Programmable and adaptive mechanics with liquid crystal polymer networks and elastomers. Nat. Mater. 14, 1087–1098 (2015).

Borshch, V. et al. Nematic twist-bend phase with nanoscale modulation of molecular orientation. Nat. Commun. 4, 2635 (2013).

Mustin, B. & Stoeber, B. Single layer deposition of polystyrene particles onto planar polydimethylsiloxane substrates. Langmuir 32, 88–101 (2016).

Zheng, Z. G. et al. Three-dimensional control of the helical axis of a chiral nematic liquid crystal by light. Nature 531, 352–356 (2016).

Varney, M. C. M. et al. Periodic dynamics, localization metastability, and elastic interaction of colloidal particles with confining surfaces and helicoidal structure of cholesteric liquid crystals. Phys. Rev. E 90, 062502 (2014).

Kearney, C. J. & Mooney, D. J. Macroscale delivery systems for molecular and cellular payloads. Nat. Mater. 12, 1004–1017 (2013).

Zabara, A. & Mezzenga, R. Controlling molecular transport and sustained drug release in lipid-based liquid crystalline mesophases. J. Control. Release 188, 31–43 (2014).

Nguyen, N.-T., Shaegh, S. A. M., Kashaninejad, N. & Phan, D.-T. Design, fabrication and characterization of drug delivery systems based on lab-on-a-chip technology. Adv. Drug Deliv. Rev. 65, 1403–1419 (2013).

Lehar, S. M. et al. Novel antibody-antibiotic conjugate eliminates intracellular S. aureus. Nature 527, 323–328 (2015).

Sidiq, S., Prasad, G., Mukhopadhaya, A. & Pal, S. K. Poly(L-lysine)-coated liquid crystal droplets for cell-based sensing applications. J. Phys. Chem. B 121, 4247–4256 (2017).

Ma, C. D. et al. Liquid crystal interfaces programmed with enzyme-responsive polymers and surfactants. Small 11, 5747–5751 (2015).

Lydon, J. Chromonic review. J. Mater. Chem. 20, 10071–10099 (2010).

Bogi, A. & Faetti, S. Elastic, dielectric and optical constants of 4′-pentyl-4-cyanobiphenyl. Liq. Cryst. 28, 729–739 (2001).

Raynes, E. P., Tough, R. J. A. & Davies, K. A. Voltage dependence of the capacitance of a twisted nematic liquid crystal layer. Mol. Cryst. Liq. Cryst. 56, 63–68 (1979).

Kim, J.-W., Kim, H., Lee, M. & Magda, J. J. Interfacial tension of a nematic liquid crystal/water interface with homeotropic surface alignment. Langmuir 20, 8110–8113 (2004)

Israelachvili, J. N. Intermolecular and Surface Forces 3rd edn (Elsevier Science, Burlington, 2010).

Zimmermann, N., Junnemann-Held, G., Collings, P. J. & Kitzerow, H.-S. Self-organized assemblies of colloidal particles obtained from an aligned chromonic liquid crystal dispersion. Soft Matter 11, 1547–1553 (2015).

Faetti, S. & Palleschi, V. Measurements of the interfacial tension between nematic and isotropic phase of some cyanobiphenyls. J. Chem. Phys. 81, 6254–6258 (1984).

Andrienko, D., Tasinkevych, M., Patricio, P. & da Gama, M. M. T. Interaction of colloids with a nematic-isotropic interface. Phys. Rev. E 69, 021706 (2004).

Shah, R. R. & Abbott, N. L. Coupling of the orientations of liquid crystals to electrical double layers formed by the dissociation of surface-immobilized salts. J. Phys. Chem. B 105, 4936–4950 (2001).

Brown, M. A. et al. Determination of surface potential and electrical double-layer structure at the aqueous electrolyte-nanoparticle interface. Phys. Rev. X 6, 011007 (2016).

Janik, J., Krol-Otwinowska, A., Sokolowska, D. & Moscicki, J. K. Pendulum viscometer: a new method for measurement of Miesowicz nematic shear viscosity coefficients η 1 and η 2. Rev. Sci. Instrum. 77, 123906 (2006).

Holmberg, K., Jönsson, B., Kronberg, B. & Lindman, B. Surfactants and Polymer in Aqueous Solution (John Wiley & Sons, Chichester, 2002).

Harth, K., Shepherd, L. M., Honaker, J. & Stannarius, R. Dynamic interface tension of a smectic liquid crystal in anionic surfactant solutions. Phys. Chem. Chem. Phys. 17, 26198–26206 (2015).

Ong, L. H. & Yang, K.-L. Surfactant-driven assembly of poly(ethylenimine)-coated microparticles at the liquid crystal/water interface. J. Phys. Chem. B 120, 825–833 (2016).
Acknowledgements
This work was primarily funded by the Army Research Office (through grants W911NF-15-1-0568 and W911NF-17-1-0575), the National Science Foundation (grants CBET- 1263970 and DMR-1435195) and the Wisconsin Materials Research Science and Engineering Center (grant DMR-1720415). We thank R. Trivedi and D. B. Weibel for assistance in the preparation of the bacterial dispersions.
Reviewer information
Nature thanks T. Ware and the other anonymous reviewer(s) for their contribution to the peer review of this work.
Ethics declarations
Competing interests
The University of Wisconsin-Madison has filed a patent application (PCT/US207/037414) on the work described in this manuscript. The inventors listed on the patent application are N.L.A., Y.-K.K., X.W. and E.B.
Additional information
Publisher's note Springer Nature remains neutral with regard to jurisdictional claims in published maps and institutional affiliations.
Extended data figures and tables
Supplementary information
Video showing the pulsatile release of aqueous microdroplets (containing a red tracer) from a LC to an overlying aqueous phase after nematic-to-isotropic (heating from 25 °C to 50 °C, 0 to 7 seconds in the video) and isotropic-to-nematic (cooling from 50 °C to 25 °C, 7 to 14 seconds in the video) phase transitions. This video corresponds to Fig. 1c, d, and f.
Video shows the optical response and the pulsatile release of aqueous microdroplets (containing a red tracer) from a cholesteric LC to a surrounding aqueous phase triggered by the heat of a human finger, which causes a nematic-to-isotropic phase transition. This video corresponds to Fig. 4b-d.
Video shows the release of aqueous microdroplets (containing a red tracer) from a LC triggered by the presence of motile bacteria in an overlying aqueous phase. This video corresponds to Fig. 4g.
About this article
Cite this article
Kim, YK., Wang, X., Mondkar, P. et al. Self-reporting and self-regulating liquid crystals. Nature 557, 539–544 (2018). https://doi.org/10.1038/s41586-018-0098-y
Received:

Accepted:

Published:

Issue Date:

DOI: https://doi.org/10.1038/s41586-018-0098-y
Comments
By submitting a comment you agree to abide by our Terms and Community Guidelines. If you find something abusive or that does not comply with our terms or guidelines please flag it as inappropriate.