Abstract
The blastocyst (the early mammalian embryo) forms all embryonic and extra-embryonic tissues, including the placenta. It consists of a spherical thin-walled layer, known as the trophectoderm, that surrounds a fluid-filled cavity sheltering the embryonic cells1. From mouse blastocysts, it is possible to derive both trophoblast2 and embryonic stem-cell lines3, which are in vitro analogues of the trophectoderm and embryonic compartments, respectively. Here we report that trophoblast and embryonic stem cells cooperate in vitro to form structures that morphologically and transcriptionally resemble embryonic day 3.5 blastocysts, termed blastoids. Like blastocysts, blastoids form from inductive signals that originate from the inner embryonic cells and drive the development of the outer trophectoderm. The nature and function of these signals have been largely unexplored. Genetically and physically uncoupling the embryonic and trophectoderm compartments, along with single-cell transcriptomics, reveals the extensive inventory of embryonic inductions. We specifically show that the embryonic cells maintain trophoblast proliferation and self-renewal, while fine-tuning trophoblast epithelial morphogenesis in part via a BMP4/Nodal–KLF6 axis. Although blastoids do not support the development of bona fide embryos, we demonstrate that embryonic inductions are crucial to form a trophectoderm state that robustly implants and triggers decidualization in utero. Thus, at this stage, the nascent embryo fuels trophectoderm development and implantation.
Relevant articles
Open Access articles citing this article.
Xintong Li

,

Suranga P. Kodithuwakku

…

Cheuk-Lun Lee

Reproductive Biology and Endocrinology Open Access 13 August 2022

Giuliana Rossi

,

Sonja Giger

…

Matthias P. Lutolf

Scientific Reports Open Access 04 August 2022

Anna Malkowska

,

Christopher Penfold

…

Thorsten E. Boroviak

Nature Communications Open Access 16 June 2022
Access options
Subscribe to Nature+
Get immediate online access to Nature and 55 other Nature journal
Subscribe to Journal
Get full journal access for 1 year
$199.00
only $3.90 per issue
All prices are NET prices.
VAT will be added later in the checkout.
Tax calculation will be finalised during checkout.
Buy article
Get time limited or full article access on ReadCube.
$32.00
All prices are NET prices.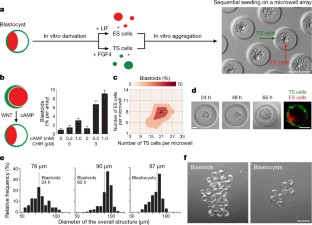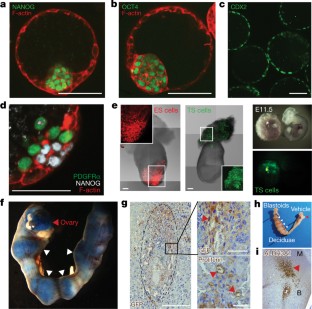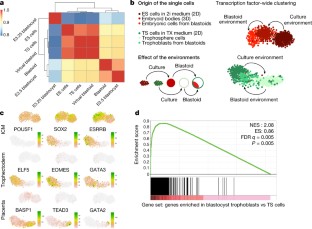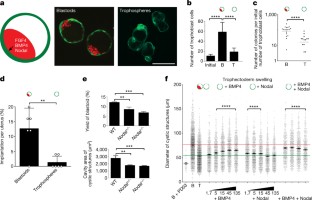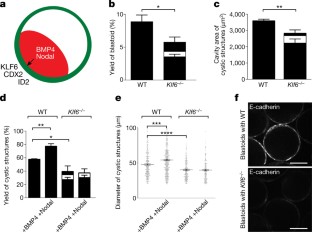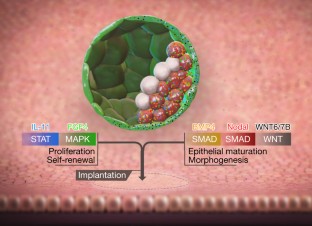 References
Wennekamp, S., Mesecke, S., Nédélec, F. & Hiiragi, T. A self-organization framework for symmetry breaking in the mammalian embryo. Nat. Rev. Mol. Cell Biol. 14, 452–459 (2013).

Tanaka, S., Kunath, T., Hadjantonakis, A. K., Nagy, A. & Rossant, J. Promotion of trophoblast stem cell proliferation by FGF4. Science 282, 2072–2075 (1998).

Ying, Q.-L. et al. The ground state of embryonic stem cell self-renewal. Nature 453, 519–523 (2008).

van den Brink, S. C. et al. Symmetry breaking, germ layer specification and axial organisation in aggregates of mouse embryonic stem cells. Development 141, 4231–4242 (2014).

Harrison, S. E., Sozen, B., Christodoulou, N., Kyprianou, C. & Zernicka-Goetz, M. Assembly of embryonic and extraembryonic stem cells to mimic embryogenesis in vitro. Science 356, eaal1810 (2017).

Rai, A. & Cross, J. C. Three-dimensional cultures of trophoblast stem cells autonomously develop vascular-like spaces lined by trophoblast giant cells. Dev. Biol. 398, 110–119 (2015).

Rivron, N. C. et al. Tissue deformation spatially modulates VEGF signaling and angiogenesis. Proc. Natl Acad. Sci. USA 109, 6886–6891 (2012).

Vrij, E. et al. Directed assembly and development of material-free tissues with complex architectures. Adv. Mater. 28, 4032–4039 (2016).

Manejwala, F., Kaji, E. & Schultz, R. M. Development of activatable adenylate cyclase in the preimplantation mouse embryo and a role for cyclic AMP in blastocoel formation. Cell 46, 95–103 (1986).

Kemp, C., Willems, E., Abdo, S., Lambiv, L. & Leyns, L. Expression of all Wnt genes and their secreted antagonists during mouse blastocyst and postimplantation development. Dev. Dyn. 233, 1064–1075 (2005).

Ralston, A. & Rossant, J. Cdx2 acts downstream of cell polarization to cell-autonomously promote trophectoderm fate in the early mouse embryo. Dev. Biol. 313, 614–629 (2008).

McDole, K. & Zheng, Y. Generation and live imaging of an endogenous Cdx2 reporter mouse line. Genesis 50, 775–782 (2012).

Kubaczka, C. et al. Derivation and maintenance of murine trophoblast stem cells under defined conditions. Stem Cell Reports 2, 232–242 (2014).

Plusa, B., Piliszek, A., Frankenberg, S., Artus, J. & Hadjantonakis, A.-K. Distinct sequential cell behaviours direct primitive endoderm formation in the mouse blastocyst. Development 135, 3081–3091 (2008).

Simmons, D. G., Fortier, A. L. & Cross, J. C. Diverse subtypes and developmental origins of trophoblast giant cells in the mouse placenta. Dev. Biol. 304, 567–578 (2007).

Red-Horse, K. et al. Trophoblast differentiation during embryo implantation and formation of the maternal-fetal interface. J. Clin. Invest. 114, 744–754 (2004).

Latos, P. A. & Hemberger, M. From the stem of the placental tree: trophoblast stem cells and their progeny. Development 143, 3650–3660 (2016).

McConaha, M. E., Eckstrum, K., An, J., Steinle, J. J. & Bany, B. M. Microarray assessment of the influence of the conceptus on gene expression in the mouse uterus during decidualization. Reproduction 141, 511–527 (2011).

Ohnishi, Y. et al. Cell-to-cell expression variability followed by signal reinforcement progressively segregates early mouse lineages. Nat. Cell Biol. 16, 27–37 (2014).

Gotoh, N. et al. The docking protein FRS2alpha is an essential component of multiple fibroblast growth factor responses during early mouse development. Mol. Cell. Biol. 25, 4105–4116 (2005).

Saba-El-Leil, M. K. et al. An essential function of the mitogen-activated protein kinase Erk2 in mouse trophoblast development. EMBO Rep. 4, 964–968 (2003).

Arman, E., Haffner-Krausz, R., Chen, Y., Heath, J. K. & Lonai, P. Targeted disruption of fibroblast growth factor (FGF) receptor 2 suggests a role for FGF signaling in pregastrulation mammalian development. Proc. Natl Acad. Sci. USA 95, 5082–5087 (1998).

Papanayotou, C. & Collignon, J. Activin/Nodal signalling before implantation: setting the stage for embryo patterning. Phil. Trans. R. Soc. Lond. B 369, 1–8 (2014).

Mesnard, D. & Constam, D. B. Imaging proprotein convertase activities and their regulation in the implanting mouse blastocyst. J. Cell Biol. 191, 129–139 (2010).

Gardner, R. L. Flow of cells from polar to mural trophectoderm is polarized in the mouse blastocyst. Hum. Reprod. 15, 694–701 (2000).

Gardner, R. L., Papaioannou, V. E. & Barton, S. C. Origin of the ectoplacental cone and secondary giant cells in mouse blastocysts reconstituted from isolated trophoblast and inner cell mass. J. Embryol. Exp. Morphol. 30, 561–572 (1973).

Matsumoto, N. et al. Developmental regulation of yolk sac hematopoiesis by Kruppel-like factor 6. Blood 107, 1357–1365 (2006).

DiFeo, A. et al. E-cadherin is a novel transcriptional target of the KLF6 tumor suppressor. Oncogene 25, 6026–6031 (2006).

Tarkowski, A. K. & Wróblewska, J. Development of blastomeres of mouse eggs isolated at the 4- and 8-cell stage. J. Embryol. Exp. Morphol. 18, 155–180 (1967).

Tesar, P. J. et al. New cell lines from mouse epiblast share defining features with human embryonic stem cells. Nature 448, 196–199 (2007).

Rivron, N. C. In vitro generation of blastoids from trophoblast stem cells and embryonic stem cells. Protoc. Exch. https://doi.org/10.1038/protex.2018.051 (2018).

van de Wetering, M. et al. The β-catenin/TCF-4 complex imposes a crypt progenitor phenotype on colorectal cancer cells. Cell 111, 241–250 (2002).

Muraro, M. J. et al. A single-cell transcriptome atlas of the human pancreas. Cell Syst. 3, 385–394.e3. (2016).

Hashimshony, T. et al. CEL-Seq2: sensitive highly-multiplexed single-cell RNA-Seq. Genome Biol. 17, 77 (2016).

Hashimshony, T., Wagner, F., Sher, N. & Yanai, I. CEL-Seq: single-cell RNA-Seq by multiplexed linear amplification. Cell Reports 2, 666–673 (2012).

Grün, D. et al. Single-cell messenger RNA sequencing reveals rare intestinal cell types. Nature 525, 251–255 (2015).

Anders, S. & Huber, W. Differential expression analysis for sequence count data. Genome Biol. 11, R106 (2010).

Dennis, G., Jr et al. DAVID: Database for Annotation, Visualization, and Integrated Discovery. Genome Biol. 4, 3 (2003).

Eden, E., Navon, R., Steinfeld, I., Lipson, D. & Yakhini, Z. GOrilla: a tool for discovery and visualization of enriched GO terms in ranked gene lists. BMC Bioinformatics 10, 48 (2009).

Vrij, E. J. et al. 3D high throughput screening and profiling of embryoid bodies in thermoformed microwell plates. Lab Chip 16, 734–742 (2016).

Nakamura, T. et al. SC3-seq: a method for highly parallel and quantitative measurement of single-cell gene expression. Nucleic Acids Res. 43, e60 (2015).

Kolodziejczyk, A. A. et al. Single cell RNA-sequencing of pluripotent states unlocks modular transcriptional variation. Cell Stem Cell 17, 471–485 (2015).

Qiu, D. et al. Klf2 and Tfcp2l1, two Wnt/β-catenin targets, act synergistically to induce and maintain naive pluripotency. Stem Cell Reports 5, 314–322 (2015).

Morgani, S. M. et al. Totipotent embryonic stem cells arise in ground-state culture conditions. Cell Rep. 3, 1945–1957 (2013).

Hussein, S. M., Duff, E. K. & Sirard, C. Smad4 and β-catenin co-activators functionally interact with lymphoid-enhancing factor to regulate graded expression of Msx2. J. Biol. Chem. 278, 48805–48814 (2003).

Labbé, E. et al. Transcriptional cooperation between the transforming growth factor-β and Wnt pathways in mammary and intestinal tumorigenesis. Cancer Res. 67, 75–84 (2007).
Acknowledgements
We would like to thank J. Deschamps for providing the Cdx2-eGFP mice; M. Creyghton for providing V6.5 mouse ES cells; V. Prideaux, J. Garner and J. Rossant for providing the F4 mouse TS cell lines; A.-K. Hadjantonakis for providing the PDGFRα-H2B-GFP mouse ES cells; N. Schelling for helping with logistics; S. van der Elst for helping with FACS assays; A. de Graaf for helping with microscopes; L. Yvernogeau for helping with the imaging of embryos; B. El Haddouti for helping with uterus injections; H. Begthel for helping with histology; W. de Lau for helping with the TCF luciferase assay; C. Rabouille and H. Clevers for commenting on the manuscript. N.C.R. is grateful for support from The Netherlands Organisation for Scientific Research (NWO-ZonMw) Translational Adult Stem Cell grant (116005008). We apologize that all relevant publications could not be cited.
Ethics declarations
Competing interests
N.C.R., E.J.V., C.A.v.B. and N.G. are inventors on the patent US14/784,659 and PCT/NL2014/050239 (April 2014).
Additional information
Publisher's note: Springer Nature remains neutral with regard to jurisdictional claims in published maps and institutional affiliations.
Extended data figures and tables
Supplementary information
Supplementary Table 1 contains a summary sheet followed by 8 sheets with gene expression data and GO analysis related to Figure 3.
Supplementary Table 2 contains a summary sheet followed by 3 sheets with gene expression data and GO analysis related to Figure 4.
About this article
Cite this article
Rivron, N.C., Frias-Aldeguer, J., Vrij, E.J. et al. Blastocyst-like structures generated solely from stem cells. Nature 557, 106–111 (2018). https://doi.org/10.1038/s41586-018-0051-0
Received:

Accepted:

Published:

Issue Date:

DOI: https://doi.org/10.1038/s41586-018-0051-0
Comments
By submitting a comment you agree to abide by our Terms and Community Guidelines. If you find something abusive or that does not comply with our terms or guidelines please flag it as inappropriate.