Abstract
Alterations in both cell metabolism and transcriptional programs are hallmarks of cancer that sustain rapid proliferation and metastasis1. However, the mechanisms that control the interaction between metabolic reprogramming and transcriptional regulation remain unclear. Here we show that the metabolic enzyme 6-phosphofructo-2-kinase/fructose-2,6-bisphosphatase 4 (PFKFB4) regulates transcriptional reprogramming by activating the oncogenic steroid receptor coactivator-3 (SRC-3). We used a kinome-wide RNA interference-based screening method to identify potential kinases that modulate the intrinsic SRC-3 transcriptional response. PFKFB4, a regulatory enzyme that synthesizes a potent stimulator of glycolysis2, is found to be a robust stimulator of SRC-3 that coregulates oestrogen receptor. PFKFB4 phosphorylates SRC-3 at serine 857 and enhances its transcriptional activity, whereas either suppression of PFKFB4 or ectopic expression of a phosphorylation-deficient Ser857Ala mutant SRC-3 abolishes the SRC-3-mediated transcriptional output. Functionally, PFKFB4-driven SRC-3 activation drives glucose flux towards the pentose phosphate pathway and enables purine synthesis by transcriptionally upregulating the expression of the enzyme transketolase. In addition, the two enzymes adenosine monophosphate deaminase-1 (AMPD1) and xanthine dehydrogenase (XDH), which are involved in purine metabolism, were identified as SRC-3 targets that may or may not be directly involved in purine synthesis. Mechanistically, phosphorylation of SRC-3 at Ser857 increases its interaction with the transcription factor ATF4 by stabilizing the recruitment of SRC-3 and ATF4 to target gene promoters. Ablation of SRC-3 or PFKFB4 suppresses breast tumour growth in mice and prevents metastasis to the lung from an orthotopic setting, as does Ser857Ala-mutant SRC-3. PFKFB4 and phosphorylated SRC-3 levels are increased and correlate in oestrogen receptor-positive tumours, whereas, in patients with the basal subtype, PFKFB4 and SRC-3 drive a common protein signature that correlates with the poor survival of patients with breast cancer. These findings suggest that the Warburg pathway enzyme PFKFB4 acts as a molecular fulcrum that couples sugar metabolism to transcriptional activation by stimulating SRC-3 to promote aggressive metastatic tumours.
Relevant articles
Open Access articles citing this article.
Emma Phillips

,

Jörg Balss

…

Violaine Goidts

Oncogenesis Open Access 17 September 2022

Chao Lu

,

Pengyun Qiao

…

Zhenhai Yu

Cell Death & Disease Open Access 15 September 2022

Federico Zacchini

,

Giulia Venturi

…

Lorenzo Montanaro

Genome Biology Open Access 22 August 2022
Access options
Subscribe to Nature+
Get immediate online access to the entire Nature family of 50+ journals
Subscribe to Journal
Get full journal access for 1 year
$199.00
only $3.90 per issue
All prices are NET prices.
VAT will be added later in the checkout.
Tax calculation will be finalised during checkout.
Buy article
Get time limited or full article access on ReadCube.
$32.00
All prices are NET prices.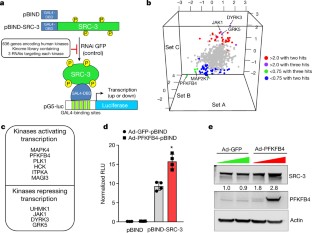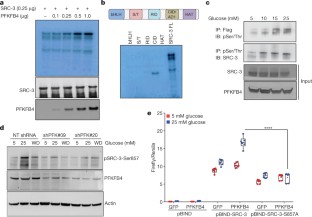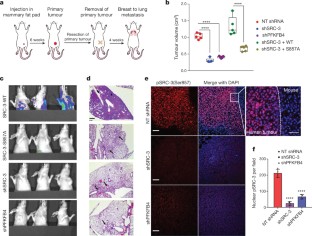 References
Ward, P. S. & Thompson, C. B. Metabolic reprogramming: a cancer hallmark even Warburg did not anticipate. Cancer Cell 21, 297–308 (2012).

Dang, C. V. Cancer cell metabolism: there is no ROS for the weary. Cancer Discov. 2, 304–307 (2012).

Gojis, O. et al. The role of SRC-3 in human breast cancer. Nat. Rev. Clin. Oncol. 7, 83–89 (2010).

Anzick, S. L. et al. AIB1, a steroid receptor coactivator amplified in breast and ovarian cancer. Science 277, 965–968 (1997).

Xu, J., Wu, R. C. & O'Malley, B. W. Normal and cancer-related functions of the p160 steroid receptor co-activator (SRC) family. Nat. Rev. Cancer 9, 615–630 (2009).

Han, S. J., Lonard, D. M. & O'Malley, B. W. Multi-modulation of nuclear receptor coactivators through posttranslational modifications. Trends Endocrinol. Metab. 20, 8–15 (2009).

Wu, R. C. et al. Selective phosphorylations of the SRC-3/AIB1 coactivator integrate genomic reponses to multiple cellular signaling pathways. Mol. Cell 15, 937–949 (2004).

Wu, R. C., Feng, Q., Lonard, D. M. & O'Malley, B. W. SRC-3 coactivator functional lifetime is regulated by a phospho-dependent ubiquitin time clock. Cell 129, 1125–1140 (2007).

Dasgupta, S., Lonard, D. M. & O'Malley, B. W. Nuclear receptor coactivators: master regulators of human health and disease. Annu. Rev. Med. 65, 279–292 (2014).

Lonard, D. M. & O'Malley, B. W. The expanding cosmos of nuclear receptor coactivators. Cell 125, 411–414 (2006).

Dasgupta, S. & O'Malley, B. W. Transcriptional coregulators: emerging roles of SRC family of coactivators in disease pathology. J. Mol. Endocrinol. 53, R47–R59 (2014).

Lonard, D. M., Nawaz, Z., Smith, C. L. & O'Malley, B. W. The 26S proteasome is required for estrogen receptor-α and coactivator turnover and for efficient estrogen receptor-α transactivation. Mol. Cell 5, 939–948 (2000).

Yi, P. et al. Atypical protein kinase C regulates dual pathways for degradation of the oncogenic coactivator SRC-3/AIB1. Mol. Cell 29, 465–476 (2008).

Pilkis, S. J., Claus, T. H., Kurland, I. J. & Lange, A. J. 6-Phosphofructo-2-kinase/fructose-2,6-bisphosphatase: a metabolic signaling enzyme. Annu. Rev. Biochem. 64, 799–835 (1995).

Rousseau, G. G. & Hue, L. Mammalian 6-phosphofructo-2-kinase/fructose-2,6-bisphosphatase: a bifunctional enzyme that controls glycolysis. Prog. Nucleic Acid Res. Mol. Biol. 45, 99–127 (1993).

Chesney, J. et al. Fructose-2,6-bisphosphate synthesis by 6-phosphofructo-2-kinase/fructose-2,6-bisphosphatase 4 (PFKFB4) is required for the glycolytic response to hypoxia and tumor growth. Oncotarget 5, 6670–6686 (2014).

Chen, H. et al. Nuclear receptor coactivator ACTR is a novel histone acetyltransferase and forms a multimeric activation complex with P/CAF and CBP/p300. Cell 90, 569–580 (1997).

Colosia, A. D. et al. Induction of rat liver 6-phosphofructo-2-kinase/fructose-2,6-bisphosphatase mRNA by refeeding and insulin. J. Biol. Chem. 263, 18669–18677 (1988).

Zhang, C. S. et al. Fructose-1,6-bisphosphate and aldolase mediate glucose sensing by AMPK. Nature 548, 112–116 (2017).

Jiang, S. et al. Scaffold attachment factor SAFB1 suppresses estrogen receptor α-mediated transcription in part via interaction with nuclear receptor corepressor. Mol. Endocrinol. 20, 311–320 (2006).

Stashi, E. et al. SRC-2 is an essential coactivator for orchestrating metabolism and circadian rhythm. Cell Reports 6, 633–645 (2014).

DeBerardinis, R. J., Sayed, N., Ditsworth, D. & Thompson, C. B. Brick by brick: metabolism and tumor cell growth. Curr. Opin. Genet. Dev. 18, 54–61 (2008).

Nikolai, B. C. et al. HER2 signaling drives DNA anabolism and proliferation through SRC-3 phosphorylation and E2F1-regulated genes. Cancer Res. 76, 1463–1475 (2016).

Patra, K. C. & Hay, N. The pentose phosphate pathway and cancer. Trends Biochem. Sci. 39, 347–354 (2014).

Li, L., Zhou, X., Ching, W. K. & Wang, P. Predicting enzyme targets for cancer drugs by profiling human metabolic reactions in NCI-60 cell lines. BMC Bioinformatics 11, 501 (2010).

Zhu, B. et al. A cell-autonomous mammalian 12 hr clock coordinates metabolic and stress rhythms. Cell Metab. 25, 1305–1319.e9 (2017).

Han, J. et al. ER-stress-induced transcriptional regulation increases protein synthesis leading to cell death. Nat. Cell Biol. 15, 481–490 (2013).

Ben-Sahra, I., Hoxhaj, G., Ricoult, S. J. H., Asara, J. M. & Manning, B. D. mTORC1 induces purine synthesis through control of the mitochondrial tetrahydrofolate cycle. Science 351, 728–733 (2016).

Long, W. et al. ERK3 signals through SRC-3 coactivator to promote human lung cancer cell invasion. J. Clin. Invest. 122, 1869–1880 (2012).

Dasgupta, S. et al. Coactivator SRC-2-dependent metabolic reprogramming mediates prostate cancer survival and metastasis. J. Clin. Invest. 125, 1174–1188 (2015).

Wang, L. et al. Characterization of a steroid receptor coactivator small molecule stimulator that overstimulates cancer cells and leads to cell stress and death. Cancer Cell 28, 240–252 (2015).

Jin, F. et al. A novel [15N]glutamine flux using LC-MS/MS-SRM for determination of nucleosides and nucleobases. J. Anal. Bioanal. Tech. 6, 267 (2015).

Fan, J. et al. Quantitative flux analysis reveals folate-dependent NADPH production. Nature 510, 298–302 (2014).

Stadler, C. et al. Immunofluorescence and fluorescent-protein tagging show high correlation for protein localization in mammalian cells. Nat. Methods 10, 315–323 (2013).

Foulds, C. E. et al. Proteomic analysis of coregulators bound to ERα on DNA and nucleosomes reveals coregulator dynamics. Mol. Cell 51, 185–199 (2013).

Welte, T. et al. Oncogenic mTOR signalling recruits myeloid-derived suppressor cells to promote tumour initiation. Nat. Cell Biol. 18, 632–644 (2016).

Ciriello, G. et al. Comprehensive Molecular portraits of invasive lobular breast cancer. Cell 163, 506–519 (2015).
Acknowledgements
We would like to thank R. DeBerardinis, K. Gurova and M. Nikiforov for discussions and suggestions. We thank the core facilities at BCM: Tissue Culture Core, CBASS core, Pathology Core, Proteomics Core (NIH P30CA125123), Metabolomics (CPRIT RP170005), and Gene Vector Core. We also acknowledge U.-I. Chen for technical assistance and Cell Signaling Technology for the p-SRC-3-Ser857 antibody. This work was supported by funds from the Susan G. Komen (PG12221410 to B.W.O. and PDF14300468 to S.D.), the National Institutes of Health (NIH; 4R01HD007857, HD08818 and 4P01DK059820 to B.W.O.; 1K22CA207578 to S.D. and R01CA220297 to N.P.), DOD (W81XWH-13-1-0285 to B.W.O. and W81XWH-16-1-0297 to S.D.), American Cancer Society 127430-RSG-15-105-01-CNE to N.P., and P30CA016056 to the Roswell Park Comprehensive Cancer Center.
Reviewer information
Nature thanks F. Böhmer, J. Carroll and C. Frezza for their contribution to the peer review of this work.
Ethics declarations
Competing interests
The authors declare no competing interests.
Additional information
Publisher's note: Springer Nature remains neutral with regard to jurisdictional claims in published maps and institutional affiliations.
Extended data figures and tables
Supplementary information
This file contains Supplementary Tables 1-3 and the uncropped gel source data
About this article
Cite this article
Dasgupta, S., Rajapakshe, K., Zhu, B. et al. Metabolic enzyme PFKFB4 activates transcriptional coactivator SRC-3 to drive breast cancer. Nature 556, 249–254 (2018). https://doi.org/10.1038/s41586-018-0018-1
Received:

Accepted:

Published:

Issue Date:

DOI: https://doi.org/10.1038/s41586-018-0018-1
Comments
By submitting a comment you agree to abide by our Terms and Community Guidelines. If you find something abusive or that does not comply with our terms or guidelines please flag it as inappropriate.