Abstract
Cardiac tissues generated from human induced pluripotent stem cells (iPSCs) can serve as platforms for patient-specific studies of physiology and disease1,2,3,4,5,6. However, the predictive power of these models is presently limited by the immature state of the cells1,2,5,6. Here we show that this fundamental limitation can be overcome if cardiac tissues are formed from early-stage iPSC-derived cardiomyocytes soon after the initiation of spontaneous contractions and are subjected to physical conditioning with increasing intensity over time. After only four weeks of culture, for all iPSC lines studied, such tissues displayed adult-like gene expression profiles, remarkably organized ultrastructure, physiological sarcomere length (2.2 µm) and density of mitochondria (30%), the presence of transverse tubules, oxidative metabolism, a positive force–frequency relationship and functional calcium handling. Electromechanical properties developed more slowly and did not achieve the stage of maturity seen in adult human myocardium. Tissue maturity was necessary for achieving physiological responses to isoproterenol and recapitulating pathological hypertrophy, supporting the utility of this tissue model for studies of cardiac development and disease.
This is a preview of subscription content
Access options
Subscribe to Journal
Get full journal access for 1 year
$199.00
only $3.90 per issue
All prices are NET prices.
VAT will be added later in the checkout.
Tax calculation will be finalised during checkout.
Rent or Buy article
Get time limited or full article access on ReadCube.
from$8.99
All prices are NET prices.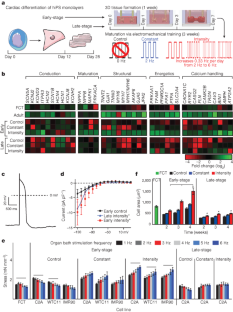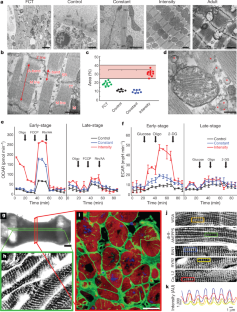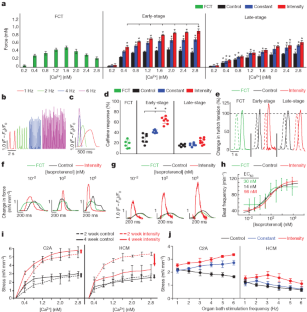 References
1.

Bellin, M., Marchetto, M. C., Gage, F. H. & Mummery, C. L. Induced pluripotent stem cells: the new patient? Nat. Rev. Mol. Cell Biol. 13, 713–726 (2012).

2.

Matsa, E., Burridge, P. W. & Wu, J. C. Human stem cells for modeling heart disease and for drug discovery. Sci. Transl. Med. 6, 239 (2014).

3.

Wang, G. et al. Modeling the mitochondrial cardiomyopathy of Barth syndrome with induced pluripotent stem cell and heart-on-chip technologies. Nat. Med. 20, 616–623 (2014).

4.

Yazawa, M. et al. Using induced pluripotent stem cells to investigate cardiac phenotypes in Timothy syndrome. Nature 471, 230–234 (2011).

5.

Yang, X., Pabon, L. & Murry, C. E. Engineering adolescence: maturation of human pluripotent stem cell-derived cardiomyocytes. Circ. Res. 114, 511–523 (2014).

6.

Feric, N. T. & Radisic, M. Maturing human pluripotent stem cell-derived cardiomyocytes in human engineered cardiac tissues. Adv. Drug Deliv. Rev. 96, 110–134 (2016).

7.

Domian, I. J. et al. Generation of functional ventricular heart muscle from mouse ventricular progenitor cells. Science 326, 426–429 (2009).

8.

Lundy, S. D., Zhu, W. Z., Regnier, M. & Laflamme, M. A. Structural and functional maturation of cardiomyocytes derived from human pluripotent stem cells. Stem Cells Dev. 22, 1991–2002 (2013).

9.

Nunes, S. S. et al. Biowire: a platform for maturation of human pluripotent stem cell-derived cardiomyocytes. Nat. Methods 10, 781–787 (2013).

10.

Mannhardt, I. et al. Human engineered heart tissue: analysis of contractile force. Stem Cell Reports 7, 29–42 (2016).

11.

Ribeiro, M. C. et al. Functional maturation of human pluripotent stem cell derived cardiomyocytes in vitro—correlation between contraction force and electrophysiology. Biomaterials 51, 138–150 (2015).

12.

Shadrin, I. Y. et al. Cardiopatch platform enables maturation and scale-up of human pluripotent stem cell-derived engineered heart tissues. Nat. Commun. 8, 1825 (2017).

13.

Brette, F. & Orchard, C. T-tubule function in mammalian cardiac myocytes. Circ. Res. 92, 1182–1192 (2003).

14.

Wiegerinck, R. F. et al. Force frequency relationship of the human ventricle increases during early postnatal development. Pediatr. Res. 65, 414–419 (2009).

15.

Lopaschuk, G. D. & Jaswal, J. S. Energy metabolic phenotype of the cardiomyocyte during development, differentiation, and postnatal maturation. J. Cardiovasc. Pharmacol. 56, 130–140 (2010).

16.

Jackman, C. P., Carlson, A. L. & Bursac, N. Dynamic culture yields engineered myocardium with near-adult functional output. Biomaterials 111, 66–79 (2016).

17.

Radisic, M. et al. Functional assembly of engineered myocardium by electrical stimulation of cardiac myocytes cultured on scaffolds. Proc. Natl Acad. Sci. USA 101, 18129–18134 (2004).

18.

Eng, G. et al. Autonomous beating rate adaptation in human stem cell-derived cardiomyocytes. Nat. Commun. 7, 10312 (2016).

19.

Hasenfuss, G. et al. Energetics of isometric force development in control and volume-overload human myocardium. Comparison with animal species. Circ. Res. 68, 836–846 (1991).

20.

Chung, S. et al. Mitochondrial oxidative metabolism is required for the cardiac differentiation of stem cells. Nat. Clin. Pract. Cardiovasc. Med. 4, S60–S67 (2007).

21.

Gong, G. et al. Parkin-mediated mitophagy directs perinatal cardiac metabolic maturation in mice. Science 350, aad2459 (2015).

22.

Porter, G. A. Jr et al. Bioenergetics, mitochondria, and cardiac myocyte differentiation. Prog. Pediatr. Cardiol. 31, 75–81 (2011).

23.

Vega, R. B., Horton, J. L. & Kelly, D. P. Maintaining ancient organelles: mitochondrial biogenesis and maturation. Circ. Res. 116, 1820–1834 (2015).

24.

Gottlieb, R. A. & Bernstein, D. Metabolism. Mitochondria shape cardiac metabolism. Science 350, 1162–1163 (2015).

25.

Sun, R., Bouchard, M. B. & Hillman, E. M. C. SPLASSH: Open source software for camera-based high-speed, multispectral in-vivo optical image acquisition. Biomed. Opt. Express 1, 385–397 (2010).

26.

Hong, T. et al. Cardiac BIN1 folds T-tubule membrane, controlling ion flux and limiting arrhythmia. Nat. Med. 20, 624–632 (2014).

27.

Bers, D. M. Cardiac excitation–contraction coupling. Nature 415, 198–205 (2002).

28.

Kaprielian, R. R., Stevenson, S., Rothery, S. M., Cullen, M. J. & Severs, N. J. Distinct patterns of dystrophin organization in myocyte sarcolemma and transverse tubules of normal and diseased human myocardium. Circulation 101, 2586–2594 (2000).

29.

Sulkin, M. S. et al. Nanoscale three-dimensional imaging of the human myocyte. J. Struct. Biol. 188, 55–60 (2014).

30.

Huebsch, N. et al. Miniaturized iPS-cell-derived cardiac muscles for physiologically relevant drug response analyses. Sci. Rep. 6, 24726 (2016).

31.

Tulloch, N. L. et al. Growth of engineered human myocardium with mechanical loading and vascular coculture. Circ. Res. 109, 47–59 (2011).

32.

Ma, J. et al. High purity human-induced pluripotent stem cell-derived cardiomyocytes: electrophysiological properties of action potentials and ionic currents. Am. J. Physiol. Heart Circ. Physiol. 301, H2006–H2017 (2011).

33.

Morikawa, K., Song, L., Ronaldson-Bouchard, K., Vunjak-Novakovic, G. & Yazawa, M. Electrophysiological recordings of cardiomyocytes isolated from engineered human cardiac tissues derived from pluripotent stem cells. Protoc. Exch. https://doi.org/10.1038/protex.2018.030 (2018).
Acknowledgements
The authors acknowledge funding support from the National Institutes of Health of the USA (NIBIB and NCATS grant EB17103 (G.V.-N.); NIBIB, NCATS, NIAMS, NIDCR and NIEHS grant EB025765 (G.V.-N.); NHLBI grants HL076485 (G.V.-N.) and HL138486 (M.Y.); Columbia University MD/PhD program (S.P.M., T.C.); University of Minho MD/PhD program (D.T.); Japan Society for the Promotion of Science fellowship (K.M.); and Columbia University Stem Cell Initiative (D.S., L.S., M.Y.). We thank S. Duncan and B. Conklin for providing human iPSCs, M. B. Bouchard for assistance with image and video analysis, and L. Cohen-Gould for transmission electron microscopy services.
Reviewer information
Nature thanks T. Kamp and the other anonymous reviewer(s) for their contribution to the peer review of this work.
Ethics declarations
Competing interests
G.V.-N. and K.R.-B. are co-founders of TARA Biosystems, a Columbia University spin-off that is commercializing the use of bioengineered human cardiac tissue for drug testing.
Additional information
Publisher's note: Springer Nature remains neutral with regard to jurisdictional claims in published maps and institutional affiliations.
Extended data figures and tables
Supplementary information
About this article
Cite this article
Ronaldson-Bouchard, K., Ma, S.P., Yeager, K. et al. Advanced maturation of human cardiac tissue grown from pluripotent stem cells. Nature 556, 239–243 (2018). https://doi.org/10.1038/s41586-018-0016-3
Received:

Accepted:

Published:

Issue Date:
Comments
By submitting a comment you agree to abide by our Terms and Community Guidelines. If you find something abusive or that does not comply with our terms or guidelines please flag it as inappropriate.