Abstract
Once called a 'classically non-describable two-valuedness' by Pauli, the electron spin forms a qubit that is naturally robust to electric fluctuations. Paradoxically, a common control strategy is the integration of micromagnets to enhance the coupling between spins and electric fields, which, in turn, hampers noise immunity and adds architectural complexity. Here we exploit a switchable interaction between spins and orbital motion of electrons in silicon quantum dots, without a micromagnet. The weak effects of relativistic spin–orbit interaction in silicon are enhanced, leading to a speed up in Rabi frequency by a factor of up to 650 by controlling the energy quantization of electrons in the nanostructure. Fast electrical control is demonstrated in multiple devices and electronic configurations. Using the electrical drive, we achieve a coherence time T2,Hahn ≈ 50 μs, fast single-qubit gates with Tπ/2 = 3 ns and gate fidelities of 99.93%, probed by randomized benchmarking. High-performance all-electrical control improves the prospects for scalable silicon quantum computing.
Access options
Access Nature and 54 other Nature Portfolio journals
Get Nature+, our best-value online-access subscription
$29.99 per month
cancel any time
Subscribe to this journal
Receive 12 print issues and online access
$259.00 per year
only $21.58 per issue
Rent or buy this article
Get just this article for as long as you need it
$39.95
Prices may be subject to local taxes which are calculated during checkout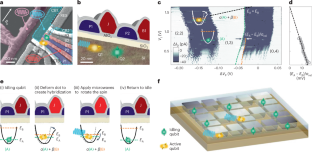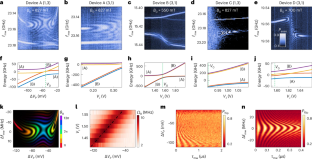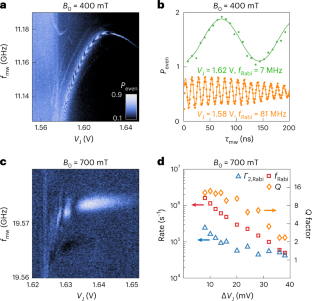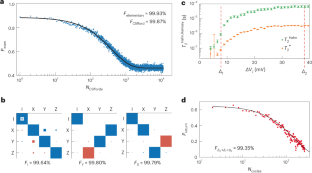 Code availability
The analysis codes that support the findings of the study are available from the corresponding authors on reasonable request.
References
Gonzalez-Zalba, M. F. et al. Scaling silicon-based quantum computing using CMOS technology. Nat. Electron. 4, 872–884 (2021).

Pioro-Ladrière, M. et al. Electrically driven single-electron spin resonance in a slanting Zeeman field. Nat. Phys. 4, 776–779 (2008).

Leon, R. C. C. et al. Coherent spin control of s-, p-, d- and f-electrons in a silicon quantum dot. Nat. Commun. 11, 797 (2020).

Koppens, F. H. L. et al. Driven coherent oscillations of a single electron spin in a quantum dot. Nature 442, 766–771 (2006).

Nadj-Perge, S., Frolov, S. M., Bakkers, E. Pa. M. & Kouwenhoven, L. P. Spin–orbit qubit in a semiconductor nanowire. Nature 468, 1084–1087 (2010).

Maurand, R. et al. A CMOS silicon spin qubit. Nat. Commun. 7, 13575 (2016).

Watzinger, H. et al. A germanium hole spin qubit. Nat. Commun. 9, 3902 (2018).

Scappucci, G. et al. The germanium quantum information route. Nat. Rev. Mater. 6, 926–943 (2021).

Froning, F. N. M. et al. Ultrafast hole spin qubit with gate-tunable spin–orbit switch functionality. Nat. Nanotechnol. 16, 308–312 (2021).

Kim, D. et al. High-fidelity resonant gating of a silicon-based quantum dot hybrid qubit. npj Quantum Inf. 1, 15004 (2015).

Benito, M. et al. Electric-field control and noise protection of the flopping-mode spin qubit. Phys. Rev. B 100, 125430 (2019).

Croot, X. et al. Flopping-mode electric dipole spin resonance. Phys. Rev. Res. 2, 012006 (2020).

Bosco, S., Benito, M., Adelsberger, C. & Loss, D. Squeezed hole spin qubits in Ge quantum dots with ultrafast gates at low power. Phys. Rev. B 104, 115425 (2021).

Kha, A., Joynt, R. & Culcer, D. Do micromagnets expose spin qubits to charge and Johnson noise? Appl. Phys. Lett. 107, 172101 (2015).

IEEE International Roadmap for Devices and Systems—IEEE IRDS; https://irds.ieee.org/

Leon, R. C. C. et al. Bell-state tomography in a silicon many-electron artificial molecule. Nat. Commun. 12, 3228 (2021).

Boter, J. M. et al. Spiderweb array: a sparse spin-qubit array. Phys. Rev. Applied 18, 024053 (2022).

Li, R. et al. A crossbar network for silicon quantum dot qubits. Sci. Adv. 4, eaar3960 (2018).

Yang, C. H. et al. Silicon qubit fidelities approaching incoherent noise limits via pulse engineering. Nat. Electron. 2, 151–158 (2019).

Seedhouse, A. E. et al. Pauli blockade in silicon quantum dots with spin-orbit control. PRX Quantum 2, 010303 (2021).

Hao, X., Ruskov, R., Xiao, M., Tahan, C. & Jiang, H. Electron spin resonance and spin–valley physics in a silicon double quantum dot. Nat. Commun. 5, 3860 (2014).

Bourdet, L. & Niquet, Y.-M. All-electrical manipulation of silicon spin qubits with tunable spin-valley mixing. Phys. Rev. B 97, 155433 (2018).

Corna, A. et al. Electrically driven electron spin resonance mediated by spin–valley–orbit coupling in a silicon quantum dot. npj Quantum Inf. 4, 6 (2018).

Huang, W., Veldhorst, M., Zimmerman, N. M., Dzurak, A. S. & Culcer, D. Electrically driven spin qubit based on valley mixing. Phys. Rev. B 95, 075403 (2017).

Huang, P. & Hu, X. Fast spin-valley-based quantum gates in Si with micromagnets. npj Quantum Inf. 7, 162 (2021).

Kyriakidis, J. & Burkard, G. Universal quantum computing with correlated spin-charge states. Phys. Rev. B 75, 115324 (2007).

Ercan, H. E., Coppersmith, S. N. & Friesen, M. Strong electron-electron interactions in Si/SiGe quantum dots. Phys. Rev. B 104, 235302 (2021).

Abadillo-Uriel, J. C., Martinez, B., Filippone, M. & Niquet, Y.-M. Two-body Wigner molecularization in asymmetric quantum dot spin qubits. Phys. Rev. B 104, 195305 (2021).

Dehollain, J. P. et al. Nanoscale broadband transmission lines for spin qubit control. Nanotechnology 24, 015202 (2012).

Fowler, A. G., Mariantoni, M., Martinis, J. M. & Cleland, A. N. Surface codes: towards practical large-scale quantum computation. Phys. Rev. A 86, 032324 (2012).

Nielsen, E. et al. Gate set tomography. Quantum 5, 557 (2021).

Noiri, A. et al. Fast universal quantum gate above the fault-tolerance threshold in silicon. Nature 601, 338–342 (2022).

Xue, X. et al. Quantum logic with spin qubits crossing the surface code threshold. Nature 601, 343–347 (2022).

Mills, A. R. et al. Two-qubit silicon quantum processor with operation fidelity exceeding 99%. Sci. Adv. 8, eabn5130 (2022).

Yao, W., Liu, R.-B. & Sham, L. J. Theory of control of the spin-photon interface for quantum networks. Phys. Rev. Lett. 95, 030504 (2005).

Mi, X. et al. A coherent spin–photon interface in silicon. Nature 555, 599–603 (2018).

Jaksch, D. et al. Fast quantum gates for neutral atoms. Phys. Rev. Lett. 85, 2208–2211 (2000).

Crane, E., Schuckert, A., Le, N. H. & Fisher, A. J. Rydberg entangling gates in silicon. Phys. Rev. Res. 3, 033086 (2021).

Sørensen, A. & Mølmer, K. Quantum computation with ions in thermal motion. Phys. Rev. Lett. 82, 1971–1974 (1999).

Tosi, G. et al. Silicon quantum processor with robust long-distance qubit couplings. Nat. Commun. 8, 450 (2017).

Yang, C. H., Lim, W. H., Zwanenburg, F. A. & Dzurak, A. S. Dynamically controlled charge sensing of a few-electron silicon quantum dot. AIP Advances 1, 042111 (2011).

Ono, K., Austing, D. G., Tokura, Y. & Tarucha, S. Current rectification by Pauli exclusion in a weakly coupled double quantum dot system. Science 297, 1313–1317 (2002).

Yang, C. H. et al. Orbital and valley state spectra of a few-electron silicon quantum dot. Phys. Rev. B 86, 115319 (2012).

Becker, P., Pohl, H.-J., Riemann, H. & Abrosimov, N. Enrichment of silicon for a better kilogram. Phys. Status Solidi 207, 49–66 (2010).

Itoh, K. M. & Watanabe, H. Isotope engineering of silicon and diamond for quantum computing and sensing applications. MRS Commun. 4, 143–157 (2014).
Acknowledgements
We acknowledge helpful conversations and technical support from A. Dickie. We acknowledge support from the Australian Research Council (FL190100167 and CE170100012), the US Army Research Office (W911NF-17-1-0198) and the NSW Node of the Australian National Fabrication Facility. The views and conclusions contained in this document are those of the authors and should not be interpreted as representing the official policies, either expressed or implied, of the Army Research Office or the US Government. The US Government is authorized to reproduce and distribute reprints for Government purposes notwithstanding any copyright notation herein. W.G., M.F., J.Y.H., J.D.C. and S.S. acknowledge support from Sydney Quantum Academy.
Ethics declarations
Competing interests
T.T., W.H.L., R.C.C.L., A.L., C.H.Y., A.S. and A.S.D. are inventors on a patent related to this work (AU provisional application 2021901923) filed by the University of New South Wales with a priority date of 25 June 2021. A.S.D. is the CEO and Director of Diraq Pty Ltd.
Peer review
Peer review information
Nature Nanotechnology thanks Xuedong Hu, Dominik Zumbuhl and the other, anonymous, reviewer(s) for their contribution to the peer review of this work.
Additional information
Publisher's note Springer Nature remains neutral with regard to jurisdictional claims in published maps and institutional affiliations.
Supplementary information
Rights and permissions
Springer Nature or its licensor (e.g. a society or other partner) holds exclusive rights to this article under a publishing agreement with the author(s) or other rightsholder(s); author self-archiving of the accepted manuscript version of this article is solely governed by the terms of such publishing agreement and applicable law.
About this article
Cite this article
Gilbert, W., Tanttu, T., Lim, W.H. et al. On-demand electrical control of spin qubits. Nat. Nanotechnol. 18, 131–136 (2023). https://doi.org/10.1038/s41565-022-01280-4
Received:

Accepted:

Published:

Issue Date:

DOI: https://doi.org/10.1038/s41565-022-01280-4
This article is cited by
Nature Nanotechnology (2023)