The asymmetry of electron–hole diffusion velocities in intrinsic graphene can give rise to efficient photocurrent generation.
Access options
Subscribe to Journal
Get full journal access for 1 year
$169.00
only $14.08 per issue
All prices are NET prices.
VAT will be added later in the checkout.
Rent or Buy article
Get time limited or full article access on ReadCube.
from$8.99
All prices are NET prices.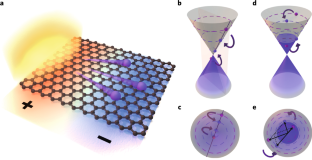 References
1.

Gabor, N. M. et al. Science 334, 648–652 (2011).

2.

Ma, Q. et al. Nat. Nanotechnol. https://doi.org/10.1038/s41565-018-0323-8 (2018).

3.

Dawlaty, J. M., Shivaraman, S., Chandrashekhar, M., Rana, F. & Spencer, M. G. Appl. Phys. Lett. 92, 042116 (2008).

4.

Tielrooij, K. J. et al. Nat. Phys. 9, 248 (2013).

5.

Junck, A., Refael, G. & von Oppen, F. Phys. Rev. B 90, 245110 (2014).
About this article
Cite this article
Yin, J., Peng, H. Asymmetry allows photocurrent in intrinsic graphene. Nature Nanotech 14, 105–106 (2019). https://doi.org/10.1038/s41565-019-0368-3
Further reading
Fang Zhong

,

Hao Wang

,

Zhen Wang

,

Yang Wang

,

Ting He

,

Peisong Wu

,

Meng Peng

,

Hailu Wang

,

Tengfei Xu

,

Fang Wang

,

Peng Wang

,

Jinshui Miao

&

Weida Hu

Nano Research (2020)

Narges Taghizade

&

Edris Faizabadi

Materials Research Express (2019)

Narges Taghizade

&

Edris Faizabadi

Materials Research Express (2019)