Removing nuclear spins by means of isotopically purified silicon, and introducing magnetic field gradients by means of microfabricated ferromagnets yields electron spin qubits with enhanced fidelity and fast electrical control.
Access options
Subscribe to Journal
Get full journal access for 1 year
$187.00
only $15.58 per issue
All prices are NET prices.
VAT will be added later in the checkout.
Rent or Buy article
Get time limited or full article access on ReadCube.
from$8.99
All prices are NET prices.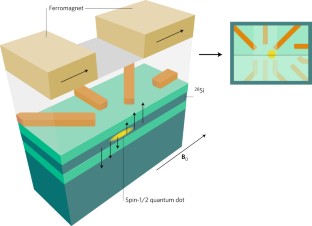 References
1.

Bravyi, S. B. & Kitaev, A. Y. https://arxiv.org/abs/quant-ph/9811052 (1998).

2.

Dennis, E., Kitaev, A., Landahl, A. & Preskill, J. J. Math. Phys. 43, 4452–4505 (2002).

3.

Fowler, A. G., Mariantoni, M., Martinis, J. M. & Cleland, A. N. Phys. Rev. A 86, 032324 (2012).

4.

Martinis, J. npj Quant. Inf. 1, 15005 (2015).

5.

Yoneda, J. et al. Nat. Nanotech. https://doi.org/10.1038/s41565-017-0014 (2017).

6.

Veldhorst, M. et al. Nat. Nanotech. 9, 981–985 (2014).

7.

Eng, K. et al. Sci. Adv. 1, e1500214 (2015).

8.

Khanejaa, N., Reiss, T., Kehlet, C., Schulte-Herbrüggen, T. & Glaser, S. J. J. Mag. Res. 172, 296–305 (2005).

9.

Pioro-Ladrière, M. et al. Nat. Phys. 4, 776–779 (2008).
About this article
Cite this article
De Franceschi, S. Fast and pure. Nature Nanotech 13, 95–96 (2018) doi:10.1038/s41565-017-0045-3