Abstract
Defence-associated sirtuins (DSRs) comprise a family of proteins that defend bacteria from phage infection via an unknown mechanism. These proteins are common in bacteria and harbour an N-terminal sirtuin (SIR2) domain. In this study we report that DSR proteins degrade nicotinamide adenine dinucleotide (NAD+) during infection, depleting the cell of this essential molecule and aborting phage propagation. Our data show that one of these proteins, DSR2, directly identifies phage tail tube proteins and then becomes an active NADase in Bacillus subtilis. Using a phage mating methodology that promotes genetic exchange between pairs of DSR2-sensitive and DSR2–resistant phages, we further show that some phages express anti-DSR2 proteins that bind and repress DSR2. Finally, we demonstrate that the SIR2 domain serves as an effector NADase in a diverse set of phage defence systems outside the DSR family. Our results establish the general role of SIR2 domains in bacterial immunity against phages.
Access options
Subscribe to Nature+
Get immediate online access to Nature and 55 other Nature journal
Subscribe to Journal
Get full journal access for 1 year
$119.00
only $9.92 per issue
All prices are NET prices.
VAT will be added later in the checkout.
Tax calculation will be finalised during checkout.
Buy article
Get time limited or full article access on ReadCube.
$32.00
All prices are NET prices.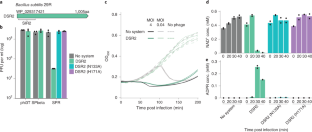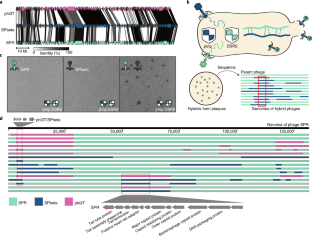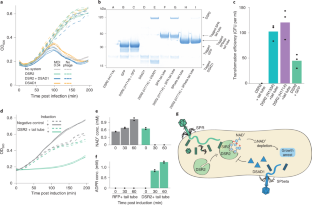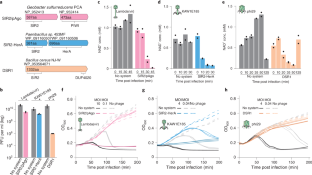 Data availability
Data that support the findings of this study are available within the Article and its Extended Data. Gene accessions appear in the Methods section of the paper. Plasmid maps of the constructs used for the experiments are attached as Supplementary Files. Source data are provided with this paper.
References
North, B. J. & Verdin, E. Protein family review Sirtuins: Sir2-related NAD-dependent protein deacetylases. Genome Biol. 5, 224 (2004).

Imai, S., Armstrong, C. M., Kaeberlein, M. & Guarente, L. Transcriptional silencing and longevity protein Sir2 is an NAD-dependent histone deacetylase. Nature 403, 795–800 (2000).

Tanny, J. C., Dowd, G. J., Huang, J., Hilz, H. & Moazed, D. An enzymatic activity in the yeast Sir2 protein that is essential for gene silencing. Cell 99, 735–745 (1999).

Dang, W. & Pfizer, N. C. The controversial world of sirtuins. Drug Discov. Today Technol. 12, e9–e17 (2014).

Makarova, K. S., Wolf, Y. I., van der Oost, J. & Koonin, E. V. Prokaryotic homologs of Argonaute proteins are predicted to function as key components of a novel system of defense against mobile genetic elements. Biol. Direct 4, 29 (2009).

Doron, S. et al. Systematic discovery of antiphage defense systems in the microbial pangenome. Science 359, eaar4120 (2018).

Ofir, G. et al. Antiviral activity of bacterial TIR domains via signaling molecules that trigger cell death. Nature 600, 116–120 (2021).

Gao, L. et al. Diverse enzymatic activities mediate antiviral immunity in prokaryotes. Science 369, 1077–1084 (2020).

Lopatina, A., Tal, N. & Sorek, R. Abortive infection: Bacterial suicide as an antiviral immune strategy. Annu. Rev. Virol. 7, 371–384 (2020).

Kohm, K. & Hertel, R. The life cycle of SPβ and related phages. Arch. Virol. 166, 2119–2130 (2021).

Noyer-Weidner, M., Jentsch, S., Pawlek, B., Günthert, U. & Trautner, T. A. Restriction and modification in Bacillus subtilis: DNA methylation potential of the related bacteriophages Z, SPR, SP beta, phi 3T, and rho 11. J. Virol. 46, 446–453 (1983).

Dragoš, A. et al. Pervasive prophage recombination occurs during evolution of spore-forming Bacilli. ISME J. 15, 1344–1358 (2021).

Bernheim, A. et al. Prokaryotic viperins produce diverse antiviral molecules. Nature 589, 120–124 (2021).

Freire, D. M. et al. An NAD+ phosphorylase toxin triggers mycobacterium tuberculosis cell death. Mol. Cell 73, 1282–1291.e8 (2019).

Morehouse, B. R. et al. STING cyclic dinucleotide sensing originated in bacteria. Nature 586, 429–433 (2020).

Skjerning, R. B., Senissar, M., Winther, K. S., Gerdes, K. & Brodersen, D. E. The RES domain toxins of RES-Xre toxin-antitoxin modules induce cell stasis by degrading NAD. Mol. Microbiol. 111, 221–236 (2019).

Tang, J. Y., Bullen, N. P., Ahmad, S. & Whitney, J. C. Diverse NADase effector families mediate interbacterial antagonism via the type VI secretion system. J. Biol. Chem. 293, 1504–1514 (2018).

Tal, N. et al. Cyclic CMP and cyclic UMP mediate bacterial immunity against phages. Cell 184, 5728–5739.e16 (2021).

Millman, A. et al. Bacterial retrons function in anti-phage defense. Cell 183, 1551–1561.e12 (2020).

Kaufmann, G. Anticodon nucleases. Trends Biochem. Sci. 25, 70–74 (2000).

Depardieu, F. et al. A eukaryotic-like serine/threonine kinase protects staphylococci against phages. Cell Host Microbe 20, 471–481 (2016).

Millman, A. et al. An expanding arsenal of immune systems that protect bacteria from phages. Preprint at bioRxiv https://doi.org/10.1101/2022.05.11.491447 (2022).

Cohen, D. et al. Cyclic GMP–AMP signalling protects bacteria against viral infection. Nature 574, 691–695 (2019).

Overkamp, W. et al. Benchmarking various green fluorescent protein variants in Bacillus subtilis, Streptococcus pneumoniae, and Lactococcus lactis for live cell imaging. Appl. Environ. Microbiol. 79, 6481–6490 (2013).

Wilson, G. A. & Bott, K. F. Nutritional factors influencing the development of competence in the Bacillus subtilis transformation system. J. Bacteriol. 95, 1439–1449 (1968).

Mazzocco, A., Waddell, T. E., Lingohr & E, J. R. Enumeration of bacteriophages using the small drop plaque assay system. Methods Mol. Biol. 501, 81–85 (2009).

Baym, M. et al. Inexpensive multiplexed library preparation for megabase-sized genomes. PLoS ONE 10, e0128036 (2015).

Prjibelski, A., Antipov, D., Meleshko, D., Lapidus, A. & Korobeynikov, A. Using SPAdes De Novo Assembler. Curr. Protoc. Bioinforma. 70, 1–29 (2020).

Gilchrist, C. L. M. & Chooi, Y.-H. Clinker & Clustermap.Js: automatic generation of gene cluster comparison figures. Bioinformatics 37, 2473–2475 (2021).

Gabler, F. et al. Protein sequence analysis using the MPI bioinformatics toolkit. Curr. Protoc. Bioinforma. 72, 1–30 (2020).

Zaremba, M. et al. Sir2-domain associated short prokaryotic Argonautes provide defence against invading mobile genetic elements through NAD+ depletion. Preprint at bioRxiv https://doi.org/10.1101/2021.12.14.472599 (2021).

Altschul, S. F. et al. Gapped BLAST and PSI-BLAST: a new generation of protein database search programs. Nucleic Acids Res. 25, 3389–3402 (1997).
Acknowledgements
We thank the Sorek laboratory members for comments on the manuscript and fruitful discussion. We also thank A. Brandis and T. Mehlman from the Weizmann Life Sciences Core Facilities for targeted mass spectrometry analyses, and A. Savidor from the Israel National Center for Personalized Medicine for protein mass spectrometry. R.S. was supported, in part, by the European Research Council (grant nos. ERC-CoG 681203 and ERC-AdG GA 101018520), Israel Science Foundation (grant no. ISF 296/21), the Ernest and Bonnie Beutler Research Program of Excellence in Genomic Medicine, the Deutsche Forschungsgemeinschaft (SPP 2330, grant no. 464312965), the Minerva Foundation with funding from the Federal German Ministry for Education and Research and the Knell Family Centre for Microbiology. V.S. was supported by the European Social Fund (grant no. 09.3.3-LMT-K-712-01-0126) under a grant agreement with the Research Council of Lithuania (LMTLT).
Ethics declarations
Competing interests
R.S. is a scientific cofounder and advisor of BiomX and Ecophage. The other authors declare no competing interests.
Peer review
Peer review information
Nature Microbiology thanks Lennart Randau, Malcolm White and the other, anonymous, reviewer(s) for their contribution to the peer review of this work.
Additional information
Publisher's note Springer Nature remains neutral with regard to jurisdictional claims in published maps and institutional affiliations.
Supplementary information
Rights and permissions
Springer Nature or its licensor holds exclusive rights to this article under a publishing agreement with the author(s) or other rightsholder(s); author self-archiving of the accepted manuscript version of this article is solely governed by the terms of such publishing agreement and applicable law.
About this article
Cite this article
Garb, J., Lopatina, A., Bernheim, A. et al. Multiple phage resistance systems inhibit infection via SIR2-dependent NAD+ depletion. Nat Microbiol 7, 1849–1856 (2022). https://doi.org/10.1038/s41564-022-01207-8
Received:

Accepted:

Published:

Issue Date:

DOI: https://doi.org/10.1038/s41564-022-01207-8
This article is cited by
Azita Leavitt
Erez Yirmiya
Rotem Sorek

Nature (2022)