Abstract
Escherichia coli is an important model organism in microbiology and a prominent member of the human microbiota1. Environmental isolates readily colonize the gastrointestinal tract of humans and other animals, and they can serve diverse probiotic, commensal and pathogenic roles in the host2,3,4. Although certain strains have been associated with the severity of inflammatory bowel disease (IBD)2,5, the diverse immunomodulatory phenotypes remain largely unknown at the molecular level. Here, we decode a previously unknown E. coli metabolic pathway that produces a family of hybrid pterin–phenylpyruvate conjugates, which we named the colipterins. The metabolites are upregulated by subinhibitory levels of the antifolate sulfamethoxazole, which is used to treat infections including in patients with IBD6,7. The genes folX/M and aspC/tyrB involved in monapterin biosynthesis8,9,10 and aromatic amino acid transamination,11 respectively, were required to initiate the colipterin pathway. We show that the colipterins are antioxidants, harbour diverse immunological activities in primary human tissues, activate anti-inflammatory interleukin-10 and improve colitis symptoms in a colitis mouse model. Our study defines an antifolate stress response in E. coli and links its associated metabolites to a major immunological marker of IBD.
This is a preview of subscription content
Access options
Subscribe to Nature+
Get immediate online access to the entire Nature family of 50+ journals
Subscribe to Journal
Get full journal access for 1 year
$119.00
only $9.92 per issue
All prices are NET prices.
VAT will be added later in the checkout.
Tax calculation will be finalised during checkout.
Buy article
Get time limited or full article access on ReadCube.
$32.00
All prices are NET prices.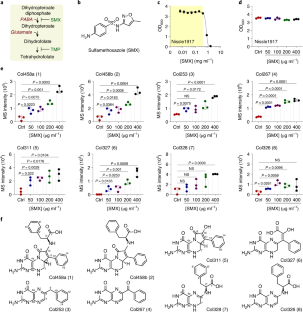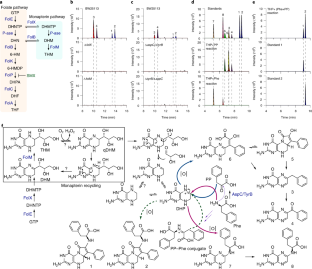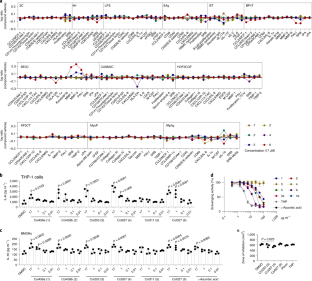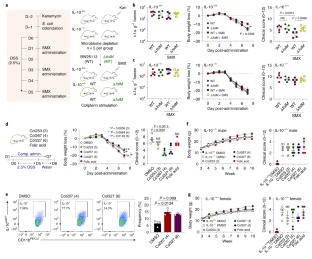 Data availability
HR–ESI–Q–TOF–MS/MS datasets for colipterins are available from GNPS public MassIVE under accession no. MSV000085621. CP3 analysis was facilitated by applets provided by the Goodman Group (http://www-jmg.ch.cam.ac.uk/tools/nmr/CP3.html). Supplementary Information and Source data are provided with this Letter. Additional data that support the findings of this study are available from the corresponding author upon reasonable request.
References
Blount, Z. D. The unexhausted potential of E. coli. eLife 4, e05826 (2015).

Kaper, J. B., Nataro, J. P. & Mobley, H. L. Pathogenic Escherichia coli. Nat. Rev. Microbiol. 2, 123–140 (2004).

Tenaillon, O., Skurnik, D., Picard, B. & Denamur, E. The population genetics of commensal Escherichia coli. Nat. Rev. Microbiol. 8, 207–217 (2010).

Wassenaar, T. M. Insights from 100 years of research with probiotic E. coli. Eur. J. Microbiol. Immunol. 6, 147–161 (2016).

Mirsepasi-Lauridsen, H. C., Vallance, B. A., Krogfelt, K. A. & Petersen, A. M. Escherichia coli pathobionts associated with inflammatory bowel disease. Clin. Microbiol. Rev. 32, e00060-18 (2019).

Smilack, J. D. Trimethoprim-sulfamethoxazole. Mayo Clin. Proc. 74, 730–734 (1999).

Stallmach, A. et al. Medical and surgical therapy of inflammatory bowel disease in the elderly—prospects and complications. J. Crohns Colitis 5, 177–188 (2011).

Haußmann, C. et al. Biosynthesis of pteridines in Escherichia coli. Structural and mechanistic similarity of dihydroneopterin-triphosphate epimerase and dihydroneopterin aldolase. J. Biol. Chem. 273, 17418–17424 (1998).

Giladi, M. et al. FolM, a new chromosomally encoded dihydrofolate reductase in Escherichia coli. J. Bacteriol. 185, 7015–7018 (2003).

Pribat, A. et al. FolX and FolM are essential for tetrahydromonapterin synthesis in Escherichia coli and Pseudomonas aeruginosa. J. Bacteriol. 192, 475–482 (2010).

Gelfand, D. H. & Steinberg, R. A. Escherichia coli mutants deficient in the aspartate and aromatic amino acid aminotransferases. J. Bacteriol. 130, 429–440 (1977).

Lobritz, M. A. et al. Antibiotic efficacy is linked to bacterial cellular respiration. Proc. Natl Acad. Sci. USA 112, 8173–8180 (2015).

Belenky, P. et al. Bactericidal antibiotics induce toxic metabolic perturbations that lead to cellular damage. Cell. Rep. 13, 968–980 (2015).

Mitosch, K., Rieckh, G. & Bollenbach, T. Noisy response to antibiotic stress predicts subsequent single-cell survival in an acidic environment. Cell. Syst. 4, 393–403 (2017).

Zampieri, M., Zimmermann, M., Claassen, M. & Sauer, U. Nontargeted metabolomics reveals the multilevel response to antibiotic perturbations. Cell. Rep. 19, 1214–1228 (2017).

Zampieri, M. et al. Metabolic constraints on the evolution of antibiotic resistance. Mol. Syst. Biol. 13, 917 (2017).

Zampieri, M. et al. High-throughput metabolomic analysis predicts mode of action of uncharacterized antimicrobial compounds. Sci. Transl. Med. 10, eaal3973 (2018).

Zampieri, M. et al. Regulatory mechanisms underlying coordination of amino acid and glucose catabolism in Escherichia coli. Nat. Commun. 10, 3354 (2019).

Anuforom, O., Wallace, G. R. & Piddock, L. V. The immune response and antibacterial therapy. Med. Microbiol. Immunol. 204, 151–159 (2015).

Rubin, B. K. & Tamaoki, J. Antibiotics as Anti-inflammatory and Immunomodulatory Agents (Springer Science & Business Media, 2005).

Cho, I. et al. Antibiotics in early life alter the murine colonic microbiome and adiposity. Nature 488, 621–626 (2012).

Schneditz, G. et al. Enterotoxicity of a nonribosomal peptide causes antibiotic-associated colitis. Proc. Natl Acad. Sci. USA 111, 13181–13186 (2014).

Lopez, C. A., Kingsbury, D. D., Velazquez, E. M. & Bäumler, A. J. Collateral damage: microbiota-derived metabolites and immune function in the antibiotic era. Cell Host Microbe 16, 156–163 (2014).

Becattini, S., Taur, Y. & Pamer, E. G. Antibiotic-induced changes in the intestinal microbiota and disease. Trends Mol. Med. 22, 458–478 (2016).

Dornisch, E. et al. Biosynthesis of the enterotoxic pyrrolobenzodiazepine natural product tilivalline. Angew. Chem. Int. Ed. 56, 14753–14757 (2017).

Routy, B. et al. Gut microbiome influences efficacy of PD-1-based immunotherapy against epithelial tumors. Science 359, 91–97 (2018).

Yang, J. H. et al. Antibiotic-induced changes to the host metabolic environment inhibit drug efficacy and alter immune function. Cell Host Microbe 22, 757–765 (2017).

Gopinath, S. et al. Topical application of aminoglycoside antibiotics enhances host resistance to viral infections in a microbiota-independent manner. Nat. Microbiol. 3, 611–621 (2018).

Park, H. B. et al. Bacterial autoimmune drug metabolism transforms an immunomodulator into structurally and functionally divergent antibiotics. Angew. Chem. Int. Ed. 59, 2–12 (2020).

Oh, J., Patel, J., Park, H. B. & Crawford, J. M. β-Lactam biotransformations activate innate immunity. J. Org. Chem. 83, 7173–7179 (2018).

Wormser, G. P., Keusch, G. T. & Heel, R. C. Co-trimoxazole (trimethoprim-sulfamethoxazole): an updated review of its antibacterial activity and clinical efficacy. Drugs 24, 459–518 (1982).

Baker, D. J. et al. The binding of trimethoprim to bacterial dihydrofolate reductase. FEBS Lett. 126, 49–52 (1981).

Achari, A. et al. Crystal structure of the anti-bacterial sulfonamide drug target dihydropteroate synthase. Nat. Struct. Biol. 4, 490–497 (1997).

Okada, B. K. & Seyedsayamdost, M. R. Antibiotic dialogues: induction of silent biosynthetic gene clusters by exogenous small molecules. FEMS Microbiol. Rev. 41, 19–33 (2017).

Kim, C. S. et al. Characterization of autoinducer-3 atructure and biosynthesis in E. coli. ACS Cent. Sci. 6, 197–206 (2020).

Nougayrède, J. P. et al. Escherichia coli induces DNA double-strand breaks in eukaryotic cells. Science 313, 848–851 (2006).

Xue, M. et al. Structure elucidation of colibactin and its DNA cross-links. Science 365, eaax2685 (2019).

Arthur, J. C. et al. Intestinal inflammation targets cancer-inducing activity of the microbiota. Science 338, 120–123 (2012).

Arthur, J. C. et al. Microbial genomic analysis reveals the essential role of inflammation in bacteria-induced colorectal cancer. Nat. Commun. 5, 4724 (2014).

Cougnoux, A. et al. Small-molecule inhibitors prevent the genotoxic and protumoural effects induced by colibactin-producing bacteria. Gut 65, 278–285 (2016).

Tomkovich, S. et al. Locoregional effects of microbiota in a preclinical model of colon carcinogenesis. Cancer Res. 77, 2620–2632 (2017).

Dejea, C. M. et al. Patients with familial adenomatous polyposis harbor colonic biofilms containing tumorigenic bacteria. Science 359, 592–597 (2018).

Wiegand, I., Hilpert, K. & Hancock, R. E. Agar and broth dilution methods to determine the minimal inhibitory concentration (MIC) of antimicrobial substances. Nat. Protoc. 3, 163–175 (2008).

Thomas, A. H. et al. Fluorescence of pterin, 6-formylpterin, 6-carboxypterin and folic acid in aqueous solution: pH effects. Photochem. Photobiol. Sci. 1, 421–426 (2002).

Kim, Y., Kang, Y. & Baek, D. Oxidative synthesis of benzoylpteridines from benzylpteridines by potassium penmanganate. Bull. Korean Chem. Soc. 22, 141–144 (2001).

Bermingham, A. & Derrick, J. P. The folic acid biosynthesis pathway in bacteria: evaluation of potential for antibacterial drug discovery. Bioessays 24, 637–648 (2002).

de Crécy-Lagard, V. et al. Comparative genomics of bacterial and plant folate synthesis and salvage: predictions and validations. BMC Genomics 8, 245 (2007).

Feirer, N. et al. A pterin-dependent signaling pathway regulates a dual-function diguanylate cyclase-phosphodiesterase controlling surface attachment in Agrobacterium tumefaciens. mBio 6, e00156-15 (2015).

Ahn, C., Byun, J. & Yim, J. Purification, cloning, and functional expression of dihydroneopterin triphosphate 2′-epimerase from Escherichia coli. J. Biol. Chem. 272, 15323–15328 (1997).

Shan, Y. et al. Genetic basis of persister tolerance to aminoglycosides in Escherichia coli. mBio 6, e00078-15 (2015).

Mathieu, A. et al. Discovery and function of a general core hormetic stress response in E. coli induced by sublethal concentrations of antibiotics. Cell. Rep. 17, 46–57 (2016).

Kim, C. S. et al. Cellular stress upregulates indole signaling metabolites in Escherichia coli. Cell Chem. Biol. 27, 698–707 (2020).

Perez, C. E., Park, H. B. & Crawford, J. M. Functional characterization of a condensation domain that links nonribosomal peptide and pteridine biosynthetic machineries in Photorhabdus luminescens. Biochemistry 57, 354–361 (2018).

Brown, G. M. The biosynthesis of pteridines. Adv. Enzymol. Relat. Areas Mol. Biol 35, 35–77 (1971).

Nichol, C. A. et al. Biosynthesis of tetrahydrobiopterin by de novo and salvage pathways in adrenal medulla extracts, mammalian cell cultures, and rat brain in vivo. Proc. Natl Acad. Sci. USA 80, 1546–1550 (1983).

Groehn, V. et al. Pteridine-based photoaffinity probes for nitric oxide synthase and aromatic amino acid hydroxylases. Helv. Chim. Acta 83, 2738–2750 (2000).

Crabtree, M. J. et al. Critical role for tetrahydrobiopterin recycling by dihydrofolate reductase in regulation of endothelial nitric-oxide synthase coupling: relative importance of the de novo biopterin synthesis versus salvage pathways. J. Biol. Chem. 284, 28128–28136 (2009).

Kirsch, M. et al. The autoxidation of tetrahydrobiopterin revisited. Proof of superoxide formation from reaction of tetrahydrobiopterin with molecular oxygen. J. Biol. Chem. 278, 24481–24490 (2003).

Oettl, K. & Reibnegger, G. Pteridines as inhibitors of xanthine oxidase: structural requirements. Biochim. Biophys. Acta 1430, 387–395 (1999).

Vásquez-Vivar, J. Tetrahydrobiopterin, superoxide, and vascular dysfunction. Free Radic. Biol. Med. 47, 1108–1119 (2009).

Kojima, S., Icho, T., Mori, H. & Arai, T. Enhancing potency of neopterin toward B-16 melanoma cell damage induced by UV-A irradiation and its possible application for skin tumor treatment. Anticancer Res. 15, 1975–1980 (1995).

Becker, C., Fantini, M. C. & Neurath, M. F. High resolution colonoscopy in live mice. Nat. Protoc. 1, 2900–2904 (2006).

Dorrestein, P. C., Mazmanian, S. K. & Knight, R. Finding the missing links among metabolites, microbes, and the host. Immunity 40, 824–832 (2014).

Kruis, W. et al. Maintaining remission of ulcerative colitis with the probiotic Escherichia coli Nissle 1917 is as effective as with standard mesalazine. Gut 53, 1617–1623 (2004).

Palmela, C. et al. Adherent-invasive Escherichia coli in inflammatory bowel disease. Gut 67, 574–587 (2018).

Rembacken, B. J. et al. Non-pathogenic Escherichia coli versus mesalazine for the treatment of ulcerative colitis: a randomised trial. Lancet 354, 635–639 (1999).

Smith, S. G. & Goodman, J. M. Assigning the stereochemistry of pairs of diastereoisomers using GIAO NMR shift calculation. J. Org. Chem. 74, 4597–4607 (2009).

Kamanaka, M. et al. Expression of interleukin-10 in intestinal lymphocytes detected by an interleukin-10 reporter knockin tiger mouse. Immunity 25, 941–952 (2006).
Acknowledgements
This work was supported by the National Institutes of Health (nos. 1DP2-CA186575 and R00-GM097096 to J.M.C.), the Burroughs Wellcome Fund (no. 1016720 to J.M.C.), the Camille & Henry Dreyfus Foundation (no. TC-17-011 to J.M.C.), the Howard Hughes Medical Institute (to R.A.F.) and the Basic Science Research Program through the National Research Foundation of Korea funded by the Ministry of Education (no. 2019R1A6A3A12033304 to C.S.K.). Z.W. was supported by the China Scholarship Council.
Ethics declarations
Competing interests
R.A.F. is a recipient of a grant from AbbVie, Inc. R.W., T.P.W. and G.P. are employees of Merck Exploratory Science Center, Merck & Co., Inc., Kenilworth, NJ, USA. Employees may hold stocks and/or stock options in Merck & Co., Inc., Kenilworth, NJ, USA. The remaining authors declare no competing interests.
Additional information
Publisher's note Springer Nature remains neutral with regard to jurisdictional claims in published maps and institutional affiliations.
Supplementary information
Supplementary Figs. 1–66, Tables 1–6, discussions and references.
About this article
Cite this article
Park, H.B., Wei, Z., Oh, J. et al. Sulfamethoxazole drug stress upregulates antioxidant immunomodulatory metabolites in Escherichia coli. Nat Microbiol 5, 1319–1329 (2020). https://doi.org/10.1038/s41564-020-0763-4
Received:

Accepted:

Published:

Issue Date:

DOI: https://doi.org/10.1038/s41564-020-0763-4
Further reading
Alexandra Gatsios
Chung Sub Kim
Jason M. Crawford

Nature Chemical Biology (2021)

Margaret Alexander
Peter J. Turnbaugh

Nature Microbiology (2020)

Chung Sub Kim
Joonseok Oh
Tae Hyun Lee

Archives of Pharmacal Research (2020)