Abstract
Bacteria have evolved diverse mechanisms to fend off predation by bacteriophages. We previously identified the Dnd system, which uses DndABCDE to insert sulfur into the DNA backbone as a double-stranded phosphorothioate (PT) modification, and DndFGH, a restriction component. Here, we describe an unusual SspABCD–SspE PT system in Vibrio cyclitrophicus, Escherichia coli and Streptomyces yokosukanensis, which has distinct genetic organization, biochemical functions and phenotypic behaviour. SspABCD confers single-stranded and high-frequency PTs with SspB acting as a nickase and possibly introducing nicks to facilitate sulfur incorporation. Strikingly, SspABCD coupled with SspE provides protection against phages in unusual ways: (1) SspE senses sequence-specific PTs by virtue of its PT-stimulated NTPase activity to exert its anti-phage activity, and (2) SspE inhibits phage propagation by introducing nicking damage to impair phage DNA replication. These results not only expand our knowledge about the diversity and functions of DNA PT modification but also enhance our understanding of the known arsenal of defence systems.
Access options
Subscribe to Journal
Get full journal access for 1 year
$119.00
only $9.92 per issue
All prices are NET prices.
VAT will be added later in the checkout.
Tax calculation will be finalised during checkout.
Rent or Buy article
Get time limited or full article access on ReadCube.
from$8.99
All prices are NET prices.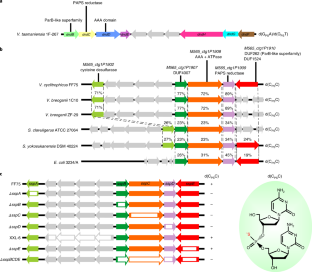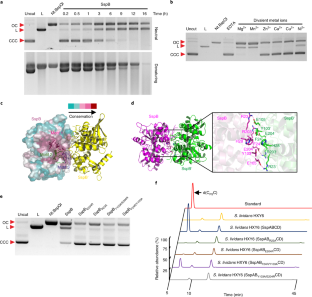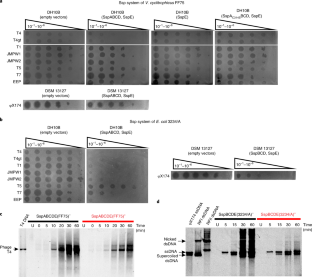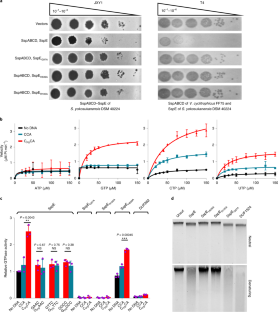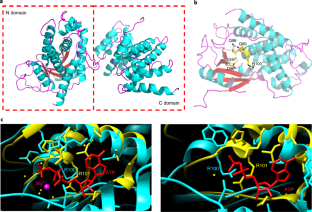 Data availability
The data supporting the findings of this study are available from the corresponding author on request. The atomic coordinates and structure factors of SspB and the magnesium ion-bound SspB from S. clavuligerus ATCC 27064 have been deposited in the Protein Data Bank with the accession numbers 6JUF and 6LB9, respectively, and those of SspE from S. yokosukanensis DSM 40224 have the accession number 6JIV. The genome sequence of phage JXY1 has been deposited in GenBank under accession number MN994275. Source data for Figs. 1b, 2a,b,e,f, 3a–d and 4a–d and Extended Data Figs. 2c, 3, 4a, 6a,b and 7a–e are included in this article and its Supplementary information.
Code availability
Custom codes or software used in this study are available from the authors on request.
References
1.

Yamaguchi, Y., Park, J. H. & Inouye, M. Toxin-antitoxin systems in bacteria and archaea. Annu. Rev. Genet. 45, 61–79 (2011).

2.

Tock, M. R. & Dryden, D. T. The biology of restriction and anti-restriction. Curr. Opin. Microbiol. 8, 466–472 (2005).

3.

Dy, R. L., Przybilski, R., Semeijn, K., Salmond, G. P. & Fineran, P. C. A widespread bacteriophage abortive infection system functions through a Type IV toxin-antitoxin mechanism. Nucleic Acids Res. 42, 4590–4605 (2014).

4.

Marraffini, L. A. CRISPR–Cas immunity in prokaryotes. Nature 526, 55–61 (2015).

5.

Swarts, D. C. et al. DNA-guided DNA interference by a prokaryotic Argonaute. Nature 507, 258–261 (2014).

6.

Goldfarb, T. et al. BREX is a novel phage resistance system widespread in microbial genomes. EMBO J. 34, 169–183 (2015).

7.

Ofir, G. et al. DISARM is a widespread bacterial defence system with broad anti-phage activities. Nat. Microbiol. 3, 90–98 (2018).

8.

Doron, S. et al. Systematic discovery of antiphage defense systems in the microbial pangenome. Science 359, eaar4120 (2018).

9.

Willbanks, A. et al. The evolution of epigenetics: from prokaryotes to humans and its biological consequences. Genet. Epigenet. 8, 25–36 (2016).

10.

Blow, M. J. et al. The epigenomic landscape of prokaryotes. PLoS Genet. 12, e1005854 (2016).

11.

Wang, L. et al. Phosphorothioation of DNA in bacteria by dnd genes. Nat. Chem. Biol. 3, 709–710 (2007).

12.

Wang, L., Jiang, S., Deng, Z., Dedon, P. C. & Chen, S. DNA phosphorothioate modification—a new multi-functional epigenetic system in bacteria. FEMS Microbiol. Rev. 43, 109–122 (2018).

13.

Thiaville, J. J. et al. Novel genomic island modifies DNA with 7-deazaguanine derivatives. Proc. Natl Acad. Sci. USA 113, E1452–E1459 (2016).

14.

Zhou, X. et al. A novel DNA modification by sulphur. Mol. Microbiol. 57, 1428–1438 (2005).

15.

Eckstein, F. & Gish, G. Phosphorothioates in molecular biology. Trends Biochem. Sci. 14, 97–100 (1989).

16.

Gan, R. et al. DNA phosphorothioate modifications influence the global transcriptional response and protect DNA from double-stranded breaks. Sci. Rep. 4, 6642 (2014).

17.

Cao, B. et al. Pathological phenotypes and in vivo DNA cleavage by unrestrained activity of a phosphorothioate-based restriction system in Salmonella. Mol. Microbiol. 93, 776–785 (2014).

18.

Xu, T., Yao, F., Zhou, X., Deng, Z. & You, D. A novel host-specific restriction system associated with DNA backbone S-modification in Salmonella. Nucleic Acids Res. 38, 7133–7141 (2010).

19.

Chen, C. et al. Convergence of DNA methylation and phosphorothioation epigenetics in bacterial genomes. Proc. Natl Acad. Sci. USA 114, 4501–4506 (2017).

20.

Cao, B. et al. Genomic mapping of phosphorothioates reveals partial modification of short consensus sequences. Nat. Commun. 5, 3951 (2014).

21.

Kellner, S. et al. Oxidation of phosphorothioate DNA modifications leads to lethal genomic instability. Nat. Chem. Biol. 13, 888–894 (2017).

22.

Wang, L. et al. DNA phosphorothioation is widespread and quantized in bacterial genomes. Proc. Natl Acad. Sci. USA 108, 2963–2968 (2011).

23.

Tong, T. et al. Occurrence, evolution, and functions of DNA phosphorothioate epigenetics in bacteria. Proc. Natl Acad. Sci. USA 115, E2988–E2996 (2018).

24.

Aziz, R. K. et al. The RAST server: rapid annotations using subsystems technology. BMC Genomics 9, 75 (2008).

25.

Zimmermann, L. et al. A completely reimplemented MPI bioinformatics toolkit with a new HHpred server at its core. J. Mol. Biol. 430, 2237–2243 (2018).

26.

Anantharaman, V., Makarova, K. S., Burroughs, A. M., Koonin, E. V. & Aravind, L. Comprehensive analysis of the HEPN superfamily: identification of novel roles in intra-genomic conflicts, defense, pathogenesis and RNA processing. Biol. Direct 8, 15 (2013).

27.

You, D., Wang, L., Yao, F., Zhou, X. & Deng, Z. A novel DNA modification by sulfur: DndA is a NifS-like cysteine desulfurase capable of assembling DndC as an iron-sulfur cluster protein in Streptomyces lividans. Biochemistry 46, 6126–6133 (2007).

28.

Yao, F., Xu, T., Zhou, X., Deng, Z. & You, D. Functional analysis of spfD gene involved in DNA phosphorothioation in Pseudomonas fluorescens Pf0-1. FEBS Lett. 583, 729–733 (2009).

29.

Xia, S. et al. Tight control of genomic phosphorothioate modification by the ATP-modulated autoregulation and reusability of DndB. Mol. Microbiol. 111, 938–950 (2018).

30.

Maindola, P. et al. Multiple enzymatic activities of ParB/Srx superfamily mediate sexual conflict among conjugative plasmids. Nat. Commun. 5, 5322 (2014).

31.

Schumacher, M. A. & Funnell, B. E. Structures of ParB bound to DNA reveal mechanism of partition complex formation. Nature 438, 516–519 (2005).

32.

Basu, M. K. & Koonin, E. V. Evolution of eukaryotic cysteine sulfinic acid reductase, sulfiredoxin (Srx), from bacterial chromosome partitioning protein ParB. Cell Cycle 4, 947–952 (2005).

33.

He, X. et al. Expression and purification of a single-chain Type IV restriction enzyme Eco94GmrSD and determination of its substrate preference. Sci. Rep. 5, 9747 (2015).

34.

Jablonska, J., Matelska, D., Steczkiewicz, K. & Ginalski, K. Systematic classification of the His-Me finger superfamily. Nucleic Acids Res. 45, 11479–11494 (2017).

35.

Chen, F. et al. Crystal structure of the cysteine desulfurase DndA from Streptomyces lividans which is involved in DNA phosphorothioation. PLoS ONE 7, e36635 (2012).

36.

Machnicka, M. A., Kaminska, K. H., Dunin-Horkawicz, S. & Bujnicki, J. M. Phylogenomics and sequence-structure-function relationships in the GmrSD family of Type IV restriction enzymes. BMC Bioinform. 16, 336 (2015).

37.

Liu, Q. et al. Engineering an iterative polyketide pathway in Escherichia coli results in single-form alkene and alkane overproduction. Metab. Eng. 28, 82–90 (2015).

38.

Colombo, C. V., Menin, L. & Clerici, M. Alkaline denaturing Southern blot analysis to monitor double-strand break processing. Methods Mol. Biol. 1672, 131–145 (2018).

39.

Shi, H., Wang, X., Tan, D. X., Reiter, R. J. & Chan, Z. Comparative physiological and proteomic analyses reveal the actions of melatonin in the reduction of oxidative stress in Bermuda grass (Cynodon dactylon (L). Pers). J. Pineal Res. 59, 120–131 (2015).

40.

Satoh, K., Maniwa, T., Oda, T. & Matsumoto, K. Proteomic profiling for the identification of serum diagnostic biomarkers for abdominal and thoracic aortic aneurysms. Proteome Sci. 11, 27 (2013).

41.

Otwinowski, Z. & Minor, W. Processing of X-ray diffraction data collected in oscillation mode. Methods Enzymol. 276, 307–326 (1997).

42.

Adams, P. D. et al. PHENIX: building new software for automated crystallographic structure determination. Acta Crystallogr. D 58, 1948–1954 (2002).

43.

McCoy, A. J. et al. Phaser crystallographic software. J. Appl. Crystallogr. 40, 658–674 (2007).

44.

Collaborative Computational Project, Number 4. The CCP4 suite: programs for protein crystallography. Acta Crystallogr. D 50, 760–763 (1994).

45.

Emsley, P. & Cowtan, K. Coot: model-building tools for molecular graphics. Acta Crystallogr. D 60, 2126–2132 (2004).

46.

Winn, M. D., Murshudov, G. N. & Papiz, M. Z. Macromolecular TLS refinement in REFMAC at moderate resolutions. Methods Enzymol. 374, 300–321 (2003).

47.

Otwinowski, Z. & Minor, W. Processing of X-ray diffraction data collected in oscillation mode. Methods Enzymol. 276, 307–326 (1997).

48.

Winn, M. D. et al. Overview of the CCP4 suite and current developments. Acta Crystallogr. D 67, 235–242 (2011).

49.

McCoy, A. J., Storoni, L. C. & Read, R. J. Simple algorithm for a maximum-likelihood SAD function. Acta Crystallogr. D 60, 1220–1228 (2004).

50.

Adams, P. D. et al. PHENIX: a comprehensive Python-based system for macromolecular structure solution. Acta Crystallogr. D 66, 213–221 (2010).

51.

Emsley, P., Lohkamp, B., Scott, W. G. & Cowtan, K. Features and development of Coot. Acta Crystallogr. D 66, 486–501 (2010).

52.

Laskowski, R. A., MacArthur, M. W., Moss, D. S. & Thornton, J. M. PROCHECK: a program to check the stereochemical quality of protein structures. J. Appl. Crystallogr. 26, 283–291 (1993).

53.

Vriend, G. WHAT IF: a molecular modeling and drug design program. J. Mol. Graph. 8, 52–56 (1990).

54.

Hunt, M. et al. Circlator: automated circularization of genome assemblies using long sequencing reads. Genome Biol. 16, 294 (2015).

55.

Walker, B. J. et al. Pilon: an integrated tool for comprehensive microbial variant detection and genome assembly improvement. PLoS ONE 9, e112963 (2014).

56.

Koren, S. et al. Canu: scalable and accurate long-read assembly via adaptive k-mer weighting and repeat separation. Genome Res. 27, 722–736 (2017).

57.

The PyMOL Molecular Graphics System, Version 1.8 (Schrödinger, LLC, 2015).

58.

Landau, M. et al. ConSurf 2005: the projection of evolutionary conservation scores of residues on protein structures. Nucleic Acids Res. 33, W299–W302 (2005).
Acknowledgements
We thank C. Chen for his assistance in the preparation of the manuscript. We thank M. Polz at the Massachusetts Institute of Technology for his gift of the Vibrio strains. We thank the staff at the BL17U1 beamline at the SSRF. The T4gt phage was provided by S. Xu (New England Biolabs). This work was supported by grants from the National Natural Science Foundation of China (grant nos. 31720103906, 31925002, 31520103902 and 31872627), China National Key Research and Development Program (grant no. 2019YFA0904300), Open Funding Project of State Key Laboratory of Microbial Metabolism, US National Science Foundation (grant no. CHE-1019990), US National Institute of Allergy and Infectious Disease (grant no. AI112711) and the Singapore–MIT Alliance for Research and Technology, sponsored by the National Research Foundation of Singapore.
Ethics declarations
Competing interests
The authors declare no competing interests.
Additional information
Publisher's note Springer Nature remains neutral with regard to jurisdictional claims in published maps and institutional affiliations.
Supplementary information
About this article
Cite this article
Xiong, X., Wu, G., Wei, Y. et al. SspABCD–SspE is a phosphorothioation-sensing bacterial defence system with broad anti-phage activities. Nat Microbiol 5, 917–928 (2020). https://doi.org/10.1038/s41564-020-0700-6
Received:

Accepted:

Published:

Issue Date: