Abstract
Bacteria from the same species can differ widely in their gene content. In Escherichia coli, the set of genes shared by all strains, known as the core genome, represents about half the number of genes present in any strain. Although recent advances in bacterial genomics have unravelled genes required for fitness in various experimental conditions, most studies have focused on single model strains. As a result, the impact of the species' genetic diversity on core processes of the bacterial cell remains largely under-investigated. Here, we have developed a CRISPR interference platform for high-throughput gene repression that is compatible with most E. coli isolates and closely related species. We have applied it to assess the importance of ~3,400 nearly ubiquitous genes in three growth conditions in 18 representative E. coli strains spanning most common phylogroups and lifestyles of the species. Our screens revealed extensive variations in gene essentiality between strains and conditions. Investigation of the genetic determinants for these variations highlighted the importance of epistatic interactions with mobile genetic elements. In particular, we have shown how prophage-encoded defence systems against phage infection can trigger the essentiality of persistent genes that are usually non-essential. This study provides broad insights into the evolvability of gene essentiality and argues for the importance of studying various isolates from the same species under diverse conditions.
Relevant articles
Open Access articles citing this article.
Gábor Apjok

,

Mónika Számel

…

Bálint Kintses

Nature Microbiology Open Access 09 February 2023

Tim Downing

&

Alexander Rahm

Scientific Reports Open Access 10 November 2022

Federico Rosconi

,

Emily Rudmann

…

Tim van Opijnen

Nature Microbiology Open Access 12 September 2022
Access options
Access Nature and 54 other Nature Portfolio journals
Get Nature+, our best-value online-access subscription
$29.99 per month
cancel any time
Subscribe to this journal
Receive 12 digital issues and online access to articles
$119.00 per year
only $9.92 per issue
Rent or buy this article
Get just this article for as long as you need it
$39.95
Prices may be subject to local taxes which are calculated during checkout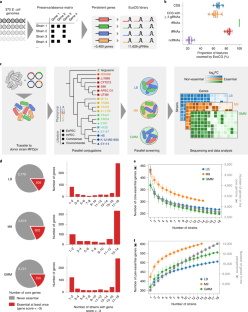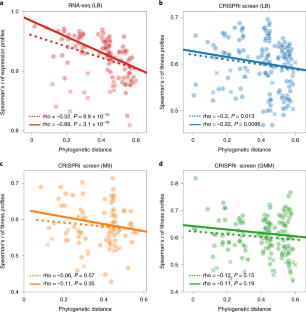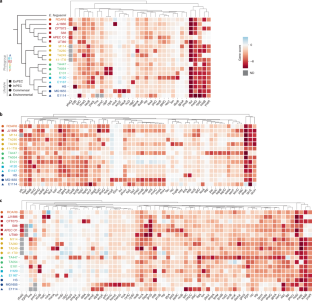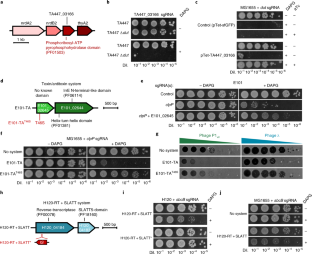 References
Rancati, G., Moffat, J., Typas, A. & Pavelka, N. Emerging and evolving concepts in gene essentiality. Nat. Rev. Genet. 19, 34–49 (2017).

Jordan, I. K., Rogozin, I. B., Wolf, Y. I. & Koonin, E. V. Essential genes are more evolutionarily conserved than are nonessential genes in bacteria. Genome Res. 12, 962–968 (2002).

Zhang, J. & Yang, J.-R. Determinants of the rate of protein sequence evolution. Nat. Rev. Genet. 16, 409–420 (2015).

Turner, K. H., Wessel, A. K., Palmer, G. C., Murray, J. L. & Whiteley, M. Essential genome of Pseudomonas aeruginosa in cystic fibrosis sputum. Proc. Natl Acad. Sci. USA 112, 4110–4115 (2015).

Le Breton, Y. et al. Essential genes in the core genome of the human pathogen Streptococcus pyogenes. Sci. Rep. 5, 9838 (2015).

Freed, N. E., Bumann, D. & Silander, O. K. Combining Shigella Tn-seq data with gold-standard E. coli gene deletion data suggests rare transitions between essential and non-essential gene functionality. BMC Microbiol. 16, 203 (2016).

Poulsen, B. E. et al. Defining the core essential genome of Pseudomonas aeruginosa. Proc. Natl Acad. Sci. USA 116, 10072–10080 (2019).

Galardini, M. et al. The impact of the genetic background on gene deletion phenotypes in S accharomyces cerevisiae. Mol. Syst. Biol. 15, e8831 (2019).

Dowell, R. D. et al. Genotype to phenotype: a complex problem. Science 328, 469 (2010).

van Opijnen, T., Dedrick, S. & Bento, J. Strain dependent genetic networks for antibiotic-sensitivity in a bacterial pathogen with a large pan-genome. PLOS Pathog. 12, e1005869 (2016).

Baba, T. et al. Construction of Escherichia coli K-12 in-frame, single-gene knockout mutants: the Keio collection. Mol. Syst. Biol. 2, 2006.0008 (2006).

Nichols, R. J. et al. Phenotypic landscape of a bacterial cell. Cell 144, 143–156 (2011).

Goodall, E. C. A. et al. The essential genome of Escherichia coli K-12. mBio 9, e02096 (2018).

Price, M. N. et al. Mutant phenotypes for thousands of bacterial genes of unknown function. Nature 557, 503–509 (2018).

Wetmore, K. M. et al. Rapid quantification of mutant fitness in diverse bacteria by sequencing randomly bar-coded transposons. mBio 6, e00306 (2015).

Rasko, D. A. et al. The pangenome structure of Escherichia coli: comparative genomic analysis of E. coli commensal and pathogenic isolates. J. Bacteriol. 190, 6881–6893 (2008).

Touchon, M. et al. Organised genome dynamics in the Escherichia coli species results in highly diverse adaptive paths. PLoS Genet. 5, e1000344 (2009).

Touchon, M. et al. Phylogenetic background and habitat drive the genetic diversification of Escherichia coli. PLoS Genet. 16, e1008866 (2020).

Tenaillon, O., Skurnik, D., Picard, B. & Denamur, E. The population genetics of commensal Escherichia coli. Nat. Rev. Microbiol. 8, 207–217 (2010).

Denamur, E., Clermont, O., Bonacorsi, S. & Gordon, D. The population genetics of pathogenic Escherichia coli. Nat. Rev. Microbiol. https://doi.org/10.1038/s41579-020-0416-x (2020).

Subashchandrabose, S., Smith, S. N., Spurbeck, R. R., Kole, M. M. & Mobley, H. L. T. Genome-wide detection of fitness genes in uropathogenic Escherichia coli during systemic infection. PLoS Pathog. 9, e1003788 (2013).

Olson, M. A., Siebach, T. W., Griffitts, J. S., Wilson, E. & Erickson, D. L. Genome-wide identification of fitness factors in mastitis-associated Escherichia coli. Appl. Environ. Microbiol. 84, e02190 (2018).

Phan, M.-D. et al. The serum resistome of a globally disseminated multidrug resistant uropathogenic Escherichia coli clone. PLoS Genet. 9, e1003834 (2013).

Goh, K. G. K. et al. Genome-wide discovery of genes required for capsule production by uropathogenic Escherichia coli. mBio 8, e01558 (2017).

Shea, A. E. et al. Escherichia coli CFT073 fitness factors during urinary tract infection: identification using an ordered transposon library. Appl. Environ. Microbiol. 86, e00691–20 (2020).

Warr, A. R. et al. Transposon-insertion sequencing screens unveil requirements for EHEC growth and intestinal colonization. PLoS Pathog. 15, e1007652 (2019).

Bergmiller, T., Ackermann, M. & Silander, O. K. Patterns of evolutionary conservation of essential genes correlate with their compensability. PLoS Genet. 8, e1002803 (2012).

Patrick, W. M., Quandt, E. M., Swartzlander, D. B. & Matsumura, I. Multicopy suppression underpins metabolic evolvability. Mol. Biol. Evol. 24, 2716–2722 (2007).

Martínez-Carranza, E. et al. Variability of bacterial essential genes among closely related bacteria: the case of Escherichia coli. Front. Microbiol. 9, 1059 (2018).

Qi, L. S. et al. Repurposing CRISPR as an RNA-guided platform for sequence-specific control of gene expression. Cell 152, 1173–1183 (2013).

Bikard, D. et al. Programmable repression and activation of bacterial gene expression using an engineered CRISPR-Cas system. Nucleic Acids Res. 41, 7429–7437 (2013).

Vigouroux, A. & Bikard, D. CRISPR tools to control gene expression in bacteria. Microbiol. Mol. Biol. Rev. 84, e00077–19 (2020).

Rousset, F. & Bikard, D. CRISPR screens in the era of microbiomes. Curr. Opin. Microbiol. 57, 70–77 (2020).

Cui, L. et al. A CRISPRi screen in E. coli reveals sequence-specific toxicity of dCas9. Nat. Commun. 9, 1912 (2018).

Rousset, F. et al. Genome-wide CRISPR-dCas9 screens in E. coli identify essential genes and phage host factors. PLoS Genet. 14, e1007749 (2018).

Wang, T. et al. Pooled CRISPR interference screening enables genome-scale functional genomics study in bacteria with superior performance. Nat. Commun. 9, 2475 (2018).

Calvo-Villamañán, A. et al. On-target activity predictions enable improved CRISPR-dCas9 screens in bacteria. Nucleic Acids Res. 48, e64 (2020).

Li, S. et al. Genome-wide CRISPRi-based identification of targets for decoupling growth from production. ACS Synth. Biol. 9, 1030–1040 (2020).

Lee, H. H. et al. Functional genomics of the rapidly replicating bacterium Vibrio natriegens by CRISPRi. Nat. Microbiol. 4, 1105–1113 (2019).

Yao, L. et al. Pooled CRISPRi screening of the cyanobacterium Synechocystis sp PCC 6803 for enhanced industrial phenotypes. Nat. Commun. 11, 1666 (2020).

Liu, X. et al. Exploration of bacterial bottlenecks and Streptococcus pneumoniae pathogenesis by CRISPRi-seq. Cell Host Microbe https://doi.org/10.1016/j.chom.2020.10.001 (2020)

Schnider-Keel, U. et al. Autoinduction of 2,4-diacetylphloroglucinol biosynthesis in the biocontrol agent Pseudomonas fluorescens CHA0 and repression by the bacterial metabolites salicylate and pyoluteorin. J. Bacteriol. 182, 1215–1225 (2000).

Decrulle, A., Fernandez Rodriguez, J., Duportet, X. & Bikard, D. Optimized vector for delivery in microbial populations. International patent WO2018141907 (2018).

DeLong, E. R., DeLong, D. M. & Clarke-Pearson, D. L. Comparing the areas under two or more correlated receiver operating characteristic curves: a nonparametric approach. Biometrics 44, 837–845 (1988).

Goodman, A. L. et al. Extensive personal human gut microbiota culture collections characterized and manipulated in gnotobiotic mice. Proc. Natl Acad. Sci. USA 108, 6252–6257 (2011).

Rocha, E. P. C. & Danchin, A. An analysis of determinants of amino acids substitution rates in bacterial proteins. Mol. Biol. Evol. 21, 108–116 (2004).

Tian, W. & Skolnick, J. How well is enzyme function conserved as a function of pairwise sequence identity? J. Mol. Biol. 333, 863–882 (2003).

Tye, B.-K. & Lehman, I. R. Excision repair of uracil incorporated in DNA as a result of a defect in dUTPase. J. Mol. Biol. 117, 293–306 (1977).

Schaub, R. E. & Hayes, C. S. Deletion of the RluD pseudouridine synthase promotes SsrA peptide tagging of ribosomal protein S7. Mol. Microbiol. 79, 331–341 (2011).

Luo, P., He, X., Liu, Q. & Hu, C. Developing universal genetic tools for rapid and efficient deletion mutation in Vibrio species based on suicide T-vectors carrying a novel counterselectable marker, vmi480. PLoS ONE 10, e0144465 (2015).

Aakre, C. D., Phung, T. N., Huang, D. & Laub, M. T. A bacterial toxin inhibits DNA replication elongation through a direct interaction with the β sliding clamp. Mol. Cell 52, 617–628 (2013).

Harms, A., Brodersen, D. E., Mitarai, N. & Gerdes, K. Toxins, targets and triggers: an overview of toxin–antitoxin biology. Mol. Cell 70, 768–784 (2018).

Burroughs, A. M., Zhang, D., Schäffer, D. E., Iyer, L. M. & Aravind, L. Comparative genomic analyses reveal a vast, novel network of nucleotide-centric systems in biological conflicts, immunity and signaling. Nucleic Acids Res. 43, 10633–10654 (2015).

Bobonis, J. et al. Bacterial retrons encode tripartite toxin/antitoxin systems. Preprint at bioRxiv https://doi.org/10.1101/2020.06.22.160168 (2020).

Bobonis, J. et al. Phage proteins block and trigger retron toxin/antitoxin systems. Preprint at bioRxiv https://doi.org/10.1101/2020.06.22.160242 (2020).

Millman, A. et al. Bacterial retrons function in anti-phage defense. Cell https://doi.org/10.1016/j.cell.2020.09.065 (2020).

Gao, L. et al. Diverse enzymatic activities mediate antiviral immunity in prokaryotes. Science 369, 1077–1084 (2020).

Ferrières, L. et al. Silent mischief: bacteriophage Mu insertions contaminate products of Escherichia coli random mutagenesis performed using suicidal transposon delivery plasmids mobilized by broad-host-range RP4 conjugative machinery. J. Bacteriol. 192, 6418–6427 (2010).

Engler, C., Gruetzner, R., Kandzia, R. & Marillonnet, S. Golden gate shuffling: a one-pot DNA shuffling method based on type IIs restriction enzymes. PLoS ONE 4, e5553 (2009).

Salis, H. M. in Methods in Enzymology Vol. 498 (Elsevier, 2011).

Gibson, D. G. et al. Enzymatic assembly of DNA molecules up to several hundred kilobases. Nat. Methods 6, 343–345 (2009).

Hartley, J. L., Temple, G. F. & Brasch, M. A. DNA cloning using in vitro site-specific recombination. Genome Res. 10, 1788–1795 (2000).

Lutz, R. & Bujard, H. Independent and tight regulation of transcriptional units in Escherichia coli via the LacR/O, the TetR/O and AraC/I1-I2 regulatory elements. Nucleic Acids Res. 25, 1203–1210 (1997).

Ondov, B. D. et al. Mash: fast genome and metagenome distance estimation using MinHash. Genome Biol. 17, 132 (2016).

Steinegger, M. & Söding, J. MMseqs2 enables sensitive protein sequence searching for the analysis of massive data sets. Nat. Biotechnol. 35, 1026–1028 (2017).

Steinegger, M. & Söding, J. Clustering huge protein sequence sets in linear time. Nat. Commun. 9, 2542 (2018).

St-Pierre, F. et al. One-step cloning and chromosomal integration of DNA. ACS Synth. Biol. 2, 537–541 (2013).

Clermont, O., Christenson, J. K., Denamur, E. & Gordon, D. M. The Clermont Escherichia coli phylo-typing method revisited: improvement of specificity and detection of new phylo-groups. Environ. Microbiol. Rep. 5, 58–65 (2013).

Bouvet, O., Bourdelier, E., Glodt, J., Clermont, O. & Denamur, E. Diversity of the auxotrophic requirements in natural isolates of Escherichia coli. Microbiology 163, 891–899 (2017).

Roberts, R. J., Vincze, T., Posfai, J. & Macelis, D. REBASE—a database for DNA restriction and modification: enzymes, genes and genomes. Nucleic Acids Res. 43, D298–D299 (2015).

Seemann, T. Prokka: rapid prokaryotic genome annotation. Bioinformatics 30, 2068–2069 (2014).

Treangen, T. J., Ondov, B. D., Koren, S. & Phillippy, A. M. The Harvest suite for rapid core-genome alignment and visualization of thousands of intraspecific microbial genomes. Genome Biol. 15, 524 (2014).

Price, M. N., Dehal, P. S. & Arkin, A. P. FastTree 2—approximately maximum-likelihood trees for large alignments. PLoS ONE 5, e9490 (2010).

Mitchell, A. L. et al. InterPro in 2019: improving coverage, classification and access to protein sequence annotations. Nucleic Acids Res. 47, D351–D360 (2019).

El-Gebali, S. et al. The Pfam protein families database in 2019. Nucleic Acids Res. 47, D427–D432 (2019).

Kelley, L. A., Mezulis, S., Yates, C. M., Wass, M. N. & Sternberg, M. J. E. The Phyre2 web portal for protein modeling, prediction and analysis. Nat. Protoc. 10, 845–858 (2015).

Arndt, D. et al. PHASTER: a better, faster version of the PHAST phage search tool. Nucleic Acids Res. 44, W16–W21 (2016).

Deatherage, D. E. & Barrick, J. E. Identification of mutations in laboratory-evolved microbes from next-generation sequencing data using breseq. Methods Mol. Biol. 1151, 165–188 (2014).

Langmead, B. & Salzberg, S. L. Fast gapped-read alignment with Bowtie 2. Nat. Methods 9, 357–359 (2012).

Li, H. et al. The sequence Alignment/Map format and SAMtools. Bioinformatics 25, 2078–2079 (2009).

Anders, S., Pyl, P. T. & Huber, W. HTSeq—a Python framework to work with high-throughput sequencing data. Bioinformatics 31, 166–169 (2015).
Acknowledgements
We thank B. Dupuy for sharing the use of the anaerobic chamber, as well as O. Tenaillon, P.-A. Kaminsky, G. Sezonov, A. Danchin and A. Calvo-Villamañan for useful discussions. We thank the P2M platform (Institut Pasteur, Paris, France) for genome sequencing and V. Briolat from the Biomics platform, C2RT, Institut Pasteur, Paris, France, supported by France Génomique (ANR-10-INBS-09-09) and IBISA. We also thank J. Rodríguez-Beltrán and S. Brisse for providing a strain of Citrobacter freundii and Klebsiella pneumoniae, respectively. This work was supported by the European Research Council (ERC) under the European Union's Horizon 2020 research and innovation programme (grant agreement no. 677823), by the French Government's Investissement d'Avenir programme and by Laboratoire d'Excellence 'Integrative Biology of Emerging Infectious Diseases' (ANR-10-LABX-62-IBEID). F.R. is supported by a doctoral scholarship from Ecole Normale Supérieure. E.D. was partially supported by the 'Fondation pour la Recherche Médicale' (Equipe FRM 2016, grant no. DEQ20161136698). E.P.C.R. was partially supported by the 'Fondation pour la Recherche Médicale' (Equipe FRM EQU201903007835).
Ethics declarations
Competing interests
The authors declare no competing interests.
Additional information
Peer review information Nature Microbiology thanks Carol Gross and the other, anonymous, reviewer(s) for their contribution to the peer review of this work. Peer reviewer reports are available.
Publisher's note Springer Nature remains neutral with regard to jurisdictional claims in published maps and institutional affiliations.
Supplementary information
About this article
Cite this article
Rousset, F., Cabezas-Caballero, J., Piastra-Facon, F. et al. The impact of genetic diversity on gene essentiality within the Escherichia coli species. Nat Microbiol 6, 301–312 (2021). https://doi.org/10.1038/s41564-020-00839-y
Received:

Accepted:

Published:

Issue Date:

DOI: https://doi.org/10.1038/s41564-020-00839-y