Abstract
The physical properties of clays and micas can be controlled by exchanging ions in the crystal lattice. Atomically thin materials can have superior properties in a range of membrane applications, yet the ion-exchange process itself remains largely unexplored in few-layer crystals. Here we use atomic-resolution scanning transmission electron microscopy to study the dynamics of ion exchange and reveal individual ion binding sites in atomically thin and artificially restacked clays and micas. We find that the ion diffusion coefficient for the interlayer space of atomically thin samples is up to 104 times larger than in bulk crystals and approaches its value in free water. Samples where no bulk exchange is expected display fast exchange at restacked interfaces, where the exchanged ions arrange in islands with dimensions controlled by the moiré superlattice dimensions. We attribute the fast ion diffusion to enhanced interlayer expandability resulting from weaker interlayer binding forces in both atomically thin and restacked materials. This work provides atomic scale insights into ion diffusion in highly confined spaces and suggests strategies to design exfoliated clay membranes with enhanced performance.
Relevant articles
Open Access articles citing this article.
Giada Franceschi

,

Pavel Kocán

…

Ulrike Diebold

Nature Communications Open Access 13 January 2023

Yecun Wu

,

Jingyang Wang

…

Yi Cui

Nature Communications Open Access 30 May 2022

Aleksandar Matković

,

Lukas Ludescher

…

Christian Teichert

npj 2D Materials and Applications Open Access 21 December 2021
Access options
Access Nature and 54 other Nature Portfolio journals
Get Nature+, our best-value online-access subscription
$29.99 / 30 days
cancel any time
Subscribe to this journal
Receive 12 print issues and online access
$259.00 per year
only $21.58 per issue
Rent or buy this article
Get just this article for as long as you need it
$39.95
Prices may be subject to local taxes which are calculated during checkout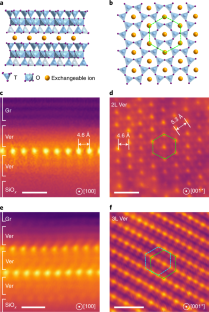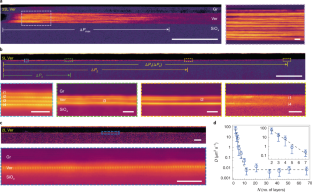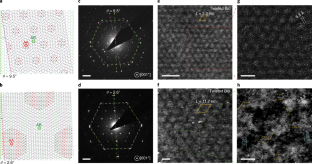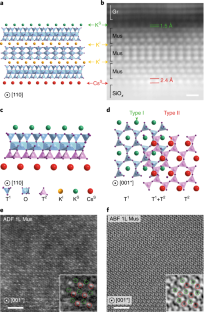 Data availability
All raw data are available from the corresponding authors on request.
References
Mogg, L. et al. Atomically thin micas as proton-conducting membranes. Nat. Nanotechnol. 14, 962–966 (2019).

Gao, J. et al. Kirigami nanofluidics. Mater. Chem. Front. 2, 475–482 (2018).

Liu, M.-L. et al. Two-dimensional nanochannel arrays based on flexible montmorillonite membranes. ACS Appl. Mater. Interfaces 10, 44915–44923 (2018).

Shao, J.-J., Raidongia, K., Koltonow, A. R. & Huang, J. Self-assembled two-dimensional nanofluidic proton channels with high thermal stability. Nat. Commun. 6, 7602 (2015).

Gao, J., Feng, Y., Guo, W. & Jiang, L. Nanofluidics in two-dimensional layered materials: inspirations from nature. Chem. Soc. Rev. 46, 5400–5424 (2017).

Huang, K. et al. Cation-controlled wetting properties of vermiculite membranes and its promise for fouling resistant oil–water separation. Nat. Commun. 11, 1097 (2020).

Helfferich, F. Ion Exchange (McGraw Hill, 1962).

Nicolosi, V., Chhowalla, M., Kanatzidis, M. G., Strano, M. S. & Coleman, J. N. Liquid exfoliation of layered materials. Science 340, 1226419 (2013).

Nair, R. R., Wu, H. A., Jayaram, P. N., Grigorieva, I. V. & Geim, A. K. Unimpeded permeation of water through helium-leak–tight graphene-based membranes. Science 335, 442–444 (2012).

Stein, D., Kruithof, M. & Dekker, C. Surface-charge-governed ion transport in nanofluidic channels. Phys. Rev. Lett. 93, 035901 (2004).

Alcantar, N., Israelachvili, J. & Boles, J. Forces and ionic transport between mica surfaces: implications for pressure solution. Geochim. Cosmochim. Acta 67, 1289–1304 (2003).

Cheng, L., Fenter, P., Nagy, K. L., Schlegel, M. L. & Sturchio, N. C. Molecular-scale density oscillations in water adjacent to a mica surface. Phy. Rev. Lett. 87, 156103 (2001).

Martin-Jimenez, D., Chacon, E., Tarazona, P. & Garcia, R. Atomically resolved three-dimensional structures of electrolyte aqueous solutions near a solid surface. Nat. Commun. 7, 12164 (2016).

Fuller, A. J. et al. Caesium incorporation and retention in illite interlayers. Appl. Clay Sci. 108, 128–134 (2015).

Brown, G., Nadeau, P., Fowden, L., Barrer, R. M. & Tinker, P. B. Crystal structures of clay minerals and related phyllosilicatÿes. Phil. Trans. R. Soc. A 311, 221–240 (1984).

Klobe, W. D. & Gast, R. G. Reactions affecting cation exchange kinetics in vermiculite. Soil Sci. Soc. Am. J. 31, 744–749 (1967).

Taniguchi, K. et al. Transport and redistribution of radiocesium in Fukushima fallout through rivers. Environ. Sci. Technol. 53, 12339–12347 (2019).

Haigh, S. J. et al. Cross-sectional imaging of individual layers and buried interfaces of graphene-based heterostructures and superlattices. Nat. Mater. 11, 764–767 (2012).

Walker, G. F. Diffusion of exchangeable cations in vermiculite. Nature 184, 1392–1393 (1959).

Sato, H., Yui, M. & Yoshikawa, H. Ionic diffusion coefficients of Cs+, Pb2+, Sm3+, Ni2+, SeO42− and TcO4− in free water determined from conductivity measurements. J. Nucl. Sci. Technol. 33, 950–955 (1996).

Jacobs, D. G. Cesium exchange by vermiculite. In Second Ground Disposal of Radioactive Wastes Conference (eds Morgan, J. M. et al.) 282–291 (US Department of Energy, 1962).

Tester, C. C., Aloni, S., Gilbert, B. & Banfield, J. F. Short- and long-range attractive forces that influence the structure of montmorillonite osmotic hydrates. Langmuir 32, 12039–12046 (2016).

Kleijn, W. B. & Oster, J. D. A model of clay swelling and tactoid formation. Clays Clay Miner. 30, 383–390 (1982).

Ishikawa, R. et al. Direct imaging of hydrogen-atom columns in a crystal by annular bright-field electron microscopy. Nat. Mater. 10, 278–281 (2011).

Sakuma, H. & Kawamura, K. Structure and dynamics of water on Li+-, Na+-, K+-, Cs+-, H3O+-exchanged muscovite surfaces: a molecular dynamics study. Geochim. Cosmochim. Acta 75, 63–81 (2011).

Lee, S. S., Fenter, P., Nagy, K. L. & Sturchio, N. C. Monovalent ion adsorption at the muscovite (001)–solution interface: relationships among ion coverage and speciation, interfacial water structure, and substrate relaxation. Langmuir 28, 8637–8650 (2012).

Lee, S. S., Fenter, P., Nagy, K. L. & Sturchio, N. C. Real-time observation of cation exchange kinetics and dynamics at the muscovite-water interface. Nat. Commun. 8, 15826 (2017).

Esfandiar, A. et al. Size effect in ion transport through angstrom-scale slits. Science 358, 511–513 (2017).

Briggs, N. et al. Atomically thin half-van der Waals metals enabled by confinement heteroepitaxy. Nat. Mater. 19, 637–643 (2020).

Alexeev, E. M. et al. Resonantly hybridized excitons in moiré superlattices in van der Waals heterostructures. Nature 567, 81–86 (2019).

Roger, M. et al. Patterning of sodium ions and the control of electrons in sodium cobaltate. Nature 445, 631–634 (2007).

Hunter, J. D. Matplotlib: a 2D graphics environment. Comput. Sci. Eng. 9, 90–95 (2007).

Hjorth Larsen, A. et al. The atomic simulation environment—a Python library for working with atoms. J. Phys. Condens. Matter 29, 273002 (2017).

Koch, C. T. Determination of Core Structure Periodicity and Point Defect Density Along Dislocations. PhD thesis, Arizona State Univ. (2002).
Acknowledgements
The work was supported by EPSRC grants EP/M010619/1 (S.J.H.), EP/P00119X/1 (R.R.-N., K.S.N.), EP/S021531/1 (S.J.H.) and EP/P009050/1 (S.J.H, D.G.H.), the European Research Council (ERC) under the European Union's Horizon 2020 research and innovation programme (Grant ERC-2016-STG-EvoluTEM-715502 (S.J.H., Y.-C.Z.), the ERC Synergy Hetero2D project 319277 (K.S.N., Y.-C.Z.) and ERC contract 679689 (R.R.-N)) and The Royal Society (M.L.-H., R.G.), Graphene Flagship (K.S.N., R.G.). L.M. acknowledges the EPSRC NOWNano programme for funding. The work was supported by the Henry Royce Institute for Advanced Materials, funded through EPSRC grants EP/R00661X/1, EP/S019367/1, EP/P025021/1 and EP/P025498/1 (equipment access). We thank the Diamond Light Source for access and support in use of the electron Physical Science Imaging Centre (Instrument E02 and proposal numbers MG21981, MG21597 and MG24290) that contributed to the results presented here (S.J.H.). We thank L. S. Campos from Brasil Minerios for sourcing vermiculite. Part of this work was supported by the Flemish Science Foundation (FWO-Vl) (F.M.P.) and the Sun Yat-sen University 29000-18841290 (Y.-C.Z.).
Ethics declarations
Competing interests
The authors declare no competing interests.
Additional information
Peer review information Nature Materials thanks Benjamin Gilbert, Jiaxing Huang and Jani Kotakoski for their contribution to the peer review of this work.
Publisher's note Springer Nature remains neutral with regard to jurisdictional claims in published maps and institutional affiliations.
Supplementary information
About this article
Cite this article
Zou, YC., Mogg, L., Clark, N. et al. Ion exchange in atomically thin clays and micas. Nat. Mater. 20, 1677–1682 (2021). https://doi.org/10.1038/s41563-021-01072-6
Received:

Accepted:

Published:

Issue Date:

DOI: https://doi.org/10.1038/s41563-021-01072-6