Surface ledges of β-Ga2O3 (100) substrates guide the unidirectional nucleation and growth of transition metal dichalcogenides, achieving centimetre-long, single-crystalline and densely aligned nanoribbons in wafer scale.
Access options
Subscribe to Journal
Get full journal access for 1 year
$209.00
only $17.42 per issue
All prices are NET prices.
VAT will be added later in the checkout.
Rent or Buy article
Get time limited or full article access on ReadCube.
from$8.99
All prices are NET prices.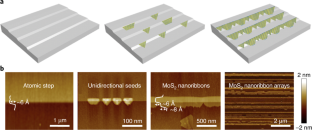 References
1.

Manzeli, S., Ovchinnikov, D., Pasquier, D., Yazyev, O. V. & Kis, A. Nat. Rev. Mater. 2, 17033 (2017).

2.

Aljarb, A. et al. Nat. Mater. https://doi.org/10.1038/s41563-020-0795-4 (2020).

3.

Dumcenco, D. et al. ACS Nano 9, 4611–4620 (2015).

4.

Shi, Y. et al. Nano Lett. 12, 2784–2791 (2012).
Ethics declarations
Competing interests
The author declares no competing interests.
About this article
Cite this article
Idrobo, J.C. Leaning on a ledge. Nat. Mater. 19, 1260–1261 (2020). https://doi.org/10.1038/s41563-020-00846-8