Abstract
Human languages are based on syntax, a set of rules which allow an infinite number of meaningful sentences to be constructed from a finite set of words. A theory associated with Chomsky and others holds that syntax is a mind-internal, universal structure independent of semantics. This theory, however, has been challenged by studies of the Chinese language showing that syntax is processed under the semantic umbrella, and is secondary and not independent. Here, using intracranial high-density electrocorticography, we find distinct spatiotemporal patterns of neural activity in the left inferior frontal gyrus that are specifically associated with syntactic and semantic processing of Chinese sentences. These results suggest that syntactic processing may occur before semantic processing. Our findings are consistent with the view that the human brain implements syntactic structures in a manner that is independent of semantics.
Access options
Subscribe to Nature+
Get immediate online access to the entire Nature family of 50+ journals
Subscribe to Journal
Get full journal access for 1 year
$119.00
only $9.92 per issue
All prices are NET prices.
VAT will be added later in the checkout.
Tax calculation will be finalised during checkout.
Buy article
Get time limited or full article access on ReadCube.
$32.00
All prices are NET prices.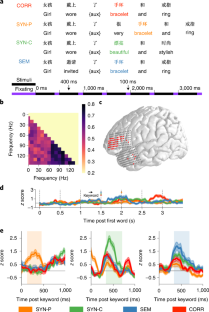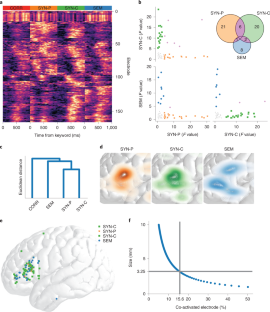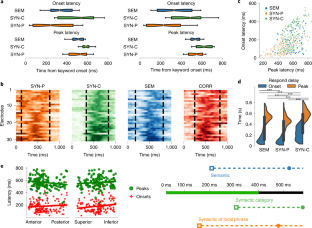 Data availability
Source data are provided with this paper. The data set generated during the current study will be made available from the authors upon reasonable request.
Code availability
The completely developed code that operates on the full data set will be made available from the authors upon reasonable request.
References
Hauser, M. D., Chomsky, N.& Fitch, W. T. The faculty of language: what is it, who has it, and how did it evolve? Science 298, 1569–1579 (2002).

Chomsky, N. Rules and Representations (Columbia Univ. Press, 1980).

Fodor, J. A. Modularity of Mind (MIT Press, 1983).

Pinker, S. Rules of language. Science 253, 530–535 (1991).

Dapretto, M. & Bookheimer, S. Y. Form and content: dissociating syntax and semantics in sentence comprehension. Neuron 24, 427–432 (1999).

Friederici, A. D., Chomsky, N., Berwick, R. C. Moro, A. & Bolhuis, J. J. Language, mind and brain. Nat. Hum. Behav. 1, 713–722 (2017).

Pylkkänen, L. The neural basis of combinatory syntax and semantics. Science 366, 62–66 (2019).

Hagoort, P. The core and beyond in the language-ready brain. Neurosci. Biobehav. Rev. 81, 194–204 (2017).

Pallier, C., Devauchelle, A. & Dehaene, S. Cortical representation of the constituent structure of sentences. Proc. Natl Acad. Sci. USA 108, 2522–2527 (2011).

Grodzinsky, Y. The neurology of syntax: language use without Broca's area. Behav. Brain Sci. 23, 1–21 (2000).

Tyler, L. K. et al. Left inferior frontal cortex and syntax: function, structure and behaviour in patients with left hemisphere damage. Brain 134, 415–431 (2011).

Dronkers, N. F. A new brain region for coordinating speech articulation. Nature 384, 159–161 (1996).

Embick, D., Marantz, A., Miyashita, Y. Oneil, W. & Sakai, K. L. A syntactic specialization for Broca's area. Proc. Natl Acad. Sci. USA 97, 6150–6154 (2000).

Glaser, Y. G., Martin, R. C., Van Dyke, J. A., Hamilton, A. C. & Tan, Y. Neural basis of semantic and syntactic interference in sentence comprehension. Brain Lang. 126, 314–326 (2013).

Hagoort, P. & Indefrey, P. The neurobiology of language beyond single words. Annu. Rev. Neurosci. 37, 347–362 (2014).

Prat, C. S. & Just, M. A. Exploring the neural dynamics underpinning individual differences in sentence comprehension. Cereb. Cortex 21, 1747–1760 (2011).

Hashimoto, R. & Sakai, K. L. Specialization in the left prefrontal cortex for sentence comprehension. Neuron 35, 589–597 (2002).

Osterhout, L. & Holcomb, P. J. Event-related brain potentials elicited by syntactic anomaly. J. Mem. Lang. 31, 785–806 (1992).

Friederici, A. D. The brain basis of language processing: from structure to function. Physiol. Rev. 91, 1357–1392 (2011).

Kutas, M. & Federmeier, K. D. Thirty years and counting: finding meaning in the N400 component of the event-related brain potential (ERP). Annu. Rev. Psychol. 62, 621–647 (2011).

Blank, I., Balewski, Z., Mahowald, K. & Fedorenko, E. Syntactic processing is distributed across the language system. Neuroimage 127, 307–323 (2016).

Rogalsky, C. & Hickok, G. Selective attention to semantic and syntactic features modulates sentence processing networks in anterior temporal cortex. Cereb. Cortex 19, 786–796 (2009).

Luke, K., Liu, H., Wai, Y., Wan, Y. & Tan, L. Functional anatomy of syntactic and semantic processing in language comprehension. Hum. Brain Mapp. 16, 133–145 (2002).

Bautista, A. & Wilson, S. M. Neural responses to grammatically and lexically degraded speech. Lang., Cognition Neurosci. 31, 567–574 (2016).

Fedorenko, E. & Varley, R. Language and thought are not the same thing: evidence from neuroimaging and neurological patients. Ann. N. Y. Acad. Sci. 1369, 132–153 (2016).

Heim, S., Eickhoff, S. B. & Amunts, K. Specialisation in Broca's region for semantic, phonological, and syntactic fluency? Neuroimage 40, 1362–1368 (2008).

Rodd, J. M., Vitello, S., Woollams, A. M. & Adank, P. Localising semantic and syntactic processing in spoken and written language comprehension: an activation likelihood estimation meta-analysis. Brain Lang. 141, 89–102 (2015).

Dick, F. et al. Language deficits, localization, and grammar: evidence for a distributive model of language breakdown in aphasic patients and neurologically intact individuals. Psychol. Rev. 108, 759–788 (2001).

Kaan, E. & Swaab, T. Y. The brain circuitry of syntactic comprehension. Trends Cogn. Sci. 6, 350–356 (2002).

Fedorenko, E., Nietocastanon, A. & Kanwisher, N. Lexical and syntactic representations in the brain: an fMRI investigation with multi-voxel pattern analyses. Neuropsychologia 50, 499–513 (2012).

Mesulam, M. M. et al. Primary progressive aphasia and the evolving neurology of the language network. Nat. Rev. Neurol. 10, 554–569 (2014).

Wilson, S. M., Galantucci, S., Tartaglia, M. C. & Gornotempini, M. L. The neural basis of syntactic deficits in primary progressive aphasia. Brain Lang. 122, 190–198 (2012).

Anumanchipalli, G. K., Chartier, J. & Chang, E. F. Speech synthesis from neural decoding of spoken sentences. Nature 568, 493–498 (2019).

Li, C. & Thompson, S. Mandarin Chinese: A Functional Reference Grammar (Univ. of California Press, 1989).

Wang, W. S. Y. The Chinese language. Sci. Am. 228, 50–62 (1973).

Li, P., Shu, H. & Liu, Y. in The Handbook of Chinese Linguistics (eds Huang, C.-T. J. et al.) (John Wiley & Sons, 2014).

Zhang, Y., Yu, J. & Boland, J. E. Semantics does not need a processing license from syntax in reading Chinese.J. Exp. Psychol.: Learning Mem. Cognition 36, 765–781 (2010).

Scott, B. Translation, Brains and the Computer. Machine Translation: Technologies and Applications (Springer, 2018).

Liu, Y., Li, P., Shu, H., Zhang, Q. & Chen, L. Structure and meaning in Chinese: an ERP study of idioms. J. Neurolinguist. 23, 615–630 (2010).

Ye, Z., Luo, Y., Friederici, A. D. & Zhou, X. Semantic and syntactic processing in Chinese sentence comprehension: evidence from event-related potentials. Brain Res. 1071, 186–196 (2006).

Li, P., Jin, Z. & Tan, L. H. Neural representations of nouns and verbs in Chinese: an fMRI study. Neuroimage 21, 1533–1541 (2004).

Wu, C., Zaccarella, E. & Friederici, A. D. Universal neural basis of structure building evidenced by network modulations emerging from Broca's area: the case of Chinese. Hum. Brain Mapp. 40, 1705–1717 (2019).

Leise, E. M. Modular construction of nervous systems: a basic principle of design for invertebrates and vertebrates. Brain Res. Rev. 15, 1–23 (1990).

Chomsky, N. Language and Mind 3rd edn (Cambridge Univ. Press, 2006).

Frazier, L. & Fodor, J. D. The sausage machine: a new two-stage parsing model. Cognition 6, 291–325 (1978).

Friederici, A. D. Towards a neural basis of auditory sentence processing. Trends Cogn. Sci. 6, 78–84 (2002).

Mukamel, R. et al. Coupling between neuronal firing, field potentials, and FMRI in human auditory cortex. Science 309, 951–954 (2005).

Nir, Y. et al. Coupling between neuronal firing rate, gamma LFP, and BOLD fMRI is related to interneuronal correlations. Curr. Biol. 17, 1275–1285 (2007).

Gregoriou, G. G., Gotts, S. J., Zhou, H. & Desimone, R. High-frequency, long-range coupling between prefrontal and visual cortex during attention. Science 324, 1207–1210 (2009).

Sahin, N. T., Pinker, S., Cash, S. S., Schomer, D. L. & Halgren, E. Sequential processing of lexical, grammatical, and phonological information within Broca's area. Science 326, 445–449 (2009).

Friston, K. J. & Price, C. J. Modules and brain mapping. Cogn. Neuropsychol. 28, 241–250 (2011).

Kanwisher, N. Functional specificity in the human brain: a window into the functional architecture of the mind. Proc. Natl Acad. Sci. USA 107, 11163–11170 (2010).

Goucha, T. & Friederici, A. D. The language skeleton after dissecting meaning: a functional segregation within Broca's area. Neuroimage 114, 294–302 (2015).

Zaccarella, E. Meyer, L., Makuuchi, M. & Friederici, A. D. Building by syntax: the neural basis of minimal linguistic structures. Cereb. Cortex 27, 411–421 (2015).

Siok, W. T., Perfetti, C. A., Jin, Z. & Tan, L. H. Biological abnormality of impaired reading is constrained by culture. Nature 431, 71–76 (2004).

Perfetti, C. A., Cao, F. & Booth, J. Specialization and universals in the development of reading skill: how Chinese research informs a universal science of reading. Sci. Stud. Read. 17, 5–21 (2013).

Nakamura, K. et al. Universal brain systems for recognizing word shapes and handwriting gestures during reading. Proc. Natl Acad. Sci. USA 109, 20762–20767 (2012).

Goldberg, A. E. A Construction Grammar Approach to Argument Structure (Univ. of Chicago Press, 1995).

Lu, J. et al. Awake language mapping and 3-Tesla intraoperative MRI-guided volumetric resection for gliomas in language areas. J. Clin. Neurosci. 20, 1280–1287 (2013).

Wu, J. et al. Direct evidence from intraoperative electrocortical stimulation indicates shared and distinct speech production center between Chinese and English languages. Hum. Brain Mapp. 36, 4972–4985 (2015).

Hamilton, L. S., Chang, D. L., Lee, M. B. & Chang, E. F. Semi-automated anatomical labeling and inter-subject warping of high-density intracranial recording electrodes in electrocorticography. Front. Neuroinform. 11, 62 (2017).

VS Fonov, A. E., McKinstry, R. C., Almli, C. R. & Collins, D. L. Unbiased nonlinear average age-appropriate brain templates from birth to adulthood. NeuroImage 47, S102 (2009).

Friederici, A. D. & Meyer, M. The brain knows the difference: Two types of grammatical violations. Brain Res. 1000, 72–77 (2004).

Hahne, A. & Friederici, A. D. Differential task effects on semantic and syntactic processes as revealed by ERPs. Cognitive Brain Res. 13, 339–356 (2002).

Pedregosa, F. et al. Scikit-learn: machine learning in Python. J. Mach. Learn. Res. 12, 2825–2830 (2011).
Acknowledgements
This work was supported by a grant on child brain-mind development in China's Brain Initiative (no. SQ2021AAA010024) and by the Shenzhen Peacock Team Plan (no. KQTD2015033016104926), a Guangdong Pearl River Talents Plan Innovative and Entrepreneurial Team grant (no. 2016ZT06S220), The National Natural Science Foundation of China (grant no. 32171054), a Guangdong Key Basic Research Grant (no. 2018B030332001), Shenzhen Basic Research Grants (nos. JCYJ20170818110103216, JCYJ20170412164413575 and 2021SHIBS0003), the National Top Talent Undergraduate Training Programme (NTTUTP), the Shanghai Municipal Science and Technology Major Project (no. 2018SHZDZX01), the Shanghai Shenkang Hospital Development Centre (no. SHDC12018114), the Shanghai Rising-Star Programme (no. 19QA1401700) and the Shanghai Pujiang Programme (no. 21PJD007).
Ethics declarations
Competing interests
The authors declare no competing interests.
Peer review
Peer review information
Nature Human Behaviour thanks Heidi Harley and the other, anonymous, reviewer(s) for their contribution to the peer review of this work. Peer reviewer reports are available.
Additional information
Publisher's note Springer Nature remains neutral with regard to jurisdictional claims in published maps and institutional affiliations.
Supplementary information
About this article
Cite this article
Zhu, Y., Xu, M., Lu, J. et al. Distinct spatiotemporal patterns of syntactic and semantic processing in human inferior frontal gyrus. Nat Hum Behav 6, 1104–1111 (2022). https://doi.org/10.1038/s41562-022-01334-6
Received:

Accepted:

Published:

Issue Date:

DOI: https://doi.org/10.1038/s41562-022-01334-6