Interventions to reverse harmful traditions, such as female genital cutting, have had mixed success, sometimes backfiring. Policymakers' intentions collide with cultural traditions and the ethics of tolerance collide with universal human rights. New research introduces a cultural evolutionary modelling framework to explain previous results and guide future campaigns for endogenous change.
Access options
Subscribe to Journal
Get full journal access for 1 year
$99.00
only $8.25 per issue
All prices are NET prices.
VAT will be added later in the checkout.
Tax calculation will be finalised during checkout.
Rent or Buy article
Get time limited or full article access on ReadCube.
from$8.99
All prices are NET prices.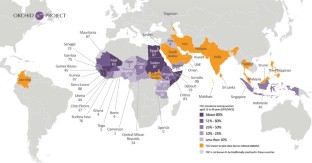 References
1.

Efferson, C., Vogt, S. & Fehr, E. Nat. Hum. Behav. https://doi.org/10.1038/s41562-019-0768-2 (2019).

2.

Muthukrishna, M. & Henrich, J. Nat. Hum. Behav. 3, 221–229 (2019).

3.

Unicef. Female Genital Mutilation/Cutting: A Global Concern. UNICEF's Data Work on FGM/C. https://data.unicef.org/resources/female-genital-mutilationcutting-global-concern/ (Unicef, 2016).

4.

Vogt, S., Mohmmed Zaid, N. A., El Fadil Ahmed, H., Fehr, E. & Efferson, C. Nature 538, 506–509 (2016).

5.

Gibson, M. A., Gurmu, E., Cobo, B., Rueda, M. M. & Scott, I. M. PLoS One 13, e0193985 (2018).

6.

Kendal, R. L. et al. Trends Cogn. Sci. 22, 651–665 (2018).
Ethics declarations
Competing interests
The author declares no competing interests.
About this article
Cite this article
Muthukrishna, M. Cultural evolutionary public policy. Nat Hum Behav 4, 12–13 (2020). https://doi.org/10.1038/s41562-019-0780-6
Further reading
Renée V Hagen

&

Brooke A Scelza

Evolution, Medicine, and Public Health (2020)

Humanities and Social Sciences Communications (2020)