Abstract
Geological evidence from the last millennium indicates that multidecadal megadroughts may have occurred simultaneously in California and Patagonia at least once. However, it is unclear whether or not megadroughts were common in South America, whether or not simultaneous megadroughts in North and South America occurred repeatedly, and what would cause their simultaneous occurrence. Here we use a data-assimilation-based global hydroclimate reconstruction, which integrates palaeoclimate records with constraints from a climate model, to show that there were about a dozen megadroughts in the South American Southwest over the last millennium. Using dynamical variables from the hydroclimate reconstruction, we show that these megadroughts were driven by the El Niño/Southern Oscillation (ENSO). We also find that North American Southwest and South American Southwest megadroughts have occurred simultaneously more often than expected by chance. These coincident megadroughts were driven by an increased frequency of cold ENSO states relative to the last millennium-average frequency. Our results establish the substantial risk that exists for ENSO-driven, coupled megadroughts in two critical agricultural regions.
Relevant articles
Open Access articles citing this article.
Nathan J. Steiger

,

William J. D'Andrea

…

Raymond S. Bradley

Climate Dynamics Open Access 22 January 2022
Access options
Subscribe to Nature+
Get immediate online access to Nature and 55 other Nature journal
Subscribe to Journal
Get full journal access for 1 year
$119.00
only $9.92 per issue
All prices are NET prices.
VAT will be added later in the checkout.
Tax calculation will be finalised during checkout.
Buy article
Get time limited or full article access on ReadCube.
$32.00
All prices are NET prices.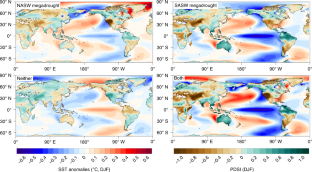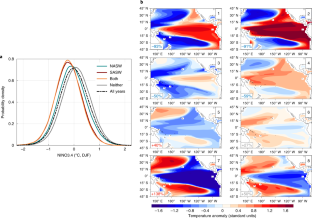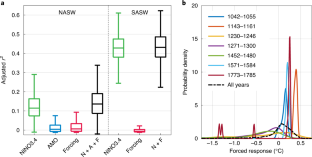 References
Cook, E. R., Woodhouse, C. A., Eakin, C. M., Meko, D. M. & Stahle, D. W. Long-term aridity changes in the western United States. Science 306, 1015–1018 (2004).

Meko, D. M. et al. Medieval drought in the upper Colorado River Basin. Geophys. Res. Lett. 34, L10705 (2007).

Cook, B. I. et al. North American megadroughts in the Common Era: reconstructions and simulations. Wiley Interdiscip. Rev. Clim. Change 7, 411–432 (2016).

Stine, S. Extreme and persistent drought in California and Patagonia during mediaeval time. Nature 369, 546–549 (1994).

Seager, R. et al. Tropical Pacific forcing of North American medieval megadroughts: testing the concept with an atmosphere model forced by coral-reconstructed SSTs. J. Clim. 21, 6175–6190 (2008).

Burgman, R., Richard, S., Amy, C. & Celine, H. Role of tropical Pacific SSTs in global medieval hydroclimate: a modeling study. Geophys. Res. Lett. 37, L06705 (2010).

Hunt, B. G. Global characteristics of pluvial and dry multi-year episodes, with emphasis on megadroughts. Int. J. Climatol. 31, 1425–1439 (2011).

Stevenson, S., Timmermann, A., Chikamoto, Y., Langford, S. & DiNezio, P. Stochastically generated North American megadroughts. J. Clim. 28, 1865–1880 (2015).

Coats, S., Smerdon, J. E., Karnauskas, K. B. & Seager, R. The improbable but unexceptional occurrence of megadrought clustering in the American West during the Medieval Climate Anomaly. Environ. Res. Lett. 11, 074025 (2016).

Steiger, N. J. et al. Oceanic and radiative forcing of medieval megadroughts in the American Southwest. Sci. Adv. 5, eaax0087 (2019).

Le Quesne, C. et al. Ancient Austrocedrus tree-ring chronologies used to reconstruct central Chile precipitation variability from AD 1200 to 2000. J. Clim. 19, 5731–5744 (2006).

Urrutia, R. B. et al. Multicentury tree ring reconstruction of annual streamflow for the Maule River watershed in south central Chile. Water Resour. Res. 47, W06527 (2011).

Evans, M. N. et al. Support for tropically-driven pacific decadal variability based on paleoproxy evidence. Geophys. Res. Lett. 28, 3689–3692 (2001).

Villalba, R., D'Arrigo, R. D., Cook, E. R., Jacoby, G. C. & Wiles, G. in Interhemispheric Climate Linkages (ed. Markgraf, V.) 155–172 (Academic, 2001).

Seager, R. et al. Mechanisms of ENSO-forcing of hemispherically symmetric precipitation variability. Q. J. R. Meteorol. Soc. 131, 1501–1527 (2005).

Seager, R. et al. Blueprints for Medieval hydroclimate. Quat. Sci. Rev. 26, 2322 – 2336 (2007).

Villalba, R. et al. in Dendroclimatology: Progress and Prospects Vol. 11 (eds Hughes M. K. et al.) 175–227 (Springer, 2011).

Williams, A. P. et al. Large contribution from anthropogenic warming to an emerging North American megadrought. Science 368, 314–318 (2020).

Garreaud, R. et al. The 2010–2015 megadrought in central Chile: impacts on regional hydroclimate and vegetation. Hydrol. Earth Syst. Sci. 21, 6307–6327 (2017).

Xiao, M., Udall, B. & Lettenmaier, D. P. On the causes of declining Colorado River streamflows. Water Resour. Res. 54, 6739–6756 (2018).

Bureau of Reclamation Colorado River Basin Water Supply and Demand Study (US Department of the Interior, 2012).

Faunt, C. C., Sneed, M., Traum, J. & Brandt, J. T. Water availability and land subsidence in the Central Valley, California, USA. Hydrogeol. J. 24, 675–684 (2016).

Williams, A. P. et al. Temperature as a potent driver of regional forest drought stress and tree mortality. Nat. Clim. Change 3, 292–297 (2013).

Abatzoglou, J. T. & Williams, A. P. Impact of anthropogenic climate change on wildfire across western US forests. Proc. Natl Acad. Sci. USA 113, 11770–11775 (2016).

Masiokas, M., Villalba, R., Luckman, B., LeQuesne, C. & Aravena, J. C. Snowpack variations in the central Andes of Argentina and Chile, 1951–2005: large-scale atmospheric influences and implications for water resources in the region. J. Clim. 19, 6334–6352 (2006).

Bozkurt, D., Rojas, M., Boisier, J. P. & Valdivieso, J. Projected hydroclimate changes over Andean basins in central Chile from downscaled CMIP5 models under the low and high emission scenarios. Clim. Change 150, 131–147 (2018).

Garreaud, R. et al. The central Chile mega drought (2010–2018): a climate dynamics perspective. Int. J. Climatol. 40, 421–439 (2019).

Steiger, N. J., Smerdon, J. E., Cook, E. R. & Cook, B. I. A reconstruction of global hydroclimate and dynamical variables over the Common Era. Sci. Data 5, 180086 (2018).

Seager, R. et al. Climate variability and vhange of Mediterranean-type climates. J. Clim. 32, 2887–2915 (2019).

Jenny, B. et al. Early to mid-Holocene aridity in central Chile and the southern westerlies: the Laguna Aculeo record (34° S). Quat. Res. 58, 160–170 (2002).

Palmer, C. W. Meteorological Drought (US Department of Commerce, 1965).

Vicuña-Mackenna, B. Ensayo Histórico Sobre el Clima de Chile: Desde los Tiempos Prehistóricos Hasta el Gran Temporal de Julio de 1877 (Imprenta del Mercurio, 1877).

Jana, P., Torrejón, F., Araneda, A. & Stehr, A. Drought periods during 18th century in central Chile (33° S): a historical reconstruction perspective revisiting Vicuña Mackenna's work. Int. J. Climatol. 39, 1748–1755 (2019).

Kohonen, T. The self-organizing map. Neurocomputing 21, 1–6 (1998).

Johnson, N. C., Feldstein, S. B. & Tremblay, B. The continuum of Northern Hemisphere teleconnection patterns and a description of the NAO shift with the use of self-organizing maps. J. Clim. 21, 6354–6371 (2008).

Baek, S. H., Steiger, N. J., Smerdon, J. E. & Seager, R. Oceanic drivers of widespread summer droughts in the United States over the Common Era. Geophys. Res. Lett. 46, 8271–8280 (2019).

Newman, M. et al. The Pacific Decadal Oscillation, revisited. J. Clim. 29, 4399–4427 (2016).

Otto-Bliesner, B. L. et al. Climate variability and change since 850 CE: an ensemble approach with the Community Earth System Model. Bull. Am. Meteorol. Soc. 97, 735–754 (2016).

Morales, M. S. et al. Six hundred years of South American tree rings reveal an increase in severe hydroclimatic events since mid-20th century. Proc. Natl Acad. Sci. USA 117, 16816–16823 (2020).

Seager, R., Harnik, N., Kushnir, Y., Robinson, W. & Miller, J. Mechanisms of hemispherically symmetric climate variability. J. Clim. 16, 2960–2978 (2003).

Seager, R. et al. Causes of the 2011–14 California drought. J. Clim. 28, 6997–7024 (2015).

Seager, R. et al. Strengthening tropical Pacific zonal sea surface temperature gradient consistent with rising greenhouse gases. Nat. Clim. Change 9, 517–522 (2019).

Cook, B. I., Ault, T. R. & Smerdon, J. E. Unprecedented 21st century drought risk in the American Southwest and Central Plains. Sci. Adv. 1, e1400082 (2015).

Ault, T. R., Mankin, J. S., Cook, B. I. & Smerdon, J. E. Relative impacts of mitigation, temperature, and precipitation on 21st-century megadrought risk in the American Southwest. Sci. Adv. 2, e1600873 (2016).

Cook, B. I. et al. Twenty-first century drought projections in the CMIP6 forcing scenarios. Earths Future 8, e2019EF001461 (2020).

Bellenger, H., Guilyardi, E., Leloup, J., Lengaigne, M. & Vialard, J. ENSO representation in climate models: from CMIP3 to CMIP5. Clim. Dyn. 42, 1999–2018 (2014).

Grinsted, A., Moore, J. C. & Jevrejeva, S. Application of the cross wavelet transform and wavelet coherence to geophysical time series. Nonlinear Process. Geophys. 11, 561–566 (2004).

Steiger, N. J. Paleo Hydrodynamics Data Assimilation product (PHYDA) (Zenodo, 2018); https://doi.org/10.5281/zenodo.1154913

Steiger, N. J. & Smerdon, J. E. A pseudoproxy assessment of data assimilation for reconstructing the atmosphere–ocean dynamics of hydroclimate extremes. Climate of the Past 13, 1435–1449 (2017).

Steiger, N. et al. A global Collection of Paleoclimate Proxy Time Series Over the Common Era (Zenodo, 2018); https://doi.org/10.5281/zenodo.1189006

St. George, S., Meko, D. M. & Cook, E. R. The seasonality of precipitation signals embedded within the North American Drought Atlas. Holocene 20, 983–988 (2010).

Baek, S. H. et al. Precipitation, temperature, and teleconnection signals across the combined North American, Monsoon Asia, and Old World Drought Atlases. J. Clim. 30, 7141–7155 (2017).

Anderson, W., Seager, R., Baethgen, W. & Cane, M. Life cycles of agriculturally relevant ENSO teleconnections in North and South America. Int. J. Climatol. 37, 3297–3318 (2017).

Harris, I., Jones, P., Osborn, T. & Lister, D. Updated high-resolution grids of monthly climatic observations – the CRU TS3.10 dataset. Int. J. Climatol. 34, 623–642 (2014).

Meehl, G. A. & Hu, A. Megadroughts in the Indian monsoon region and southwest North America and a mechanism for associated multidecadal Pacific sea surface temperature anomalies. J. Clim. 19, 1605–1623 (2006).

Held, I. M. et al. Probing the fast and slow components of global warming by returning abruptly to preindustrial forcing. J. Clim. 23, 2418–2427 (2010).

Meinshausen, M. et al. Historical greenhouse gas concentrations for climate modelling (CMIP6). Geosci. Model Dev. 10, 2057–2116 (2017).

Vieira, L. E. A., Solanki, S. K., Krivova, N. A. & Usoskin, I. Evolution of the solar irradiance during the Holocene. Astron. Astrophys. 531, A6 (2011).

Sigl, M. et al. Timing and climate forcing of volcanic eruptions for the past 2,500 years. Nature 523, 543–549 (2015).

Hanhijärvi, S., Tingley, M. & Korhola, A. Pairwise comparisons to reconstruct mean temperature in the Arctic Atlantic region over the last 2,000 years. Clim. Dyn. 41, 2039–2060 (2013).

PAGES 2k Consortium. Continental-scale temperature variability during the past two millennia. Nat. Geosci. 6, 339–346 (2013).

Schrier, G., Barichivich, J., Briffa, K. & Jones, P. A scPDSI-based global data set of dry and wet spells for 1901–2009. J. Geophys. Res. Atmos. 118, 4025–4048 (2013).

Rohde, R. et al. Berkeley Earth temperature averaging process. Geoinform. Geostat. Overview https://doi.org/10.4172/2327-4581.1000103 (2013).

Gneiting, T., Raftery, A. E., Westveld III, A. H. & Goldman, T. Calibrated probabilistic forecasting using ensemble model output statistics and minimum CRPS estimation. Mon. Weather Rev. 133, 1098–1118 (2005).

Schneider, T. & Neumaier, A. Algorithm 808: ARfit—a Matlab package for the estimation of parameters and eigenmodes of multivariate autoregressive models. ACM Trans. Math. Softw. 27, 58–65 (2001).

Horton, D. E. et al. Contribution of changes in atmospheric circulation patterns to extreme temperature trends. Nature 522, 465–469 (2015).

Reusch, D. B., Alley, R. B. & Hewitson, B. C. Relative performance of self-organizing maps and principal component analysis in pattern extraction from synthetic climatological data. Polar Geogr. 29, 188–212 (2005).

Johnson, N. C. How many ENSO flavors can we distinguish? J. Clim. 26, 4816–4827 (2013).
Acknowledgements
We thank E. Tejedor for helpful discussions about historical droughts in Chile. This work was supported in part by the National Science Foundation (NSF) under grants NSF OCE 1657209, OISE-1743738, AGS-1602581, AGS-1703029, AGS-1602920 and AGS-1805490. This work was also supported in part by the National Oceanic and Atmospheric Administration NA20OAR4310379 and in part by the Israel Science Foundation grant 2654/20.
Ethics declarations
Competing interests
The authors declare no competing interests.
Additional information
Peer review information Nature Geoscience thanks Roberto Rondanelli, Matthieu Lengaigne and the other, anonymous, reviewer(s) for their contribution to the peer review of this work. Primary Handling Editor: James Super.
Publisher's note Springer Nature remains neutral with regard to jurisdictional claims in published maps and institutional affiliations.
About this article
Cite this article
Steiger, N.J., Smerdon, J.E., Seager, R. et al. ENSO-driven coupled megadroughts in North and South America over the last millennium. Nat. Geosci. 14, 739–744 (2021). https://doi.org/10.1038/s41561-021-00819-9
Received:

Accepted:

Published:

Issue Date:

DOI: https://doi.org/10.1038/s41561-021-00819-9
This article is cited by
Hugues Goosse
Pierre-Yves Barriat
Anne Mouchet

Climate Dynamics (2022)

Nathan J. Steiger
William J. D'Andrea
Raymond S. Bradley

Climate Dynamics (2022)

Benjamin I. Cook
Jason E. Smerdon
Erika K. Wise

Nature Reviews Earth & Environment (2022)