The challenge of how to handle large volumes of silicon photovoltaic (PV) panels at the end of their 30-year lifetime is emerging. Now, a new study reveals that the efficacy of recycling and reuse interventions is underestimated if social factors such as the attitude of PV owners and the influence of peers are not considered.
This is a preview of subscription content
Access options
Subscribe to Journal
Get full journal access for 1 year
$99.00
only $8.25 per issue
All prices are NET prices.
VAT will be added later in the checkout.
Tax calculation will be finalised during checkout.
Rent or Buy article
Get time limited or full article access on ReadCube.
from$8.99
All prices are NET prices.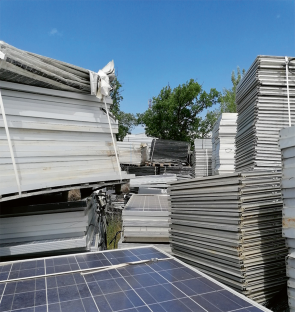 References
1.

ITRPV. International Technology Roadmap for Photovoltaic 2021 (ITRPV, 2021).

2.

Walzberg, J., Carpenter, A. & Heath, G. A. Nat. Energy https://doi.org/10.1038/s41560-021-00888-5 (2021).

3.

Weckend, S., Wade, A. & Heath, G. End-of-Life Management: Solar Photovoltaic Panels (IRENA & IEA-PVPS, 2016); https://www.irena.org/publications/2016/Jun/End-of-life-management-Solar-Photovoltaic-Panels

4.

Wolske, K. S., Gillingham, K. T. & Schultz, P. W. Nat. Energy 5, 202–212 (2020).

5.

Tao, M. et al. Prog. Photovoltaics Res. Appl. 28, 1077–1088 (2020).

6.

Tsanakas, J. A. et al. Prog. Photovoltaics Res. Appl. 28, 1–11 (2019).

7.

Tesar, M. et al. Study on Quality Standards for the Treatment of Waste Electrical and Electronic Equipment (European Commission, 2021).

8.

Heath, G. A. et al. Nat. Energy 5, 502–510 (2020).
Ethics declarations
Competing interests
The authors declare no competing interests.
About this article
Cite this article
Deng, R., Chang, N. & Green, M. Peer behaviour boosts recycling. Nat Energy 6, 862–863 (2021). https://doi.org/10.1038/s41560-021-00905-7