Understanding dendrite formation is key to advancing high-energy-density and safe metallic lithium batteries. With the help of cryogenic electron microscopy, heat is now suggested to play a crucial role in stabilizing lithium metal electrodes by suppressing dendrite growth.
Access options
Subscribe to Journal
Get full journal access for 1 year
$99.00
only $8.25 per issue
All prices are NET prices.
VAT will be added later in the checkout.
Tax calculation will be finalised during checkout.
Rent or Buy article
Get time limited or full article access on ReadCube.
from$8.99
All prices are NET prices.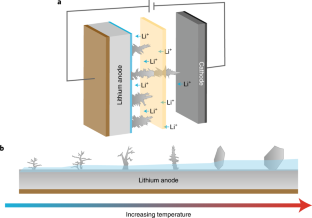 References
1.

Wang, L. et al. Energy Storage Mater. 14, 22–48 (2018).

2.

Wang, J. et al. Nat. Energy https://doi.org/10.1038/s41560-019-0413-3 (2019).

3.

Li, Y. et al. Science 358, 506–510 (2017).

4.

Zachman, M. J., Tu, Z., Choudhury, S., Archer, L. A. & Kourkoutis, L. F. Nature 560, 345–349 (2018).

5.

Li, L. et al. Science 359, 1513–1516 (2018).

6.

Blue Solutions https://www.blue-solutions.com/en/blue-solutions/technology/lmp-batteries/ (2019).

7.

Rodrigues, M.-T. F. et al. Adv. Energy Mater. 6, 1600218 (2016).
About this article
Cite this article
Babu, G., Ajayan, P.M. Good riddance, dendrites. Nat Energy 4, 631–632 (2019). https://doi.org/10.1038/s41560-019-0423-1