Fuel poverty is a highly-complex social problem that is currently defined in technical and economic terms that prioritize energy performance measures as solutions. Yet considering the wider societal aspects of the condition demonstrates how adopting dynamic risk-based metrics can drive tailored and holistic folk-first outcomes.
Access options
Subscribe to Journal
Get full journal access for 1 year
$119.00
only $9.92 per issue
All prices are NET prices.
VAT will be added later in the checkout.
Tax calculation will be finalised during checkout.
Buy article
Get time limited or full article access on ReadCube.
$32.00
All prices are NET prices.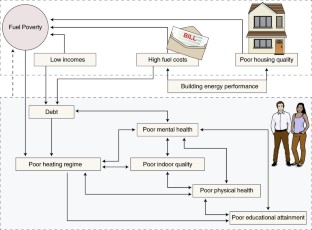 References
Bradshaw, J. & Hutton, S. Econ. Psychol. 3, 249–266 (1983).

Boardman, B. From Cold Homes to Affordable Warmth (Belhaven Press, London, New York, 1991).

Hills, J. Getting the measure of Fuel Poverty (Department of Energy and Climate Change, 2012).

Scottish House Condition Survey 2016: Key Findings (Scottish Government, 2017).

Bramley, G., Fitzpatrick, S., Liddell, C. & Webb, J. A New Definition of Fuel Poverty in Scotland: A review of Recent Evidence (Scottish Government, 2017).

Mould, R. & Baker, K. J. Indoor Built Environ. 0, 1–23 (2017).

Baker, K.J., Mould, R. & Restrick, S. Proiseact Spéird – The Spéird Project: Understanding Influences on Fuel Poverty in Rural and Island Scotland (Eaga Charitable Trust, 2016).

Mould, R., Baker, K. J. & Emmanuel, R. Queens Polit. Rev. 2, 7–24 (2014).

Byrne, D. Evaluation 3, 217–228 (2013).

Andersson, C. & Törnberg, P. Futures 95, 118–138 (2018).

Community Empowerment and Engagement (Scottish Government, 2015).

A Connected Scotland: Tackling Social Isolation and Loneliness and Building Stronger Communities (Scottish Government, 2018).

Mould, R. & Baker, K. J. Energy Res. Soc. Sci. 31, 21–31 (2017).

Liddell, C. & Guiney, C. Public Health 3, 191–199 (2014).

Walker, R., Liddell, C., McKenzie, P., Morris, C. & Lagdon, S. Energy Res. Soc. Sci. 4, 89–99 (2014).

Darby, S. Making sense of energy advice. In European Council for an Energy-Efficient Economy Summer Study Proceedings 1217–1226 (eceee, 2003).

The Scottish Fuel Poverty Statement (Scottish Government, 2002).

Fuel Poverty (Welsh Government, 2012).

The Fuel Poverty Strategy (Department for Communities, 2011).
Acknowledgements
The research presented here was funded internally by Glasgow Caledonian University, Renfrewshire Council and Energy Action Scotland (Scotland's national fuel poverty charity). Additional evidence has been drawn from projects funded by the Eaga Charitable Trust, Citizens Advice Scotland and the Scottish Government. Renfrewshire Council operates a number of support services for fuel-poor householders and the analysis of data from these householders underpins much of this research.
Ethics declarations
Competing interests
The authors declare no competing interests.
About this article
Cite this article
Baker, K.J., Mould, R. & Restrick, S. Rethink fuel poverty as a complex problem. Nat Energy 3, 610–612 (2018). https://doi.org/10.1038/s41560-018-0204-2
Published:

Issue Date:

DOI: https://doi.org/10.1038/s41560-018-0204-2
This article is cited by
K. Lyra
S. Mirasgedis
C. Tourkolias

Energy Efficiency (2022)

Tom Hargreaves
Lucie Middlemiss

Nature Energy (2020)

Audrey Dobbins
Francesco Fuso Nerini
Steve Pye

Nature Energy (2019)