Documenting the emissions and net energy of a crude supply could be essential to meeting national emission and energy security targets. Using data from hundreds of fields worldwide, a well-to-refinery study presents a high-granularity profile of China's crude oil supply in terms of emissions and energy return on input.
Access options
Subscribe to Journal
Get full journal access for 1 year
$62.00
only $5.17 per issue
All prices are NET prices.
VAT will be added later in the checkout.
Rent or Buy article
Get time limited or full article access on ReadCube.
from$8.99
All prices are NET prices.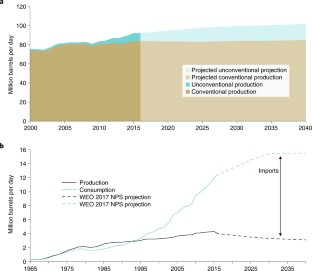 References
1.

Masnadi, M. S. et al. Nat. Energy https://doi.org/10.1038/s41560-018-0090-7 (2018).

2.

World Energy Outlook 2017 (OECD Publishing, IEA, 2017).

3.

Miller, R. G. & Sorrell, S. R. Philos. Trans. A Math. Phys. Eng. Sci. 13, 372 (2006).

4.

Sorrell, S., Speirs, J., Bentley, R., Miller, R. & Thompson, E. Energy 37, 709–724 (2012).

5.

Jakobsson, K., Bentley, R., Söderbergh, B. & Aleklett, K. Energy Policy 41, 860–870 (2012).

6.

Wernet, G. et al. Int. J. Life Cycle Assessment 21, 1218–1230 (2016).

7.

CO 2 Emissions from Liquid Fuel Consumption (The World Bank, 2017); http://go.nature.com/2ndA6Lv

8.

BP Statistical Review of World Energy June 2017 (BP, 2017).

9.

Tang, X., Jin, Y., Wang, X., Wang, J. & McLellan, B. J. Cleaner Prod. 161, 1094–1103 (2017).

10.

Kucukvar, M., Cansev, B., Egilmez, G., Onat, N. C. & Samadi, H. Appl. Energy 184, 889–904 (2016).

11.

Guan, D. et al. Nat. Clim. Change 4, 1017–1023 (2014).
About this article
Cite this article
Höök, M. Mapping Chinese supply. Nat Energy 3, 166–167 (2018). https://doi.org/10.1038/s41560-018-0103-6