Abstract
Communities of interacting microorganisms play important roles across all habitats on Earth. These communities typically consist of a large number of species that perform different metabolic processes. The functions of microbial communities ultimately emerge from interactions between these different microorganisms. To understand the dynamics and functions of microbial communities, we thus need to know the nature and strength of these interactions. Here, we quantified the interaction strength between individual cells in microbial communities. We worked with synthetic communities of Escherichia coli bacteria that exchange metabolites to grow. We combined single-cell growth rate measurements with mathematical modelling to quantify metabolic interactions between individual cells and to map the spatial interaction network in these communities. We found that cells only interact with other cells in their immediate neighbourhood. This short interaction range limits the coupling between different species and reduces their ability to perform metabolic processes collectively. Our experiments and models demonstrate that the spatial scale of biotic interaction plays a fundamental role in shaping the ecological dynamics of communities and the functioning of ecosystems.
This is a preview of subscription content
Access options
Subscribe to Journal
Get full journal access for 1 year
$119.00
only $9.92 per issue
All prices are NET prices.
VAT will be added later in the checkout.
Tax calculation will be finalised during checkout.
Rent or Buy article
Get time limited or full article access on ReadCube.
from$8.99
All prices are NET prices.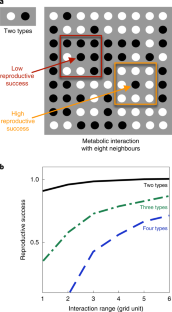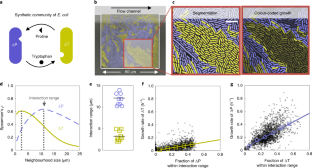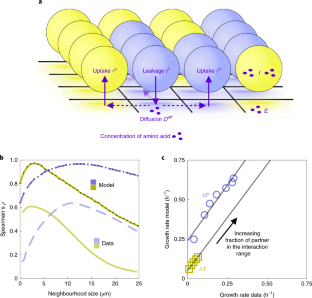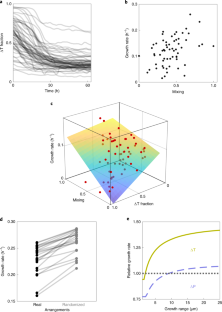 Data availability
The source data for all figures are available in the Supplementary Figure Source Data file. A data file containing the full properties of all analysed cells is available in the ETH Research Collection: https://doi.org/10.3929/ethz-b-000367403. The raw image data are available on request from the corresponding author.
Code availability
The code for the individual-based model is available on the Zenodo repository: https://doi.org/10.5281/zenodo.3466038. Additional Matlab scripts for statistical analysis are available on request.
References
1.

Proulx, S. R., Promislow, D. E. L. & Phillips, P. C. Network thinking in ecology and evolution. Trends Ecol. Evol. 20, 345–353 (2005).

2.

Levin, S. A. Ecosystems and the biosphere as complex adaptive systems. Ecosystems 1, 431–436 (1998).

3.

Pickett, S. T. A. & Cadenasso, M. L. Landscape ecology: spatial heterogeneity in ecological systems. Science 269, 331–334 (1995).

4.

Agrawal, A. A. et al. Filling key gaps in population and community ecology. Front. Ecol. Environ. 5, 145–152 (2007).

5.

Falkowski, P. G., Fenchel, T. & Delong, E. F. The microbial engines that drive Earth's biogeochemical cycles. Science 320, 1034–1039 (2008).

6.

Lynch, S. V. & Pedersen, O. The human intestinal microbiome in health and disease. New Engl. J. Med. 375, 2369–2379 (2016).

7.

Gore, J. Simple organizing principles in microbial communities. Curr. Opin. Microbiol. 45, 195–202 (2018).

8.

Nadell, C. D., Drescher, K. & Foster, K. R. Spatial structure, cooperation and competition in biofilms. Nat. Rev. Microbiol. 14, 589–600 (2016).

9.

Flemming, H.-C. et al. Biofilms: an emergent form of bacterial life. Nat. Rev. Microbiol. 14, 563–575 (2016).

10.

Tan, J., Zuniga, C. & Zengler, K. Unraveling interactions in microbial communities—from co-cultures to microbiomes. J. Microbiol. 53, 295–305 (2015).

11.

D'Souza, G. et al. Less is more: selective advantages can explain the prevalent loss of biosynthetic genes in bacteria. Evolution 68, 2559–2570 (2014).

12.

Mee, M. T., Collins, J. J., Church, G. M. & Wang, H. H. Syntrophic exchange in synthetic microbial communities. Proc. Natl Acad. Sci. USA 111, E2149–E2156 (2014).

13.

Schink, B. Synergistic interactions in the microbial world. A. Van Leeuw. 81, 257–261 (2002).

14.

Christensen, B. B., Haagensen, J. A. J. J., Heydorn, A. & Molin, S. Metabolic commensalism and competition in a two-species microbial consortium. Appl. Environ. Microbiol. 68, 2495–2502 (2002).

15.

Dal Co, A., Ackermann, M. & van Vliet, S. Metabolic activity affects the response of single cells to a nutrient switch in structured populations. J. R. Soc. Interface 16, 20190182 (2019).

16.

Rutherford, S. T. & Bassler, B. L. Bacterial quorum sensing: its role in virulence and possibilities for its control. Cold Spring Harb. Perspect. Med. 2, a012427 (2012).

17.

van Vliet, S. et al. Spatially correlated gene expression in bacterial groups: the role of lineage history, spatial gradients, and cell–cell interactions. Cell Syst. 6, 496–507 (2018).

18.

Flemming, H.-C. & Wuertz, S. Bacteria and archaea on Earth and their abundance in biofilms. Nat. Rev. Microbiol. 17, 247–260 (2019).

19.

Muller, M. J. I., Neugeboren, B. I., Nelson, D. R. & Murray, A. W. Genetic drift opposes mutualism during spatial population expansion. Proc. Natl Acad. Sci. USA 111, 1037–1042 (2014).

20.

Darch, S. E. et al. Spatial determinants of quorum signaling in a Pseudomonas aeruginosa infection model. Proc. Natl Acad. Sci. USA 115, 201719317 (2018).

21.

He, X. et al. Microbial interactions in the anaerobic oxidation of methane: model simulations constrained by process rates and activity patterns. Environ. Microbiol. 21, 631–647 (2019).

22.

Drescher, K., Nadell, C. D., Stone, H. A., Wingreen, N. S. & Bassler, B. L. Solutions to the public goods dilemma in bacterial biofilms. Curr. Biol. 24, 50–55 (2014).

23.

McGlynn, S. E., Chadwick, G. L., Kempes, C. P. & Orphan, V. J. Single cell activity reveals direct electron transfer in methanotrophic consortia. Nature 526, 531–535 (2015).

24.

Momeni, B., Waite, A. J. & Shou, W. Spatial self-organization favors heterotypic cooperation over cheating. eLife 2, e00960 (2013).

25.

Stump, S. M., Johnson, E. C., Sun, Z. & Klausmeier, C. A. How spatial structure and neighbor uncertainty promote mutualists and weaken black queen effects. J. Theor. Biol. 446, 33–60 (2018).

26.

Stump, S. M., Johnson, E. C. & Klausmeier, C. A. Local interactions and self-organized spatial patterns stabilize microbial cross-feeding against cheaters. J. R. Soc. Interface 15, 20170822 (2018).

27.

Nowak, M. A., Tarnita, C. E. & Antal, T. Evolutionary dynamics in structured populations. Phil. Trans. R. Soc. B 365, 19–30 (2010).

28.

Egland, P. G., Palmer, R. J. & Kolenbrander, P. E. Interspecies communication in Streptococcus gordonii–Veillonella atypica biofilms: signaling in flow conditions requires juxtaposition. Proc. Natl Acad. Sci. USA 101, 16917–16922 (2004).

29.

Morris, J. J. Black queen evolution: the role of leakiness in structuring microbial communities. Trends Genet. 31, 475–482 (2015).

30.

Oliveira, N. M., Niehus, R. & Foster, K. R. Evolutionary limits to cooperation in microbial communities. Proc. Natl Acad. Sci. USA 111, 17941–17946 (2014).

31.

D'Souza, G. et al. Ecology and evolution of metabolic cross-feeding interactions in bacteria. Nat. Prod. Rep. 35, 455–488 (2018).

32.

Marchal, M. et al. A passive mutualistic interaction promotes the evolution of spatial structure within microbial populations. BMC Evol. Biol. 17, 106 (2017).

33.

Lebenhaft, J. R. & Kapral, R. Diffusion-controlled processes among partially absorbing stationary sinks. J. Stat. Phys. 20, 25–56 (1979).

34.

Dobay, A., Bagheri, H. C., Messina, A., Kümmerli, R. & Rankin, D. J. Interaction effects of cell diffusion, cell density and public goods properties on the evolution of cooperation in digital microbes. J. Evol. Biol. 27, 1869–1877 (2014).

35.

Lindsay, R. J., Pawlowska, B. J. & Gudelj, I. When increasing population density can promote the evolution of metabolic cooperation. ISME J. 12, 849–859 (2018).

36.

Ross-Gillespie, A. & Kümmerli, R. Collective decision-making in microbes. Front. Microbiol. 5, 54 (2014).

37.

Stacy, A. et al. Bacterial fight-and-flight responses enhance virulence in a polymicrobial infection. Proc. Natl Acad. Sci. USA 111, 7819–7824 (2014).

38.

Hol, F. J. H. et al. Spatial structure facilitates cooperation in a social dilemma: empirical evidence from a bacterial community. PLoS ONE 8, e77042 (2013).

39.

Mitri, S., Xavier, J. B. & Foster, K. R. Social evolution in multispecies bio films. Proc. Natl Acad. Sci. USA 108, 10839–10846 (2011).

40.

Davies, D. G. & Geesey, G. G. Regulation of the alginate biosynthesis gene algC in Pseudomonas aeruginosa during biofilm development in continuous culture. Appl. Environ. Microbiol. 61, 860–867 (1995).

41.

Saha, M. et al. Microbial siderophores and their potential applications: a review. Environ. Sci. Pollut. Res. 23, 3984–3999 (2016).

42.

Leventhal, G. E. & Ackermann, M. & Schiessl, K. T. Why microbes secrete molecules to modify their environment: the case of iron-chelating siderophores. J. R. Soc. Interface 16, 20180674 (2019).

43.

DeMalach, N., Zaady, E., Weiner, J. & Kadmon, R. Size asymmetry of resource competition and the structure of plant communities. J. Ecol. 104, 899–910 (2016).

44.

Soliveres, S., Smit, C. & Maestre, F. T. Moving forward on facilitation research: response to changing environments and effects on the diversity, functioning and evolution of plant communities. Biol. Rev. 90, 297–313 (2015).

45.

Schmitz, O. J., Miller, J. R. B., Trainor, A. M. & Abrahms, B. Toward a community ecology of landscapes: predicting multiple predator–prey interactions across geographic space. Ecology 98, 2281–2292 (2017).

46.

Baba, T. et al. Construction of Escherichia coli K-12 in-frame, single-gene knockout mutants: the Keio collection. Mol. Syst. Biol. 2, 2006.0008 (2006).

47.

Tomasek, K., Bergmiller, T. & Guet, C. C. Lack of cations in flow cytometry buffers affect fluorescence signals by reducing membrane stability and viability of Escherichia coli strains. J. Biotechnol. 268, 40–52 (2018).

48.

Datsenko, K. A. & Wanner, B. L. One-step inactivation of chromosomal genes in Escherichia coli K-12 using PCR products. Proc. Natl Acad. Sci. USA 97, 6640–6645 (2000).

49.

Olympus CellSens software v.1.16 (Olympus, 2019).

50.

Kiviet, D. J. Vanellus Software version Feb 11 (2019); https://github.com/daankiviet/vanellus

51.

Farneback, G. Two-frame motion estimation based on polynomial expansion. Image Anal. Proc. 2749, 363–370 (2003).
Acknowledgements
We thank A. Cavagna for discussing the correlation analysis; G. D'Souza for advice on the biological assumptions of the model; G. Micali, R. Stocker and M. Doebeli for comments on the model; K. Schlegel for performing a plate reader experiment; A. von Wyl for helping correct cell tracking errors; and C. Brannon for comments on the manuscript. The research was supported by funding from the Swiss National Science Foundation (grant nos 31003A_149267 and 31003A_169978 to M.A.), by an ETH fellowship to D.J.K., by an Early Postdoc Mobility fellowship from the Swiss National Science Foundation to S.v.V. (grant no. 175123) and by ETH Zurich and Eawag.
Ethics declarations
Competing interests
The authors declare no competing interests.
Additional information
Publisher's note Springer Nature remains neutral with regard to jurisdictional claims in published maps and institutional affiliations.
Supplementary information
About this article
Cite this article
Dal Co, A., van Vliet, S., Kiviet, D.J. et al. Short-range interactions govern the dynamics and functions of microbial communities. Nat Ecol Evol 4, 366–375 (2020). https://doi.org/10.1038/s41559-019-1080-2
Received:

Accepted:

Published:

Issue Date: