Access options
Subscribe to Journal
Get full journal access for 1 year
$104.00
only $8.67 per issue
All prices are NET prices.
VAT will be added later in the checkout.
Rent or Buy article
Get time limited or full article access on ReadCube.
from$8.99
All prices are NET prices.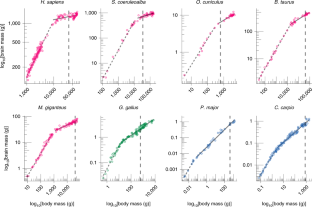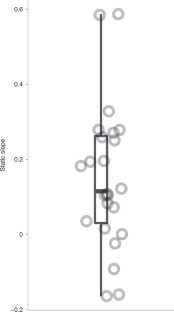 References
1.

Froese, T. & Froese, R. Comparisons of static brain–body allometries across vertebrates must distinguish indeterminate and determinate growth. Nat. Ecol. Evol. https://doi.org/10.1038/s41559-019-0984-1 (2019).

2.

Tsuboi, M. et al. Breakdown of brain–body allometry and the encephalization of birds and mammals. Nat. Ecol. Evol. 2, 1492–1500 (2018).

3.

Bradshaw, A. D. The Croonian Lecture, 1991: Genostasis and the limits to evolution. Phil. Trans. R. Soc. B 333, 289–305 (1991).

4.

Bolstad, G. H. et al. Genetic constraints predict evolutionary divergence in Dalechampia blossoms. Phil. Trans. R. Soc. B 369, 20130255 (2014).

5.

Houle, D., Bolstad, G. H., van der Linde, K. & Hansen, T. F. Mutation predicts 40 million years of fly wing evolution. Nature 548, 447–450 (2017).

6.

McGlothlin, J. W. et al. Adaptive radiation along a deeply conserved genetic line of least resistance in Anolis lizards. Evol. Lett. 112, 21–13 (2018).

7.

Lande, R. Quantitative genetic analysis of multivariate evolution, applied to brain: body size allometry. Evolution 33, 402–416 (1979).
Acknowledgements
We thank T. Froese and R. Froese for intiating our discussion.
Ethics declarations
Competing interests
The authors declare no competing interests.
Additional information
Publisher's note Springer Nature remains neutral with regard to jurisdictional claims in published maps and institutional affiliations.
About this article
Cite this article
Tsuboi, M., van der Bijl, W., Kopperud, B.T. et al. Reply to: Comparisons of static brain–body allometries across vertebrates must distinguish between indeterminate and determinate growth. Nat Ecol Evol 3, 1405–1406 (2019). https://doi.org/10.1038/s41559-019-0986-z
Received:

Accepted:

Published:

Issue Date: