The Galapagos Islands inspired the theory of evolution by means of natural selection; now in the Anthropocene, the Galapagos represent an important natural laboratory to understand ecosystem resilience in the face of climate extremes and enable effective socio-ecological co-evolution under climate change.
Access options
Subscribe to Journal
Get full journal access for 1 year
$213.00
only $17.75 per issue
All prices are NET prices.
VAT will be added later in the checkout.
Rent or Buy article
Get time limited or full article access on ReadCube.
from$8.99
All prices are NET prices.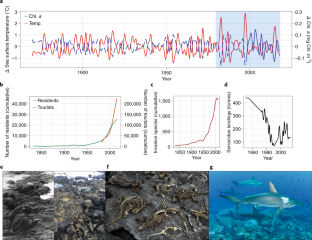 References
1.

Hoegh-Guldberg, O. & Bruno, J. F. Science 328, 1523–1528 (2010).

2.

Pearson, P. N. & Palmer, M. R. Nature 406, 695–699 (2000).

3.

Waters, C. N. et al. Science 351, aad2622 (2016).

4.

Toral-Granda, M. V. et al. PLoS ONE 12, e0184379 (2017).

5.

Schiller, L., Alava, J. J., Grove, J., Reck, G. & Pauly, D. Aquat. Conserv. Mar. Freshw. Ecosyst. 25, 431–446 (2014).

6.

Field, C. B. et al. (eds) Managing the Risks of Extreme Events and Disasters to Advance Climate Change Adaptation (Cambridge Univ. Press, 2012).

7.

Cai, W. et al. Nat. Clim. Change 4, 111–116 (2014).

8.

Holton, J. R. & Dmowska, R. El Niño, La Niña, and the Southern Oscillation (Academic Press, 1989).

9.

Edgar, G. J. et al. Glob. Change Biol. 16, 2876–2890 (2010).

10.

Glynn, P. W. Annu. Rev. Ecol. Syst. 19, 309–346 (1988).

11.

IPCC Special Report on the Ocean and Cryosphere in a Changing Climate (eds Pörtner, D. C. et al.) (in the press).

12.

Rayner, N. et al. J. Geophys. Res.-Atmos. 108, D14 (2003).

13.

Wikelski, M. & Thom, C. Nature 403, 37–38 (2000).

14.

Lamb, R. W. et al. Sci. Rep. 8, 16602 (2018).

15.

Frölicher, T. L. & Laufkötter, C. Nat. Commun. 9, 650 (2018).

16.

Tittensor, D. P. et al. Sci. Adv. 5, eaay9969 (2019).

17.

Walker, B., Holling, C. S., Carpenter, S. & Kinzig, A. Ecol. Soc. 9, 5 (2004).

18.

Lubchenco, J. et al. Proc. Natl Acad. Sci. USA 113, 14507–14514 (2016).
Acknowledgements
We thank M. Schuiteman for reviewing early drafts of the manuscript. We also thank the staff of the Charles Darwin Research Station that made possible the International Workshop to develop a Climate Change Research Agenda to inform climate change adaptation and mitigation for the Galapagos Marine Reserve, and to the Galapagos National Park Directorate for institutional support. We also thank the Helmsley Charitable Trust and the Dr. Gerard 'Jerry' Wellington Memorial Fund created by A. Blackwell for the funding provided to the Charles Darwin Foundation. This publication is contribution no. 2329 of the Charles Darwin Foundation for the Galapagos Islands.
About this article
Cite this article
Salinas-de-León, P., Andrade, S., Arnés-Urgellés, C. et al. Evolution of the Galapagos in the Anthropocene. Nat. Clim. Chang. 10, 380–382 (2020). https://doi.org/10.1038/s41558-020-0761-9