Abstract
Ribosomally synthesized and post-translationally modified peptide natural products have provided many highly unusual scaffolds. This includes the intriguing alkaloids crocagins, which possess a tetracyclic core structure and whose biosynthesis has remained enigmatic. Here we use in vitro experiments to demonstrate that three proteins, CgnB, CgnC and CgnE, are sufficient for the production of the hallmark tetracyclic crocagin core from the precursor peptide CgnA. The crystal structures of the homologues CgnB and CgnE reveal them to be the founding members of a peptide-binding protein family and allow us to rationalize their distinct functions. We further show that the hydrolase CgnD liberates the crocagin core scaffold, which is subsequently N-methylated by CgnL. These insights allow us to propose a biosynthetic scheme for crocagins. Bioinformatic analyses based on these data led to the discovery of related biosynthetic pathways that may provide access to a structurally diverse family of peptide-derived pyrroloindoline alkaloids.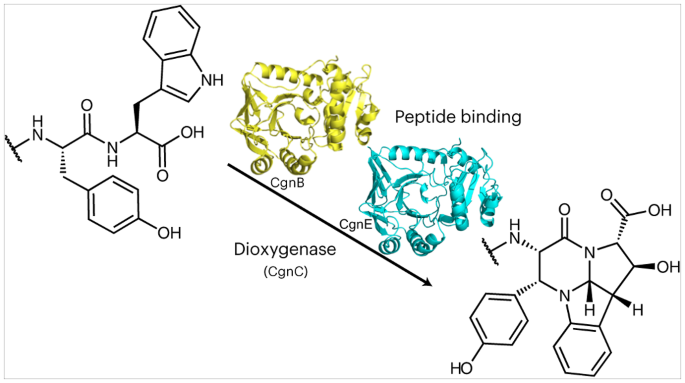 Data availability
Data supporting the main findings of this work are available within the Article and Supplementary Information. Diffraction data and refined structural models (Supplementary Table 3) have been deposited to the PDB: CgnB (6zsv), CgnD (8a2n), CgnE (6zsu) and CgnL (7pd7). The very large raw mass spectrometry data files are available from the authors upon request.
Code availability
The code/scripts used for genome mining are available in Supplementary Code 1.
References
Demain, A. L. Antibiotics: natural products essential to human health. Med. Res. Rev. 29, 821–842 (2009).

Hutchings, M. I., Truman, A. W. & Wilkinson, B. Antibiotics: past, present and future. Curr. Opin. Microbiol. 51, 72–80 (2019).

Repka, L. M. & Reisman, S. E. Recent developments in the catalytic, asymmetric construction of pyrroloindolines bearing all-carbon quaternary stereocenters. J. Org. Chem. 78, 12314–12320 (2013).

Ruiz-Sanchis, P., Savina, S. A., Albericio, F. & Alvarez, M. Structure, bioactivity and synthesis of natural products with hexahydropyrrolo[2,3-b]indole. Chemistry 17, 1388–1408 (2011).

Mei, G. J., Koay, W. L., Tan, C. X. A. & Lu, Y. Catalytic asymmetric preparation of pyrroloindolines: strategies and applications to total synthesis. Chem. Soc. Rev. 50, 5985–6012 (2021).

Tian, W. et al. Efficient biosynthesis of heterodimeric C3-aryl pyrroloindoline alkaloids. Nat. Commun. 9, 4428 (2018).

Saruwatari, T. et al. Cytochrome P450 as dimerization catalyst in diketopiperazine alkaloid biosynthesis. ChemBioChem 15, 656–659 (2014).

Lai, C. Y. et al. Biosynthesis of complex indole alkaloids: elucidation of the concise pathway of okaramines. Angew. Chem. Int. Ed. 56, 9478–9482 (2017).

Ma, J. et al. Biosynthesis of himastatin: assembly line and characterization of three cytochrome P450 enzymes involved in the post-tailoring oxidative steps. Angew. Chem. Int. Ed. 50, 7797–7802 (2011).

Li, H. et al. Pyrroloindoline cyclization in tryptophan-containing cyclodipeptides mediated by an unprecedented indole C3 methyltransferase from Streptomyces sp. HPH0547. Chem. Commun. 55, 8390–8393 (2019).

Liu, J., Ng, T., Rui, Z., Ad, O. & Zhang, W. Unusual acetylation-dependent reaction cascade in the biosynthesis of the pyrroloindole drug physostigmine. Angew. Chem. Int. Ed. 53, 136–139 (2014).

Haynes, S. W., Gao, X., Tang, Y. & Walsh, C. T. Complexity generation in fungal peptidyl alkaloid biosynthesis: a two-enzyme pathway to the hexacyclic MDR export pump inhibitor ardeemin. ACS Chem. Biol. 8, 741–748 (2013).

Yin, W. B., Grundmann, A., Cheng, J. & Li, S. M. Acetylaszonalenin biosynthesis in Neosartorya fischeri. Identification of the biosynthetic gene cluster by genomic mining and functional proof of the genes by biochemical investigation. J. Biol. Chem. 284, 100–109 (2009).

Yao, T. et al. Genome mining of cyclodipeptide synthases unravels unusual tRNA-dependent diketopiperazine-terpene biosynthetic machinery. Nat. Commun. 9, 4091 (2018).

Montalban-Lopez, M. et al. New developments in RiPP discovery, enzymology and engineering. Nat. Prod. Rep. 38, 130–239 (2020).

Arnison, P. G. et al. Ribosomally synthesized and post-translationally modified peptide natural products: overview and recommendations for a universal nomenclature. Nat. Prod. Rep. 30, 108–160 (2013).

McIntosh, J. A., Donia, M. S. & Schmidt, E. W. Ribosomal peptide natural products: bridging the ribosomal and nonribosomal worlds. Nat. Prod. Rep. 26, 537–559 (2009).

Walsh, C. T. Blurring the lines between ribosomal and nonribosomal peptide scaffolds. ACS Chem. Biol. 9, 1653–1661 (2014).

Hudson, G. A. & Mitchell, D. A. RiPP antibiotics: biosynthesis and engineering potential. Curr. Opin. Microbiol. 45, 61–69 (2018).

Büchel, E., Martini, U., Mayer, A., Anke, H. & Sterner, O. Omphalotins B, C and D, nematicidal cyclopeptides from Omphalotus olearius. Absolute configuration of omphalotin A. Tetrahedron 54, 5345–5352 (1998).

Okada, M. et al. Structure of the Bacillus subtilis quorum-sensing peptide pheromone ComX. Nat. Chem. Biol. 1, 23–24 (2005).

Ishida, K., Matsuda, H., Murakami, M. & Yamaguchi, K. Kawaguchipeptin A, a novel cyclic undecapeptide from cyanobacterium Microcystis aeruginosa (NIES-88). Tetrahedron 52, 9025–9030 (1996).

Okada, M., Sugita, T. & Abe, I. Posttranslational isoprenylation of tryptophan in bacteria. Beilstein J. Org. Chem. 13, 338–346 (2017).

Viehrig, K. et al. Structure and biosynthesis of crocagins: polycyclic posttranslationally modified ribosomal peptides from Chondromyces crocatus. Angew. Chem. Int. Ed. 56, 7407–7410 (2017).

Maurer, C. K. et al. Discovery of the first small-molecule CsrA–RNA interaction inhibitors using biophysical screening technologies. Future Med. Chem. 8, 931–947 (2016).

Heroven, A. K., Bohme, K. & Dersch, P. The Csr/Rsm system of Yersinia and related pathogens: a post-transcriptional strategy for managing virulence. RNA Biol. 9, 379–391 (2012).

Vakulskas, C. A., Potts, A. H., Babitzke, P., Ahmer, B. M. & Romeo, T. Regulation of bacterial virulence by Csr (Rsm) systems. Microbiol. Mol. Biol. Rev. 79, 193–224 (2015).

Hildebrand, A., Remmert, M., Biegert, A. & Soding, J. Fast and accurate automatic structure prediction with HHpred. Proteins 77, 128–132 (2009).

Zheng, H. et al. CheckMyMetal: a macromolecular metal-binding validation tool. Acta Crystallogr. D Struct. Biol. 73, 223–233 (2017).

Holm, L. Using Dali for protein structure comparison. Methods Mol. Biol. 2112, 29–42 (2020).

Santos-Aberturas, J. et al. Uncovering the unexplored diversity of thioamidated ribosomal peptides in Actinobacteria using the RiPPER genome mining tool. Nucleic Acids Res. 47, 4624–4637 (2019).

Houssen, W. E. et al. The discovery of new cyanobactins from Cyanothece PCC 7425 defines a new signature for processing of patellamides. ChemBioChem 13, 2683–2689 (2012).

Bauer, J. et al. Structure and possible mechanism of the CcbJ methyltransferase from Streptomyces caelestis. Acta Crystallogr. D Biol. Crystallogr. 70, 943–957 (2014).

Delvaux, N. A., Thoden, J. B. & Holden, H. M. Molecular architecture of KedS8, a sugar N-methyltransferase from Streptoalloteichus sp. ATCC 53650. Protein Sci. 24, 1593–1599 (2015).

Czekster, C. M., Ge, Y. & Naismith, J. H. Mechanisms of cyanobactin biosynthesis. Curr. Opin. Chem. Biol. 35, 80–88 (2016).

Jordan, P. A. & Moore, B. S. Biosynthetic pathway connects cryptic ribosomally synthesized posttranslationally modified peptide genes with pyrroloquinoline alkaloids. Cell Chem. Biol. 23, 1504–1514 (2016).

Smith, C. A., Toth, M., Weiss, T. M., Frase, H. & Vakulenko, S. B. Structure of the bifunctional aminoglycoside-resistance enzyme AAC(6′)-Ie-APH(2″)-Ia revealed by crystallographic and small-angle X-ray scattering analysis. Acta Crystallogr. D Biol. Crystallogr. 70, 2754–2764 (2014).
Acknowledgements
This work was supported by the European Research Council (Consolidator Grant 101002326 to J.K.). We are grateful for A. Heckmanns's help with the knockout studies and to V. Olive at the Scottish Universities Environmental Research Centre for ICP-MS analysis. We acknowledge the College of Medical, Veterinary & Life Sciences Structural Biology and Biophysical Characterisation Facility, University of Glasgow, for the use of Microscale Thermophoresis. We thank J. Prunet and A. Jamieson for helpful discussions, M. Molinari for help running RiPPER and D. France and M. Groll for critical reading of the paper.
Ethics declarations
Competing interests
The authors declare no competing interests.
Peer review
Peer review information
Nature Chemistry thanks Yanyan Li, Satish Nair and Weixin Tang for their contribution to the peer review of this work.
Additional information
Publisher's note Springer Nature remains neutral with regard to jurisdictional claims in published maps and institutional affiliations.
Supplementary information
Rights and permissions
Open Access This article is licensed under a Creative Commons Attribution 4.0 International License, which permits use, sharing, adaptation, distribution and reproduction in any medium or format, as long as you give appropriate credit to the original author(s) and the source, provide a link to the Creative Commons license, and indicate if changes were made. The images or other third party material in this article are included in the article's Creative Commons license, unless indicated otherwise in a credit line to the material. If material is not included in the article's Creative Commons license and your intended use is not permitted by statutory regulation or exceeds the permitted use, you will need to obtain permission directly from the copyright holder. To view a copy of this license, visit http://creativecommons.org/licenses/by/4.0/.
About this article
Cite this article
Adam, S., Zheng, D., Klein, A. et al. Unusual peptide-binding proteins guide pyrroloindoline alkaloid formation in crocagin biosynthesis. Nat. Chem. (2023). https://doi.org/10.1038/s41557-023-01153-w
Received:

Accepted:

Published:

DOI: https://doi.org/10.1038/s41557-023-01153-w