The widespread application of quinone methides — reactive intermediates in a variety of reactions — is limited by their tedious synthesis. Now, hypoiodite catalysis allows the efficient generation and use of these species in a plethora of tandem processes for the functionalization and synthesis of biologically active compounds.
Access options
Subscribe to Journal
Get full journal access for 1 year
$59.00
only $4.92 per issue
All prices are NET prices.
VAT will be added later in the checkout.
Tax calculation will be finalised during checkout.
Rent or Buy article
Get time limited or full article access on ReadCube.
from$8.99
All prices are NET prices.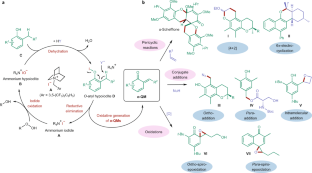 References
1.

Willis, N. J. & Bray, C. D. Chem. Eur. J. 18, 9160–9173 (2012).

2.

Bai, W.-J. et al. Acc. Chem. Res. 47, 3655–3664 (2014).

3.

Jaworski, A. A. & Scheidt, K. A. J. Org. Chem. 81, 10145–10153 (2016).

4.

Uyanik, M., Nishioka, K., Kondo, R. & Ishihara, K. Nat. Chem. https://doi.org/10.1038/s41557-020-0433-4 (2020).

5.

Uyanik, M., Okamoto, H., Yasui, T. & Ishihara, K. Science 328, 1376–1379 (2010).

6.

Uyanik, M., Nishioka, K. & Ishihara, K. Heterocycles 95, 1132–1147 (2017).

7.

Minard, A., Liano, D., Wang, X. & Di Antonio, M. Bioorg. Med. Chem. 27, 2298–2305 (2019).
About this article
Cite this article
Nachtsheim, B.J. Mild map to quinone methides. Nat. Chem. 12, 326–328 (2020). https://doi.org/10.1038/s41557-020-0443-2