Abstract
Haematopoietic ageing is marked by a loss of regenerative capacity and skewed differentiation from haematopoietic stem cells (HSCs), leading to impaired blood production. Signals from the bone marrow niche tailor blood production, but the contribution of the old niche to haematopoietic ageing remains unclear. Here we characterize the inflammatory milieu that drives both niche and haematopoietic remodelling. We find decreased numbers and functionality of osteoprogenitors at the endosteum and expansion of central marrow LepR+ mesenchymal stromal cells associated with deterioration of the sinusoidal vasculature. Together, they create a degraded and inflamed old bone marrow niche. Niche inflammation in turn drives the chronic activation of emergency myelopoiesis pathways in old HSCs and multipotent progenitors, which promotes myeloid differentiation and hinders haematopoietic regeneration. Moreover, we show how production of interleukin-1β (IL-1β) by the damaged endosteum acts in trans to drive the proinflammatory nature of the central marrow, with damaging consequences for the old blood system. Notably, niche deterioration, HSC dysfunction and defective regeneration can all be ameliorated by blocking IL-1 signalling. Our results demonstrate that targeting IL-1 as a key mediator of niche inflammation is a tractable strategy to improve blood production during ageing.
Access options
Access Nature and 54 other Nature Portfolio journals
Get Nature+, our best-value online-access subscription
$29.99 per month
cancel any time
Subscribe to this journal
Receive 12 print issues and online access
$209.00 per year
only $17.42 per issue
Rent or buy this article
Get just this article for as long as you need it
$39.95
Prices may be subject to local taxes which are calculated during checkout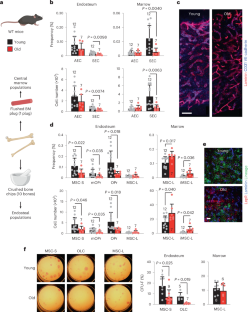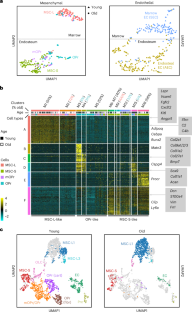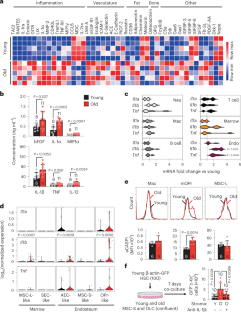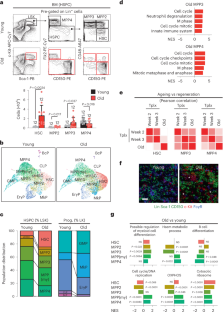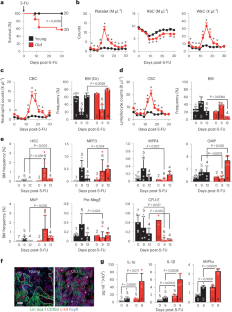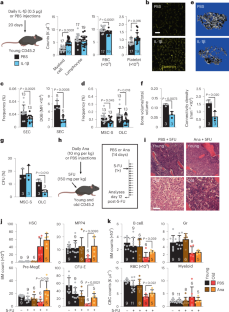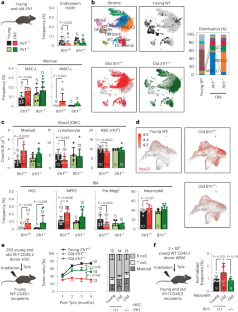 Code availability
All code and packages used to support the findings of this study are either publicly available or available from the corresponding author upon reasonable request.
References
Rossi, D. J., Jamieson, C. H. M. & Weissman, I. L. Stems cells and the pathways to aging and cancer. Cell 132, 681–696 (2008).

Morrison, S. J. & Scadden, D. T. The bone marrow niche for haematopoietic stem cells. Nature 505, 327–334 (2014).

Pinho, S. & Frenette, P. S. Haematopoietic stem cell activity and interactions with the niche. Nat. Rev. Mol. Cell Biol. 20, 303–320 (2019).

Verovskaya, E. V., Dellorusso, P. V. & Passegué, E. Losing sense of self and surroundings: hematopoietic stem cell aging and leukemic transformation. Trends Mol. Med. 25, 494–515 (2019).

Ho, Y.-H. & Méndez-Ferrer, S. Microenvironmental contributions to hematopoietic stem cell aging. Haematologica 105, 38–46 (2020).

Pietras, E. M. et al. Functionally distinct subsets of lineage-biased multipotent progenitors control blood production in normal and regenerative conditions. Cell Stem Cell 17, 35–46 (2015).

Olson, O. C., Kang, Y.-A. & Passegué, E. Normal hematopoiesis is a balancing act of self-renewal and regeneration. Cold Spring Harb. Perspect. Med. 10, a035519 (2020).

Schepers, K., Campbell, T. B. & Passegué, E. Normal and leukemic stem cell niches: insights and therapeutic opportunities. Cell Stem Cell 16, 254–267 (2015).

Kovtonyuk, L. V., Fritsch, K., Feng, X., Manz, M. G. & Takizawa, H. Inflamm-aging of hematopoiesis, hematopoietic stem cells, and the bone marrow microenvironment. Front. Immunol. https://doi.org/10.3389/fimmu.2016.00502 (2016).

Soysal, P., Arik, F., Smith, L., Jackson, S. E. & Isik, A. T. in Frailty and Cardiovascular Diseases (ed. Veronese, N.) 55–64 (Springer International Publishing, 2020).

Almeida, M. & O'Brien, C. A. Basic biology of skeletal aging: role of stress response pathways. J. Gerontol. A. Biol. Sci. Med. Sci. 68, 1197–1208 (2013).

Ho, T. T. et al. Aged hematopoietic stem cells are refractory to bloodborne systemic rejuvenation interventions. J. Exp. Med. 218, e20210223 (2021).

Baryawno, N. et al. A cellular taxonomy of the bone marrow stroma in homeostasis and leukemia. Cell 177, 1915–1932.e16 (2019).

Tikhonova, A. N. et al. The bone marrow microenvironment at single-cell resolution. Nature 569, 222–228 (2019).

Baccin, C. et al. Combined single-cell and spatial transcriptomics reveal the molecular, cellular and spatial bone marrow niche organization. Nat. Cell Biol. 22, 38–48 (2020).

Kokkaliaris, K. D. et al. Adult blood stem cell localization reflects the abundance of reported bone marrow niche cell types and their combinations. Blood 136, 2296–2307 (2020).

Kusumbe, A. P. et al. Age-dependent modulation of vascular niches for haematopoietic stem cells. Nature 532, 380–384 (2016).

Poulos, M. G. et al. Endothelial transplantation rejuvenates aged hematopoietic stem cell function. J. Clin. Invest. 127, 4163–4178 (2017).

Maryanovich, M. et al. Adrenergic nerve degeneration in bone marrow drives aging of the hematopoietic stem cell niche. Nat. Med. 24, 782–791 (2018).

Ho, Y.-H. et al. Remodeling of bone marrow hematopoietic stem cell niches promotes myeloid cell expansion during premature or physiological aging. Cell Stem Cell 25, 407–418.e6 (2019).

Guidi, N. et al. Osteopontin attenuates aging‐associated phenotypes of hematopoietic stem cells. EMBO J. 36, 840–853 (2017).

Shen, B. et al. A mechanosensitive peri-arteriolar niche for osteogenesis and lymphopoiesis. Nature 591, 438–444 (2021).

Ergen, A. V., Boles, N. C. & Goodell, M. A. Rantes/Ccl5 influences hematopoietic stem cell subtypes and causes myeloid skewing. Blood 119, 2500–2509 (2012).

Kovtonyuk, L. V. et al. IL-1 mediates microbiome-induced inflammaging of hematopoietic stem cells in mice. Blood 139, 44–58 (2022).

Grover, A. et al. Single-cell RNA sequencing reveals molecular and functional platelet bias of aged haematopoietic stem cells. Nat. Commun. 7, 11075 (2016).

Poscablo, D. M., Worthington, A. K., Smith-Berdan, S. & Forsberg, E. C. Megakaryocyte progenitor cell function is enhanced upon aging despite the functional decline of aged hematopoietic stem cells. Stem Cell Rep. 16, 1598–1613 (2021).

Glatt, V., Canalis, E., Stadmeyer, L. & Bouxsein, M. L. Age-related changes in trabecular architecture differ in female and male C57BL/6J Mice. J. Bone Miner. Res. 22, 1197–1207 (2007).

Schepers, K. et al. Myeloproliferative neoplasia remodels the endosteal bone marrow niche into a self-reinforcing leukemic niche. Cell Stem Cell 13, 285–299 (2013).

Xu, X. et al. Age-related impairment of vascular structure and functions. Aging Dis. 8, 590 (2017).

Ambrosi, T. H. et al. Aged skeletal stem cells generate an inflammatory degenerative niche. Nature 597, 256–262 (2021).

Nishikawa, K. et al. Maf promotes osteoblast differentiation in mice by mediating the age-related switch in mesenchymal cell differentiation. J. Clin. Invest. 120, 3455–3465 (2010).

Singh, L. et al. Aging alters bone-fat reciprocity by shifting in vivo mesenchymal precursor cell fate towards an adipogenic lineage. Bone 85, 29–36 (2016).

Frisch, B. J. et al. Aged marrow macrophages expand platelet-biased hematopoietic stem cells via interleukin-1B. JCI Insight 4, e124213 (2019).

Villeda, S. A. et al. The ageing systemic milieu negatively regulates neurogenesis and cognitive function. Nature 477, 90–94 (2011).

Mrak, R. Interleukin-1, neuroinflammation, and Alzheimer's disease. Neurobiol. Aging 22, 903–908 (2001).

Woollard, K. J. Soluble bio-markers in vascular disease: much more than gauges of disease? Clin. Exp. Pharmacol. Physiol. 32, 233–240 (2005).

Abdelmagid, S. M. et al. Mutation in osteoactivin decreases bone formation in vivo and osteoblast differentiation in vitro. Am. J. Pathol. 184, 697–713 (2014).

Villarroya, F., Cereijo, R., Villarroya, J. & Giralt, M. Brown adipose tissue as a secretory organ. Nat. Rev. Endocrinol. 13, 26–35 (2017).

Yue, R., Zhou, B. O., Shimada, I. S., Zhao, Z. & Morrison, S. J. Leptin receptor promotes adipogenesis and reduces osteogenesis by regulating mesenchymal stromal cells in adult bone marrow. Cell Stem Cell 18, 782–796 (2016).

Coppé, J.-P., Desprez, P.-Y., Krtolica, A. & Campisi, J. The senescence-associated secretory phenotype: the dark side of tumor suppression. Annu. Rev. Pathol. Mech. Dis. 5, 99–118 (2010).

Pietras, E. M. et al. Chronic interleukin-1 exposure drives haematopoietic stem cells towards precocious myeloid differentiation at the expense of self-renewal. Nat. Cell Biol. 18, 607–618 (2016).

Gekas, C. & Graf, T. CD41 expression marks myeloid-biased adult hematopoietic stem cells and increases with age. Blood 121, 4463–4472 (2013).

Young, K. et al. Progressive alterations in multipotent hematopoietic progenitors underlie lymphoid cell loss in aging. J. Exp. Med. 213, 2259–2267 (2016).

Rodriguez-Fraticelli, A. E. et al. Clonal analysis of lineage fate in native haematopoiesis. Nature 553, 212–216 (2018).

Dong, F. et al. Differentiation of transplanted haematopoietic stem cells tracked by single-cell transcriptomic analysis. Nat. Cell Biol. 22, 630–639 (2020).

Flach, J. et al. Replication stress is a potent driver of functional decline in ageing haematopoietic stem cells. Nature 512, 198–202 (2014).

Gutierrez-Martinez, P. et al. Diminished apoptotic priming and ATM signalling confer a survival advantage onto aged haematopoietic stem cells in response to DNA damage. Nat. Cell Biol. 20, 413–421 (2018).

Hérault, A. et al. Myeloid progenitor cluster formation drives emergency and leukaemic myelopoiesis. Nature 544, 53–58 (2017).

Park, D. et al. Endogenous bone marrow MSCs are dynamic, fate-restricted participants in bone maintenance and regeneration. Cell Stem Cell 10, 259–272 (2012).

Yamashita, M. & Passegué, E. TNF-α coordinates hematopoietic stem cell survival and myeloid regeneration. Cell Stem Cell 25, 357–372.e7 (2019).

Furman, D. et al. Expression of specific inflammasome gene modules stratifies older individuals into two extreme clinical and immunological states. Nat. Med. 23, 174–184 (2017).

Zhou, B. O., Yue, R., Murphy, M. M., Peyer, J. G. & Morrison, S. J. Leptin-receptor-expressing mesenchymal stromal cells represent the main source of bone formed by adult bone marrow. Cell Stem Cell 15, 154–168 (2014).

Picelli, S. et al. Full-length RNA-seq from single cells using Smart-seq2. Nat. Protoc. 9, 171–181 (2014).

Bagnoli, J. W. et al. Sensitive and powerful single-cell RNA sequencing using mcSCRB-seq. Nat. Commun. 9, 2937 (2018).

Anders, S., Pyl, P. T. & Huber, W. HTSeq—a Python framework to work with high-throughput sequencing data. Bioinformatics 31, 166–169 (2015).

Brennecke, P. et al. Accounting for technical noise in single-cell RNA-seq experiments. Nat. Methods 10, 1093–1095 (2013).

Olsson, A. et al. Single-cell analysis of mixed-lineage states leading to a binary cell fate choice. Nature 537, 698–702 (2016).

Love, M. I., Huber, W. & Anders, S. Moderated estimation of fold change and dispersion for RNA-seq data with DESeq2. Genome Biol. 15, 550 (2014).

Wolf, F. A., Angerer, P. & Theis, F. J. SCANPY: large-scale single-cell gene expression data analysis. Genome Biol. 19, 15 (2018).

Wolock, S. L., Lopez, R. & Klein, A. M. Scrublet: computational identification of cell doublets in single-cell transcriptomic data. Cell Syst. 8, 281–291.e9 (2019).

Hoffman, P. et al. Comprehensive Integration of Single-Cell Data. Cell 177, 1888–1902 (2019).

Hao, Y. et al. Integrated analysis of multimodal single-cell data. Cell 184, 3573–3587.e29 (2021).

Tusher, V. G., Tibshirani, R. & Chu, G. Significance analysis of microarrays applied to the ionizing radiation response. Proc. Natl Acad. Sci. USA 98, 5116–5121 (2001).
Acknowledgements
We thank S. Villeda (UCSF) for providing some of the old C57BL/6 mice; D. Reynaud (UCSF) for initial analyses of the old mice; A. Valencia (UCSF) for technical assistance with various experiments; S. Kinston (Cambridge University) for scRNA-seq library preparations; A. Li (Bone Imaging Research Core, UCSF) and both E. Guo and P. T. Shyu (CUIMC) for microCT analyses; M. Lee (UCSF) and M. Kissner (CUIMC) for management of our Flow Cytometry Core facilities; and all members of the Passegué Laboratory for critical insights and suggestions. C.A.M. was supported by NIH F31HL160207 and a NYSTEM training grant; E.V.V. by a Rubicon Grant from The Netherlands Organization for Scientific Research, a Stem Cell Grant from BD Biosciences and a NYSTEM training grant; O.C.O by CRI/Margaret Dammann Eisner postdoctoral fellowship CRI3617; J.W.S. by long-term EMBO postdoctoral fellowship ALTF-2021-196; P.V.D. by NIH F31HL151140; E.M.P. by NIH F32HL106989 and K01DK09831; S.T.B. by a CIRM postdoctoral fellowship; and T.T.H. by an AHA and Hillblom Center for the Biology of Aging predoctoral fellowship. F.J.C-N., X.W. and B.G. were supported by grants from the Wellcome (206328/Z/17/Z), CRUK (C1163/A21762) and core funding by the Wellcome to the Cambridge Stem Cell Institute. This work was funded by NIH R01CA184014, NIH R35HL135763, Glenn Foundation Research Award and LLS Scholar Award to E.P., and supported in part through the NIH/NCI Cancer Center Support Grant P30CA013696 to CUIMC. The funders of this work had no role in study design, data collection and analysis, decision to publish or preparation of the manuscript. Clipart in figures was created using BioRender.
Ethics declarations
Competing interests
The authors declare no competing interests.
Peer review
Peer review information
Nature Cell Biology thanks Iannis Aifantis and the other, anonymous, reviewer(s) for their contribution to the peer review of this work.
Additional information
Publisher's note Springer Nature remains neutral with regard to jurisdictional claims in published maps and institutional affiliations.
Supplementary information
Supplementary Table 1: ICGS of young and old niche cells. Plate-based scRNA-seq gene expression data of mesenchymal and ECs were separated and subjected to unsupervised single-cell population identification using ICGS. The relative expression of every guide gene in each cluster, as well as the relative expression of every guide gene in each pooled group of clusters corresponding to the indicated cell types, was calculated by averaging the relative expression of each gene across individual cells within a cluster or group. Supplementary Table 2: DEGs and pathway analyses of young versus old niche cells. Plate-based scRNA-seq gene expression data between young and old cells in pooled identity groups as defined by ICGS were analysed for DEGs using the DESeq2 package. Overlap with Hallmark gene sets was evaluated, and significant (FDR < 0.05) overlaps are indicated in bold for mesenchymal populations. As no significant overlaps were observed for endothelial populations, IPA software (Qiagen) was used to determine IPA canonical pathways with absolute z-score ≥ 1 and –log10(P value) ≥ 2 enriched in young and old AEC-like and SEC-like cells. Supplementary Table 3: Quantibody array-based measurements of cytokine concentration in young and old BM fluids. BM fluids isolated from young (10 weeks of age) and old (27–29 months of age) mice (n = 5) were analysed using Quantibody Testing Service (Raybiotech). Samples were diluted fourfold before analyses. Results are mean ± s.d. and are expressed as pg ml–1 concentration; *P < 0.05, **P < 0.05, ***P < 0.05. Supplementary Table 4: DEGs and pathway analyses of young versus old HSCs. SAM was performed on young and old cells within each population to determine SAM delta scores. The top 1,000 most highly DEGs for each group were collected. SAM scores for these genes were used for GSEA and overlap with Reactome gene sets was evaluated for each population. The top 5 statistically significant (FDR < 0.05) overlaps for each group are in bold.
About this article
Cite this article
Mitchell, C.A., Verovskaya, E.V., Calero-Nieto, F.J. et al. Stromal niche inflammation mediated by IL-1 signalling is a targetable driver of haematopoietic ageing. Nat Cell Biol 25, 30–41 (2023). https://doi.org/10.1038/s41556-022-01053-0
Received:

Accepted:

Published:

Issue Date:

DOI: https://doi.org/10.1038/s41556-022-01053-0
This article is cited by
Thomas H. Ambrosi
Charles K. F. Chan

Nature Cell Biology (2023)