Abstract
Carbon dioxide not only plays a central role in the carbon cycle, but also acts as a crucial signal in living cells. Adaptation to changing CO2 concentrations is critical for all organisms. Conversion of CO2 to HCO3− by carbonic anhydrase and subsequent HCO3−-triggered signalling are thought to be important for cellular responses to CO2 (refs. 1,2,3). However, carbonic anhydrases are suggested to transduce a change in CO2 rather than be a direct CO2 sensor4,5, the mechanism(s) by which organisms sense CO2 remain unknown. Here we demonstrate that a unique group of PP2C phosphatases from fungi and plants senses CO2, but not HCO3−, to control diverse cellular programmes. Different from other phosphatases, these PP2Cs all have an intrinsically disordered region (IDR). They formed reversible liquid-like droplets through phase separation both in cells and in vitro, and were activated in response to elevated environmental CO2 in an IDR-dependent manner. The IDRs in PP2Cs are characterized by a sequence of polar amino acids enriched in serine/threonine, which provides CO2 responsiveness. CO2-responsive activation of PP2Cs via the serine/threonine-rich IDR-mediated phase separation represents a direct CO2 sensing mechanism and is widely exploited.
This is a preview of subscription content
Access options
Subscribe to Nature+
Get immediate online access to the entire Nature family of 50+ journals
Subscribe to Journal
Get full journal access for 1 year
$99.00
only $8.25 per issue
All prices are NET prices.
VAT will be added later in the checkout.
Tax calculation will be finalised during checkout.
Buy article
Get time limited or full article access on ReadCube.
$32.00
All prices are NET prices.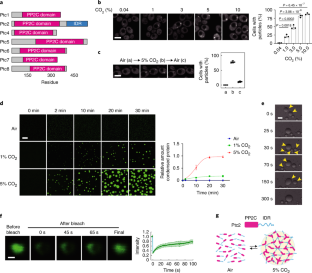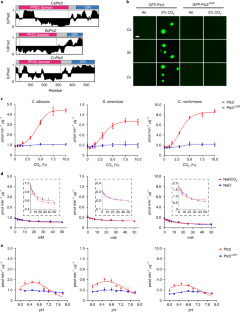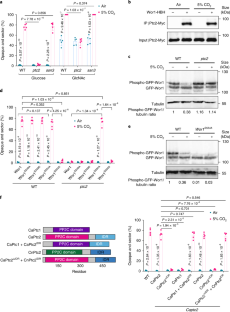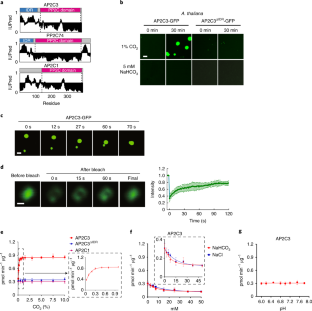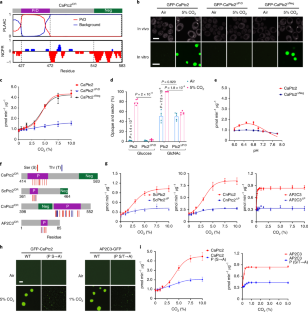 Data availability
Protein sequence data for proteins CaPtc2, ScPtc2, CnPtc2, AP2C3, PP2C74, Sup35 and FUS that were re-analysed here are available from UniProt under accession codes A0A1D8PRZ8, P39966, F5HBU9, F6LPR7, A0A1P8BC27, P05453 and P35637, respectively. All other data supporting the findings of this study are available from the corresponding author on reasonable request. Source data are provided with this paper.
References
Chen, Y. Q. et al. Soluble adenylyl cyclase as an evolutionarily conserved bicarbonate sensor. Science 289, 625–628 (2000).

Klengel, T. et al. Fungal adenylyl cyclase integrates CO2 sensing with cAMP signaling and virulence. Curr. Biol. 15, 2021–2026 (2005).

Bahn, Y. S., Cox, G. M., Perfect, J. R. & Heitman, J. Carbonic anhydrase and CO2 sensing during Cryptococcus neoformans growth, differentiation, and virulence. Curr. Biol. 15, 2013–2020 (2005).

Hu, H. H. et al. Carbonic anhydrases are upstream regulators of CO2-controlled stomatal movements in guard cells. Nat. Cell Biol. 12, 87–U234 (2010).

Frommer, W. B. CO(2)mmon sense. Science 327, 275–276 (2010).

Lu, Y., Su, C., Ray, S., Yuan, Y. C. & Liu, H. P. CO2 Signaling through the Ptc2–Ssn3 axis governs sustained hyphal development of Candida albicans by reducing Ume6 phosphorylation and degradation. Mbio https://doi.org/10.1128/mBio.02320-18 (2019).

Lin, Y., Protter, D. S., Rosen, M. K. & Parker, R. Formation and maturation of phase-separated liquid droplets by RNA-binding proteins. Mol. Cell 60, 208–219 (2015).

Nott, T. J. et al. Phase transition of a disordered nuage protein generates environmentally responsive membraneless organelles. Mol. Cell 57, 936–947 (2015).

Patel, A. et al. A liquid-to-solid phase transition of the ALS protein FUS accelerated by disease mutation. Cell 162, 1066–1077 (2015).

Li, P. et al. Phase transitions in the assembly of multivalent signalling proteins. Nature 483, 336–340 (2012).

Yoo, H., Triandafillou, C. & Drummond, D. A. Cellular sensing by phase separation: using the process, not just the products. J. Biol. Chem. 294, 7151–7159 (2019).

Riback, J. A. et al. Stress-triggered phase separation is an adaptive, evolutionarily tuned response. Cell 168, 1028–1040 (2017).

Franzmann, T. M. et al. Phase separation of a yeast prion protein promotes cellular fitness. Science https://doi.org/10.1126/science.aao5654 (2018).

Du, M. & Chen, Z. J. DNA-induced liquid phase condensation of cGAS activates innate immune signaling. Science 361, 704–709 (2018).

Su, X. et al. Phase separation of signaling molecules promotes T cell receptor signal transduction. Science 352, 595–599 (2016).

Zhang, J. Z. et al. Phase separation of a PKA regulatory subunit controls cAMP compartmentation and oncogenic signaling. Cell 182, 1531–1544 e1515 (2020).

Klosin, A. et al. Phase separation provides a mechanism to reduce noise in cells. Science 367, 464–468 (2020).

Moses, D. et al. Revealing the hidden sensitivity of intrinsically disordered proteins to their chemical environment. J. Phys. Chem. Lett. 11, 10131–10136 (2020).

Wang, J. et al. A molecular grammar governing the driving forces for phase separation of prion-like RNA binding proteins. Cell 174, 688 (2018).

Huang, G., Srikantha, T., Sahni, N., Yi, S. & Soll, D. R. CO2 regulates white-to-opaque switching in Candida albicans. Curr. Biol. 19, 330–334 (2009).

Zaragoza, O., Fries, B. C. & Casadevall, A. Induction of capsule growth in Cryptococcus neoformans by mammalian serum and CO2. Infect. Immun. 71, 6155–6164 (2003).

Miller, M. G. & Johnson, A. D. White-opaque switching in Candida albicans is controlled by mating-type locus homeodomain proteins and allows efficient mating. Cell 110, 293–302 (2002).

Huang, G. H. et al. Bistable expression of WOR1, a master regulator of white–opaque switching in Candida albicans. Proc. Natl Acad. Sci. USA 103, 12813–12818 (2006).

Zordan, R. E., Galgoczy, D. J. & Johnson, A. D. Epigenetic properties of white–opaque switching in Candida albicans are based on a self-sustaining transcriptional feedback loop. Proc. Natl Acad. Sci. USA 103, 12807–12812 (2006).

Alkafeef, S. S., Yu, C., Huang, L. & Liu, H. P. Wor1 establishes opaque cell fate through inhibition of the general co-repressor Tup1 in Candida albicans. PLoS Genet. https://doi.org/10.1371/journal.pgen.1007176 (2018).

Blom, N., Sicheritz-Ponten, T., Gupta, R., Gammeltoft, S. & Brunak, S. Prediction of post-translational glycosylation and phosphorylation of proteins from the amino acid sequence. Proteomics 4, 1633–1649 (2004).

Vyas, V. K., Barrasa, M. I. & Fink, G. R. A Candida albicans CRISPR system permits genetic engineering of essential genes and gene families. Sci. Adv. 1, e1500248 (2015).

Woodward, F. I. Stomatal numbers are sensitive to increases in CO2 from preindustrial levels. Nature 327, 617–618 (1987).

Engineer, C. B. et al. CO2 sensing and CO2 regulation of stomatal conductance: advances and open questions. Trends Plant Sci. 21, 16–30 (2016).

Tsugama, D., Liu, S. & Takano, T. A putative myristoylated 2C-type protein phosphatase, PP2C74, interacts with SnRK1 in Arabidopsis. FEBS Lett. 586, 693–698 (2012).

Brock, A. K. et al. The Arabidopsis mitogen-activated protein kinase phosphatase PP2C5 affects seed germination, stomatal aperture, and abscisic acid-inducible gene expression. Plant Physiol. 153, 1098–1111 (2010).

Jung, J. H. et al. A prion-like domain in ELF3 functions as a thermosensor in Arabidopsis. Nature 585, 256–260 (2020).

Leung, K., Nielsen, I. M. B. & Kurtz, I. Ab Initio molecular dynamics study of carbon dioxide and bicarbonate hydration and the nucleophilic attack of hydroxide on CO2. J. Phys. Chem. B 111, 4453–4459 (2007).

Cundari, T. R. et al. CO2-formatics: how do proteins bind carbon dioxide? J. Chem. Inf. Model. 49, 2111–2115 (2009).

Alberti, S., Gladfelter, A. & Mittag, T. Considerations and challenges in studying liquid-liquid phase separation and biomolecular condensates. Cell 176, 419–434 (2019).

Peeples, W. & Rosen, M. K. Mechanistic dissection of increased enzymatic rate in a phase-separated compartment. Nat. Chem. Biol. 17, 693–702 (2021).

Tibble, R. W., Depaix, A., Kowalska, J., Jemielity, J. & Gross, J. D. Biomolecular condensates amplify mRNA decapping by biasing enzyme conformation. Nat. Chem. Biol. 17, 615–623 (2021).

Kim, T. H. et al. Phospho-dependent phase separation of FMRP and CAPRIN1 recapitulates regulation of translation and deadenylation. Science 365, 825–829 (2019).

Lammers, T. & Lavi, S. Role of type 2C protein phosphatases in growth regulation and in cellular stress signaling. Crit. Rev. Biochem. Mol. 42, 437–461 (2007).

Fan, C. L. et al. The Cys2His2 zinc finger protein Zfp1 regulates sexual reproduction and virulence in Cryptococcus neoformans. Fungal Genet. Biol. 124, 59–72 (2019).

Reuss, O., Vik, A., Kolter, R. & Morschhauser, J. The SAT1 flipper, an optimized tool for gene disruption in Candida albicans. Gene 341, 119–127 (2004).
Acknowledgements
We thank the members of Lu laboratory for critical discussion and M. Peterson from Liu laboratory for editing the manuscript. We thank S. Sandmeyer and S. Du for strains and plasmids. This work was supported by grants from National Natural Science Foundation of China (31770162 and 32070074 to Y.L., 81973370 and 32170089 to C.S. and 22077094 to C.Z.), a National Key Research and Development Program of China grant (2020YFA0908501 to C.Z.) and a National Institute of General Medical Sciences grant (2R02GM117111-05 to H.L.).
Ethics declarations
Competing interests
The authors declare no competing interests.
Peer review
Peer review information
Nature Cell Biology thanks the anonymous reviewers for their contribution to the peer review of this work. Peer reviewer reports are available.
Additional information
Publisher's note Springer Nature remains neutral with regard to jurisdictional claims in published maps and institutional affiliations.
Supplementary information
Supplementary Tables 1 and 2.
About this article
Cite this article
Zhang, M., Zhu, C., Duan, Y. et al. The intrinsically disordered region from PP2C phosphatases functions as a conserved CO2 sensor. Nat Cell Biol (2022). https://doi.org/10.1038/s41556-022-00936-6
Received:

Accepted:

Published:

DOI: https://doi.org/10.1038/s41556-022-00936-6