Abstract
De novo blood vessel formation occurs through coalescence of endothelial cells (ECs) into a cord-like structure, followed by lumenization either through cell-1,2,3 or cord-hollowing4,5,6,7. Vessels generated in this manner are restricted in diameter to one or two ECs, and these models fail to explain how vasculogenesis can form large-diameter vessels. Here, we describe a model for large vessel formation that does not require a cord-like structure or a hollowing step. In this model, ECs coalesce into a network of struts in the future lumen of the vessel, a process dependent upon bone morphogenetic protein signalling. The vessel wall forms around this network and consists initially of only a few patches of ECs. To withstand external forces and to maintain the shape of the vessel, strut formation traps erythrocytes into compartments to form a rigid structure. Struts gradually prune and ECs from struts migrate into and become part of the vessel wall. Experimental severing of struts resulted in vessel collapse, disturbed blood flow and remodelling defects, demonstrating that struts enable the patency of large vessels during their formation.
Access options
Subscribe to Nature+
Get immediate online access to the entire Nature family of 50+ journals
Subscribe to Journal
Get full journal access for 1 year
$99.00
only $8.25 per issue
All prices are NET prices.
VAT will be added later in the checkout.
Tax calculation will be finalised during checkout.
Buy article
Get time limited or full article access on ReadCube.
$32.00
All prices are NET prices.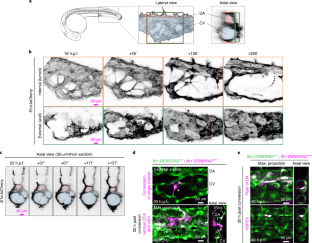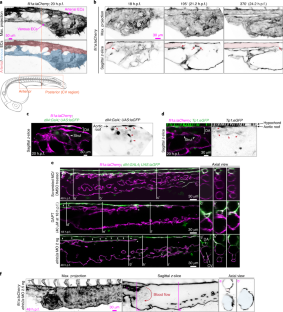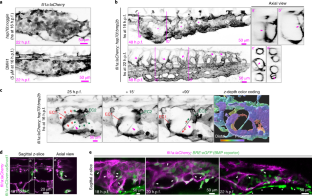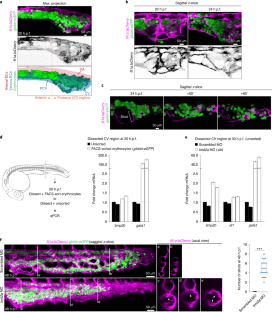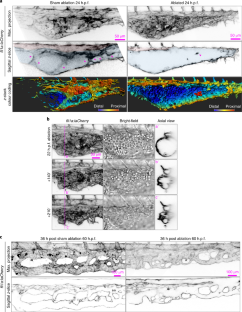 Data availability
Source data are provided with this paper. All other data supporting the findings of this study are available from the corresponding author upon reasonable request.
References
Folkman, J. & Haudenschild, C. Angiogenesis in vitro. Nature 288, 551–556 (1980).

Kamei, M. et al. Endothelial tubes assemble from intracellular vacuoles in vivo. Nature 442, 453–456 (2006).

Davis, G. E. & Bayless, K. J. An integrin and Rho GTPase-dependent pinocytic vacuole mechanism controls capillary lumen formation in collagen and fibrin matrices. Microcirculation 10, 27–44 (2003).

Strilić, B. et al. Electrostatic cell-surface repulsion initiates lumen formation in developing blood vessels. Curr. Biol. 20, 2003–2009 (2010).

Ferrari, A., Veligodskiy, A., Berge, U., Lucas, M. S. & Kroschewski, R. ROCK-mediated contractility, tight junctions and channels contribute to the conversion of a preapical patch into apical surface during isochoric lumen initiation. J. Cell Sci. 121, 3649–3663 (2008).

Blum, Y. et al. Complex cell rearrangements during intersegmental vessel sprouting and vessel fusion in the zebrafish embryo. Dev. Biol. 316, 312–322 (2008).

Gebala, V., Collins, R., Geudens, I., Phng, L.-K. & Gerhardt, H. Blood flow drives lumen formation by inverse membrane blebbing during angiogenesis in vivo. Nat. Cell Biol. 18, 443–450 (2016).

Hogan, B. M. & Schulte-Merker, S. How to plumb a pisces: understanding vascular development and disease using zebrafish embryos. Dev. Cell 42, 567–583 (2017).

Bertrand, J. Y. et al. Haematopoietic stem cells derive directly from aortic endothelium during development. Nature 464, 108–111 (2010).

Kissa, K. & Herbomel, P. Blood stem cells emerge from aortic endothelium by a novel type of cell transition. Nature 464, 112–115 (2010).

Kohli, V., Schumacher, J. A., Desai, S. P., Rehn, K. & Sumanas, S. Arterial and venous progenitors of the major axial vessels originate at distinct locations. Dev. Cell 25, 196–206 (2013).

Hermkens, D. M. A. et al. Sox7 controls arterial specification in conjunction with hey2 and efnb2 function. Development 142, 1695–1704 (2015).

Parsons, M. J. et al. Notch-responsive cells initiate the secondary transition in larval zebrafish pancreas. Mech. Dev. 126, 898–912 (2009).

Lawson, N. D. et al. Notch signaling is required for arterial-venous differentiation during embryonic vascular development. Development 128, 3675–3683 (2001).

Adams, R. H. et al. Roles of ephrinB ligands and EphB receptors in cardiovascular development: demarcation of arterial/venous domains, vascular morphogenesis and sprouting angiogenesis. Genes Dev. 13, 295–306 (1999).

Wang, H. U., Chen, Z. F. & Anderson, D. J. Molecular distinction and angiogenic interaction between embryonic arteries and veins revealed by ephrin-B2 and its receptor Eph-B4. Cell 93, 741–753 (1998).

Herbert, S. P. et al. Arterial–venous segregation by selective cell sprouting: an alternative mode of blood vessel formation. Science 326, 294–298 (2009).

Wakayama, Y., Fukuhara, S., Ando, K., Matsuda, M. & Mochizuki, N. Cdc42 mediates Bmp-induced sprouting angiogenesis through Fmnl3-driven assembly of endothelial filopodia in zebrafish. Dev. Cell 32, 109–122 (2015).

Wiley, D. M. et al. Distinct signalling pathways regulate sprouting angiogenesis from the dorsal aorta and the axial vein. Nat. Cell Biol. 13, 686–692 (2011).

Neal, A. et al. Venous identity requires BMP signalling through ALK3. Nat. Commun. 10, 453 (2019).

Hao, J. et al. In vivo structure–activity relationship study of dorsomorphin analogues identifies selective VEGF and BMP inhibitors. ACS Chem. Biol. 5, 245–253 (2010).

Chocron, S., Verhoeven, M. C., Rentzsch, F., Hammerschmidt, M. & Bakkers, J. Zebrafish Bmp4 regulates left-right asymmetry at two distinct developmental time points. Dev. Biol. 305, 577–588 (2007).

Mullins, M. C. et al. Genes establishing dorsoventral pattern formation in the zebrafish embryo: the ventral specifying genes. Development 123, 81–93 (1996).

Kishimoto, Y., Lee, K. H., Zon, L., Hammerschmidt, M. & Schulte-Merker, S. The molecular nature of zebrafish swirl: BMP2 function is essential during early dorsoventral patterning. Development 124, 4457–4466 (1997).

Monteiro, R. et al. Two novel type II receptors mediate BMP signalling and are required to establish left–right asymmetry in zebrafish. Dev. Biol. 315, 55–71 (2008).

Liu, F. et al. A human Mad protein acting as a BMP-regulated transcriptional activator. Nature 381, 620–623 (1996).

Lyden, D. et al. Id1 and Id3 are required for neurogenesis, angiogenesis and vascularization of tumour xenografts. Nature 401, 670–677 (1999).

Chen, X., Zaro, J. L. & Shen, W.-C. Fusion protein linkers: property, design and functionality. Adv. Drug Deliv. Rev. 65, 1357–1369 (2013).

Kokabu, S., Katagiri, T., Yoda, T. & Rosen, V. Role of Smad phosphatases in BMP-Smad signaling axis-induced osteoblast differentiation. J. Oral Biosci. 54, 73–78 (2012).

Lawson, N. D. & Weinstein, B. M. In vivo imaging of embryonic vascular development using transgenic zebrafish. Dev. Biol. 248, 307–318 (2002).

Alexander, C. et al. Combinatorial roles for BMPs and endothelin 1 in patterning the dorsal–ventral axis of the craniofacial skeleton. Development 138, 5135–5146 (2011).

Chen, Q. et al. Haemodynamics-driven developmental pruning of brain vasculature in zebrafish. PLoS Biol. 10, e1001374 (2012).

Weijts, B. et al. Blood flow-induced Notch activation and endothelial migration enable vascular remodeling in zebrafish embryos. Nat. Commun. 9, 5314 (2018).

Le Noble, F. et al. Flow regulates arterial–venous differentiation in the chick embryo yolk sac. Development 131, 361–375 (2004).

Helker, C. S. M. et al. The zebrafish common cardinal veins develop by a novel mechanism: lumen ensheathment. Development 140, 2776–2786 (2013).

Nishimura, N. et al. Targeted insult to subsurface cortical blood vessels using ultrashort laser pulses: three models of stroke. Nat. Methods 3, 99–108 (2006).

Tsai, P. S. et al. Plasma-mediated ablation: an optical tool for submicrometer surgery on neuronal and vascular systems. Curr. Opin. Biotechnol. 20, 90–99 (2009).

Ganis, J. J. et al. Zebrafish globin switching occurs in two developmental stages and is controlled by the LCR. Dev. Biol. 366, 185–194 (2012).

Tian, Y. et al. The first wave of T lymphopoiesis in zebrafish arises from aorta endothelium independent of hematopoietic stem cells. J. Exp. Med. 214, 3347–3360 (2017).

Cooke, J. E., Kemp, H. A. & Moens, C. B. EphA4 is required for cell adhesion and rhombomere-boundary formation in the zebrafish. Curr. Biol. 15, 536–542 (2005).

Sehnert, A. J. et al. Cardiac troponin T is essential in sarcomere assembly and cardiac contractility. Nat. Genet. 31, 106–110 (2002).

Weijts, B., Tkachenko, E., Traver, D. & Groisman, A. A four-well dish for high-resolution longitudinal imaging of the tail and posterior trunk of larval zebrafish. Zebrafish 14, 489–491 (2017).

Tsai, P. S. & Kleinfeld, D. in In Vivo Optical Imaging of Brain Function (ed. Frostig, R. D.) (CRC Press/Taylor & Francis) Chapter 3, 56–116 (2009).
Acknowledgements
We thank the Animal Facility for zebrafish care (UCSD and Hubrecht Institute). We thank D. Yelon (University of California, San Diego) for the silent heart morpholino, S.-W. Jin (Yale Cardiovascular Research Center) for generously providing us with the hsp70l:noggin plasmid, J. Bakkers (Hubrecht Institute) for the hsp70:bmp2b line, J. den Hertog for the bre:egfp line and P. Tsai for use of the Q-bio laboratory confocal system. We thank J. Santini, N. Gohad (Zeiss) and K. Fertig (Leica) for microscopy technical assistance, the UCSD School of Medicine Microscopy Core, the Princess Máxima Imaging Center and the Hubrecht Institute Optical Imaging Center. This work was supported by the San Diego School of Medicine Microscopy Core (P30 NS047101). We thank R. van der Linden (Hubrecht Institute) for help with cell sorting. Part of this work was supported by a European Research Council grant (ERC project no. 220-H75001EU/HSCOrigin-309361; C.R.), a TOP subsidy from NWO/ZonMw (912.15.017; C.R.), NIH/NINDS R01NS108472 (I.S. and D.K.), NIH/NINDS R35NS097265 (I.S. and D.K.) and NIH R01DK074482 (D.T.).
Ethics declarations
Competing interests
The authors declare no competing interests.
Additional information
Peer review information Nature Cell Biology thanks M. Luisa Iruela-Arispe and the other, anonymous, reviewers for their contribution to the peer review of this work. Peer reviewer reports are available.
Publisher's note Springer Nature remains neutral with regard to jurisdictional claims in published maps and institutional affiliations.
Supplementary information
About this article
Cite this article
Weijts, B., Shaked, I., Ginsberg, M. et al. Endothelial struts enable the generation of large lumenized blood vessels de novo. Nat Cell Biol 23, 322–329 (2021). https://doi.org/10.1038/s41556-021-00664-3
Received:

Accepted:

Published:

Issue Date:

DOI: https://doi.org/10.1038/s41556-021-00664-3
Further reading
Colleen O'Connor
Eileen Brady
Kelly R. Stevens

Nature Reviews Materials (2022)