Abstract
Epigenetic plasticity is a pivotal factor that drives metastasis. Here, we show that the promoter of the gene that encodes the ubiquitin ligase subunit FBXL7 is hypermethylated in advanced prostate and pancreatic cancers, correlating with decreased FBXL7 mRNA and protein levels. Low FBXL7 mRNA levels are predictive of poor survival in patients with pancreatic and prostatic cancers. FBXL7 mediates the ubiquitylation and proteasomal degradation of active c-SRC after its phosphorylation at Ser 104. The DNA-demethylating agent decitabine recovers FBXL7 expression and limits epithelial-to-mesenchymal transition and cell invasion in a c-SRC-dependent manner. In vivo, FBXL7-depleted cancer cells form tumours with a high metastatic burden. Silencing of c-SRC or treatment with the c-SRC inhibitor dasatinib together with FBXL7 depletion prevents metastases. Furthermore, decitabine reduces metastases derived from prostate and pancreatic cancer cells in a FBXL7-dependent manner. Collectively, this research implicates FBXL7 as a metastasis-suppressor gene and suggests therapeutic strategies to counteract metastatic dissemination of pancreatic and prostatic cancer cells.
Access options
Subscribe to Journal
Get full journal access for 1 year
$209.00
only $17.42 per issue
All prices are NET prices.
VAT will be added later in the checkout.
Rent or Buy article
Get time limited or full article access on ReadCube.
from$8.99
All prices are NET prices.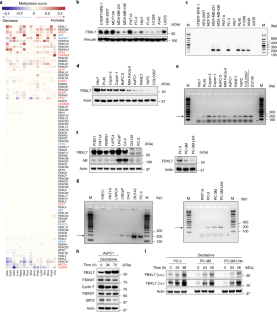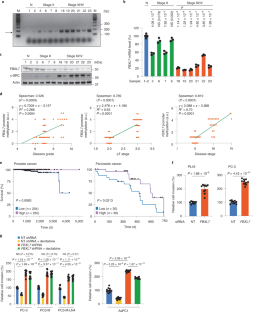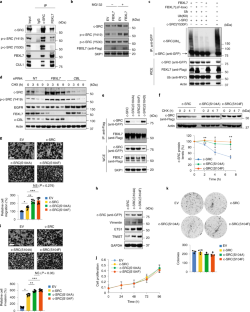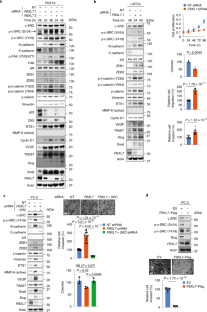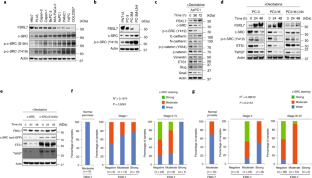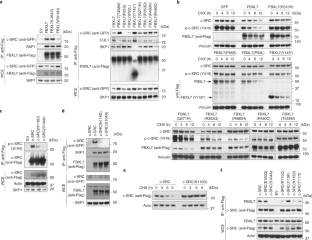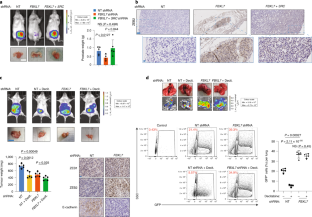 Data availability
The human pancreatic and prostate cancer data reported in Fig. 1a and Extended Data Fig. 1a were derived from the TCGA Research network http://cancergenome.nih.gov/ and the pan-cancer methylation database MethHC11. The datasets derived from the resources that support the findings of this study are reported in the source data. All other data supporting the findings are available from the corresponding authors on reasonable request. Source data are provided with this paper.
References
1.

Lambert, A. W., Pattabiraman, D. R. & Weinberg, R. A. Emerging biological principles of metastasis. Cell 168, 670–691 (2017).

2.

Harper, K. L. et al. Mechanism of early dissemination and metastasis in Her2+ mammary cancer. Nature 540, 588–592 (2016).

3.

Hosseini, H. et al. Early dissemination seeds metastasis in breast cancer. Nature 540, 552–558 (2016).

4.

Patel, S. A. & Vanharanta, S. Epigenetic determinants of metastasis. Mol. Oncol. 11, 79–96 (2016).

5.

Pfeifer, G. P. Defining driver DNA methylation changes in human cancer. Int. J. Mol. Sci. 19, 1166 (2018).

6.

Liu, L. et al. Association of tissue promoter methylation levels of APC, TGFbeta2, HOXD3 and RASSF1A with prostate cancer progression. Int. J. Cancer 129, 2454–2462 (2011).

7.

Skrypek, N., Goossens, S., De Smedt, E., Vandamme, N. & Berx, G. Epithelial-to-mesenchymal transition: epigenetic reprogramming driving cellular plasticity. Trends Genet. 33, 943–959 (2017).

8.

Skaar, J. R., Pagan, J. K. & Pagano, M. SCF ubiquitin ligase-targeted therapies. Nat. Rev. Drug Discov. 13, 889–903 (2014).

9.

Wang, Z., Liu, P., Inuzuka, H. & Wei, W. Roles of F-box proteins in cancer. Nat. Rev. Cancer 14, 233–247 (2014).

10.

Heo, J., Eki, R. & Abbas, T. Deregulation of F-box proteins and its consequence on cancer development, progression and metastasis. Semin. Cancer Biol. 36, 33–51 (2016).

11.

Huang, W. Y. et al. MethHC: a database of DNA methylation and gene expression in human cancer. Nucleic Acids Res. 43, D856–D861 (2015).

12.

Grawenda, A. M. & O'Neill, E. Clinical utility of RASSF1A methylation in human malignancies. Br. J. Cancer 113, 372–381 (2015).

13.

Cunningham, D. & You, Z. In vitro and in vivo model systems used in prostate cancer research. J. Biol. Methods 2, e17 (2015).

14.

Bao, J., Gur, G. & Yarden, Y. Src promotes destruction of c-Cbl: implications for oncogenic synergy between Src and growth factor receptors. Proc. Natl Acad. Sci. USA 100, 2438–2443 (2003).

15.

Pettaway, C. A. et al. Selection of highly metastatic variants of different human prostatic carcinomas using orthotopic implantation in nude mice. Clin. Cancer Res. 2, 1627–1636 (1996).

16.

Mayer, E. L. & Krop, I. E. Advances in targeting SRC in the treatment of breast cancer and other solid malignancies. Clin. Cancer Res. 16, 3526–3532 (2010).

17.

Summy, J. M. & Gallick, G. E. Src family kinases in tumor progression and metastasis. Cancer Metastasis Rev. 22, 337–358 (2003).

18.

Bromann, P. A., Korkaya, H. & Courtneidge, S. A. The interplay between Src family kinases and receptor tyrosine kinases. Oncogene 23, 7957–7968 (2004).

19.

Yokouchi, M. et al. Src-catalyzed phosphorylation of c-Cbl leads to the interdependent ubiquitination of both proteins. J. Biol. Chem. 276, 35185–35193 (2001).

20.

Teckchandani, A. et al. Cullin 5 destabilizes Cas to inhibit Src-dependent cell transformation. J. Cell Sci. 127, 509–520 (2014).

21.

Mertins, P. et al. Proteogenomics connects somatic mutations to signalling in breast cancer. Nature 534, 55–62 (2016).

22.

Schreiber, T. B., Mausbacher, N., Keri, G., Cox, J. & Daub, H. An integrated phosphoproteomics work flow reveals extensive network regulation in early lysophosphatidic acid signaling. Mol. Cell. Proteom. 9, 1047–1062 (2010).

23.

Trinidad, J. C. et al. Global identification and characterization of both O-GlcNAcylation and phosphorylation at the murine synapse. Mol. Cell. Proteom. 11, 215–229 (2012).

24.

Kalluri, R. EMT: when epithelial cells decide to become mesenchymal-like cells. J. Clin. Invest 119, 1417–1419 (2009).

25.

Guarino, M. Src signaling in cancer invasion. J. Cell. Physiol. 223, 14–26 (2010).

26.

Lu, G. et al. Phosphorylation of ETS1 by Src family kinases prevents its recognition by the COP1 tumor suppressor. Cancer Cell 26, 222–234 (2014).

27.

Thaper, D. et al. Targeting Lyn regulates snail family shuttling and inhibits metastasis. Oncogene 36, 3964–3975 (2017).

28.

Mukhopadhyay, D. et al. Hypoxic induction of human vascular endothelial growth factor expression through c-Src activation. Nature 375, 577–581 (1995).

29.

Kozlowski, J. M. et al. Metastatic behavior of human tumor cell lines grown in the nude mouse. Cancer Res. 44, 3522–3529 (1984).

30.

Xie, D. et al. Role of DAB2IP in modulating epithelial-to-mesenchymal transition and prostate cancer metastasis. Proc. Natl Acad. Sci. USA 107, 2485–2490 (2010).

31.

Seifert, L. et al. The necrosome promotes pancreatic oncogenesis via CXCL1 and mincle-induced immune suppression. Nature 532, 245–249 (2016).

32.

Bellon, E., Gebauer, F., Tachezy, M., Izbicki, J. R. & Bockhorn, M. Pancreatic cancer and liver metastases: state of the art. Updates Surg. 68, 247–251 (2016).

33.

Birnbaum, D. J. et al. Genome profiling of pancreatic adenocarcinoma. Genes Chromosomes Cancer 50, 456–465 (2011).

34.

Vazquez-Mena, O. et al. Amplified genes may be overexpressed, unchanged, or downregulated in cervical cancer cell lines. PLoS ONE 7, e32667 (2012).

35.

Iwakawa, R. et al. MYC amplification as a prognostic marker of early-stage lung adenocarcinoma identified by whole genome copy number analysis. Clin. Cancer Res. 17, 1481–1489 (2011).

36.

Boelens, M. C. et al. Genomic aberrations in squamous cell lung carcinoma related to lymph node or distant metastasis. Lung Cancer 66, 372–378 (2009).

37.

Coppola, D. Molecular prognostic markers in pancreatic cancer. Cancer Control 7, 421–427 (2000).

38.

Criscuoli, M. L., Nguyen, M. & Eliceiri, B. P. Tumor metastasis but not tumor growth is dependent on Src-mediated vascular permeability. Blood 105, 1508–1514 (2005).

39.

Zhang, X. H. et al. Latent bone metastasis in breast cancer tied to Src-dependent survival signals. Cancer Cell 16, 67–78 (2009).

40.

Patel, A., Sabbineni, H., Clarke, A. & Somanath, P. R. Novel roles of Src in cancer cell epithelial-to-mesenchymal transition, vascular permeability, microinvasion and metastasis. Life Sci. 157, 52–61 (2016).

41.

Dosch, A. R. et al. Src kinase inhibition restores E-cadherin expression in dasatinib-sensitive pancreatic cancer cells. Oncotarget 10, 1056–1069 (2019).

42.

Irby, R. B. & Yeatman, T. J. Role of Src expression and activation in human cancer. Oncogene 19, 5636–5642 (2000).

43.

Lutz, M. P. et al. Overexpression and activation of the tyrosine kinase Src in human pancreatic carcinoma. Biochem. Biophys. Res. Commun. 243, 503–508 (1998).

44.

Tatarov, O. et al. SRC family kinase activity is up-regulated in hormone-refractory prostate cancer. Clin. Cancer Res. 15, 3540–3549 (2009).

45.

Park, S. I. et al. Targeting SRC family kinases inhibits growth and lymph node metastases of prostate cancer in an orthotopic nude mouse model. Cancer Res. 68, 3323–3333 (2008).

46.

Morton, J. P. et al. Dasatinib inhibits the development of metastases in a mouse model of pancreatic ductal adenocarcinoma. Gastroenterology 139, 292–303 (2010).

47.

Brabletz, T. et al. Invasion and metastasis in colorectal cancer: epithelial-mesenchymal transition, mesenchymal-epithelial transition, stem cells and beta-catenin. Cells Tissues Organs 179, 56–65 (2005).

48.

Liu, Y. et al. The proapoptotic F-box protein Fbxl7 regulates mitochondrial function by mediating the ubiquitylation and proteasomal degradation of survivin. J. Biol. Chem. 290, 11843–11852 (2015).

49.

Coon, T. A., Glasser, J. R., Mallampalli, R. K. & Chen, B. B. Novel E3 ligase component FBXL7 ubiquitinates and degrades aurora A, causing mitotic arrest. Cell Cycle 11, 721–729 (2012).

50.

Duan, S. et al. FBXO11 targets BCL6 for degradation and is inactivated in diffuse large B-cell lymphomas. Nature 481, 90–93 (2012).

51.

Zambirinis, C. P. et al. TLR9 ligation in pancreatic stellate cells promotes tumorigenesis. J. Exp. Med. 212, 2077–2094 (2015).

52.

Borowicz, S. et al. The soft agar colony formation assay. J. Vis. Exp. 92, e51998 (2014).

53.

Ran, F. A. et al. Genome engineering using the CRISPR–Cas9 system. Nat. Protoc. 8, 2281–2308 (2013).

54.

Schade, A. E. et al. Dasatinib, a small-molecule protein tyrosine kinase inhibitor, inhibits T-cell activation and proliferation. Blood 111, 1366–1377 (2008).

55.

Qian, X. L. et al. Dasatinib inhibits c-src phosphorylation and prevents the proliferation of triple-negative breast cancer (tnbc) cells which overexpress syndecan-binding protein (SDCBP). PLoS ONE 12, e0171169 (2017).

56.

Daley, D. et al. γδ T cells support pancreatic oncogenesis by restraining alphabeta T cell activation. Cell 166, e1415 (2016).

57.

Xu, W., Doshi, A., Lei, M., Eck, M. J. & Harrison, S. C. Crystal structures of c-Src reveal features of its autoinhibitory mechanism. Mol. Cell 3, 629–638 (1999).
Acknowledgements
We thank A. Viale for reagents; and S. Courtneidge for reading the manuscript and discussion. M.P. is grateful to T. M. Thor for continuous support. This research was funded by grants from the National Institutes of Health to M.P. (GM136250 and CA76584) and G.M. (CA168611, CA215471 and CA206105) and by the Pancreatic Cancer Action network Translational Research Grant to G.M. M.P. is an Investigator with the Howard Hughes Medical Institute. The NYU Center for Biospecimen Research and Development, Immunohistochemistry Laboratory is supported in part by the Laura and Isaac Perlmutter Cancer Center Support Grant; and NIH/NCI P30CA016087 and the National Institutes of Health S10 Grants (NIH/ORIP S10OD01058 and S10OD018338).
Ethics declarations
Competing interests
M.P. has financial interests in CullGen Inc. and Kymera Therapeutics. M.P. is on the SAB of CullGen Inc. and Kymera Therapeutics. M.P. is a consultant for BeyondSpring Pharmaceuticals, CullGen Inc., Kymera Therapeutics, Exo Therapeutics and SEED Therapeutics. The other authors declare no competing interests.
Additional information
Publisher's note Springer Nature remains neutral with regard to jurisdictional claims in published maps and institutional affiliations.
Supplementary information
Supplementary Tables 1–3.
About this article
Cite this article
Moro, L., Simoneschi, D., Kurz, E. et al. Epigenetic silencing of the ubiquitin ligase subunit FBXL7 impairs c-SRC degradation and promotes epithelial-to-mesenchymal transition and metastasis. Nat Cell Biol 22, 1130–1142 (2020). https://doi.org/10.1038/s41556-020-0560-6
Received:

Accepted:

Published:

Issue Date:
Further reading
Haitang Yang

,

Feng Yao

,

Paul F. Davis

,

Swee T. Tan

&

Sean R. R. Hall

Cancers (2021)

Loredana Moro

&

Michele Pagano

Molecular & Cellular Oncology (2020)