Abstract
During mouse embryonic development, pluripotent cells rapidly divide and diversify, yet the regulatory programs that define the cell repertoire for each organ remain ill-defined. To delineate comprehensive chromatin landscapes during early organogenesis, we mapped chromatin accessibility in 19,453 single nuclei from mouse embryos at 8.25 days post-fertilization. Identification of cell-type-specific regions of open chromatin pinpointed two TAL1-bound endothelial enhancers, which we validated using transgenic mouse assays. Integrated gene expression and transcription factor motif enrichment analyses highlighted cell-type-specific transcriptional regulators. Subsequent in vivo experiments in zebrafish revealed a role for the ETS factor FEV in endothelial identity downstream of ETV2 (Etsrp in zebrafish). Concerted in vivo validation experiments in mouse and zebrafish thus illustrate how single-cell open chromatin maps, representative of a mammalian embryo, provide access to the regulatory blueprint for mammalian organogenesis.
Access options
Subscribe to Journal
Get full journal access for 1 year
$59.00
only $4.92 per issue
All prices are NET prices.
VAT will be added later in the checkout.
Tax calculation will be finalised during checkout.
Rent or Buy article
Get time limited or full article access on ReadCube.
from$8.99
All prices are NET prices.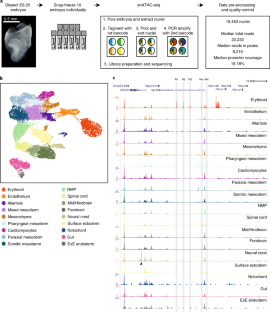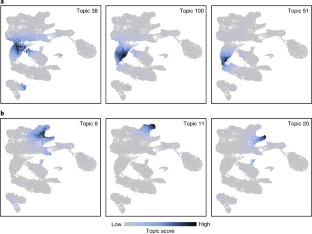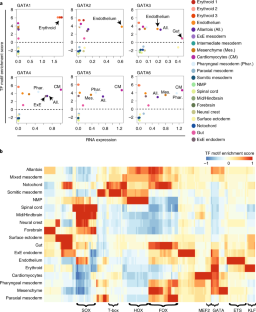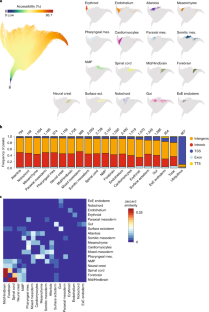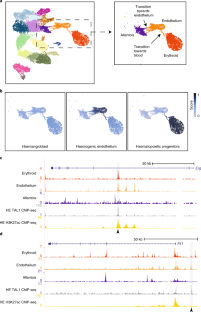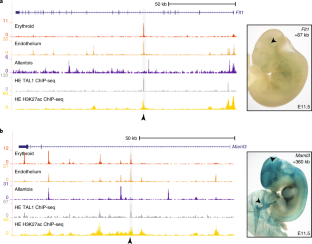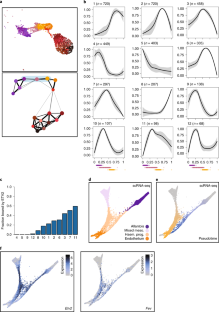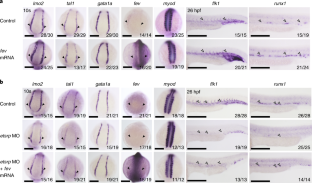 References
1.

Cao, J. et al. Joint profiling of chromatin accessibility and gene expression in thousands of single cells. Science 361, 1380–1385 (2018).

2.

Cusanovich, D. A. et al. Multiplex single-cell profiling of chromatin accessibility by combinatorial cellular indexing. Science 348, 910–914 (2015).

3.

Pijuan-Sala, B., Guibentif, C. & Göttgens, B. Single-cell transcriptional profiling: a window into embryonic cell-type specification. Nat. Rev. Mol. Cell Biol. 19, 399–412 (2018).

4.

Preissl, S. et al. Single-nucleus analysis of accessible chromatin in developing mouse forebrain reveals cell-type-specific transcriptional regulation. Nat. Neurosci. 21, 432–439 (2018).

5.

Cusanovich, D. A. et al. The cis-regulatory dynamics of embryonic development at single-cell resolution. Nature 555, 538–542 (2018).

6.

Cao, J. et al. The single-cell transcriptional landscape of mammalian organogenesis. Nature 566, 496 (2019).

7.

Ibarra-Soria, X. et al. Defining murine organogenesis at single-cell resolution reveals a role for the leukotriene pathway in regulating blood progenitor formation. Nat. Cell Biol. 20, 127–134 (2018).

8.

Pijuan-Sala, B. et al. A single-cell molecular map of mouse gastrulation and early organogenesis. Nature 566, 490 (2019).

9.

González-Blas, C. B. et al. cisTopic: cis-regulatory topic modeling on single-cell ATAC-seq data. Nat. Methods 16, 397–400 (2019).

10.

Bellomo, D., Lander, A., Harragan, I. & Brown, N. A. Cell proliferation in mammalian gastrulation: the ventral node and notochord are relatively quiescent. Dev. Dyn. 205, 471–485 (1996).

11.

Ilgren, E. B. Polyploidization of extraembryonic tissues during mouse embryogenesis. Development 59, 103–111 (1980).

12.

Anguita, E. et al. Deletion of the mouse α-globin regulatory element (HS−26) has an unexpectedly mild phenotype. Blood 100, 3450–3456 (2002).

13.

Hay, D. et al. Genetic dissection of the α-globin super-enhancer in vivo. Nat. Genet. 48, 895–903 (2016).

14.

Hughes, J. R. et al. Annotation of cis-regulatory elements by identification, subclassification, and functional assessment of multispecies conserved sequences. Proc. Natl Acad. Sci. USA 102, 9830–9835 (2005).

15.

Craig, M. L. & Russell, E. S. A developmental change in hemoglobins correlated with an embryonic red cell population in the mouse. Dev. Biol. 10, 191–201 (1964).

16.

Hanssen, L. L. P. et al. Tissue-specific CTCF–cohesin-mediated chromatin architecture delimits enhancer interactions and function in vivo. Nat. Cell Biol. 19, 952–961 (2017).

17.

Tzouanacou, E., Wegener, A., Wymeersch, F. J., Wilson, V. & Nicolas, J.-F. Redefining the progression of lineage segregations during mammalian embryogenesis by clonal analysis. Dev. Cell 17, 365–376 (2009).

18.

Tremblay, M., Sanchez-Ferras, O. & Bouchard, M. GATA transcription factors in development and disease. Development 145, dev164384 (2018).

19.

Schep, A. N., Wu, B., Buenrostro, J. D. & Greenleaf, W. J. chromVAR: inferring transcription-factor-associated accessibility from single-cell epigenomic data. Nat. Methods 14, 975–978 (2017).

20.

Moon, K. R. et al. Visualizing structure and transitions in high-dimensional biological data. Nat. Biotechnol. 37, 1482–1492 (2019).

21.

Ralston, A. et al. Gata3 regulates trophoblast development downstream of Tead4 and in parallel to Cdx2. Development 137, 395–403 (2010).

22.

Nuez, B., Michalovich, D., Bygrave, A., Ploemacher, R. & Grosveld, F. Defective haematopoiesis in fetal liver resulting from inactivation of the EKLF gene. Nature 375, 316 (1995).

23.

Parkins, A. C., Sharpe, A. H. & Orkin, S. H. Lethal β-thalassaemia in mice lacking the erythroid CACCC-transcription factor EKLF. Nature 375, 318 (1995).

24.

Desjardins, C. A. & Naya, F. J. The function of the MEF2 family of transcription factors in cardiac development, cardiogenomics, and direct reprogramming. J. Cardiovasc. Dev. Dis. 3, 26 (2016).

25.

Kallianpur, A. R., Jordan, J. E. & Brandt, S. J. The SCL/TAL-1 gene is expressed in progenitors of both the hematopoietic and vascular systems during embryogenesis. Blood 83, 1200–1208 (1994).

26.

Shivdasani, R. A., Mayer, E. L. & Orkin, S. H. Absence of blood formation in mice lacking the T-cell leukaemia oncoprotein tal-1/SCL. Nature 373, 432–434 (1995).

27.

Silver, L. & Palis, J. Initiation of murine embryonic erythropoiesis: a spatial analysis. Blood 89, 1154–1164 (1997).

28.

Palis, J. Hematopoietic stem cell‐independent hematopoiesis: emergence of erythroid, megakaryocyte, and myeloid potential in the mammalian embryo. FEBS Lett. 590, 3965–3974 (2016).

29.

Downs, K. M., Gifford, S., Blahnik, M. & Gardner, R. L. Vascularization in the murine allantois occurs by vasculogenesis without accompanying erythropoiesis. Dev. Camb. Engl. 125, 4507–4520 (1998).

30.

Ng, C. E. L. et al. A Runx1 intronic enhancer marks hemogenic endothelial cells and hematopoietic stem cells. Stem Cells 28, 1869–1881 (2010).

31.

Nottingham, W. T. et al. Runx1-mediated hematopoietic stem-cell emergence is controlled by a Gata/Ets/SCL-regulated enhancer. Blood 110, 4188–4197 (2007).

32.

Goode, D. K. et al. Dynamic gene regulatory networks drive hematopoietic specification and differentiation. Dev. Cell 36, 572–587 (2016).

33.

Beck, D. et al. Genome-wide analysis of transcriptional regulators in human HSPCs reveals a densely interconnected network of coding and noncoding genes. Blood 122, e12–e22 (2013).

34.

Wilson, N. K. et al. Combinatorial transcriptional control in blood stem/progenitor cells: genome-wide analysis of ten major transcriptional regulators. Cell Stem Cell 7, 532–544 (2010).

35.

Pinto do O, P., Kolterud, A. & Carlsson, L. Expression of the LIM-homeobox gene LH2 generates immortalized steel factor-dependent multipotent hematopoietic precursors. EMBO J. 17, 5744–5756 (1998).

36.

Butko, E., Pouget, C. & Traver, D. Complex regulation of HSC emergence by the Notch signaling pathway. Dev. Biol. 409, 129–138 (2016).

37.

Kothary, R. et al. A transgene containing lacZ inserted into the dystonia locus is expressed in neural tube. Nature 335, 435 (1988).

38.

Pennacchio, L. A. et al. In vivo enhancer analysis of human conserved non-coding sequences. Nature 444, 499 (2006).

39.

Craig, M. P. & Sumanas, S. ETS transcription factors in embryonic vascular development. Angiogenesis 19, 275–285 (2016).

40.

Koyano-Nakagawa, N. et al. Etv2 is expressed in the yolk sac hematopoietic and endothelial progenitors and regulates Lmo2 gene expression. Stem Cells 30, 1611–1623 (2012).

41.

Liu, F. et al. Induction of hematopoietic and endothelial cell program orchestrated by ETS transcription factor ER71/ETV2. EMBO Rep. 16, 654–669 (2015).

42.

Wang, L. et al. Fev regulates hematopoietic stem cell development via ERK signaling. Blood 122, 367–375 (2013).

43.

Pham, V. N. et al. Combinatorial function of ETS transcription factors in the developing vasculature. Dev. Biol. 303, 772–783 (2007).

44.

Landry, J.-R. et al. Expression of the leukemia oncogene Lmo2 is controlled by an array of tissue-specific elements dispersed over 100 kb and bound by Tal1/Lmo2, Ets, and Gata factors. Blood 113, 5783–5792 (2009).

45.

Göttgens, B. Establishing the transcriptional programme for blood: the SCL stem cell enhancer is regulated by a multiprotein complex containing Ets and GATA factors. EMBO J. 21, 3039–3050 (2002).

46.

Göttgens, B. et al. The scl +18/19 stem cell enhancer is not required for hematopoiesis: identification of a 5′ bifunctional hematopoietic-endothelial enhancer bound by Fli-1 and Elf-1. Mol. Cell. Biol. 24, 1870–1883 (2004).

47.

Fang, R.et al. Fast and accurate clustering of single cell epigenomes reveals cis-regulatory elements in rare cell types. Preprint available at https://www.biorxiv.org/content/10.1101/615179v2 (2019).

48.

Corces, M. R. et al. An improved ATAC-seq protocol reduces background and enables interrogation of frozen tissues. Nat. Methods 14, 959–962 (2017).

49.

Langmead, B. & Salzberg, S. L. Fast gapped-read alignment with Bowtie 2. Nat. Methods 9, 357–359 (2012).

50.

Zhang, Y. et al. Model-based analysis of ChIP-Seq (MACS). Genome Biol. 9, R137 (2008).

51.

The ENCODE Project Consortium. An integrated encyclopedia of DNA elements in the human genome. Nature 489, 57–74 (2012).

52.

Wolock, S. L., Lopez, R. & Klein, A. M. Scrublet: computational identification of cell doublets in single-cell transcriptomic data. Preprint at https://www.biorxiv.org/content/10.1101/357368v1 (2018).

53.

Heinz, S. et al. Simple combinations of lineage-determining transcription factors prime cis-regulatory elements required for macrophage and B cell identities. Mol. Cell 38, 576–589 (2010).

54.

Kimmel, C. B., Ballard, W. W., Kimmel, S. R., Ullmann, B. & Schilling, T. F. Stages of embryonic development of the zebrafish. Dev. Dyn. 203, 253–310 (1995).

55.

Sumanas, S. & Lin, S. Ets1-related protein is a key regulator of vasculogenesis in zebrafish. PLoS Biol. 4, e10 (2006).

56.

Xue, Y. et al. A 3D atlas of hematopoietic stem and progenitor cell expansion by multi-dimensional RNA-seq analysis. Cell Rep. 27, 1567–1578.e5 (2019).
Acknowledgements
We thank B. Ren and K. Zhang for making this collaboration between the University of California San Diego and the University of Cambridge possible; I. Imaz-Rosshandler for statistical advice; T. L. Hamilton and Central Biomedical Services for technical support in embryo collection; and R. Fang for kindly providing us with the list of constitutive promoters. We also thank S. Kuan for sequencing and B. Li for bioinformatics support. We would like to extend our gratitude to the QB3 Macrolab at UC Berkeley for purification of the Tn5 transposase. B.P.-S. is funded by the Wellcome Trust 4-Year PhD Programme in Stem Cell Biology and Medicine and the University of Cambridge, UK. B.P.-S was awarded a Travelling Fellowship from The Company of Biologists (DEV–180505) to perform this study. Research in the authors' laboratories is supported by the Wellcome, MRC, Bloodwise, CRUK and NIH-NIDDK; as well as core support grants from the Wellcome to the Wellcome-MRC Cambridge Stem Cell Institute. This work was funded as part of a Wellcome Strategic Award (105031/Z/14/Z) awarded to W. Reik, B.G., J. Marioni, J. Nichols, L. Vallier, S. Srinivas, B. Simons, S. Teichmann and T. Voet. Work at the Center for Epigenomics was supported in part by the UC San Diego School of Medicine.
Ethics declarations
Competing interests
The authors declare no competing interests.
Additional information
Publisher's note Springer Nature remains neutral with regard to jurisdictional claims in published maps and institutional affiliations.
Supplementary information
Supplementary Tables 1. Nuclear barcodes. Barcode sequences used to label nuclei in single-nucleus ATAC-seq. File tabs: I1_index_Tn5_i7: tagmentation barcodes used in the first two plates; I2_E85_embryo_all, I2_E85_embryo_smallnuclei_2n, E85_embryo_largenuclei_4n: barcodes added to nuclei in the PCR step for the sample sorted indiscriminately, the sample sorted in the "2n" gate and the sample sorted in the "4n" gate of Extended Data Fig. 1b, respectively. Supplementary Table 2. Number of reads per sequencing run. Table indicating the number of reads sequenced in each run. Each read pair from the paired-end sequencing is counted as 2 reads. Supplementary Table 3. Retained reads throughout the pre-processing pipeline. Table specifying the number of reads in the different categories highlighted in the row names. Supplementary Table 4. Constitutive promoters. List of mm10 constitutive promoters, containing the coordinates of 5,006 promoters (TSS / TSS – 2 kb) that are accessible in the majority of datasets based on ENCODE DNase Hypersensitive Sites and ATAC-seq data. This list was originally generated for ref. 4. Supplementary Table 5. Metadata for each nucleus. File containing information for each nucleus analysed in this study that passed quality control (19,453 nuclei). For each nucleus, we have provided the barcode ("barcode" column), gating based on DNA content from Extended Data Fig. 1b ("nuclei_type" column), number of reads ("num_of_reads" column), promoter coverage ("promoter_coverage" column), number of reads in promoters ("read_in_promoter" column), doublet scores ("doublet_scores" column), number of reads in peaks ("read_in_peak" column), ratio of reads in peaks ("ratio_peaks" column), UMAP coordinates ("umap_X" and "umap_Y" columns), final clusters ("final_clusters" column), cell type annotation ("ann" column) and sub-clusters for the allantoic-haemato-endothelial landscape ("al_haem_endo_clusters" column). Values for each topic are also included. Supplementary Table 6. Metadata for each genomic region. File containing information for each genomic region analysed in this study. For each genomic region, we have provided the peak ID; peak coordinates (chromosome, start and end); their general annotation (TSS (−1kb to +100 bp), TTS (−100 bp to +1 kb), intron, exon, intergenic); their distance from the TSS that have been annotated to if the region is intergenic; and the gene name, ensemble ID and strand of the genes they has been annotated to (if multiple genes have been annotated to the peak, the peak entry will be repeated). If the region is cell-type-specific, the cell type(s) where it is specific can be found in the "celltype_specificity" column. If the region contributes to a particular topic, you can find what topic(s) it contributes to in the "topic" column. "topic_stringent" gives the topic information if the regions only contribute to one topic. This table also gives information on the UMAP coordinates for visualisation in Fig. 4a, and the number of nuclei with each genomic region accessible in linear ("accessibility") and log10 form ("accessibility_log"). If the region is part of a dynamic pattern during endothelial establishment, you will find the pattern number in the "Pattern_endothelium" column. Please note that some peak entries may be repeated due to them being annotated to multiple genes. Therefore, if one wants to plot unique regions independently of metadata regarding gene annotation, we advise to make metadata unique by using the peakID column. Supplementary Table 7. Endothelial-specific TAL1-bound open chromatin regions. File containing the coordinates of endothelial-specific open chromatin regions that intersect with TAL1 ChIP-seq peaks from haemogenic endothelium. Supplementary Table 8. Endothelial-specific heptad-bound open chromatin regions. File containing the coordinates of endothelial-specific open chromatin regions, already intersected with TAL1 ChIP-seq peaks from haemogenic endothelium, that intersect with HPC-7 ChIP-seq peaks reported as heptad peaks in ref. 34. Supplementary Table 9. Mouse transgenic assays in numbers. Number of E11.5 mouse transgenic embryos with LacZ staining in different regions (column names). FL: Fetal Liver. YS: Yolk Sac. Supplementary Table 10. Metadata for single-cell RNA-seq samples. File containing information for each cell from ref. 8 analysed in this study. For each cell (row), we have provided the cell name, cell barcode, sample stage, sequencing batch and cell type as in ref. 8. Additionally, we provide the force-directed graph coordinates computed for Fig. 7d-f and Extended Data Fig. 9e ("FA_X", "FA_Y"), the subcluster identity ("Louvain subclust"), the pseudotime values for the allantoic-to-endothelium trajectory ("DPT_al") and for the mesoderm-to-endothelium trajectory ("DPT_meso").
About this article
Cite this article
Pijuan-Sala, B., Wilson, N.K., Xia, J. et al. Single-cell chromatin accessibility maps reveal regulatory programs driving early mouse organogenesis. Nat Cell Biol 22, 487–497 (2020). https://doi.org/10.1038/s41556-020-0489-9
Received:

Accepted:

Published:

Issue Date: