Abstract
In mouse embryonic stem cells (mESCs), chemical blockade of Gsk3α/β and Mek1/2 (2i) instructs a self-renewing ground state whose endogenous inducers are unknown. Here we show that the axon guidance cue Netrin-1 promotes naive pluripotency by triggering profound signalling, transcriptomic and epigenetic changes in mESCs. Furthermore, we demonstrate that Netrin-1 can substitute for blockade of Gsk3α/β and Mek1/2 to sustain self-renewal of mESCs in combination with leukaemia inhibitory factor and regulates the formation of the mouse pluripotent blastocyst. Mechanistically, we reveal how Netrin-1 and the balance of its receptors Neo1 and Unc5B co-regulate Wnt and MAPK pathways in both mouse and human ESCs. Netrin-1 induces Fak kinase to inactivate Gsk3α/β and stabilize β-catenin while increasing the phosphatase activity of a Ppp2r2c-containing Pp2a complex to reduce Erk1/2 activity. Collectively, this work identifies Netrin-1 as a regulator of pluripotency and reveals that it mediates different effects in mESCs depending on its receptor dosage, opening perspectives for balancing self-renewal and lineage commitment.
Access options
Subscribe to Journal
Get full journal access for 1 year
$99.00
only $8.25 per issue
All prices are NET prices.
VAT will be added later in the checkout.
Tax calculation will be finalised during checkout.
Rent or Buy article
Get time limited or full article access on ReadCube.
from$8.99
All prices are NET prices.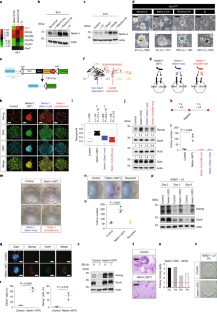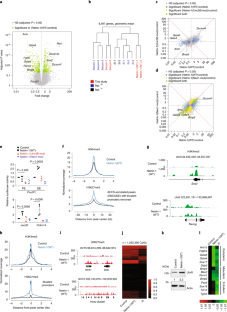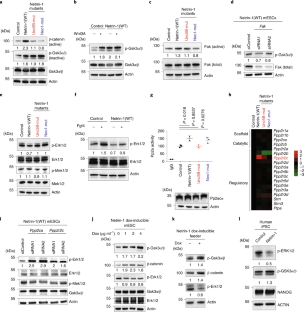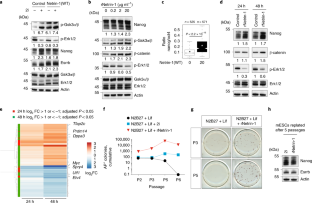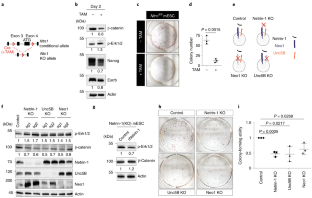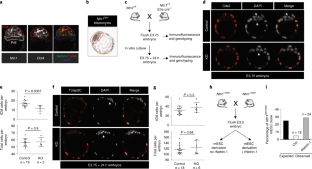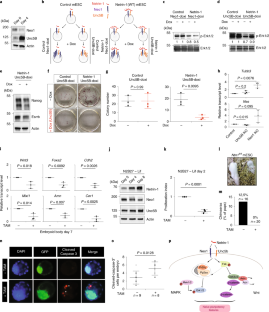 Data availability
Deep sequencing and ChIP–seq data that support the findings of this study have been deposited in the Gene Expression Omnnibus under accession code GSE102831. Previously published sequencing data that were re-analysed here are available under accession code E-MTAB-2958, E-MTAB-2959 (ref. 31), GSE81285 (ref. 30) and GSE31381 (ref. 52). All other data supporting the findings of this study are available from the corresponding author on reasonable request.
References
1.

Evans, M. J. & Kaufman, M. H. Establishment in culture of pluripotential cells from mouse embryos. Nature 292, 154–156 (1981).

2.

Martin, G. R. Isolation of a pluripotent cell line from early mouse embryos cultured in medium conditioned by teratocarcinoma stem cells. Proc. Natl Acad. Sci. USA 78, 7634–7638 (1981).

3.

Dunn, S. J., Martello, G., Yordanov, B., Emmott, S. & Smith, A. G. Defining an essential transcription factor program for naive pluripotency. Science 344, 1156–1160 (2014).

4.

Williams, R. L. et al. Myeloid leukaemia inhibitory factor maintains the developmental potential of embryonic stem cells. Nature 336, 684–687 (1988).

5.

Sato, N., Meijer, L., Skaltsounis, L., Greengard, P. & Brivanlou, A. H. Maintenance of pluripotency in human and mouse embryonic stem cells through activation of Wnt signaling by a pharmacological GSK-3-specific inhibitor. Nat. Med. 10, 55–63 (2004).

6.

Ying, Q. L., Nichols, J., Chambers, I. & Smith, A. BMP induction of Id proteins suppresses differentiation and sustains embryonic stem cell self-renewal in collaboration with STAT3. Cell 115, 281–292 (2003).

7.

Kunath, T. et al. FGF stimulation of the Erk1/2 signalling cascade triggers transition of pluripotent embryonic stem cells from self-renewal to lineage commitment. Development 134, 2895–2902 (2007).

8.

Marks, H. et al. The transcriptional and epigenomic foundations of ground state pluripotency. Cell 149, 590–604 (2012).

9.

Ying, Q. L. et al. The ground state of embryonic stem cell self-renewal. Nature 453, 519–523 (2008).

10.

Ficz, G. et al. FGF signaling inhibition in ESCs drives rapid genome-wide demethylation to the epigenetic ground state of pluripotency. Cell Stem Cell 13, 351–359 (2013).

11.

Buehr, M. et al. Capture of authentic embryonic stem cells from rat blastocysts. Cell 135, 1287–1298 (2008).

12.

Li, P. et al. Germline competent embryonic stem cells derived from rat blastocysts. Cell 135, 1299–1310 (2008).

13.

Choi, J. et al. Prolonged Mek1/2 suppression impairs the developmental potential of embryonic stem cells. Nature 548, 219–223 (2017).

14.

Serafini, T. et al. The netrins define a family of axon outgrowth-promoting proteins homologous to C. elegans UNC-6. Cell 78, 409–424 (1994).

15.

Kennedy, T. E., Serafini, T., de la Torre, J. R. & Tessier-Lavigne, M. Netrins are diffusible chemotropic factors for commissural axons in the embryonic spinal cord. Cell 78, 425–435 (1994).

16.

Cirulli, V. & Yebra, M. Netrins: beyond the brain. Nat. Rev. Mol. Cell Biol. 8, 296–306 (2007).

17.

Grandin, M. et al. Structural decoding of the netrin-1/UNC5 interaction and its therapeutical implications in cancers. Cancer Cell 29, 173–185 (2016).

18.

Bell, C. H. et al. Structure of the repulsive guidance molecule (RGM)-neogenin signaling hub. Science 341, 77–80 (2013).

19.

Rajagopalan, S. et al. Neogenin mediates the action of repulsive guidance molecule. Nat. Cell Biol. 6, 756–762 (2004).

20.

Xu, K. et al. Neural migration. Structures of netrin-1 bound to two receptors provide insight into its axon guidance mechanism. Science 344, 1275–1279 (2014).

21.

Ko, S. Y., Dass, C. R. & Nurgali, K. Netrin-1 in the developing enteric nervous system and colorectal cancer. Trends Mol. Med. 18, 544–554 (2012).

22.

Hong, K. et al. A ligand-gated association between cytoplasmic domains of UNC5 and DCC family receptors converts netrin-induced growth cone attraction to repulsion. Cell 97, 927–941 (1999).

23.

Lu, X. et al. The netrin receptor UNC5B mediates guidance events controlling morphogenesis of the vascular system. Nature 432, 179–186 (2004).

24.

Ozmadenci, D. et al. Netrin-1 regulates somatic cell reprogramming and pluripotency maintenance. Nat. Commun. 6, 7398 (2015).

25.

Rajasekharan, S. & Kennedy, T. E. The netrin protein family. Genome Biol 10, 239 (2009).

26.

Wray, J. et al. Inhibition of glycogen synthase kinase-3 alleviates Tcf3 repression of the pluripotency network and increases embryonic stem cell resistance to differentiation. Nat. Cell Biol. 13, 838–845 (2011).

27.

Skarnes, W. C., Moss, J. E., Hurtley, S. M. & Beddington, R. S. Capturing genes encoding membrane and secreted proteins important for mouse development. Proc. Natl Acad. Sci. USA 92, 6592–6596 (1995).

28.

Kumar, R. M. et al. Deconstructing transcriptional heterogeneity in pluripotent stem cells. Nature 516, 56–61 (2014).

29.

Guo, G. et al. Serum-based culture conditions provoke gene expression variability in mouse embryonic stem cells as revealed by single-cell analysis. Cell Rep. 14, 956–965 (2016).

30.

Bulut-Karslioglu, A. et al. Inhibition of mTOR induces a paused pluripotent state. Nature 540, 119–123 (2016).

31.

Boroviak, T. et al. Lineage-specific profiling delineates the emergence and progression of naive pluripotency in mammalian embryogenesis. Developmental Cell 35, 366–382 (2015).

32.

Galonska, C., Ziller, M. J., Karnik, R. & Meissner, A. Ground state conditions induce rapid reorganization of core pluripotency factor binding before global epigenetic reprogramming. Cell Stem Cell 17, 462–470 (2015).

33.

Habibi, E. et al. Whole-genome bisulfite sequencing of two distinct interconvertible DNA methylomes of mouse embryonic stem cells. Cell Stem Cell 13, 360–369 (2013).

34.

von Meyenn, F. et al. Impairment of DNA methylation maintenance is the main cause of global demethylation in naive embryonic stem cells. Molecular Cell 62, 848–861 (2016).

35.

Beurel, E., Grieco, S. F. & Jope, R. S. Glycogen synthase kinase-3 (GSK3): regulation, actions, and diseases. Pharmacol. Ther. 148, 114–131 (2015).

36.

Guenebeaud, C. et al. The dependence receptor UNC5H2/B triggers apoptosis via PP2A-mediated dephosphorylation of DAP kinase. Molecular Cell 40, 863–876 (2010).

37.

Ren, X. R. et al. Focal adhesion kinase in netrin-1 signaling. Nat. Neurosci. 7, 1204–1212 (2004).

38.

Liu, G. et al. Netrin requires focal adhesion kinase and Src family kinases for axon outgrowth and attraction. Nat. Neurosci. 7, 1222–1232 (2004).

39.

Moore, S. W. & Kennedy, T. E. Protein kinase A regulates the sensitivity of spinal commissural axon turning to netrin-1 but does not switch between chemoattraction and chemorepulsion. J. Neurosci. 26, 2419–2423 (2006).

40.

Qu, C. et al. c-Jun N-terminal kinase 1 (JNK1) is required for coordination of netrin signaling in axon guidance. J. Biol. Chem. 288, 1883–1895 (2013).

41.

Gao, C. et al. FAK/PYK2 promotes the Wnt/β-catenin pathway and intestinal tumorigenesis by phosphorylating GSK3β. eLife 4, e10072 (2015).

42.

Sangodkar, J. et al. All roads lead to PP2A: exploiting the therapeutic potential of this phosphatase. FEBS J. 283, 1004–1024 (2016).

43.

Batut, J. et al. Two highly related regulatory subunits of PP2A exert opposite effects on TGF-β/Activin/Nodal signalling. Development 135, 2927–2937 (2008).

44.

Dominici, C. et al. Floor-plate-derived netrin-1 is dispensable for commissural axon guidance. Nature 545, 350–354 (2017).

45.

Bin, J. M. et al. Complete loss of netrin-1 results in embryonic lethality and severe axon guidance defects without increased neural cell death. Cell Rep. 12, 1099–1106 (2015).

46.

Nakamura, T. et al. A developmental coordinate of pluripotency among mice, monkeys and humans. Nature 537, 57–62 (2016).

47.

Heffner, C. S. et al. Supporting conditional mouse mutagenesis with a comprehensive cre characterization resource. Nat. Commun. 3, 1218 (2012).

48.

Hayashi, K., Ohta, H., Kurimoto, K., Aramaki, S. & Saitou, M. Reconstitution of the mouse germ cell specification pathway in culture by pluripotent stem cells. Cell 146, 519–532 (2011).

49.

ten Berge, D. et al. Embryonic stem cells require Wnt proteins to prevent differentiation to epiblast stem cells. Nat. Cell Biol. 13, 1070–1075 (2011).

50.

Mitra, S. K. & Schlaepfer, D. D. Integrin-regulated FAK–Src signaling in normal and cancer cells. Curr. Opin. Cell Biol. 18, 516–523 (2006).

51.

Nichols, J., Chambers, I., Taga, T. & Smith, A. Physiological rationale for responsiveness of mouse embryonic stem cells to gp130 cytokines. Development 128, 2333–2339 (2001).

52.

Correa-Cerro, L. S. et al. Generation of mouse ES cell lines engineered for the forced induction of transcription factors. Sci. Rep. 1, 167 (2011).
Acknowledgements
We are grateful to the PBES Lyon for technical assistance. We thank V. Azuara and D. Stupack for critical reading of the manuscript and L. Favre-Louis for technical assistance. This work was supported by institutional grants from INSERM/CNRS, Atip-avenir, Plan cancer, La ligue contre le cancer nationale et régionale (F.L.), INCa (F.L.), Fondation ARC (F.L., G.F. and D.O.), Centre Léon Bérard (F.L. and A.H.), Fondation pour la recherche médicale (F.L.), National Institutes of Health (R01-HD081534 (B.J.M.)), ANR (P.M.), ERC (P.M.) Max Planck Society (A.M.) and the DFG Forschergruppe 2722 (M.K.).
Ethics declarations
Competing interests
The authors declare no competing interests.
Additional information
Publisher's note Springer Nature remains neutral with regard to jurisdictional claims in published maps and institutional affiliations.
Supplementary information
Sequences, antibodies and primers.
About this article
Cite this article
Huyghe, A., Furlan, G., Ozmadenci, D. et al. Netrin-1 promotes naive pluripotency through Neo1 and Unc5b co-regulation of Wnt and MAPK signalling. Nat Cell Biol 22, 389–400 (2020). https://doi.org/10.1038/s41556-020-0483-2
Received:

Accepted:

Published:

Issue Date:
Further reading
Meng Zhang

,

Zhou Zhou

,

Xue-kai Pan

,

Yun-jiao Zhou

,

Hai-ou Li

,

Pei-shan Qiu

,

Meng-na Zhang

,

Ru-yi Peng

,

Hai-zhou Wang

,

Lan Liu

,

Jing Liu

&

Qiu Zhao

Cancer Cell International (2020)