Abstract
Mapping of the holistic cell behaviours sculpting the four-chambered mammalian heart has been a goal or previous studies, but so far only success in transparent invertebrates and lower vertebrates with two-chambered hearts has been achieved. Using a live-imaging system comprising a customized vertical light-sheet microscope equipped with a mouse embryo culture module, a heartbeat-gated imaging strategy and a digital image processing framework, we realized volumetric imaging of developing mouse hearts at single-cell resolution and with uninterrupted cell lineages for up to 1.5 d. Four-dimensional landscapes of Nppa+ cardiomyocyte cell behaviours revealed a blueprint for ventricle chamber formation by which biased outward migration of the outermost cardiomyocytes is coupled with cell intercalation and horizontal division. The inner-muscle architecture of trabeculae was developed through dual mechanisms: early fate segregation and transmural cell arrangement involving both oriented cell division and directional migration. Thus, live-imaging reconstruction of uninterrupted cell lineages affords a transformative means for deciphering mammalian organogenesis.
Your institute does not have access to this article
Relevant articles
Open Access articles citing this article.
Isaac Esteban

,

Patrick Schmidt

…

Miguel Torres

Nature Cardiovascular Research Open Access 16 May 2022

Siyuan Hou

,

Zongcheng Li

…

Yu Lan

Cell Research Open Access 25 January 2022
Access options
Subscribe to Nature+
Get immediate online access to the entire Nature family of 50+ journals
Subscribe to Journal
Get full journal access for 1 year
$99.00
only $8.25 per issue
All prices are NET prices.
VAT will be added later in the checkout.
Tax calculation will be finalised during checkout.
Buy article
Get time limited or full article access on ReadCube.
$32.00
All prices are NET prices.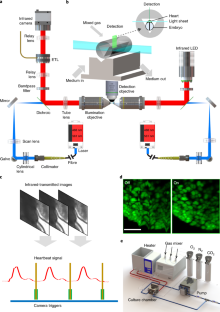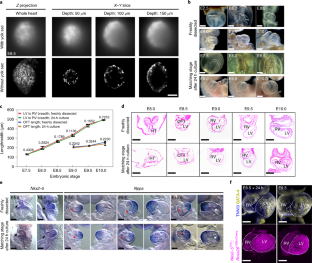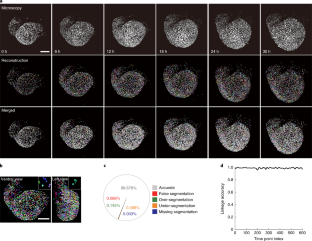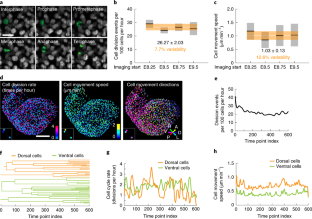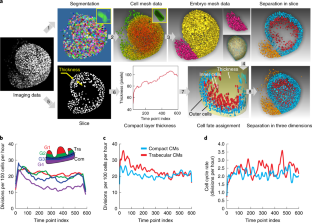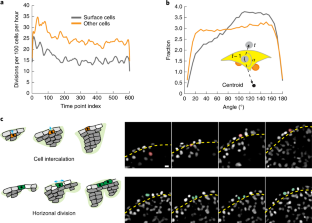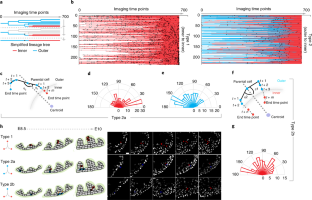 References
Meilhac, S. M., Lescroart, F., Blanpain, C. & Buckingham, M. E. Cardiac cell lineages that form the heart. Cold Spring Harb. Perspect. Med. 4, a013888 (2014).

Kelly, R. G., Buckingham, M. E. & Moorman, A. F. Heart fields and cardiac morphogenesis. Cold Spring Harb. Perspect. Med. 4, a015750 (2014).

Vincent, S. D. & Buckingham, M. E. How to make a heart: the origin and regulation of cardiac progenitor cells. Curr. Top. Dev. Biol. 90, 1–41 (2010).

Sedmera, D., Pexieder, T., Vuillemin, M., Thompson, R. P. & Anderson, R. H. Developmental patterning of the myocardium. Anat. Rec. 258, 319–337 (2000).

Hoffman, J. I. E., Kaplan, S. & Liberthson, R. R. Prevalence of congenital heart disease. Am. Heart J. 147, 425–439 (2004).

Keller, P. J., Schmidt, A. D., Wittbrodt, J. & Stelzer, E. H. K. Reconstruction of zebrafish early embryonic development by scanned light sheet microscopy. Science 322, 1065–1069 (2008).

Ichikawa, T. et al. Live imaging and quantitative analysis of gastrulation in mouse embryos using light-sheet microscopy and 3D tracking tools. Nat. Protoc. 9, 575–585 (2014).

Amat, F. et al. Fast, accurate reconstruction of cell lineages from large-scale fluorescence microscopy data. Nat. Methods 11, 951–958 (2014).

McDole, K. et al. In toto imaging and reconstruction of post-implantation mouse development at the single-cell level. Cell 175, 859–876.e33 (2018).

Chen, B. C. et al. Lattice light-sheet microscopy: imaging molecules to embryos at high spatiotemporal resolution. Science 346, 1257998 (2014).

Royer, L. A. et al. Adaptive light-sheet microscopy for long-term, high-resolution imaging in living organisms. Nat. Biotechnol. 34, 1267–1278 (2016).

Udan, R. S., Piazza, V. G., Hsu, C. W., Hadjantonakis, A. K. & Dickinson, M. E. Quantitative imaging of cell dynamics in mouse embryos using light-sheet microscopy. Development 141, 4406–4414 (2014).

Skylaki, S., Hilsenbeck, O. & Schroeder, T. Challenges in long-term imaging and quantification of single-cell dynamics. Nat. Biotechnol. 34, 1137–1144 (2016).

Massarwa, R. & Niswander, L. In toto live imaging of mouse morphogenesis and new insights into neural tube closure. Development 140, 226–236 (2013).

Tyser, R. C. et al. Calcium handling precedes cardiac differentiation to initiate the first heartbeat. eLife 5, e17113 (2016).

Ivanovitch, K., Temino, S. & Torres, M. Live imaging of heart tube development in mouse reveals alternating phases of cardiac differentiation and morphogenesis. eLife 6, e30668 (2017).

Udan, R. S. & Dickinson, M. E. Imaging mouse embryonic development. Methods Enzymol. 476, 329–349 (2010).

Kelly, D. P. & Scarpulla, R. C. Transcriptional regulatory circuits controlling mitochondrial biogenesis and function. Genes Dev. 18, 357–368 (2004).

Zamir, L. et al. Nkx2.5 marks angioblasts that contribute to hemogenic endothelium of the endocardium and dorsal aorta. eLife 6, e20994 (2017).

Tian, X. et al. Identification of a hybrid myocardial zone in the mammalian heart after birth. Nat. Commun. 8, 87 (2017).

De Boer, B. A., van den Berg, G., de Boer, P. A. J., Moorman, A. F. M. & Ruijter, J. M. Growth of the developing mouse heart: an interactive qualitative and quantitative 3D atlas. Dev. Biol. 368, 203–213 (2012).

MacGrogan, D., Nus, M. & de la Pompa, J. L. Notch signaling in cardiac development and disease. Curr. Top. Dev. Biol. 92, 333–365 (2010).

Grego-Bessa, J. et al. Notch signaling is essential for ventricular chamber development. Dev. Cell 12, 415–429 (2007).

Del Monte-Nieto, G. et al. Control of cardiac jelly dynamics by NOTCH1 and NRG1 defines the building plan for trabeculation. Nature 557, 439–445 (2018).

Li, J. et al. Single-cell lineage tracing reveals that oriented cell division contributes to trabecular morphogenesis and regional specification. Cell Rep. 15, 158–170 (2016).

Chen, H. et al. BMP10 is essential for maintaining cardiac growth during murine cardiogenesis. Development 131, 2219–2231 (2004).

Harris, L., Zalucki, O. & Piper, M. BrdU/EdU dual labeling to determine the cell-cycle dynamics of defined cellular subpopulations. J. Mol. Histol. 49, 229–234 (2018).

Christoffels, V. M. et al. Chamber formation and morphogenesis in the developing mammalian heart. Dev. Biol. 223, 266–278 (2000).

Foudi, A. et al. Analysis of histone 2B-GFP retention reveals slowly cycling hematopoietic stem cells. Nat. Biotechnol. 27, 84–90 (2009).

Liebling, M., Forouhar, A. S., Gharib, M., Fraser, S. E. & Dickinson, M. E. Four-dimensional cardiac imaging in living embryos via postacquisition synchronization of nongated slice sequences. J. Biomed. Opt. 10, 054001 (2005).

Taylor, J. M. Optically gated beating-heart imaging. Front. Physiol. 5, 481 (2014).

Takahashi, M., Makino, S., Kikkawa, T. & Osumi, N. Preparation of rat serum suitable for mammalian whole embryo culture. J. Vis. Exp. 2014, e51969 (2014).

Yue, Y. et al. Long-term, in toto live imaging of the developing mouse heart. Protoc. Exch. https://doi.org/10.21203/rs.2.21499/v1 (2020).

Liu, Z. et al. Fscn1 is required for the trafficking of TGF-β family type I receptors during endoderm formation. Nat. Commun. 7, 12603 (2016).

Reinhard, E. et al. High Dynamic Range Imaging: Acquisition, Display, and Image-Based Lighting (Elsevier Science, 2010).

Barber, C. B., Dobkin, D. P. & Huhdanpaa, H. The quickhull algorithm for convex hulls. ACM Trans. Math. Softw. 22, 469–483 (1996).

Schroeder, W., Martin, K. & Lorensen, B. The Visualization Toolkit: An Object-oriented Approach to 3D Graphics (Kitware, 2006).
Acknowledgements
We thank R. H. Harvey for reviewing this manuscript, I. C. Bruce for manuscript editing, and Y. Xu, L. Yuan and E. Yao for technical assistance. A.H. was supported by grants from the National Basic Research Program of China (2017YFA0103402 and 2019YFA0801802), National Natural Science Foundation of China (31571487, 31771607 and 31327901), Peking-Tsinghua Center for Life Sciences and 1000 Youth Talents Program of China. H.C. was supported by grants from the National Key Technologies R&D Program (SQ2011SF11B01041), National Basic Research Program of China (2016YFA0500403) and National Natural Science Foundation of China (31521062). W.Z. was supported by grants from the National Key Technologies R&D Program (2018YFA0109600). R.W. was supported by grants from the National Postdoctoral Program for Innovative Talents (8206200030).
Ethics declarations
Competing interests
The authors declare no competing interests.
Additional information
Publisher's note Springer Nature remains neutral with regard to jurisdictional claims in published maps and institutional affiliations.
Supplementary information
About this article
Cite this article
Yue, Y., Zong, W., Li, X. et al. Long-term, in toto live imaging of cardiomyocyte behaviour during mouse ventricle chamber formation at single-cell resolution. Nat Cell Biol 22, 332–340 (2020). https://doi.org/10.1038/s41556-020-0475-2
Received:

Accepted:

Published:

Issue Date:

DOI: https://doi.org/10.1038/s41556-020-0475-2
Further reading
Siyuan Hou
Zongcheng Li
Yu Lan

Cell Research (2022)

Jian Lu
Zhouzhou Zhang
Zengcai V. Guo

Molecular Psychiatry (2022)

Isaac Esteban
Patrick Schmidt
Miguel Torres

Nature Cardiovascular Research (2022)