Abstract
Despite efforts to visualize the spatio–temporal dynamics of single messenger RNAs, the ability to precisely control their function has lagged. This study presents an optogenetic approach for manipulating the localization and translation of specific mRNAs by trapping them in clusters. This clustering greatly amplified reporter signals, enabling endogenous RNA–protein interactions to be clearly visualized in single cells. Functionally, this sequestration reduced the ability of mRNAs to access ribosomes, markedly attenuating protein synthesis. A spatio–temporally resolved analysis indicated that sequestration of endogenous β-actin mRNA attenuated cell motility through the regulation of focal-adhesion dynamics. These results suggest a mechanism highlighting the indispensable role of newly synthesized β-actin protein for efficient cell migration. This platform may be broadly applicable for use in investigating the spatio–temporal activities of specific mRNAs in various biological processes.
This is a preview of subscription content
Access options
Subscribe to Nature+
Get immediate online access to the entire Nature family of 50+ journals
Subscribe to Journal
Get full journal access for 1 year
$99.00
only $8.25 per issue
All prices are NET prices.
VAT will be added later in the checkout.
Tax calculation will be finalised during checkout.
Buy article
Get time limited or full article access on ReadCube.
$32.00
All prices are NET prices.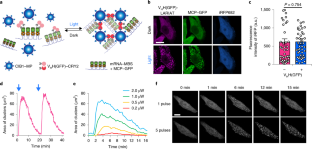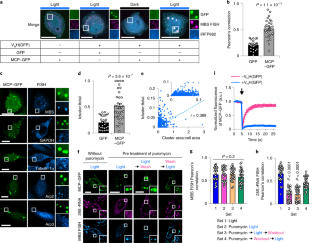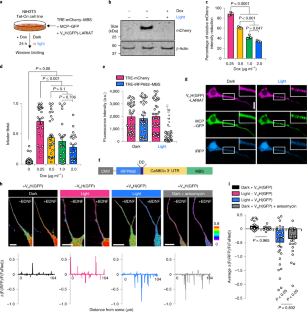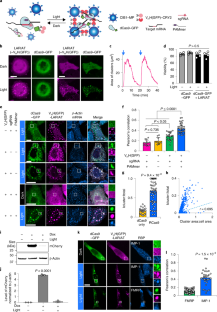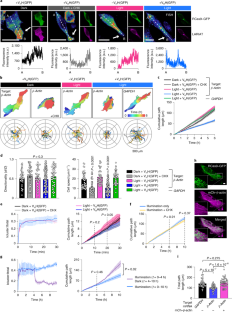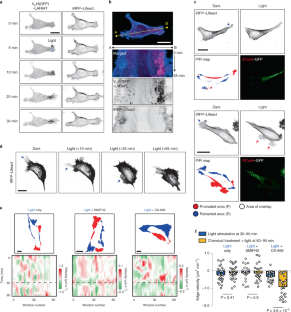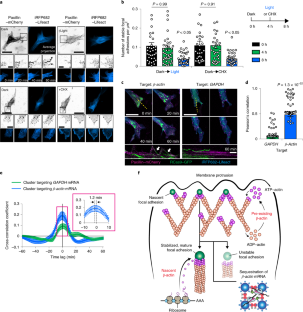 Data availability
All data supporting the findings of this study are available from the corresponding author on reasonable request.
References
Buxbaum, A. R., Haimovich, G. & Singer, R. H. In the right place at the right time: visualizing and understanding mRNA localization. Nat. Rev. Mol. Cell Biol. 16, 95–109 (2015).

Yang, L. & Chen, L. L. Enhancing the RNA engineering toolkit. Science 358, 996–997 (2017).

Nelles, D. A. et al. Programmable RNA tracking in live cells with CRISPR/Cas9. Cell 165, 488–496 (2016).

Ingolia, N. T., Ghaemmaghami, S., Newman, J. R. & Weissman, J. S. Genome-wide analysis in vivo of translation with nucleotide resolution using ribosome profiling. Science 324, 218–223 (2009).

Blanchard, S. C., Cooperman, B. S. & Wilson, D. N. Probing translation with small-molecule inhibitors. Chem. Biol. 17, 633–645 (2010).

Isaacs, F. J., Dwyer, D. J. & Collins, J. J. RNA synthetic biology. Nat. Biotechnol. 24, 545–554 (2006).

O'Connell, M. R. et al. Programmable RNA recognition and cleavage by CRISPR/Cas9. Nature 516, 263–266 (2014).

Losi, A., Gardner, K. H. & Moglich, A. Blue-light receptors for optogenetics. Chem. Rev. 118, 10659–10709 (2018).

Cao, J. et al. Light-inducible activation of target mRNA translation in mammalian cells. Chem. Commun. 49, 8338–8340 (2013).

Lee, S. et al. Reversible protein inactivation by optogenetic trapping in cells. Nat. Methods 11, 633–636 (2014).

Lee, S., Lee, K. H., Ha, J. S., Lee, S. G. & Kim, T. K. Small-molecule-based nanoassemblies as inducible nanoprobes for monitoring dynamic molecular interactions inside live cells. Angew. Chem. Int. Ed. 50, 8709–8713 (2011).

Shcherbakova, D. M. & Verkhusha, V. V. Near-infrared fluorescent proteins for multicolor in vivo imaging. Nat. Methods 10, 751–754 (2013).

Kleijn, M. et al. Nerve and epidermal growth factor induce protein synthesis and eIF2B activation in PC12 cells. J. Biol. Chem. 273, 5536–5541 (1998).

Novoa, I. et al. Stress-induced gene expression requires programmed recovery from translational repression. EMBO J. 22, 1180–1187 (2003).

Kedersha, N., Tisdale, S., Hickman, T. & Anderson, P. Real-time and quantitative imaging of mammalian stress granules and processing bodies. Methods Enzymol. 448, 521–552 (2008).

Aakalu, G., Smith, W. B., Nguyen, N., Jiang, C. & Schuman, E. M. Dynamic visualization of local protein synthesis in hippocampal neurons. Neuron 30, 489–502 (2001).

Mingle, L. A. et al. Localization of all seven messenger RNAs for the actin-polymerization nucleator Arp2/3 complex in the protrusions of fibroblasts. J. Cell Sci. 118, 2425–2433 (2005).

Oleynikov, Y. & Singer, R. H. Real-time visualization of ZBP1 association with β-actin mRNA during transcription and localization. Curr. Biol. 13, 199–207 (2003).

Eliscovich, C., Shenoy, S. M. & Singer, R. H. Imaging mRNA and protein interactions within neurons. Proc. Natl Acad. Sci. USA 114, E1875–E1884 (2017).

Shestakova, E. A., Singer, R. H. & Condeelis, J. The physiological significance of β -actin mRNA localization in determining cell polarity and directional motility. Proc. Natl Acad. Sci. USA 98, 7045–7050 (2001).

Katz, Z. B. et al. β-Actin mRNA compartmentalization enhances focal adhesion stability and directs cell migration. Genes Dev. 26, 1885–1890 (2012).

Sundell, C. L. & Singer, R. H. Actin mRNA localizes in the absence of protein synthesis. J. Cell Biol. 111, 2397–2403 (1990).

Park, H. Y., Trcek, T., Wells, A. L., Chao, J. A. & Singer, R. H. An unbiased analysis method to quantify mRNA localization reveals its correlation with cell motility. Cell Rep. 1, 179–184 (2012).

Mattila, P. K. & Lappalainen, P. Filopodia: molecular architecture and cellular functions. Nat. Rev. Mol. Cell Biol. 9, 446–454 (2008).

Park, H. Y. et al. Visualization of dynamics of single endogenous mRNA labeled in live mouse. Science 343, 422–424 (2014).

Tutucci, E. et al. An improved MS2 system for accurate reporting of the mRNA life cycle. Nat. Methods 15, 81–89 (2018).

Lionnet, T. et al. A transgenic mouse for in vivo detection of endogenous labeled mRNA. Nat. Methods 8, 165–170 (2011).

Shin, Y. et al. Spatiotemporal control of intracellular phase transitions using light-activated optoDroplets. Cell 168, 159–171 (2017).

Adamala, K. P., Martin-Alarcon, D. A. & Boyden, E. S. Programmable RNA-binding protein composed of repeats of a single modular unit. Proc. Natl Acad. Sci. USA 113, E2579–E2588 (2016).

Kim, J. H. et al. High cleavage efficiency of a 2A peptide derived from porcine teschovirus-1 in human cell lines, zebrafish and mice. PLoS ONE 6, e18556 (2011).

Wu, B., Chao, J. A. & Singer, R. H. Fluorescence fluctuation spectroscopy enables quantitative imaging of single mRNAs in living cells. Biophys. J. 102, 2936–2944 (2012).

Miyamichi, K. et al. Cortical representations of olfactory input by trans-synaptic tracing. Nature 472, 191–196 (2011).

Gilbert, L. A. et al. CRISPR-mediated modular RNA-guided regulation of transcription in eukaryotes. Cell 154, 442–451 (2013).

Tycko, J., Myer, V. E. & Hsu, P. D. Methods for optimizing CRISPR–Cas9 genome editing specificity. Mol. Cell 63, 355–370 (2016).

Cong, L. et al. Multiplex genome engineering using CRISPR/Cas systems. Science 339, 819–823 (2013).

Laukaitis, C. M., Webb, D. J., Donais, K. & Horwitz, A. F. Differential dynamics of α5 integrin, paxillin, and α-actinin during formation and disassembly of adhesions in migrating cells. J. Cell Biol. 153, 1427–1440 (2001).

Gorelik, R. & Gautreau, A. Quantitative and unbiased analysis of directional persistence in cell migration. Nat. Protoc. 9, 1931–1943 (2014).

Yang, H. W., Collins, S. R. & Meyer, T. Locally excitable Cdc42 signals steer cells during chemotaxis. Nat. Cell Biol. 18, 191–201 (2016).

Buxbaum, A. R., Wu, B. & Singer, R. H. Single β-actin mRNA detection in neurons reveals a mechanism for regulating its translatability. Science 343, 419–422 (2014).

Haynes, K. A. & Silver, P. A. Synthetic reversal of epigenetic silencing. J. Biol. Chem. 286, 27176–27182 (2011).

Kim, N. Y., Lee, S. & Heo, W. D. Optogenetic control of mRNA localization and translation in live cells. Protoc. Exch. https://doi.org/10.21203/rs.2.20634/v1 (2020).
Acknowledgements
We thank all of the members of the Heo laboratory for their support and advice. This work was supported by the Institute for Basic Science (grant no. IBS-R001-D1), KAIST Institute for the BioCentury and KBRI basic research program through the Korea Brain Research Institute funded by the Ministry of Science and ICT (grant no. 19-BR-03-02), Republic of Korea.
Ethics declarations
Competing interests
The authors declare no competing interests.
Additional information
Publisher's note Springer Nature remains neutral with regard to jurisdictional claims in published maps and institutional affiliations.
Supplementary information
About this article
Cite this article
Kim, N.Y., Lee, S., Yu, J. et al. Optogenetic control of mRNA localization and translation in live cells. Nat Cell Biol 22, 341–352 (2020). https://doi.org/10.1038/s41556-020-0468-1
Received:

Accepted:

Published:

Issue Date:

DOI: https://doi.org/10.1038/s41556-020-0468-1