Abstract
In the unicellular eukaryote Saccharomyces cerevisiae, Cln3–cyclin-dependent kinase activity enables Start, the irreversible commitment to the cell division cycle. However, the concentration of Cln3 has been paradoxically considered to remain constant during G1, due to the presumed scaling of its production rate with cell size dynamics. Measuring metabolic and biosynthetic activity during cell cycle progression in single cells, we found that cells exhibit pulses in their protein production rate. Rather than scaling with cell size dynamics, these pulses follow the intrinsic metabolic dynamics, peaking around Start. Using a viral-based bicistronic construct and targeted proteomics to measure Cln3 at the single-cell and population levels, we show that the differential scaling between protein production and cell size leads to a temporal increase in Cln3 concentration, and passage through Start. This differential scaling causes Start in both daughter and mother cells across growth conditions. Thus, uncoupling between two fundamental physiological parameters drives cell cycle commitment.
Access options
Subscribe to Journal
Get full journal access for 1 year
$225.00
only $18.75 per issue
All prices are NET prices.
VAT will be added later in the checkout.
Rent or Buy article
Get time limited or full article access on ReadCube.
from$8.99
All prices are NET prices.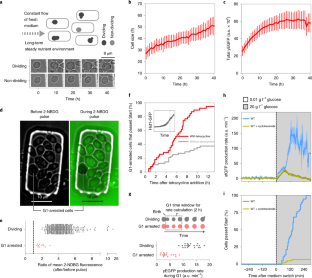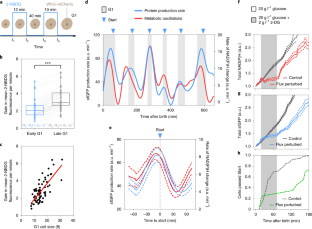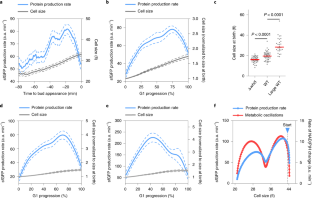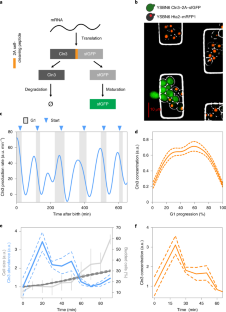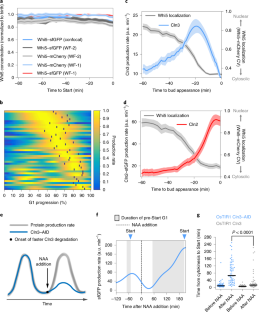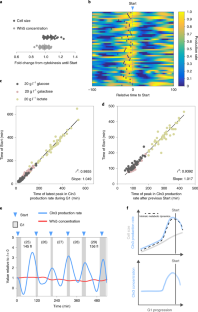 Data availability
Source data are available online for Figs. 1–6 and Extented Data Figs. 1–8. The mass spectrometry proteomics data have been deposited in the ProteomeXchange Consortium PRIDE81 partner repository with the dataset identifier PXD015327. All other data are available from the authors on reasonable request.
Code availability
At https://github.com/molecular-systems-biology/Litsios-et-al-2019, we provide one CSV file containing raw microscopy data, together with the respective MATLAB file as an example of our data-processing pipeline (smoothing, rate estimation and so on). These data were used in the construction of Fig. 5c and Extended Data Fig. 4h. The custom-made Python script used for analysis of the confocal images is also provided. All other MATLAB scripts used for processing are available from the authors on reasonable request.
References
1.

Johnson, A. & Skotheim, J. M. Start and the restriction point. Curr. Opin. Cell Biol. 25, 717–723 (2013).

2.

Nash, R., Tokiwa, G., Anand, S., Erickson, K. & Futcher, A. B. The WHI1 + gene of Saccharomyces cerevisiae tethers cell division to cell size and is a cyclin homolog. EMBO J. 7, 4335–4346 (1988).

3.

Cross, F. R. DAF1, a mutant gene affecting size control, pheromone arrest, and cell cycle kinetics of Saccharomyces cerevisiae. Mol. Cell. Biol. 8, 4675–4684 (1988).

4.

Tyers, M., Tokiwa, G. & Futcher, B. Comparison of the Saccharomyces cerevisiae G1 cyclins: Cln3 may be an upstream activator of Cln1, Cln2 and other cyclins. EMBO J. 12, 1955–1968 (1993).

5.

Tyers, M., Tokiwa, G., Nash, R. & Futcher, B. The Cln3–Cdc28 kinase complex of S. cerevisiae is regulated by proteolysis and phosphorylation. EMBO J. 11, 1773–1784 (1992).

6.

De Bruin, R. A. M., McDonald, W. H., Kalashnikova, T. I., Yates, J. & Wittenberg, C. Cln3 activates G1-specific transcription via phosphorylation of the SBF bound repressor Whi5. Cell 117, 887–898 (2004).

7.

Costanzo, M. et al. CDK activity antagonizes Whi5, an inhibitor of G1/S transcription in yeast. Cell 117, 899–913 (2004).

8.

Wang, H., Carey, L. B., Cai, Y., Wijnen, H. & Futcher, B. Recruitment of Cln3 cyclin to promoters controls cell cycle entry via histone deacetylase and other targets. PLoS Biol. 7, e1000189 (2009).

9.

Skotheim, J. M., Di Talia, S., Siggia, E. D. & Cross, F. R. Positive feedback of G1 cyclins ensures coherent cell cycle entry. Nature 454, 291–296 (2008).

10.

McInerny, C. J., Partridge, J. F., Mikesell, G. E., Creemer, D. P. & Breeden, L. L. A novel Mcm1-dependent element in the SWI4, CLN3, CDC6, and CDC47 promoters activates M/G1-specific transcription. Genes Dev. 11, 1277–1288 (1997).

11.

Zapata, J. et al. PP2ARts1 is a master regulator of pathways that control cell size. J. Cell Biol. 204, 359–376 (2014).

12.

Thorburn, R. R. et al. Aneuploid yeast strains exhibit defects in cell growth and passage through START. Mol. Biol. Cell 24, 1274–1289 (2013).

13.

Schmoller, K. M., Turner, J. J., Kõivomägi, M. & Skotheim, J. M. Dilution of the cell cycle inhibitor Whi5 controls budding-yeast cell size. Nature 526, 268–272 (2015).

14.

Jorgensen, P. & Tyers, M. How cells coordinate growth and division. Curr. Biol. 14, R1014–R1027 (2004).

15.

Polymenis, M. & Schmidt, E. V. Coupling of cell division to cell growth by translational control of the G1 cyclin CLN3 in yeast. Genes Dev. 11, 2522–2531 (1997).

16.

Schmoller, K. M. & Skotheim, J. M. The biosynthetic basis of cell size control. Trends Cell Biol. 25, 793–802 (2015).

17.

Elliott, S. G. & McLaughlin, C. S. Rate of macromolecular synthesis through the cell cycle of the yeast Saccharomyces cerevisiae. Proc. Natl Acad. Sci. USA 75, 4384–4388 (1978).

18.

Di Talia, S., Skotheim, J. M., Bean, J. M., Siggia, E. D. & Cross, F. R. The effects of molecular noise and size control on variability in the budding yeast cell cycle. Nature 448, 947–951 (2007).

19.

Cookson, N. A., Cookson, S. W., Tsimring, L. S. & Hasty, J. Cell cycle-dependent variations in protein concentration. Nucleic Acids Res. 38, 2676–2681 (2010).

20.

Soifer, I., Robert, L. & Amir, A. Single-cell analysis of growth in budding yeast and bacteria reveals a common size regulation strategy. Curr. Biol. 26, 356–361 (2016).

21.

Bryan, A. K., Engler, A., Gulati, A. & Manalis, S. R. Continuous and long-term volume measurements with a commercial Coulter counter. PLoS ONE 7, e29866 (2012).

22.

Goranov, A. I. et al. The rate of cell growth is governed by cell cycle stage. Genes Dev. 23, 1408–1422 (2009).

23.

Ferrezuelo, F. et al. The critical size is set at a single-cell level by growth rate to attain homeostasis and adaptation. Nat. Commun. 3, 1012 (2012).

24.

Vergés, E., Colomina, N., Garí, E., Gallego, C. & Aldea, M. Cyclin Cln3 is retained at the ER and released by the J chaperone Ydj1 in late G1 to trigger cell cycle entry. Mol. Cell 26, 649–662 (2007).

25.

Yahya, G., Parisi, E., Flores, A., Gallego, C. & Aldea, M. A Whi7-anchored loop controls the G1 Cdk–cyclin complex at Start. Mol. Cell 53, 115–126 (2014).

26.

Dorsey, S. et al. G1/S transcription factor copy number is a growth-dependent determinant of cell cycle commitment in yeast. Cell Syst. 6, 539–554.e11 (2018).

27.

Blank, H. M., Callahan, M., Pistikopoulos, I. P. E., Polymenis, A. O. & Polymenis, M. Scaling of G1 duration with population doubling time by a cyclin in Saccharomyces cerevisiae. Genetics 210, 895–906 (2018).

28.

Tu, B. P., Kudlicki, A., Rowicka, M. & McKnight, S. L. Logic of the yeast metabolic cycle: temporal compartmentalization of cellular processes. Science 310, 1152–1158 (2005).

29.

Papagiannakis, A., Niebel, B., Wit, E. C. & Heinemann, M. Autonomous metabolic oscillations robustly gate the early and late cell cycle. Mol. Cell 65, 285–295 (2017).

30.

Slavov, N., Macinskas, J., Caudy, A. & Botstein, D. Metabolic cycling without cell division cycling in respiring yeast. Proc. Natl Acad. Sci. USA 108, 19090–19095 (2011).

31.

Burnetti, A. J., Aydin, M. & Buchler, N. E. Cell cycle Start is coupled to entry into the yeast metabolic cycle across diverse strains and growth rates. Mol. Biol. Cell 27, 64–74 (2016).

32.

Cai, L. & Tu, B. P. Driving the cell cycle through metabolism. Annu. Rev. Cell Dev. Biol. 28, 59–87 (2012).

33.

Shi, L. & Tu, B. P. Acetyl-CoA induces transcription of the key G1 cyclin CLN3 to promote entry into the cell division cycle in Saccharomyces cerevisiae. Proc. Natl Acad. Sci. USA 110, 7318–7323 (2013).

34.

Unger, M. W. & Hartwell, L. H. Control of cell division in Saccharomyces cerevisiae by methionyl-tRNA. Proc. Natl Acad. Sci. USA 73, 1664–1668 (1976).

35.

Özsezen, S. et al. (2019). Inference of the high-level interaction topology between the metabolic and cell cycle oscillators from single-cell dynamics. Cell Syst. https://doi.org/10.1016/j.cels.2019.09.003 (2019).

36.

Lee, S. S., Avalos Vizcarra, I., Huberts, D. H. E. W., Lee, L. P. & Heinemann, M. Whole lifespan microscopic observation of budding yeast aging through a microfluidic dissection platform. Proc. Natl Acad. Sci. USA 109, 4916–4920 (2012).

37.

Huberts, D. H. E. W. et al. Construction and use of a microfluidic dissection platform for long-term imaging of cellular processes in budding yeast. Nat. Protoc. 8, 1019–1027 (2013).

38.

Elbing, K. et al. Role of hexose transport in control of glycolytic flux in Saccharomyces cerevisiae. Appl. Environ. Microbiol. 70, 5323–5330 (2004).

39.

Yoshioka, K. et al. A novel fluorescent derivative of glucose applicable to the assessment of glucose uptake activity of Escherichia coli. Biochim. Biophys. Acta 1289, 5–9 (1996).

40.

Snoep, J. L., Mrwebi, M., Schuurmans, J. M., Rohwer, J. M. & Teixeira de Mattos, M. J. Control of specific growth rate in Saccharomyces cerevisiae. Microbiology 155, 1699–1707 (2009).

41.

Youk, H. & van Oudenaarden, A. Growth landscape formed by perception and import of glucose in yeast. Nature 462, 875–879 (2009).

42.

Otterstedt, K. et al. Switching the mode of metabolism in the yeast Saccharomyces cerevisiae. EMBO Rep. 5, 532–537 (2004).

43.

Novak, S., Zechner-Krpan, V. & Marić, V. Regulation of maltose transport and metabolism in Saccharomyces cerevisiae. Food Technol. Biotech. 42, 213–218 (2004).

44.

Blount, B. A., Weenink, T., Vasylechko, S. & Ellis, T. Rational diversification of a promoter providing fine-tuned expression and orthogonal regulation for synthetic biology. PLoS ONE 7, e33279 (2012).

45.

Gustavsson, A.-K. et al. Sustained glycolytic oscillations in individual isolated yeast cells. FEBS J. 279, 2837–2847 (2012).

46.

Aon, M. A. et al. Dynamic regulation of yeast glycolytic oscillations by mitochondrial functions. J. Cell Sci. 99, 325–334 (1991).

47.

Kang, H. T. & Hwang, E. S. 2-Deoxyglucose: an anticancer and antiviral therapeutic, but not any more a low glucose mimetic. Life Sci. 78, 1392–1399 (2006).

48.

De Felipe, P. et al. E unum pluribus: multiple proteins from a self-processing polyprotein. Trends Biotechnol. 24, 68–75 (2006).

49.

Nishimura, K., Fukagawa, T., Takisawa, H., Kakimoto, T. & Kanemaki, M. An auxin-based degron system for the rapid depletion of proteins in nonplant cells. Nat. Methods 6, 917–922 (2009).

50.

Papagiannakis, A., de Jonge, J. J., Zhang, Z. & Heinemann, M. Quantitative characterization of the auxin-inducible degron: a guide for dynamic protein depletion in single yeast cells. Sci. Rep. 7, 4704 (2017).

51.

Leupold, S. et al. Saccharomyces cerevisiae goes through distinct metabolic phases during its replicative lifespan. eLife 8, e41046 (2019).

52.

Lew, D. J. & Reed, S. I. Morphogenesis in the yeast cell cycle: regulation by Cdc28 and cyclins. J. Cell Biol. 120, 1305–1320 (1993).

53.

Bryan, A. K., Goranov, A., Amon, A. & Manalis, S. R. Measurement of mass, density, and volume during the cell cycle of yeast. Proc. Natl Acad. Sci. USA 107, 999–1004 (2010).

54.

Parisi, E., Yahya, G., Flores, A. & Aldea, M. Cdc48/p97 segregase is modulated by cyclin-dependent kinase to determine cyclin fate during G1 progression. EMBO J. 37, e98724 (2018).

55.

Futcher, B. Metabolic cycle, cell cycle, and the finishing kick to Start. Genome Biol. 7, 107 (2006).

56.

Wullschleger, S., Loewith, R. & Hall, M. N. TOR signaling in growth and metabolism. Cell 124, 471–484 (2006).

57.

Lindqvist, L. M., Tandoc, K., Topisirovic, I. & Furic, L. Cross-talk between protein synthesis, energy metabolism and autophagy in cancer. Curr. Opin. Genet. Dev. 48, 104–111 (2018).

58.

Moore, S. A. Kinetic evidence for a critical rate of protein synthesis in the Saccharomyces cerevisiae yeast cell cycle. J. Biol. Chem. 263, 9674–9681 (1988).

59.

Edgington, N. P. & Futcher, B. Relationship between the function and the location of G1 cyclins in S. cerevisiae. J. Cell Sci. 114, 4599–4611 (2001).

60.

Jorgensen, P. et al. The size of the nucleus increases as yeast cells grow. Mol. Biol. Cell 18, 3523–3532 (2007).

61.

Webster, M., Witkin, K. L. & Cohen-Fix, O. Sizing up the nucleus: nuclear shape, size and nuclear-envelope assembly. J. Cell Sci. 122, 1477–1486 (2009).

62.

Wach, A. PCR-synthesis of marker cassettes with long flanking homology regions for gene disruptions in S. cerevisiae. Yeast 12, 259–265 (1996).

63.

Verduyn, C., Postma, E., Scheffers, W. A. & Van Dijken, J. P. Effect of benzoic acid on metabolic fluxes in yeasts: a continuous-culture study on the regulation of respiration and alcoholic fermentation. Yeast 8, 501–517 (1992).

64.

Shaner, N. C., Steinbach, P. A. & Tsien, R. Y. A guide to choosing fluorescent proteins. Nat. Methods 2, 905–909 (2005).

65.

Shaner, N. C. et al. A bright monomeric green fluorescent protein derived from Branchiostoma lanceolatum. Nat. Methods 10, 407–409 (2013).

66.

Schindelin, J. et al. Fiji: an open-source platform for biological-image analysis. Nat. Methods 9, 676–682 (2012).

67.

Waters, J. C. Accuracy and precision in quantitative fluorescence microscopy. J. Cell Biol. 185, 1135–1148 (2009).

68.

Zopf, C. J., Quinn, K., Zeidman, J. & Maheshri, N. Cell-cycle dependence of transcription dominates noise in gene expression. PLoS Comput. Biol. 9, e1003161 (2013).

69.

Doncic, A., Falleur-Fettig, M. & Skotheim, J. M. Distinct interactions select and maintain a specific cell fate. Mol. Cell 43, 528–539 (2011).

70.

Rasmussen, C. E. & Williams, C. K. I. Gaussian Processes for Machine Learning (MIT Press, 2006).

71.

Swain, P. S. et al. Inferring time derivatives including cell growth rates using Gaussian processes. Nat. Commun. 7, 13766 (2016).

72.

MacKay, D. J. C. Information Theory, Inference, and Learning Algorithms (Cambridge Univ. Press, 2003).

73.

Rasmussen, C. E. & Nickisch, H. Gaussian processes for machine learning (GPML) toolbox. J. Mach. Learn. Res. 11, 3011–3015 (2010).

74.

Khmelinskii, A. et al. Tandem fluorescent protein timers for in vivo analysis of protein dynamics. Nat. Biotechnol. 30, 708–714 (2012).

75.

Wang, X., Errede, B. & Elston, T. C. Mathematical analysis and quantification of fluorescent proteins as transcriptional reporters. Biophys. J. 94, 2017–2026 (2008).

76.

Anderlei, T., Zang, W., Papaspyrou, M. & Büchs, J. Online respiration activity measurement (OTR, CTR, RQ) in shake flasks. Biochem. Eng. J. 17, 187–194 (2004).

77.

Rosebrock, A. P. Synchronization of budding yeast by centrifugal elutriation. Cold Spring Harb. Protoc. 2017, pdb.prot088732 (2017).

78.

Peterson, A. C., Russell, J. D., Bailey, D. J., Westphall, M. S. & Coon, J. J. Parallel reaction monitoring for high resolution and high mass accuracy quantitative, targeted proteomics. Mol. Cell. Proteomics 11, 1475–1488 (2012).

79.

Ahrné, E. et al. Evaluation and improvement of quantification accuracy in isobaric mass tag-based protein quantification experiments. J. Proteome Res. 15, 2537–2547 (2016).

80.

Del Vecchio, D. & Murray, R. M. Biomolecular Feedback Systems (Princeton Univ. Press, 2015).

81.

Perez-Riverol, Y. et al. The PRIDE database and related tools and resources in 2019: improving support for quantification data. Nucleic Acids Res. 47, D442–D450 (2019).
Acknowledgements
The authors thank B. Tu and A. D. Ortega for critical comments on an early version of the manuscript, Z. Zhang for advice on microscopy, C. Åberg for discussions on model-based analysis of microscopy data, and the Ida van der Klei laboratory for provision of the pSNA10 plasmid. Financial support was provided by the EU ITN project ISOLATE (grant agreement 289995).
Ethics declarations
Competing interests
The authors declare no competing interests.
Additional information
Publisher's note Springer Nature remains neutral with regard to jurisdictional claims in published maps and institutional affiliations.
Supplementary information
About this article
Cite this article
Litsios, A., Huberts, D.H.E.W., Terpstra, H.M. et al. Differential scaling between G1 protein production and cell size dynamics promotes commitment to the cell division cycle in budding yeast. Nat Cell Biol 21, 1382–1392 (2019) doi:10.1038/s41556-019-0413-3
Received

Accepted

Published

Issue Date