Abstract
Cells of multicellular organisms need to adopt specific morphologies. However, the molecular mechanisms bringing about membrane topology changes are far from understood—mainly because knowledge of membrane-shaping proteins that can promote local membrane curvatures is still limited. Our analyses unveiled that several members of a large, previously unrecognised protein family, which we termed N-Ank proteins, use a combination of their ankyrin repeat array and an amino (N)-terminal amphipathic helix to bind and shape membranes. Consistently, functional analyses revealed that the N-Ank protein ankycorbin (NORPEG/RAI14), which was exemplarily characterised further, plays an important, ankyrin repeat-based and N-terminal amphipathic helix-dependent role in early morphogenesis of neurons. This function furthermore required coiled coil-mediated self-assembly and manifested as ankycorbin nanodomains marked by protrusive membrane topologies. In summary, here, we unveil a class of powerful membrane shapers and thereby assign mechanistic and cell biological functions to the N-Ank protein superfamily.
Access options
Subscribe to Journal
Get full journal access for 1 year
$59.00
only $4.92 per issue
All prices are NET prices.
VAT will be added later in the checkout.
Tax calculation will be finalised during checkout.
Rent or Buy article
Get time limited or full article access on ReadCube.
from$8.99
All prices are NET prices.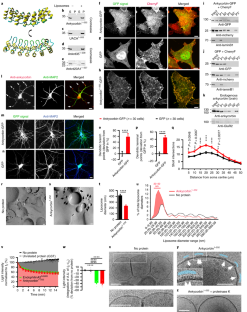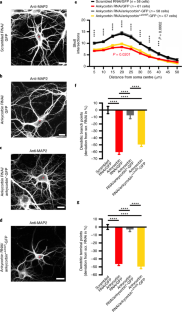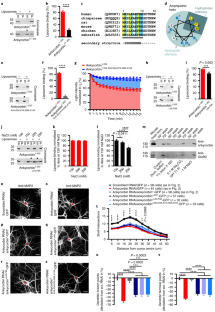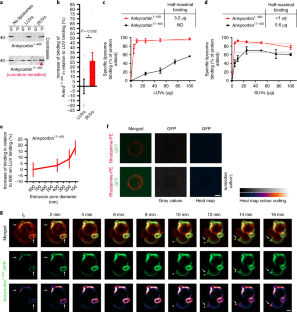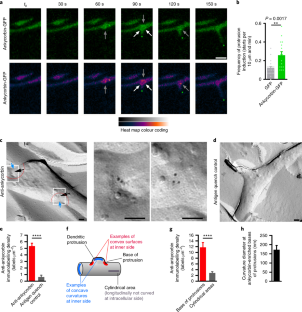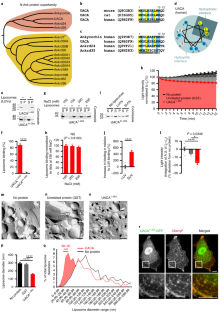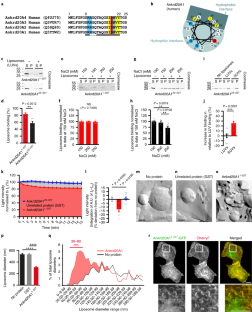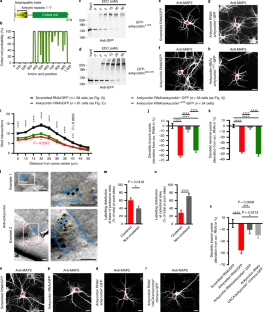 References
1.

Peter, B. J. et al. BAR domains as sensors of membrane curvature: the amphiphysin BAR structure. Science 303, 495–499 (2004).

2.

McMahon, H. T. & Gallop, J. L. Membrane curvature and mechanisms of dynamic cell membrane remodelling. Nature 438, 590–596 (2005).

3.

Frost, A., Unger, V. M. & De Camilli, P. The BAR domain superfamily: membrane-molding macromolecules. Cell 137, 191–196 (2009).

4.

Qualmann, B., Koch, D. & Kessels, M. M. Let's go bananas: revisiting the endocytic BAR code. EMBO J. 30, 3501–3515 (2011).

5.

Voeltz, G. K., Prinz, W. A., Shibata, Y., Rist, J. M. & Rapoport, T. A. A class of membrane proteins shaping the tubular endoplasmic reticulum. Cell 124, 573–586 (2006).

6.

Breeden, L. & Nasmyth, K. Similarity between cell-cycle genes of budding yeast and fission yeast and the notch gene of Drosophila. Nature 329, 651–654 (1987).

7.

Pluckthun, A. Designed ankyrin repeat proteins (DARPins): binding proteins for research, diagnostics, and therapy. Annu. Rev. Pharmacol. Toxicol. 55, 489–511 (2015).

8.

Mosavi, L. K., Cammett, T. J., Desrosiers, D. C. & Peng, Z. Y. The ankyrin repeat as molecular architecture for protein recognition. Protein Sci. 13, 1435–1448 (2004).

9.

Li, J., Mahajan, A. & Tsai, M. D. Ankyrin repeat: a unique motif mediating protein–protein interactions. Biochemistry 45, 15168–15178 (2006).

10.

Sedgwick, S. G. & Smerdon, S. J. The ankyrin repeat: a diversity of interactions on a common structural framework. Trends Biochem. Sci. 24, 311–316 (1999).

11.

Takahashi, N. et al. TRPV4 channel activity is modulated by direct interaction of the ankyrin domain to PI(4,5)P2. Nat. Commun. 5, 4994 (2014).

12.

Kim, D. H. et al. An ankyrin repeat domain of AKR2 drives chloroplast targeting through coincident binding of two chloroplast lipids. Dev. Cell 30, 598–609 (2014).

13.

Peng, Y. F. et al. Ankycorbin: a novel actin cytoskeleton-associated protein. Genes Cells 5, 1001–1008 (2000).

14.

Kutty, R. K. et al. Molecular characterization and developmental expression of NORPEG, a novel gene induced by retinoic acid. J. Biol. Chem. 276, 2831–2840 (2001).

15.

Sakai, T., Liu, L., Shishido, Y. & Fukui, K. Identification of a novel, embryonal carcinoma cell-associated molecule, Nucling, that is up-regulated during cardiac muscle differentiation. J. Biochem. 133, 429–436 (2003).

16.

Gallop, J. L. et al. Mechanism of endophilin N-BAR domain-mediated membrane curvature. EMBO J. 25, 2898–2910 (2006).

17.

Schneider, K. et al. ProSAP1 and membrane nanodomain-associated syndapin I promote postsynapse formation and function. J. Cell Biol. 205, 197–215 (2014).

18.

Seemann, E. et al. Deciphering caveolar functions by syndapin III KO-mediated impairment of caveolar invagination. eLife 6, e29854 (2017).

19.

Dang, H. V. et al. Nucling, a novel apoptosis-associated protein, controls mammary gland involution by regulating NF-κB and STAT3. J. Biol. Chem. 290, 24626–24635 (2015).

20.

Burikhanov, R. et al. Paracrine apoptotic effect of p53 mediated by tumor suppressor Par-4. Cell Rep. 6, 271–277 (2014).

21.

Yamada, K. et al. Identification of a novel autoantigen UACA in patients with panuveitis. Biochem. Biophys. Res. Commun. 280, 1169–1176 (2001).

22.

Lavrov, A. V. et al. Frequent variations in cancer-related genes may play prognostic role in treatment of patients with chronic myeloid leukemia. BMC Genet. 17, 14 (2016).

23.

Yin, Y., Arkhipov, A. & Schulten, K. Simulations of membrane tubulation by lattices of amphiphysin N-BAR domains. Structure 17, 882–892 (2009).

24.

Sorre, B. et al. Nature of curvature coupling of amphiphysin with membranes depends on its bound density. Proc. Natl Acad. Sci. USA 109, 173–178 (2012).

25.

Vural, B. et al. Seroreactivity against PTEN-induced putative kinase 1 (PINK1) in Turkish patients with Behçet's disease. Clin. Exp. Rheumatol. 27, S67–S72 (2009).

26.

De Camilli, P. et al. The synaptic vesicle-associated protein amphiphysin is the 128-kD autoantigen of stiff-man syndrome with breast cancer. J. Exp. Med. 178, 2219–2223 (1993).

27.

Folli, F. et al. Autoantibodies to a 128-kd synaptic protein in three women with the stiff-man syndrome and breast cancer. N. Engl. J. Med. 328, 546–551 (1993).

28.

Ahuja, R. et al. Cordon-bleu is an actin nucleation factor and controls neuronal morphology. Cell 131, 337–350 (2007).

29.

Park, W. S. et al. Comprehensive identification of PIP3-regulated PH domains from C. elegans to H. sapiens by model prediction and live imaging. Mol Cell 30, 381–392 (2008).

30.

Hou, W. et al. The actin nucleator Cobl is controlled by calcium and calmodulin. PLoS Biol. 13, e1002233 (2015).

31.

Qualmann, B. & Kelly, R. B. Syndapin isoforms participate in receptor-mediated endocytosis and actin organization. J. Cell Biol. 148, 1047–1062 (2000).

32.

Schwintzer, L. et al. The functions of the actin nucleator cobl in cellular morphogenesis critically depend on syndapin I. EMBO J. 30, 3147–3159 (2011).

33.

Koch, D. et al. Proper synaptic vesicle formation and neuronal network activity critically rely on syndapin I. EMBO J. 30, 4955–4969 (2011).

34.

Zobel, T. et al. Cooperative functions of the two F-BAR proteins Cip4 and Nostrin in the regulation of E-cadherin in epithelial morphogenesis. J. Cell Sci. 128, 499–515 (2015).

35.

Izadi, M. et al. Cobl-like promotes actin filament formation and dendritic branching using only a single WH2 domain. J. Cell Biol. 217, 211–230 (2018).

36.

Beetz, C. et al. A spastic paraplegia mouse model reveals REEP1-dependent ER shaping. J. Clin. Invest. 123, 4273–4282 (2013).

37.

Qualmann, B., Boeckers, T. M., Jeromin, M., Gundelfinger, E. D. & Kessels, M. M. Linkage of the actin cytoskeleton to the postsynaptic density via direct interactions of Abp1 with the ProSAP/Shank family. J. Neurosci. 24, 2481–2495 (2004).

38.

Pinyol, R., Haeckel, A., Ritter, A., Qualmann, B. & Kessels, M. M. Regulation of N-WASP and the Arp2/3 complex by Abp1 controls neuronal morphology. PLoS One 2, e400 (2007).

39.

Sholl, D. A. Dendritic organization in the neurons of the visual and motor cortices of the cat. J. Anat. 87, 387–406 (1953).

40.

Drozdetskiy, A., Cole, C., Procter, J. & Barton, G. J. JPred4: a protein secondary structure prediction server. Nucleic Acids Res. 43, W389–W394 (2015).

41.

Chen, C. C., Hwang, J. K. & Yang, J. M. (PS)2-v2: template-based protein structure prediction server. BMC Bioinformatics 10, 366 (2009).

42.

Lupas, A., Van Dyke, M. & Stock, J. Predicting coiled coils from protein sequences. Science 252, 1162–1164 (1991).

43.

McDonnell, A. V., Jiang, T., Keating, A. E. & Berger, B. Paircoil2: improved prediction of coiled coils from sequence. Bioinformatics 22, 356–358 (2006).

44.

Wolf, E., Kim, P. S. & Berger, B. MultiCoil: a program for predicting two- and three-stranded coiled coils. Protein Sci. 6, 1179–1189 (1997).

45.

Dereeper, A. et al. Phylogeny.fr: robust phylogenetic analysis for the non-specialist. Nucleic Acids Res. 36, W465–W469 (2008).
Acknowledgements
We thank B. Schade and A. Kreusch for technical assistance. This work was supported by DFG grants KE685/3-2 and KE685/4-2 to M.M.K. as, well as QU116/5-2 and QU116/6-2 to B.Q.
Ethics declarations
Competing interests
The authors declare no competing interests.
Additional information
Publisher's note Springer Nature remains neutral with regard to jurisdictional claims in published maps and institutional affiliations.
Integrated supplementary information
Supplementary information
About this article
Cite this article
Wolf, D., Hofbrucker-MacKenzie, S.A., Izadi, M. et al. Ankyrin repeat-containing N-Ank proteins shape cellular membranes. Nat Cell Biol 21, 1191–1205 (2019). https://doi.org/10.1038/s41556-019-0381-7
Received:

Accepted:

Published:

Issue Date: