Abstract
The inner centromere is a region on every mitotic chromosome that enables specific biochemical reactions that underlie properties, such as the maintenance of cohesion, the regulation of kinetochores and the assembly of specialized chromatin, that can resist microtubule pulling forces. The chromosomal passenger complex (CPC) is abundantly localized to the inner centromeres and it is unclear whether it is involved in non-kinase activities that contribute to the generation of these unique chromatin properties. We find that the borealin subunit of the CPC drives phase separation of the CPC in vitro at concentrations that are below those found on the inner centromere. We also provide strong evidence that the CPC exists in a phase-separated state at the inner centromere. CPC phase separation is required for its inner-centromere localization and function during mitosis. We suggest that the CPC combines phase separation, kinase and histone code-reading activities to enable the formation of a chromatin body with unique biochemical activities at the inner centromere.
Access options
Subscribe to Journal
Get full journal access for 1 year
$225.00
only $18.75 per issue
All prices are NET prices.
VAT will be added later in the checkout.
Rent or Buy article
Get time limited or full article access on ReadCube.
from$8.99
All prices are NET prices.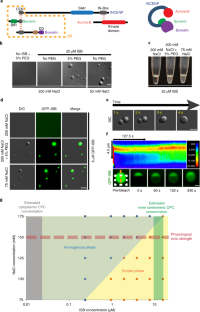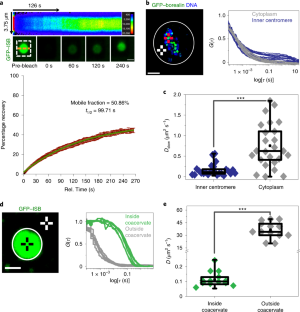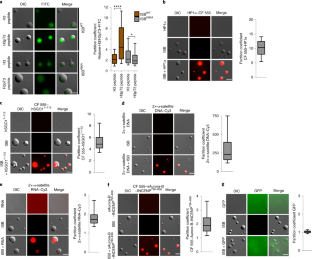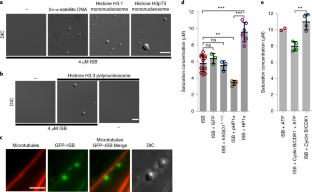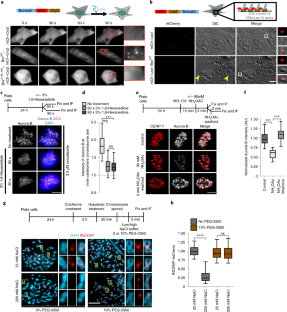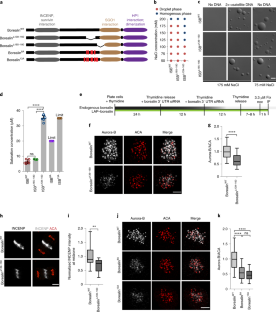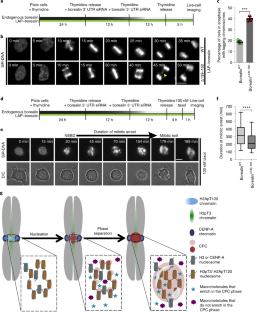 References
1.

Trivedi, P. & Stukenberg, P. T. A centromere-signaling network underlies the coordination among mitotic events. Trends Biochem. Sci. 41, 160–174 (2016).

2.

Bloom, K. S. Centromeric heterochromatin: the primordial segregation machine. Annu. Rev. Genet. 48, 457–484 (2014).

3.

Jaqaman, K. et al. Kinetochore alignment within the metaphase plate is regulated by centromere stiffness and microtubule depolymerases. J. Cell Biol. 188, 665–679 (2010).

4.

Banani, S. F., Lee, H. O., Hyman, A. A. & Rosen, M. K. Biomolecular condensates: organizers of cellular biochemistry. Nat. Rev. Mol. Cell Biol. 18, 285–298 (2017).

5.

Larson, A. G. et al. Liquid droplet formation by HP1α suggests a role for phase separation in heterochromatin. Nature 547, 236–240 (2017).

6.

Strom, A. R. et al. Phase separation drives heterochromatin domain formation. Nature 547, 241–245 (2017).

7.

Sabari, B. R. et al. Coactivator condensation at super-enhancers links phase separation and gene control. Science 361, eaar3958 (2018).

8.

Mahen, R. et al. Comparative assessment of fluorescent transgene methods for quantitative imaging in human cells. Mol. Biol. Cell 25, 3610–3618 (2014).

9.

Sessa, F. et al. Mechanism of aurora B activation by INCENP and inhibition by hesperadin. Mol. Cell 18, 379–391 (2005).

10.

Fuller, B. G. et al. Midzone activation of aurora B in anaphase produces an intracellular phosphorylation gradient. Nature 453, 1132–1136 (2008).

11.

Wang, E., Ballister, E. R. & Lampson, M. A. Aurora B dynamics at centromeres create a diffusion-based phosphorylation gradient. J. Cell Biol. 194, 539–549 (2011).

12.

Yamagishi, Y., Honda, T., Tanno, Y. & Watanabe, Y. Two histone marks establish the inner centromere and chromosome bi-orientation. Science 330, 239–243 (2010).

13.

Wang, F. et al. Histone H3 Thr-3 phosphorylation by haspin positions aurora B at centromeres in mitosis. Science 330, 231–235 (2010).

14.

Kelly, A. E. et al. Survivin reads phosphorylated histone H3 threonine 3 to activate the mitotic kinase aurora B. Science 330, 235–239 (2010).

15.

YamagishiY., HondaT., TannoY. & WatanabeY. Two histone marks establish the inner centromere and chromosome bi-orientation. Science 330, 239–243 (2010).

16.

Tsukahara, T., Tanno, Y. & Watanabe, Y. Phosphorylation of the CPC by Cdk1 promotes chromosome bi-orientation. Nature 467, 719–723 (2010).

17.

Niedzialkowska, E. et al. Molecular basis for phosphospecific recognition of histone H3 tails by survivin paralogues at inner centromeres. Mol. Biol. Cell 23, 1457–1466 (2012).

18.

Du, J., Kelly, A. E., Funabiki, H. & Patel, D. J. Structural basis for recognition of H3T3ph and Smac/DIABLO N-terminal peptides by human survivin. Structure 20, 185–195 (2012).

19.

Delacour-Larose, M., Molla, A., Skoufias, D. A., Margolis, R. L. & Dimitrov, S. Distinct dynamics of aurora b and survivin during mitosis. Cell Cycle 3, 1418–1426 (2004).

20.

Beardmore, V. A. Survivin dynamics increases at centromeres during G2/M phase transition and is regulated by microtubule-attachment and aurora B kinase activity. J. Cell Sci. 117, 4033–4042 (2004).

21.

Wühr, M. et al. Deep proteomics of the Xenopus laevis egg using an mRNA-derived reference database. Curr. Biol. 24, 1467–1475 (2014).

22.

Hindriksen, S., Lens, S. M. A. & Hadders, M. A. The ins and outs of aurora B inner centromere localization. Front. Cell Dev. Biol. 5, 112 (2017).

23.

Hauf, S. et al. The small molecule Hesperadin reveals a role for aurora B in correcting kinetochore-microtubule attachment and in maintaining the spindle assembly checkpoint. J. Cell Biol. 161, 281–294 (2003).

24.

Hengeveld, R. C. C., Vromans, M. J. M., Vleugel, M., Hadders, M. A. & Lens, S. M. A. Inner centromere localization of the CPC maintains centromere cohesion and allows mitotic checkpoint silencing. Nat. Commun. 8, 15542 (2017).

25.

Klein, U. R., Nigg, E. A. & Gruneberg, U. Centromere targeting of the chromosomal passenger complex requires a ternary subcomplex of borealin, survivin, and the N-terminal domain of INCENP. Mol. Biol. Cell 17, 2547–2558 (2006).

26.

Woodruff, J. B. et al. The centrosome is a selective condensate that nucleates microtubules by concentrating tubulin. Cell 169, 1066–1077 (2017).

27.

Wheelock, M. S., Wynne, D. J., Tseng, B. S. & Funabiki, H. Dual recognition of chromatin and microtubules by INCENP is important for mitotic progression. J. Cell Biol. 216, 925–941 (2017).

28.

Hanley, M. L., Yoo, T. Y., Sonnett, M., Needleman, D. J. & Mitchison, T. J. Chromosomal passenger complex hydrodynamics suggests chaperoning of the inactive state by nucleoplasmin/nucleophosmin. Mol. Biol. Cell 28, 1444–1456 (2017).

29.

Wachsmuth, M. et al. High-throughput fluorescence correlation spectroscopy enables analysis of proteome dynamics in living cells. Nat. Biotechnol. 33, 384–389 (2015).

30.

Ruppert, J. G. et al. HP1α targets the chromosomal passenger complex for activation at heterochromatin before mitotic entry. EMBO J. 37, e97677 (2018).

31.

Liu, X. et al. Chromatin protein HP1α interacts with the mitotic regulator borealin protein and specifies the centromere localization of the chromosomal passenger complex. J. Biol. Chem. 289, 20638–20649 (2014).

32.

Abe, Y. et al. HP1-assisted aurora B kinase activity prevents chromosome segregation errors. Dev. Cell 36, 487–497 (2016).

33.

Chen, J. et al. Survivin enhances aurora-B kinase activity and localizes aurora-B in human cells. J. Biol. Chem. 278, 486–490 (2003).

34.

Wheatley, S. P., Carvalho, A., Vagnarelli, P. & Earnshaw, W. C. INCENP is required for proper targeting of survivin to the centromeres and the anaphase spindle during mitosis. Curr. Biol. 11, 886–890 (2001).

35.

Sampath, S. C. et al. The chromosomal passenger complex is required for chromatin-induced microtubule stabilization and spindle assembly. Cell 118, 187–202 (2004).

36.

Chakraborty, A., Prasanth, K. V. & Prasanth, S. G. Dynamic phosphorylation of HP1α regulates mitotic progression in human cells. Nat. Commun. 5, 3445 (2014).

37.

Shin, Y. et al. Spatiotemporal control of intracellular phase transitions using light-activated optoDroplets. Cell 168, 159–171 (2017).

38.

Chong, S. et al. Imaging dynamic and selective low-complexity domain interactions that control gene transcription. Science 361, eaar2555 (2018).

39.

Kroschwald, S., Maharana, S. & Simon, A. Hexanediol: a chemical probe to investigate the material properties of membrane-less compartments. Matters https://doi.org/10.19185/matters.201702000010 (2017).

40.

Jain, A. & Vale, R. D. RNA phase transitions in repeat expansion disorders. Nature 546, 243–247 (2017).

41.

Ambadipudi, S., Biernat, J., Riedel, D., Mandelkow, E. & Zweckstetter, M. Liquid–liquid phase separation of the microtubule-binding repeats of the Alzheimer-related protein Tau. Nat. Commun. 8, 275 (2017).

42.

Bolognesi, B. et al. A concentration-dependent liquid phase separation can cause toxicity upon increased protein expression. Cell Rep. 16, 222–231 (2016).

43.

Trivedi, P. et al. The binding of borealin to microtubules underlies a tension independent kinetochore-microtubule error correction pathway. Nat. Commun. 10, 682 (2019).

44.

Hirota, T., Lipp, J. J., Toh, B. H. & Peters, J. M. Histone H3 serine 10 phosphorylation by aurora B causes HP1 dissociation from heterochromatin. Nature 438, 1176–1180 (2005).

45.

Fischle, W. et al. Regulation of HP1-chromatin binding by histone H3 methylation and phosphorylation. Nature 438, 1116–1122 (2005).

46.

Ainsztein, A. M., Kandels-Lewis, S. E., Mackay, A. M. & Earnshaw, W. C. INCENP centromere and spindle targeting: identification of essential conserved motifs and involvement of heterochromatin protein HP1. J. Cell Biol. 143, 1763–1774 (1998).

47.

Rosasco-Nitcher, S. E., Lan, W., Khorasanizadeh, S. & Stukenberg, P. T. Centromeric aurora-B activation requires TD-60, microtubules, and substrate priming phosphorylation. Science 319, 469–472 (2008).

48.

Cardarelli, F., Lanzano, L. & Gratton, E. Fluorescence correlation spectroscopy of intact nuclear pore complexes. Biophys. J. 101, L27–L29 (2011).

49.

Moens, P. D. J., Gratton, E. & Salvemini, I. L. Fluorescence correlation spectroscopy, raster image correlation spectroscopy, and number and brightness on a commercial confocal laser scanning microscope with analog detectors (Nikon C1). Microsc. Res. Tech. 74, 377–388 (2011).

50.

Scipioni, L., Lanzanó, L., Diaspro, A. & Gratton, E. Comprehensive correlation analysis for super-resolution dynamic fingerprinting of cellular compartments using the Zeiss Airyscan detector. Nat. Commun. 9, 5120 (2018).

51.

Janicki, S. M. et al. From silencing to gene expression: real-time analysis in single cells. Cell 116, 683–698 (2004).

52.

Banerjee, B., Kestner, C. A. & Stukenberg, P. T. EB1 enables spindle microtubules to regulate centromeric recruitment of aurora B. J. Cell Biol. 204, 947–963 (2014).

53.

Sathyan, K. M., Fachinetti, D. & Foltz, D. R. α-Amino trimethylation of CENP-A by NRMT is required for full recruitment of the centromere. Nat. Commun. 8, 14678 (2017).
Acknowledgements
We thank J. Ellenberg, C. Brangwynne, G. Narlikar and D. Foltz for reagents, and D. Burke and S. Mattada for discussions. P.T.S. and P.T. were funded by NIH grant numbers R01GM124042 and R24OD023697. F.P. and M.A.D. were supported in part by a grant from the NSF (MCB-1615701). M.A.D. and E.G. were funded by NIH grant number P41-GM103540.
Ethics declarations
Competing interests
The authors declare no competing interests.
Additional information
Publisher's note: Springer Nature remains neutral with regard to jurisdictional claims in published maps and institutional affiliations.
Integrated supplementary information
Supplementary information
About this article
Cite this article
Trivedi, P., Palomba, F., Niedzialkowska, E. et al. The inner centromere is a biomolecular condensate scaffolded by the chromosomal passenger complex. Nat Cell Biol 21, 1127–1137 (2019). https://doi.org/10.1038/s41556-019-0376-4
Received:

Accepted:

Published:

Issue Date: