Abstract
Migrasomes are recently discovered cellular organelles that form as large vesicle-like structures on retraction fibres of migrating cells. While the process of migrasome formation has been described before, the molecular mechanism underlying migrasome biogenesis remains unclear. Here, we propose that the mechanism of migrasome formation consists of the assembly of tetraspanin- and cholesterol-enriched membrane microdomains into micron-scale macrodomains, which swell into migrasomes. The major finding underlying the mechanism is that tetraspanins and cholesterol are necessary and sufficient for migrasome formation. We demonstrate the necessity of tetraspanins and cholesterol via live-cell experiments, and their sufficiency by generating migrasome-like structures in reconstituted membrane systems. We substantiate the mechanism by a theoretical model proposing that the key factor driving migrasome formation is the elevated membrane stiffness of the tetraspanin- and cholesterol-enriched macrodomains. Finally, the theoretical model was quantitatively validated by experimental demonstration of the membrane-stiffening effect of tetraspanin 4 and cholesterol.
Access options
Subscribe to Journal
Get full journal access for 1 year
$225.00
only $18.75 per issue
All prices are NET prices.
VAT will be added later in the checkout.
Rent or Buy article
Get time limited or full article access on ReadCube.
from$8.99
All prices are NET prices.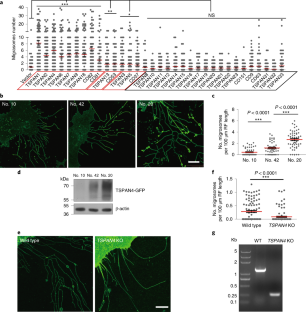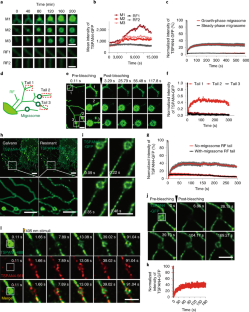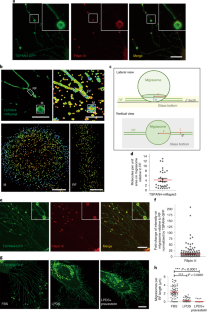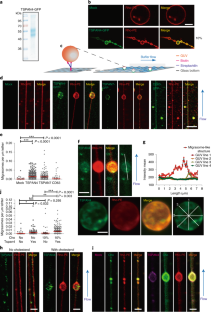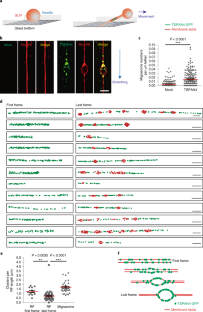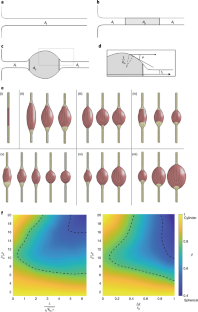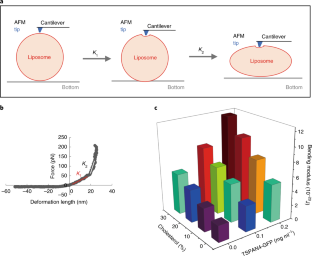 Code availability
The main computational codes used for the simulations in this paper are available at https://github.com/benzucker-tau/Migrasome-simulation. Further codes in surface evolver and codes in Matlab used for analyses are available from the corresponding authors upon reasonable request.
References
1.

Taylor, A. C. & Robbins, E. Observations on microextensions from the surface of isolated vertebrate cells. Dev. Biol. 6, 660–673 (1963).

2.

Ma, L. et al. Discovery of the migrasome, an organelle mediating release of cytoplasmic contents during cell migration. Cell Res. 25, 24–38 (2015).

3.

Wu, D. et al. Pairing of integrins with ECM proteins determines migrasome formation. Cell Res. 27, 1397–1400 (2017).

4.

Jiang, D. et al. Migrasomes provide regional cues for organ morphogenesis during zebrafish gastrulation. Nat. Cell Biol. https://doi.org/10.1038/s41556-019-0358-6 (2019).

5.

Rubinstein, E. The complexity of tetraspanins. Biochem. Soc. Trans. 39, 501–505 (2011).

6.

Charrin, S. et al. Lateral organization of membrane proteins: tetraspanins spin their web. Biochem. J. 420, 133–154 (2009).

7.

Zuidscherwoude, M. et al. The tetraspanin web revisited by super-resolution microscopy. Sci. Rep. 5, 12201 (2015).

8.

Le Naour, F., Andre, M., Boucheix, C. & Rubinstein, E. Membrane microdomains and proteomics: lessons from tetraspanin microdomains and comparison with lipid rafts. Proteomics 6, 6447–6454 (2006).

9.

Hemler, M. E. Tetraspanin proteins mediate cellular penetration, invasion, and fusion events and define a novel type of membrane microdomain. Ann. Rev. Cell Dev. Biol. 19, 397–422 (2003).

10.

Borghi, N., Rossier, O. & Brochard-Wyart, F. Hydrodynamic extrusion of tubes from giant vesicles. Europhys. Lett. 64, 837–843 (2003).

11.

Rossier, O. et al. Giant vesicles under flows: extrusion and retraction of tubes. Langmuir 19, 575–584 (2003).

12.

Solon, J., Streicher, P., Richter, R., Brochard-Wyart, F. & Bassereau, P. Vesicles surfing on a lipid bilayer: self-induced haptotactic motion. Proc. Natl Acad. Sci. USA 103, 12382–12387 (2006).

13.

Delorme, N. & Fery, A. Direct method to study membrane rigidity of small vesicles based on atomic force microscope force spectroscopy. Phys. Rev. E Stat. Nonlin. Soft Matter Phys. 74, 030901 (2006).

14.

Landau, L. D. & Lifshitz, E. M. Theory of Elasticity 1st edn, Vol. 7 (Butterworth-Heinemann, 1959).

15.

Dimova, R. Recent developments in the field of bending rigidity measurements on membranes. Adv. Colloid Interface Sci. 208, 225–234 (2014).

16.

Usery, R. D. et al. Membrane bending moduli of coexisting liquid phases containing transmembrane peptide. Biophys. J. 115, 164 (2018).

17.

Oradd, G., Shahedi, V. & Lindblom, G. Effect of sterol structure on the bending rigidity of lipid membranes: a 2H NMR transverse relaxation study. Biochim. Biophys. Acta 1788, 1762–1771 (2009).

18.

Aimon, S. et al. Membrane shape modulates transmembrane protein distribution. Dev. Cell 28, 212–218 (2014).

19.

Tian, A., Johnson, C., Wang, W. & Baumgart, T. Line tension at fluid membrane domain boundaries measured by micropipette aspiration. Phys. Rev. Lett. 98, 208102 (2007).

20.

Kuzmin, P. I., Akimov, S. A., Chizmadzhev, Y. A., Zimmerberg, J. & Cohen, F. S. Line tension and interaction energies of membrane rafts calculated from lipid splay and tilt. Biophys. J. 88, 1120–1133 (2005).

21.

Baumgart, T., Das, S., Webb, W. W. & Jenkins, J. T. Membrane elasticity in giant vesicles with fluid phase coexistence. Biophys. J. 89, 1067–1080 (2005).

22.

Bar-Ziv, R. & Moses, E. Instability and "pearling" states produced in tubular membranes by competition of curvature and tension. Phys. Rev. Lett. 73, 1392–1395 (1994).

23.

Tsafrir, I. et al. Pearling instabilities of membrane tubes with anchored polymers. Phys. Rev. Lett. 86, 1138–1141 (2001).

24.

Bar-Ziv, R., Tlusty, T., Moses, E., Safran, S. A. & Bershadsky, A. Pearling in cells: a clue to understanding cell shape. Proc. Natl Acad. Sci. USA 96, 10140–10145 (1999).

25.

Su, Q. P. et al. Vesicle size regulates nanotube formation in the cell. Sci. Rep. 6, 24002 (2016).

26.

Du, W. et al. Kinesin 1 drives autolysosome tubulation. Dev. Cell 37, 326–336 (2016).

27.

Wang, C. et al. Dynamic tubulation of mitochondria drives mitochondrial network formation. Cell Res. 25, 1108–1120 (2015).

28.

Martin, B. J. & van Golen, K. L. A comparison of cholesterol uptake and storage in inflammatory and noninflammatory breast cancer cells. Int. J. Breast Cancer 2012, 412581 (2012).

29.

Renaud, J. F. et al. Normal serum and lipoprotein-deficient serum give different expressions of excitability, corresponding to different stages of differentiation, in chicken cardiac cells in culture. Proc. Natl Acad. Sci. USA 79, 7768–7772 (1982).

30.

Wang, X. & Seed, B. A PCR primer bank for quantitative gene expression analysis. Nucleic Acids Res. 31, e154 (2003).

31.

Spandidos, A. et al. A comprehensive collection of experimentally validated primers for polymerase chain reaction quantitation of murine transcript abundance. BMC Genomics 9, 633 (2008).

32.

Spandidos, A., Wang, X., Wang, H. & Seed, B. Primer bank: a resource of human and mouse PCR primer pairs for gene expression detection and quantification. Nucleic Acids Res. 38, D792–D799 (2010).

33.

Wang, X., Spandidos, A., Wang, H. & Seed, B. PrimerBank: a PCR primer database for quantitative gene expression analysis, 2012 update. Nucleic Acids Res. 40, D1144–D1149 (2012).
Acknowledgements
The authors are grateful to members of the Kozlov and Yu groups for helpful discussions. This research was supported by the Ministry of Science and Technology of the People's Republic of China (2016YFA0500202 and 2017YFA0503404) to L.Y., the National Natural Science Foundation of China (31430053 and 31621063), the Natural Science Foundation of China international cooperation and exchange program (31561143002), the Independent Research of Tsinghua University (20161080135) to L.Y., and the Israel Science Foundation grant 1066/15, EU consortium InCeM to M.M.K., who also holds the Joseph Klafter Chair in Biophysics.
Ethics declarations
Competing interests
The authors declare no competing interests.
Additional information
Publisher's note: Springer Nature remains neutral with regard to jurisdictional claims in published maps and institutional affiliations.
Integrated supplementary information
Supplementary Information
About this article
Cite this article
Huang, Y., Zucker, B., Zhang, S. et al. Migrasome formation is mediated by assembly of micron-scale tetraspanin macrodomains. Nat Cell Biol 21, 991–1002 (2019) doi:10.1038/s41556-019-0367-5
Received

Accepted

Published

Issue Date
Further reading
Stefania Tavano

&

Carl-Philipp Heisenberg

Nature Cell Biology (2019)

Xuchen Hu

,

Thomas A Weston

,

Cuiwen He

,

Rachel S Jung

,

Patrick J Heizer

,

Brian D Young

,

Yiping Tu

,

Peter Tontonoz

,

James A Wohlschlegel

,

Haibo Jiang

,

Stephen G Young

&

Loren G Fong

eLife (2019)

Dong Jiang

,

Zheng Jiang

,

Di Lu

,

Xuan Wang

,

Haisha Liang

,

Junfeng Zhang

,

Yaping Meng

,

Ying Li

,

Danni Wu

,

Yuwei Huang

,

Yuling Chen

,

Haiteng Deng

,

Qing Wu

,

Jingwei Xiong

,

Anming Meng

&

Li Yu

Nature Cell Biology (2019)