Abstract
Covalent modification of LC3 and GABARAP proteins to phosphatidylethanolamine in the double-membrane phagophore is a key event in the early phase of macroautophagy, but can also occur on single-membrane structures. In both cases this involves transfer of LC3/GABARAP from ATG3 to phosphatidylethanolamine at the target membrane. Here we have purified the full-length human ATG12-5–ATG16L1 complex and show its essential role in LC3B/GABARAP lipidation in vitro. We have identified two functionally distinct membrane-binding regions in ATG16L1. An N-terminal membrane-binding amphipathic helix is required for LC3B lipidation under all conditions tested. By contrast, the C-terminal membrane-binding region is dispensable for canonical autophagy but essential for VPS34-independent LC3B lipidation at perturbed endosomes. We further show that the ATG16L1 C-terminus can compensate for WIPI2 depletion to sustain lipidation during starvation. This C-terminal membrane-binding region is present only in the β-isoform of ATG16L1, showing that ATG16L1 isoforms mechanistically distinguish between different LC3B lipidation mechanisms under different cellular conditions.
Relevant articles
Open Access articles citing this article.
Patricia González-Rodríguez

,

Daniel J. Klionsky

&

Bertrand Joseph

Nature Communications Open Access 18 May 2022

Yansheng Ye

,

Erin R. Tyndall

…

Fang Tian

Nature Communications Open Access 14 January 2021

Linsen Li

,

Mindan Tong

…

Qing Zhong

Protein & Cell Open Access 05 November 2020
Access options
Subscribe to Nature+
Get immediate online access to Nature and 55 other Nature journal
Subscribe to Journal
Get full journal access for 1 year
$99.00
only $8.25 per issue
All prices are NET prices.
VAT will be added later in the checkout.
Tax calculation will be finalised during checkout.
Buy article
Get time limited or full article access on ReadCube.
$32.00
All prices are NET prices.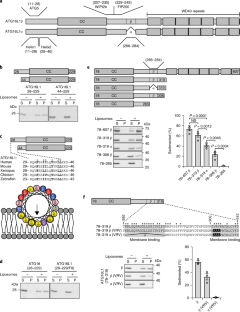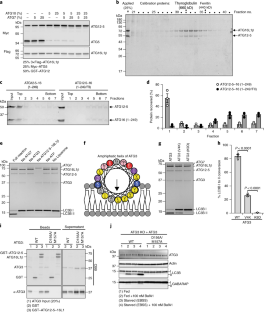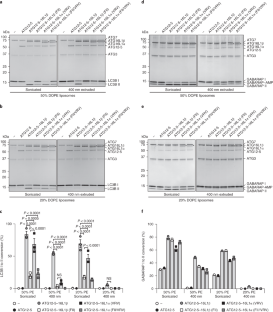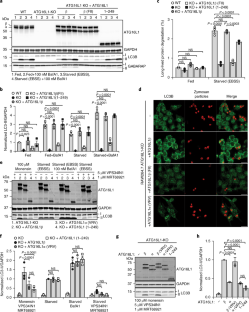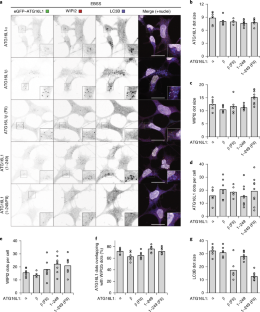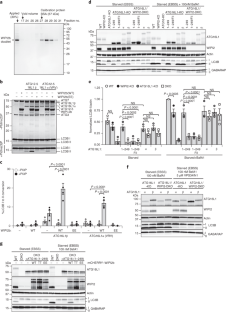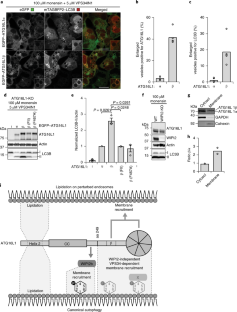 Code availability
Code used to perform image analysis is available from the corresponding authors upon request.
References
Kabeya, Y. et al. LC3, GABARAP and GATE16 localize to autophagosomal membrane depending on form-II formation. J. Cell. Sci. 117, 2805–2812 (2004).

Florey, O. & Overholtzer, M. Autophagy proteins in macroendocytic engulfment. Trends Cell Biol. 22, 374–380 (2012).

Li, M. et al. Kinetics comparisons of mammalian Atg4 homologues indicate selective preferences toward diverse Atg8 substrates. J. Biol. Chem. 286, 7327–7338 (2011).

Tanida, I., Tanida-Miyake, E., Ueno, T. & Kominami, E. The human homolog of Saccharomyces cerevisiae Apg7p is a protein-activating enzyme for multiple substrates including human Apg12p, GATE-16, GABARAP, and MAP-LC3. J. Biol. Chem. 276, 1701–1706 (2001).

Tanida, I. et al. HsAtg4B/HsApg4B/autophagin-1 cleaves the carboxyl termini of three human Atg8 homologues and delipidates microtubule-associated protein light chain 3- and GABAA receptor-associated protein-phospholipid conjugates. J. Biol. Chem. 279, 36268–36276 (2004).

Tanida, I., Tanida-Miyake, E., Komatsu, M., Ueno, T. & Kominami, E. Human Apg3p/Aut1p homologue is an authentic E2 enzyme for multiple substrates, GATE-16, GABARAP, and MAP-LC3, and facilitates the conjugation of hApg12p to hApg5p. J. Biol. Chem. 277, 13739–13744 (2002).

Fujita, N. et al. The Atg16L complex specifies the site of LC3 lipidation for membrane biogenesis in autophagy. Mol. Biol. Cell. 19, 2092–2100 (2008).

Metlagel, Z., Otomo, C., Takaesu, G. & Otomo, T. Structural basis of ATG3 recognition by the autophagic ubiquitin-like protein ATG12. Proc. Natl Acad. Sci. USA 110, 18844–18849 (2013).

Dooley, H. C. et al. WIPI2 links LC3 conjugation with PI3P, autophagosome formation, and pathogen clearance by recruiting Atg12-5–16L1. Mol. Cell 55, 238–252 (2014).

Itakura, E., Kishi, C., Inoue, K. & Mizushima, N. Beclin 1 forms two distinct phosphatidylinositol 3-kinase complexes with mammalian Atg14 and UVRAG. Mol. Biol. Cell. 19, 5360–5372 (2008).

Vicinanza, M. et al. PI(5)P regulates autophagosome biogenesis. Mol. Cell 57, 219–234 (2015).

Gao, Y. et al. Golgi-associated LC3 lipidation requires V-ATPase in noncanonical autophagy. Cell Death Dis. 7, e2330 (2016).

Fletcher, K. et al. The WD40 domain of ATG16L1 is required for its non‐canonical role in lipidation of LC3 at single membranes. EMBO J. 37, e97840 (2018).

Martinez-Martin, N. et al. A switch from canonical to noncanonical autophagy shapes B cell responses. Science 355, 641–647 (2017).

Kim, J. H. et al. Insights into autophagosome maturatiothe figure legends. Experimentsn revealed by the structures of ATG5 with its interacting partners. Autophagy. 11, 75–87 (2015).

Otomo, C., Metlagel, Z., Takaesu, G. & Otomo, T. Structure of the human ATG12~ATG5 conjugate required for LC3 lipidation in autophagy. Nat. Struct. Mol. Biol. 20, 59–66 (2013).

Fujita, N. et al. Differential involvement of Atg16L1 in Crohn disease and canonical autophagy analysis of the organization of the Atg16L1 complex in fibroblasts. J. Biol. Chem. 284, 32602–32609 (2009).

Nath, S. et al. Lipidation of the LC3/GABARAP family of autophagy proteins relies on a membrane-curvature-sensing domain in Atg3. Nat. Cell Biol. 16, 415–424 (2014).

Sanjuan, M. A. et al. Toll-like receptor signalling in macrophages links the autophagy pathway to phagocytosis. Nature 450, 1253–1257 (2007).

Sanjuan, M. A., Milasta, S. & Green, D. R. Toll-like receptor signaling in the lysosomal pathways. Immunol. Rev. 227, 203–220 (2009).

Florey, O., Gammoh, N., Kim, S. E., Jiang, X. & Overholtzer, M. V-ATPase and osmotic imbalances activate endolysosomal LC3 lipidation. Autophagy. 11, 88–99 (2015).

Jarsch, I. K. & Daste, F. & Gallop, J.L. Membrane curvature in cell biology: An integration of molecular mechanisms. J. Cell. Biol. 214, 375–387 (2016).

Kaufmann, A., Beier, V., Franquelim, H. G. & Wollert, T. Molecular mechanism of autophagic membrane-scaffold assembly and disassembly. Cell 156, 469–481 (2014).

Romanov, J. et al. Mechanism and functions of membrane binding by the Atg5–Atg12/Atg16 complex during autophagosome formation. EMBO J. 31, 4304–4317 (2012).

Mizushima, N., Noda, T. & Ohsumi, Y. Apg16p is required for the function of the Apg12p–Apg5p conjugate in the yeast autophagy pathway. EMBO J. 18, 3888–3896 (1999).

Gammoh, N., Florey, O., Overholtzer, M. & Jiang, X. Interaction between FIP200 and ATG16L1 distinguishes ULK1 complex-dependent and -independent autophagy. Nat. Struct. Mol. Biol. 20, 144–149 (2013).

Nishimura, T. et al. FIP200 regulates targeting of Atg16L1 to the isolation membrane. EMBO Rep. 14, 284–291 (2013).

Boada-Romero, E. et al. TMEM59 defines a novel ATG16L1-binding motif that promotes local activation of LC3. EMBO J. 32, 566–582 (2013).

Hu, J. et al. TMEM166/EVA1A interacts with ATG16L1 and induces autophagosome formation and cell death. Cell Death Dis. 7, e2323 (2016).

Fujita, N. et al. Recruitment of the autophagic machinery to endosomes during infection is mediated by ubiquitin. J. Cell. Biol. 203, 115–128 (2013).

Mizushima, N. et al. Mouse Apg16L, a novel WD-repeat protein, targets to the autophagic isolation membrane with the Apg12–Apg5 conjugate. J. Cell. Sci. 116, 1679–1688 (2003).

Murthy, A. et al. A Crohn's disease variant in Atg16l1 enhances its degradation by caspase 3. Nature 506, 456–462 (2014).

Lundmark, R. & Carlsson, S. R. Sorting nexin 9 participates in clathrin-mediated endocytosis through interactions with the core components. J. Biol. Chem. 278, 46772–46781 (2003).

Carpenter, A. E. et al. CellProfiler: image analysis software for identifying and quantifying cell phenotypes. Genome. Biol. 7, R100 (2006).

Berthold, M. R. KNIME: The Konstanz information miner. Stud. Class Data Anal. 2008, 319–326 (2008).
Acknowledgements
We thank T. Fujita for help with the generation of ATG16L1 KO HEK293 cells and G. T. Bjørndal and N. T. Asp for help with cell culture. This work was partly supported by the Research Council of Norway (project number 221831) and through its Centres of Excellence funding scheme (project number 262652), as well as the Norwegian Cancer Society (project number 171318). Support for J.T.M. was provided by NIH grant (GM1000930), and support for K.J.K. was provided by Cellular and Molecular Biology NIH Training grant T32-GM007223. The research leading to these results has also received funding from the European Union Seventh Framework Programme (FP7-PEOPLE-2013-COFUND) under grant agreement no. 609020 - Scientia Fellows.
Ethics declarations
Competing interests
The authors declare no competing interests.
Additional information
Publisher's note: Springer Nature remains neutral with regard to jurisdictional claims in published maps and institutional affiliations.
Integrated supplementary information
Supplementary information
About this article
Cite this article
Lystad, A.H., Carlsson, S.R., de la Ballina, L.R. et al. Distinct functions of ATG16L1 isoforms in membrane binding and LC3B lipidation in autophagy-related processes. Nat Cell Biol 21, 372–383 (2019). https://doi.org/10.1038/s41556-019-0274-9
Received:

Accepted:

Published:

Issue Date:

DOI: https://doi.org/10.1038/s41556-019-0274-9