Abstract
Loss of TGF-β tumour suppressive response is a hallmark of human cancers. As a central player in TGF-β signal transduction, SMAD4 (also known as DPC4) is frequently mutated or deleted in gastrointestinal and pancreatic cancer. However, such genetic alterations are rare in most cancer types and the underlying mechanism for TGF-β resistance is not understood. Here we describe a mechanism of TGF-β resistance in ALK-positive tumours, including lymphoma, lung cancer and neuroblastoma. We demonstrate that, in ALK-positive tumours, ALK directly phosphorylates SMAD4 at Tyr 95. Phosphorylated SMAD4 is unable to bind to DNA and fails to elicit TGF-β gene responses and tumour suppressing responses. Chemical or genetic interference of the oncogenic ALK restores TGF-β responses in ALK-positive tumour cells. These findings reveal that SMAD4 is tyrosine-phosphorylated by an oncogenic tyrosine kinase during tumorigenesis. This suggests a mechanism by which SMAD4 is inactivated in cancers and provides guidance for targeted therapies in ALK-positive cancers.
Your institute does not have access to this article
Relevant articles
Open Access articles citing this article.
Dandan Peng

,

Minyang Fu

…

Xiawei Wei

Molecular Cancer Open Access 23 April 2022

Xiangyu Wang

,

Xuejun Ge

…

Jie Du

Cell Communication and Signaling Open Access 11 August 2021

Zhen Qin

,

Honghua Sun

…

Hongbin Ji

Cell Discovery Open Access 11 May 2021
Access options
Subscribe to Nature+
Get immediate online access to the entire Nature family of 50+ journals
Subscribe to Journal
Get full journal access for 1 year
$99.00
only $8.25 per issue
All prices are NET prices.
VAT will be added later in the checkout.
Tax calculation will be finalised during checkout.
Buy article
Get time limited or full article access on ReadCube.
$32.00
All prices are NET prices.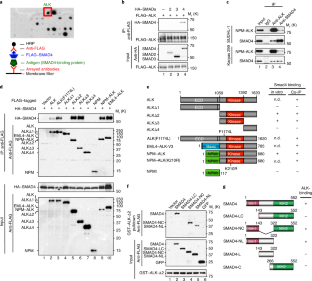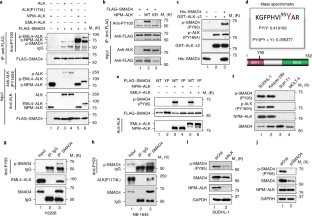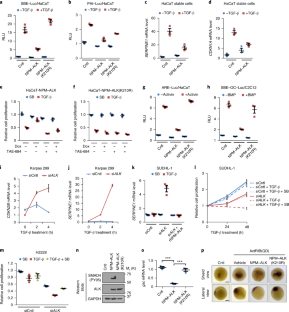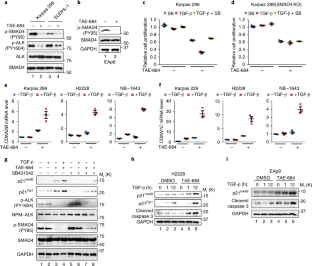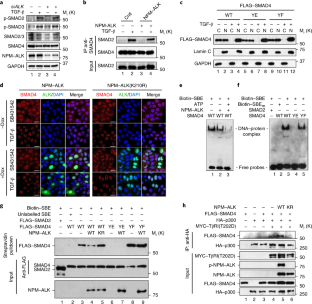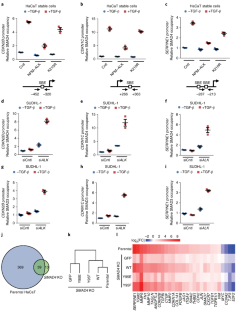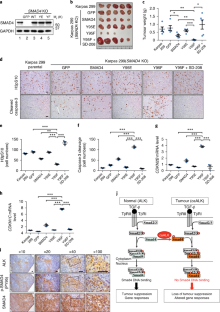 Data availability
RNA-Seq data that support the findings of this study have been deposited in the Gene Expression Omnibus (GEO) under the accession code GSE121188. Statistics source data for Figs. 3a–m,o, 4c–f, 6a–i and 7c,e–h and Supplementary Figs. 3a–c, 4b–d and 6b,c,e are provided in Supplementary Table 2. Unprocessed original scans of western blots are shown in Supplementary Fig. 8. All other data supporting the findings of this study are available from the corresponding author on reasonable request.
References
Iwahara, T. et al. Molecular characterization of ALK, a receptor tyrosine kinase expressed specifically in the nervous system. Oncogene 14, 439–449 (1997).

Hallberg, B. & Palmer, R. H. Mechanistic insight into ALK receptor tyrosine kinase in human cancer biology. Nat. Rev. Cancer 13, 685–700 (2013).

Holla, V. R. et al. ALK: a tyrosine kinase target for cancer therapy. Cold Spring Harb. Mol. Case Stud. 3, a001115 (2017).

Katayama, R., Lovly, C. M. & Shaw, A. T. Therapeutic targeting of anaplastic lymphoma kinase in lung cancer: a paradigm for precision cancer medicine. Clin. Cancer Res. 21, 2227–2235 (2015).

Werner, M. T., Zhao, C., Zhang, Q. & Wasik, M. A. Nucleophosmin-anaplastic lymphoma kinase: the ultimate oncogene and therapeutic target. Blood 129, 823–831 (2017).

Morris, S. W. et al. Fusion of a kinase gene, ALK, to a nucleolar protein gene, NPM, in non-Hodgkin's lymphoma. Science 263, 1281–1284 (1994).

Soda, M. et al. Identification of the transforming EML4–ALK fusion gene in non-small-cell lung cancer. Nature 448, 561–566 (2007).

Gridelli, C. et al. ALK inhibitors in the treatment of advanced NSCLC. Cancer Treat. Rev. 40, 300–306 (2014).

Mologni, L. Inhibitors of the anaplastic lymphoma kinase. Expert Opin. Investig. Drugs 21, 985–994 (2012).

Hida, T. et al. Alectinib versus crizotinib in patients with ALK-positive non-small-cell lung cancer (J-ALEX): an open-label, randomised phase 3 trial. Lancet 390, 29–39 (2017).

Peters, S. et al. Alectinib versus crizotinib in untreated ALK-positive non-small-cell lung cancer. N. Engl. J. Med. 377, 829–838 (2017).

Recondo, G., Facchinetti, F., Olaussen, K. A., Besse, B. & Friboulet, L. Making the first move in EGFR-driven or ALK-driven NSCLC: first-generation or next-generation TKI? Nat. Rev. Clin. Oncol. 15, 694–708 (2018).

Rotow, J. & Bivona, T. G. Understanding and targeting resistance mechanisms in NSCLC. Nat. Rev. Cancer 17, 637–658 (2017).

Shirinian, M., Varshney, G., Loren, C. E., Grabbe, C. & Palmer, R. H. Drosophila Anaplastic Lymphoma Kinase regulates Dpp signalling in the developing embryonic gut. Differentiation 75, 418–426 (2007).

Loren, C. E. et al. A crucial role for the Anaplastic lymphoma kinase receptor tyrosine kinase in gut development in Drosophila melanogaster. EMBO Rep. 4, 781–786 (2003).

Reiner, D. J., Ailion, M., Thomas, J. H. & Meyer, B. J. C. elegans anaplastic lymphoma kinase ortholog SCD-2 controls dauer formation by modulating TGF-beta signaling. Curr. Biol. 18, 1101–1109 (2008).

Derynck, R. & Miyazono, K. The TGF-β Family (Cold Spring Harbor Lab Press, New York, 2008).

Morikawa, M., Derynck, R. & Miyazono, K. TGF-beta and the TGF-beta family: context-dependent roles in cell and tissue physiology. Cold Spring Harb. Perspect. Biol. 8, a021873 (2016).

David, C. J. & Massague, J. Contextual determinants of TGFbeta action in development, immunity and cancer. Nat. Rev. Mol. Cell Biol. 19, 419–435 (2018).

Moses, H. L., Roberts, A. B. & Derynck, R. The discovery and early days of TGF-beta: a historical perspective. Cold Spring Harb. Perspect. Biol. 8, a021865 (2016).

Massague, J. TGFbeta signalling in context. Nat. Rev. Mol. Cell Biol. 13, 616–630 (2012).

Massague, J. TGFbeta signalling in context. Cancer Cell. 134, 215–230 (2008).

Katsuno, Y., Lamouille, S. & Derynck, R. TGF-beta signaling and epithelial–mesenchymal transition in cancer progression. Curr. Opin. Oncol. 25, 76–84 (2013).

Nickel, J., Ten Dijke, P. & Mueller, T. D. TGF-beta family co-receptor function and signaling. Acta Biochim. Biophys. Sin. (Shanghai) 50, 12–36 (2018).

Feng, X. H. & Derynck, R. Specificity and versatility in TGF-beta signaling through Smads. Annu. Rev. Cell Dev. Bio. 21, 659–693 (2005).

Zhao, M., Mishra, L. & Deng, C. X. The role of TGF-beta/SMAD4 signaling in cancer. Int. J. Biol. Sci. 14, 111–123 (2018).

Wrighton, K. H. & Feng, X. H. To (TGF)beta or not to (TGF)beta: Fine-tuning of Smad signaling via post-translational modifications. Cell. Signal. 20, 1579–1591 (2008).

Xu, P., Lin, X. & Feng, X. H. Posttranslational Regulation of Smads. Cold Spring Harb. Perspect. Biol. 8, a022087 (2016).

Liang, M. et al. Ubiquitination and proteolysis of cancer-derived Smad4 mutants by SCFSkp2. Mol. Cell. Biol. 24, 7524–7537 (2004).

George, R. E. et al. Activating mutations in ALK provide a therapeutic target in neuroblastoma. Nature 455, 975–978 (2008).

Ambrogio, C. et al. p130Cas mediates the transforming properties of the anaplastic lymphoma kinase. Blood 106, 3907–3916 (2005).

Zawel, L. et al. Human Smad3 and Smad4 are sequence-specific transcription activators. Mol. Cell 1, 611–617 (1998).

Dennler, S. et al. Direct binding of Smad3 and Smad4 to critical TGF beta-inducible elements in the promoter of human plasminogen activator inhibitor-type 1 gene. EMBO J. 17, 3091–3100 (1998).

Keeton, M. R., Curriden, S. A., van Zonneveld, A. J. & Loskutoff, D. J. Identification of regulatory sequences in the type 1 plasminogen activator inhibitor gene responsive to transforming growth factor beta. J. Biol. Chem. 266, 23048–23052 (1991).

Zhou, S., Zawel, L., Lengauer, C., Kinzler, K. W. & Vogelstein, B. Characterization of human FAST-1, a TGF beta and activin signal transducer. Mol. Cell 2, 121–127 (1998).

Kaneki, H. et al. Tumor necrosis factor promotes Runx2 degradation through up-regulation of Smurf1 and Smurf2 in osteoblasts. J. Biol. Chem. 281, 4326–4333 (2006).

Feng, X. H., Zhang, Y., Wu, R. Y. & Derynck, R. The tumor suppressor Smad4/DPC4 and transcriptional adaptor CBP/p300 are coactivators for smad3 in TGF-beta-induced transcriptional activation. Genes Dev. 12, 2153–2163 (1998).

Moustakas, A. & Kardassis, D. Regulation of the human p21/WAF1/Cip1 promoter in hepatic cells by functional interactions between Sp1 and Smad family members. Proc. Natl Acad. Sci. USA 95, 6733–6738 (1998).

Scandura, J. M., Boccuni, P., Massague, J. & Nimer, S. D. Transforming growth factor beta-induced cell cycle arrest of human hematopoietic cells requires p57KIP2 up-regulation. Proc. Natl Acad. Sci. USA 101, 15231–15236 (2004).

Lawler, S. et al. The type II transforming growth factor-beta receptor autophosphorylates not only on serine and threonine but also on tyrosine residues. J. Biol. Chem. 272, 14850–14859 (1997).

Ma, L. & Chung, W. K. The genetic basis of pulmonary arterial hypertension. Hum. Genet. 133, 471–479 (2014).

Le Goff, C. & Cormier-Daire, V. From tall to short: the role of TGFbeta signaling in growth and its disorders. Am. J. Med. Genet. C 160C, 145–153 (2012).

Dupuis-Girod, S., Bailly, S. & Plauchu, H. Hereditary hemorrhagic telangiectasia: from molecular biology to patient care. J. Thromb. Haemost. 8, 1447–1456 (2010).

Moog-Lutz, C. et al. Activation and inhibition of anaplastic lymphoma kinase receptor tyrosine kinase by monoclonal antibodies and absence of agonist activity of pleiotrophin. J. Biol. Chem. 280, 26039–26048 (2005).

Feng, X. H. & Derynck, R. Ligand-independent activation of transforming growth factor (TGF) beta signaling pathways by heteromeric cytoplasmic domains of TGF-beta receptors. J. Biol. Chem. 271, 13123–13129 (1996).

Lin, X. et al. Activation of transforming growth factor-beta signaling by SUMO-1 modification of tumor suppressor Smad4/DPC4. J. Biol. Chem. 278, 18714–18719 (2003).

Piva, R. et al. Ablation of oncogenic ALK is a viable therapeutic approach for anaplastic large-cell lymphomas. Blood 107, 689–697 (2006).

Lin, X. et al. PPM1A functions as a Smad phosphatase to terminate TGFbeta signaling. Cell 125, 915–928 (2006).

Feng, Y. et al. Zinc finger protein 451 is a novel Smad corepressor in transforming growth factor-beta signaling. J. Biol. Chem. 289, 2072–2083 (2014).

Liu, T. et al. Tumor suppressor bromodomain-containing protein 7 cooperates with Smads to promote transforming growth factor-beta responses. Oncogene 36, 362–372 (2017).

Wang, G. et al. STAT3 selectively interacts with Smad3 to antagonize TGF-beta signalling. Oncogene 35, 4388–4398 (2016).

Maddalo, D. et al. In vivo engineering of oncogenic chromosomal rearrangements with the CRISPR/Cas9 system. Nature 516, 423–427 (2014).

Boukamp, P. et al. Normal keratinization in a spontaneously immortalized aneuploid human keratinocyte cell line. J. Cell Biol. 106, 761–771 (1988).

Yu, Y. et al. Smad7 enables STAT3 activation and promotes pluripotency independent of TGF-beta signaling. Proc. Natl Acad. Sci. USA 114, 10113–10118 (2017).

Zhao, Y., Liu, J., Chen, F. & Feng, X. H. C-terminal domain small phosphatase-like 2 promotes epithelial-to-mesenchymal transition via Snail dephosphorylation and stabilization. Open Biol. 8, 170274 (2018).
Acknowledgements
We thank R. Chiarle for NPM–ALK and kinase-dead NPM–ALK(K210R), N. Fusenig for the HaCaT cell line, D. Luskutoff for p800(PAI-1)–Luc, Y. P. Mossé for the NB-1643 cell line, M. Vigny for the full-length ALK complementary DNA, B. Vogelstein for WWP1(p21)–Luc and SBE–Luc and X.-F. Wang for p15–Luc. We are indebted to L. Ding and Y. Ma at Betta Pharmaceutical for sharing the ALK inhibitor X396. We thank colleagues at Beijing Proteome Research Center and National Center for Protein Sciences (The PHOENIX Center, Beijing) for assistance with mass spectrometry analysis. We are grateful to K. Yu for sharing reagents, and J. Peng, Y. Zhu, N. Xu, H. Xia and members of the Feng laboratory for helpful discussion and technical assistance. We also thank K. Wrighton for editing the manuscript. We are grateful to L. Su for her contribution. This research was partly supported by grants from the NSFC (31730057, 91540205, 31090360, 31571447), the NIH (R21CA209007) and the DoD (DAMD W81XWH-15–1–0650/0651), and the Fundamental Research Funds for the Central Universities.
Ethics declarations
Competing interests
The authors declare no competing interests.
Additional information
Publisher's note: Springer Nature remains neutral with regard to jurisdictional claims in published maps and institutional affiliations.
Integrated supplementary information
Supplementary information
About this article
Cite this article
Zhang, Q., Xiao, M., Gu, S. et al. ALK phosphorylates SMAD4 on tyrosine to disable TGF-β tumour suppressor functions. Nat Cell Biol 21, 179–189 (2019). https://doi.org/10.1038/s41556-018-0264-3
Received:

Accepted:

Published:

Issue Date:

DOI: https://doi.org/10.1038/s41556-018-0264-3