Abstract
Vesicular acidification and trafficking are associated with various cellular processes. However, their pathologic relevance to cancer remains elusive. We identified transmembrane protein 9 (TMEM9) as a vesicular acidification regulator. TMEM9 is highly upregulated in colorectal cancer. Proteomic and biochemical analyses show that TMEM9 binds to and facilitates assembly of vacuolar-ATPase (v-ATPase), a vacuolar proton pump, resulting in enhanced vesicular acidification and trafficking. TMEM9-v-ATPase hyperactivates Wnt/β-catenin signalling via lysosomal degradation of adenomatous polyposis coli (APC). Moreover, TMEM9 transactivated by β-catenin functions as a positive feedback regulator of Wnt signalling in colorectal cancer. Genetic ablation of TMEM9 inhibits colorectal cancer cell proliferation in vitro, ex vivo and in vivo mouse models. Moreover, administration of v-ATPase inhibitors suppresses intestinal tumorigenesis of APC mouse models and human patient-derived xenografts. Our results reveal the unexpected roles of TMEM9-controlled vesicular acidification in hyperactivating Wnt/β-catenin signalling through APC degradation, and propose the blockade of TMEM9-v-ATPase as a viable option for colorectal cancer treatment.
Relevant articles
Open Access articles citing this article.
Qiang Zhang

,

Xiaoya Yang

…

Ping Lan

Cell Discovery Open Access 07 March 2023

Xiang Li

,

Zhiming Peng

…

Yong Wan

Experimental & Molecular Medicine Open Access 14 December 2020

Xueqiang Peng

,

Liang Yang

…

Hangyu Li

Cell Communication and Signaling Open Access 08 August 2020
Access options
Access Nature and 54 other Nature Portfolio journals
Get Nature+, our best-value online-access subscription
$29.99 / 30 days
cancel any time
Subscribe to this journal
Receive 12 print issues and online access
$209.00 per year
only $17.42 per issue
Rent or buy this article
Prices vary by article type
from$1.95
to$39.95
Prices may be subject to local taxes which are calculated during checkout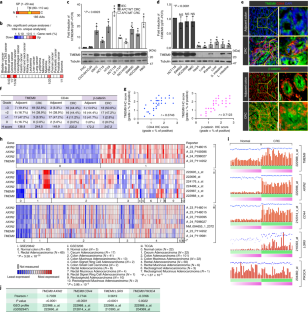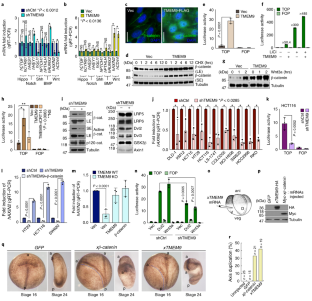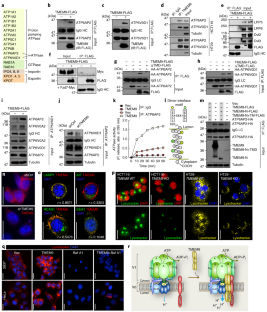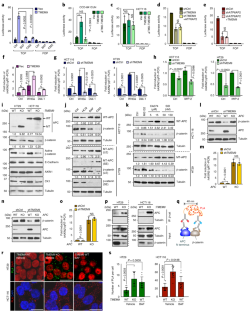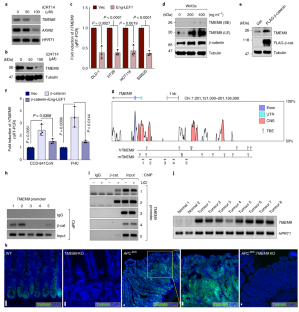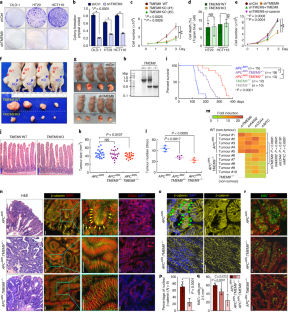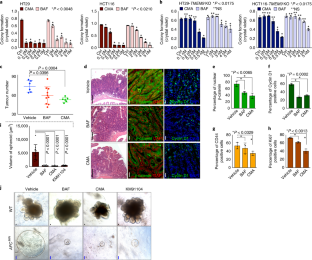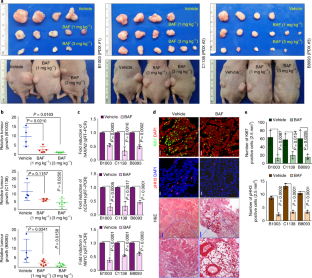 Data availability
Microarray data that support the findings of this study have been deposited in the Gene Expression Omnibus (GEO) under accession code GDS2947. The TMEM9 expression data in CRC cells were derived from the cBioportal using the TCGA Research Network (http://cancergenome.nih.gov/) and Genetech data sets. The data set derived from this resource that supports the findings of this study is available in Oncomine (https://www.oncomine.org/resource). TMEM9 expression data were also derived from cBioportal (http://www.cbioportal.org/) and the COSMIC database (Catalogue of Somatic Mutations in Cancer) (https://cancer.sanger.ac.uk/cosmic). Source data for Figs. 1–8 and Supplementary Figs. 1–4 are provided as Supplementary Table 4. All other data supporting the findings of this study are available from the corresponding author on reasonable request.
References
Clevers, H. & Nusse, R. Wnt/β-catenin signaling and disease. Cell 149, 1192–1205 (2012).

Polakis, P. The many ways of Wnt in cancer. Curr. Opin. Genet. Dev. 17, 45–51 (2007).

Bilic, J. et al. Wnt induces LRP6 signalosomes and promotes Dishevelled-dependent LRP6 phosphorylation. Science 316, 1619–1622 (2007).

Zeng, X. et al. Initiation of Wnt signaling: control of Wnt coreceptor Lrp6 phosphorylation/activation via Frizzled, Dishevelled and Axin functions. Development 135, 367–375 (2008).

Cadigan, K. M. & Waterman, M. L. TCF/LEFs and Wnt signaling in the nucleus. Cold Spring Harb. Perspect. Biol. 4, a007906 (2012).

Taelman, V. F. et al. Wnt signaling requires sequestration of glycogen synthase kinase 3 inside multivesicular endosomes. Cell 143, 1136–1148 (2010).

Polakis, P. Wnt signaling in cancer. Cold Spring Harb. Perspect. Biol. 4, a008052 (2012).

Phelps, R. A. et al. A two-step model for colon adenoma initiation and progression caused by APC loss. Cell 137, 623–634 (2009).

Vermeulen, L. et al. Wnt activity defines colon cancer stem cells and is regulated by the microenvironment. Nat. Cell Biol. 12, 468–476 (2010).

Voloshanenko, O. et al. Wnt secretion is required to maintain high levels of Wnt activity in colon cancer cells. Nat. Commun. 4, 2610 (2013).

Jung, Y. S., Jun, S., Lee, S. H., Sharma, A. & Park, J. I. Wnt2 complements Wnt/β-catenin signaling in colorectal cancer. Oncotarget 6, 37257–37268 (2015).

Niehrs, C. & Boutros, M. Trafficking, acidification, and growth factor signaling. Sci. Signal. 3, pe26 (2010).

Marshansky, V. & Futai, M. The V-type H+-ATPase in vesicular trafficking: targeting, regulation and function. Curr. Opin. Cell Biol. 20, 415–426 (2008).

Forgac, M. Vacuolar ATPases: rotary proton pumps in physiology and pathophysiology. Nat. Rev. Mol. Cell Biol. 8, 917–929 (2007).

Mindell, J. A. Lysosomal acidification mechanisms. Annu. Rev. Physiol. 74, 69–86 (2012).

Cruciat, C. M. et al. Requirement of prorenin receptor and vacuolar H+-ATPase-mediated acidification for Wnt signaling. Science 327, 459–463 (2010).

Buechling, T. et al. Wnt/Frizzled signaling requires dPRR, the Drosophila homolog of the prorenin receptor. Curr. Biol. 20, 1263–1268 (2010).

Hermle, T., Saltukoglu, D., Grunewald, J., Walz, G. & Simons, M. Regulation of Frizzled-dependent planar polarity signaling by a V-ATPase subunit. Curr. Biol. 20, 1269–1276 (2010).

Wielenga, V. J. et al. Expression of CD44 in Apc and Tcf mutant mice implies regulation by the WNT pathway. Am. J. Pathol. 154, 515–523 (1999).

Funayama, N., Fagotto, F., McCrea, P. & Gumbiner, B. M. Embryonic axis induction by the armadillo repeat domain of β-catenin: evidence for intracellular signaling. J. Cell Biol. 128, 959–968 (1995).

Nishi, T. & Forgac, M. The vacuolar (H+)-ATPases—nature's most versatile proton pumps. Nat. Rev. Mol. Cell Biol. 3, 94–103 (2002).

Kinouchi, K. et al. The (pro)renin receptor/ATP6AP2 is essential for vacuolar H+-ATPase assembly in murine cardiomyocytes. Circ. Res. 107, 30–34 (2010).

O'Brien, C. A. et al. ID1 and ID3 regulate the self-renewal capacity of human colon cancer-initiating cells through p21. Cancer Cell 21, 777–792 (2012).

Bowman, E. J., Graham, L. A., Stevens, T. H. & Bowman, B. J. The bafilomycin/concanamycin binding site in subunit c of the V-ATPases from Neurospora crassa and Saccharomyces cerevisiae. J. Biol. Chem. 279, 33131–33138 (2004).

Gross, J. C., Chaudhary, V., Bartscherer, K. & Boutros, M. Active Wnt proteins are secreted on exosomes. Nat. Cell Biol. 14, 1036–1045 (2012).

Urbanelli, L. et al. Signaling pathways in exosomes biogenesis, secretion and fate. Genes 4, 152–170 (2013).

Yang, J. et al. Adenomatous polyposis coli (APC) differentially regulates β-catenin phosphorylation and ubiquitination in colon cancer cells. J. Biol. Chem. 281, 17751–17757 (2006).

Mauvezin, C., Nagy, P., Juhasz, G. & Neufeld, T. P. Autophagosome-lysosome fusion is independent of V-ATPase-mediated acidification. Nat. Commun. 6, 7007 (2015).

Montross, W. T., Ji, H. & McCrea, P. D. A β-catenin/engrailed chimera selectively suppresses Wnt signaling. J. Cell Sci. 113, 1759–1770 (2000).

Su, L. K. et al. Multiple intestinal neoplasia caused by a mutation in the murine homolog of the APC gene. Science 256, 668–670 (1992).

Kane, P. M. Disassembly and reassembly of the yeast vacuolar H+-ATPase in vivo. J. Biol. Chem. 270, 17025–17032 (1995).

Graf, R., Harvey, W. R. & Wieczorek, H. Purification and properties of a cytosolic V1-ATPase. J. Biol. Chem. 271, 20908–20913 (1996).

Smardon, A. M., Tarsio, M. & Kane, P. M. The RAVE complex is essential for stable assembly of the yeast V-ATPase. J. Biol. Chem. 277, 13831–13839 (2002).

Najdi, R., Holcombe, R. F. & Waterman, M. L. Wnt signaling and colon carcinogenesis: beyond APC. J. Carcinog. 10, 5 (2011).

Elias, J. E. & Gygi, S. P. Target-decoy search strategy for increased confidence in large-scale protein identifications by mass spectrometry. Nat. Methods 4, 207–214 (2007).

Gonsalves, F. C. et al. An RNAi-based chemical genetic screen identifies three small-molecule inhibitors of the Wnt/wingless signaling pathway. Proc. Natl Acad. Sci. USA 108, 5954–5963 (2011).

Kuhl, M. & Pandur, P. Dorsal axis duplication as a functional readout for Wnt activity. Methods Mol. Biol. 469, 467–476 (2008).

Park, J. I. et al. Telomerase modulates Wnt signalling by association with target gene chromatin. Nature 460, 66–72 (2009).

Sato, T. et al. Single Lgr5 stem cells build crypt-villus structures in vitro without a mesenchymal niche. Nature 459, 262–265 (2009).
Acknowledgements
The authors thank X. Wang and A. Sharma for technical assistance. This work was supported by the University of Texas McGovern Medical School (startup funding to R.K.M.), the Cancer Prevention Research Institute of Texas (RP140563 to J-.I.P.), the National Institutes of Health (R01 CA193297-01 to J-.I.P.; 5R01 GM107079 to P.D.M.; K01DK092320 to R.K.M.; R01 GM126048 to W.W.), the Department of Defense Peer Reviewed Cancer Research Program (CA140572 to J-.I.P.), a Duncan Family Institute for Cancer Prevention and Risk Assessment Grant (IRG-08-061-01 to J-.I.P.), a Center for Stem Cell and Developmental Biology Transformative Grant (MD Anderson Cancer Center to J-.I.P.), an Institutional Research Grant (MD Anderson Cancer Center to J-.I.P.), a New Faculty Award (MD Anderson Cancer Center Support Grant to J-.I.P.), a Metastasis Research Center Grant (MD Anderson to J-.I.P.) and a Uterine SPORE Career Enhancement Program (MD Anderson to J-.I.P.). The core facility (DNA sequencing and Genetically Engineered Moue Facility) was supported by an MD Anderson Cancer Center Support Grant (CA016672).
Ethics declarations
Competing interest
The authors declare no competing interests.
Additional information
Publisher's note: Springer Nature remains neutral with regard to jurisdictional claims in published maps and institutional affiliations.
Integrated supplementary information
Supplementary information
About this article
Cite this article
Jung, YS., Jun, S., Kim, M.J. et al. TMEM9 promotes intestinal tumorigenesis through vacuolar-ATPase-activated Wnt/β-catenin signalling. Nat Cell Biol 20, 1421–1433 (2018). https://doi.org/10.1038/s41556-018-0219-8
Received:

Accepted:

Published:

Issue Date:

DOI: https://doi.org/10.1038/s41556-018-0219-8