Skeletal muscle denervation leads to myofibre atrophy with fibrosis and fatty infiltration of muscle-resident fibroadipogenic progenitors (FAPs). A study shows that on denervation, FAPs activate pathogenic STAT3–IL-6 signalling. Inhibition of this pathway prevents atrophy and points to potential therapeutic targets.
Access options
Subscribe to Nature+
Get immediate online access to Nature and 55 other Nature journal
Subscribe to Journal
Get full journal access for 1 year
$99.00
only $8.25 per issue
All prices are NET prices.
VAT will be added later in the checkout.
Tax calculation will be finalised during checkout.
Buy article
Get time limited or full article access on ReadCube.
$32.00
All prices are NET prices.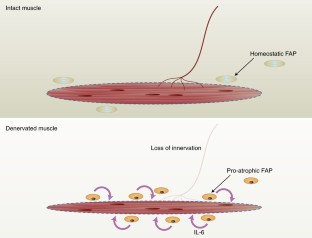 References
Pannerec, A., Formicola, L., Besson, V., Marazzi, G. & Sassoon, D. A. Development 140, 2879–2891 (2013).

Relaix, F. & Zammit, P. S. Development 139, 2845–2856 (2012).

Heredia, J. E. et al. Cell 153, 376–388 (2013).

Murphy, M. M., Lawson, J. A., Mathew, S. J., Hutcheson, D. A. & Kardon, G. Development 138, 3625–3637 (2011).

Uezumi, A. et al. J. Cell Sci. 124, 3654–3664 (2011).

Joe, A. W. et al. Nat. Cell Biol. 12, 153–163 (2010).

Ibebunjo, C. et al. Mol Cell Biol. 33, 194–212 (2013).

Madaro, L. et al. Nat. Cell Biol. http://doi.org/10.1038/s41556-018-0151-y (2018).

Dupont-Versteegden, E. E., Murphy, R. J., Houle, J. D., Gurley, C. M. & Peterson, C. A. Am. J. Physiol. 277, 589–597 (1999).

McGeachie, J. K. Neuroscience 15, 499–506 (1985).

Schiaffino, S., Dyar, K. A., Ciciliot, S., Blaauw, B. & Sandri, M. FEBS J. 280, 4294–4314 (2013).

Tang, H. et al. Sci Signal 7, ra18 (2014).

Munoz-Canoves, P., Scheele, C., Pedersen, B. K. & Serrano, A. L. FEBS J. 280, 4131–4148 (2013).

Mitchell, K. J. et al. Nat. Cell Biol. 12, 257–266 (2010).

Gurney, M. E. et al. Science 264, 1772–1775 (1994).
Ethics declarations
Competing interests
The authors declare no competing interests.
About this article
Cite this article
Marazzi, G., Sassoon, D. FAPs are sensors for skeletal myofibre atrophy. Nat Cell Biol 20, 864–865 (2018). https://doi.org/10.1038/s41556-018-0149-5
Published:

Issue Date:

DOI: https://doi.org/10.1038/s41556-018-0149-5